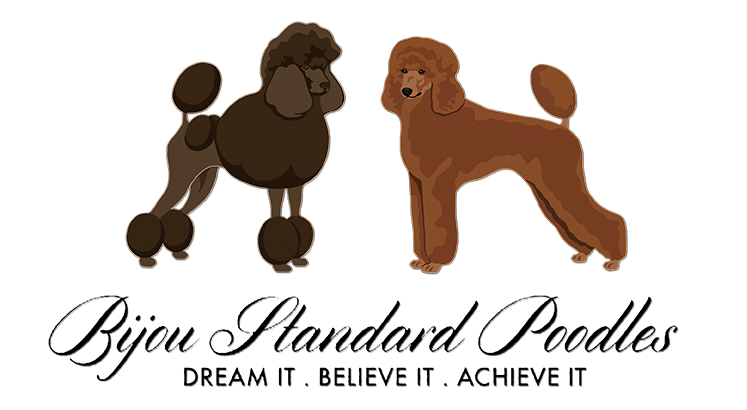 Meet Our Poodles

Questions Answered... Whats New at Bijou...Bijou Difference ... Puppies

Contact us: bijoupoodles@yahoo.com





~ The Bijou Difference ~



Red, Black and Brown Poodle PUPPIES


Our careful planning shows !
Red, Black and Brown Poodle ADULTS
YES we actually track our breeding program from puppies to adults



What makes a Standard Poodle Puppy
from Bijou Poodles so Different ?
(Please click on any underlined words to be taken to another web page or photo containing further explanations.)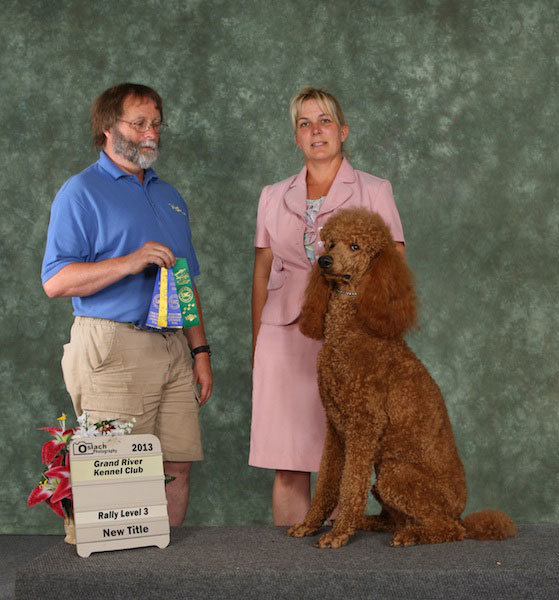 Rally Obedience



Weight Pulling Conformation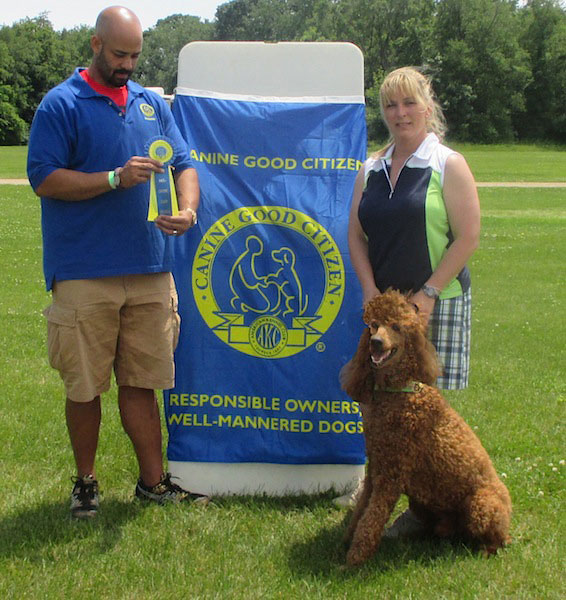 Canine Good Citizen Title
We don't just "say" we have Total Dogs
we have the TOTAL DOG AWARDS to prove it !!


~ BREEDING FOR THE TOTAL POODLE ~
Health ~ Each of our Poodles have passed ALL OFA and DNA Health Testing
Brains ~ Each of 'our' Poodles has a PERFORMANCE Title, which means breeding with a PURPOSE.
Temperament ~ Each of our Poodles have Temperament Titles
Looks ~ Each of 'our' Poodles have UKC/CKC Championships

Bijou Poodles really does "Walk the Talk"

~ ONLY SOME OF OUR ACCOMPLISHMENTS ~

** Wins from 2009 **

** Wins from 2010 - 17 New Titles **

**Wins from 2011 - 34 New Titles **

** Wins from 2011 UKC's PREMIER DOG SHOW**

**Wins from 2012 - 33 New Titles **

**Wins from 2013 - 38 New Titles **

**Wins from 2014 - 35 New Titles **

**Wins from 2015 - 10 New Titles **

**Wins from 2016 - 37 New Titles **

**Wins from 2017 - 33 New Titles **

**Wins from 2018 - 22 New Titles **

**Wins from 2019 - 22 New Titles **

**Wins from 2020 - 7 New Titles **

CANADIAN GOVERNMENT
SHUT EVERYTHING DOWN
FOR A FAKE PANDEMIC




Although most people come to us because they have met one of our special poodles in person,
in every corner of the world, or have seen photos of our Beautiful
Browns, or our Radiant Reds on educational web pages or magazines,
Or have seen our dogs at a Show or heard of our Reputation
There is a great deal more that makes a Poodle Puppy from Bijou so special.
Our Standard Poodles are members of our Family and are raised in our home as our Pets.
Your puppy's litter was planned up to ~ 10 years ~ in advance based on our dog sport Goals
Pedigree (generations of ancestors), Temperament, Health, Intelligence and of course, colour.





Please make sure before you buy from a breeder that you go to the OFA web page
and search their kennel name. I can't believe the number of breeders that mislead the public
and say that their parents passed health testing and they have not or only have the hips done which is bare minimum.
If they are not listed on OFA site, they are not done.
"Pending" means that the health testing has failed or that they also have not done the health testing. Don't be mislead.
We are one of the only Brown and Red Poodle breeders in the world, that OFA our Poodles for all "12" conclusive
OFA and DNA health screening available such as but not limited to:
Hip Dysplasia, Elbow Dysplasia, Patella Luxation, Thyroid Disease, Legg-Calve-Perthes, Congenital Cardiac Disease
Full Dentition, Degenerative Myelopathy, Von Willebrand's Disease, Neonatal Encephalopathy with Seizures Disorder
CMTP (Congenital Macrothrombocytopenia), PRCD-PRA and CERF (Canine Eye Registration Foundation ) Tested.
and this can be verified 24/7 on the OFA (Orthopedic Foundation for Animals) web page

In over 24 years we have NEVER owned a Poodle that has had bloat or torsion
and we have NEVER produced a Red standard Poodle with SA or with Addisons, or Hip Dysplasia.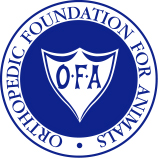 Bijou Poodles is one of the breeders that helped laboratories such as Vetgen establish DNA colour testing that is available today.
Bijou Poodles was the first breeder to use DNA Colour testing as a screening tool, to use in their breeding program to help avoid fading.
In 2011 Bijou Poodles was the first to discover a DNA test through HealthGene that would identify Parti colour and Mismark carriers.
Bijou Poodles constantly submits DNA on our dogs and our pups to ANY and ALL studies or research being done
by labs and University labs in order for them to develop a DNA health screening test against many diseases
such as the studies being done by UC Davis
Bijou Poodles is one of the first red Standard Poodle breeders to utilize ALL DNA health screening and OFA testing available today.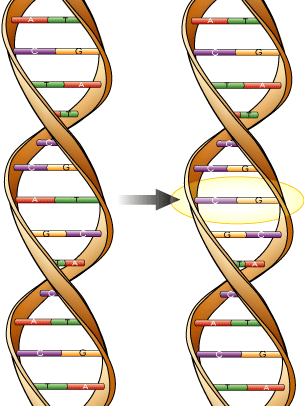 Dr. John B. Armstrong "All dogs (and living organisms) are carriers of multiple mutations. If a genetic disease is produced in an animal,
it is not necessarily the result of poor breeding practices, but is the nature of inheritance as a random event.
There is no such thing as a perfect animal". (Mutt, Designer breed or Purebred)

I would be remiss if I did not remind the public, that there is no Mutt, Designer Breed or Purebred or lines of Poodles, or colour of Poodles
that are free of disease or "issues", however Bijou Poodles does hope by intelligent breeding practices and participating in the development of
DNA tests and using ALL the Health testing and screening tools that are available AND as they become available
and using only healthy Poodles in our program, that we stand the best chance at producing the healthiest pups available.





Bijou Poodles believes in being a responsible and "proactive" breeder. When we discovered there were no CERF clinics nearby
and Breeders wanted one, Bijou Poodles arranged and hosted a CERF Clinic for over 40 dogs belonging to local Breeders.
CERF (Canine Eye Registration Foundation) is a centralized, national registry for dogs certified free of heritable eye disease
by members of the American College of Veterinary Ophthalmologists.
~ CERF testing is NOT a "conclusive" test and needs to be redone every two years ~


Bijou Poodles are always investigating and discovering new ways to test our dogs, to ensure we produce the best quality that we can.
Of course offering these type of assurances to our Puppy People is VERY very costly and time consuming, but we feel
when people are looking for their lifetime companion, they will want the best assurances they can get to a having a healthy puppy.

~ Health, Beauty and Brains ... Bijou Poodles are the Total Poodle Package ~





Bijou Poodles believes in promoting responsible Pet ownership and also Responsible Breeders.
To show this support we yearly sponsor Alter Awards for those showing Altered dogs in UKC.
We feel by offering awards for Alter Classes, we show our support to those that enjoy doing activities
with their cherished pets and also to UKC who has given breeders this amazing venue to showcase our pups in.




(Finnegan, Reigna, Finn)
Bijou is very proud of our Alter Champions !
*Click to read about what you can do with your Bijou Poodle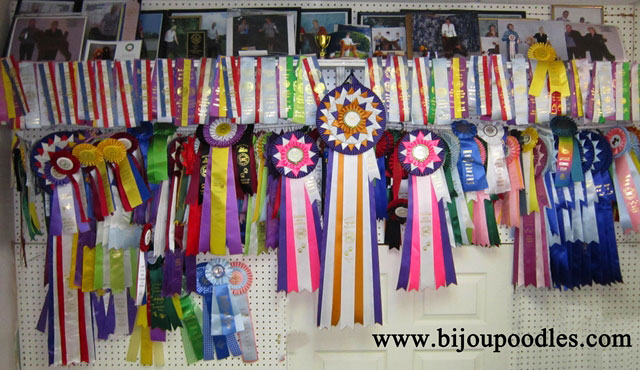 (only some of our awards)

Showing, Trialing and Working as Partners with our Poodles
is not about the many Awards and Accolades we have achieved,
It is about the quality of life we are able to offer our Poodle parents, the bond we have with them
and is proof of the health, intelligence and quality of life and lineage, our Poodle Puppies come from
Reputable Breeders ~ do stuff ~ with Poodles they "produce" and have the titles to prove it.



EVERY Bijou Poodle in our program, has their UKC and CKC Championship Title
with most achieving their Grand Championships with Group and Best in Show wins.
As of 2011 even our Poodles placed in pet homes, are out achieving their Alter Championships with Best in Show wins !!
Lets face it, Anyone can say "my Poodle has a glorious top line, lovely head, great rear angulation, beautiful feet"
and actually have inferior and or, poor quality Poodles that are too timid or vicious, to bring into the public, to a dog show.
A Championship Title tells the Public that an unbiased assessment was performed by a licensed Professional Judge
who has studied the Standard Poodle "breed standard" and knows what physical and temperament, qualities to look for in a Standard Poodle.
A poodle meeting the breed standard and also beating competition of other show poodles, (best of the best) will be
awarded Points towards a Championship Title and eventually earn a Championship or even more impressive Grand Champion Title
as well as points towards a coveted UKC Top Ten Standings which are tabulated every year from Standard Poodles showing world wide.
In 2012 Bijou Poodles received "2" invitations to attend UKC's Premier Dog Show (by invitation only) to show our Poodles that placed in Top Ten
Championships are the Public's ONLY assurance that a Standard Poodle is a quality "looking" standard poodle with correct Temperament.


Believe it or not...
there are some very pretty Poodles out there, that because of poor temperament should never be bred
There are some very friendly and social and intelligent Poodles, that should never be bred because of horrible conformation
Now as a Buyer paying huge dollars for a dog that should live 8-15 years, wouldn't you wish some assurances
in health, looks and Temperament in the puppy you are investing in? Titles assist buyers in having such assurances.
You would never trust a Family Doctor that didn't prove their ability by having a degree,
Bijou Standard Poodles have Titles = Degrees in almost every Dog Sport there is available !!



...

(daughter Reigna winning Best in Show and mother Truffle winning High in Trials and Total Dog Award
Daddy Dream achieving 2 legs towards his Rally Level 3 with two 3rd High in Classes, Beauty and Brains run in this family)

Bijou Poodles ALL have a Conformation title of Champion or Grand Champion
Bijou Poodles ALL have a Working or Performance Title, (some for generations !)
This is something pretty rare for Breeders to have on their red and or brown Poodles because it means
the BREEDER would have spent a great deal of "one on one" time with their own Poodles.
Poodles kept confined in cages or kennels all day long will never have Obedience Titles.
Lets face it, ANYONE can "say" their dog has "looks, abilities, brains" and anyone
can graduate an "Advanced Obedience class" from Petsmart
but only a Performance or Working Title from Licensed Professional Judges accredited with a Professional Association
such as AKC, CKC or UKC proves this without a doubt, to the WORLD, that the poodle in question, has any ability to work
the looks to meet the breed standard and that the "Breeder" spends time with them to achieve these titles.



Through Rain, hail, sleet and snow, Bijou Poodles head to AKC Show
We earned High in Trial and Top 4 Placements every day
To keep up with Bijou Poodles achievements click here

In order to have my poodles reliably follow commands or perform in an uncontrolled environment
takes a TON of daily "one on one" time spent with my Poodles building that relationship of trust and respect.
Poodle's thrive in an environment where they can please their owners. Working as a team daily with my Poodles
keeps them mentally and physically in top shape and seeing their smiley faces, tails wagging knowing they have done well
in the ring as my partner, really does say it all. Video's of my dog's amazing achievements are on their individual web pages.





In 2011 Bijou Poodles made AKC and UKC History by being the first Standard Poodles to Lure Course and
to accomplish AKC's Coursing Ability Title and UKC's Coursing Aptitude & Coursing Aptitude Excellent Titles !
Watch for us in 2012 because we are making history again, by forming the Poodle Racing Association of Canada
bringing CARA racing to Poodles of any colour and any size, for the first time.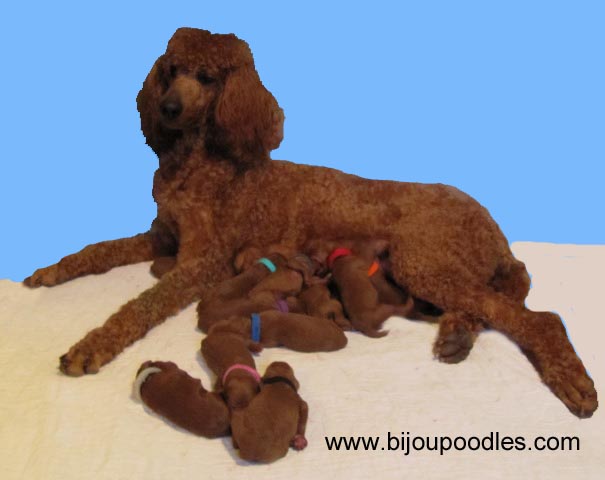 ...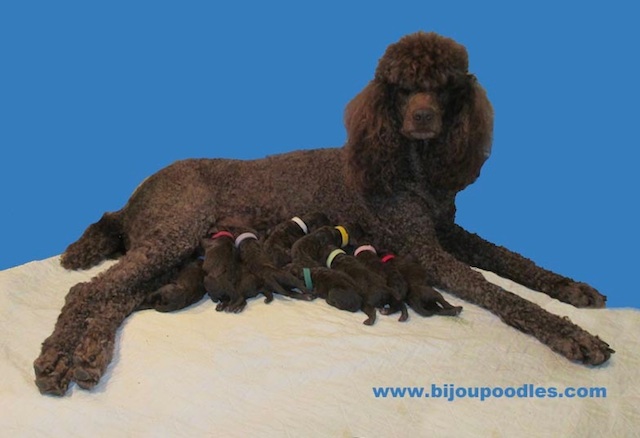 It is Rare that we breed a litter. When we do we have pre-arranged where all the pups will be placed.
Our goal in breeding is to produce our next companion and working partner and we look forward to
seeing our years of planning come into fruition & "hopefully" producing our next generation of ~ Total Dogs ~
We ensure each of our pups has the individual attention and necessary Sensory Stimulation
that they need by using our Puppy Raising methods, which we have spent years developing and using.
Our many References and the fact that our pups have been
placed in the Lion's Seeing Eye Dog Foundation as Seeing Eye Dogs and used for Special Needs
by their owners, do attest to the fact that our methods are successful in raising loving, calm,
well adjusted, confident pups who are capable, eager to learn and to please.



(one of our families picking up their new puppy and meeting Mom and Aunts)

Our Puppy people enjoy watching their puppy grow and mature with weekly clear
Photos and numerous Videos of their puppy and their puppy's entire litter,
of mom with pups and even if we have time, mom and dad with the pups (because they have that great temperament).
Our puppy people can copy any of the photos we have provided to them online,
We want our puppy people to feel very involved in their puppy's life from conception
until the day their puppy comes home.
Our puppy people can see firsthand, how well adjusted, confident
happy and of course healthy our pups are, WEEKLY.



(Photo of Mom and Dad and one of their puppies going home)

When people pick up their pups they get to meet mom, any siblings we still have and
dad if he is here visiting. Puppy parents will usually be able to get a photo taken with mom and puppy
before they go home. Remember your puppy will never be this small again.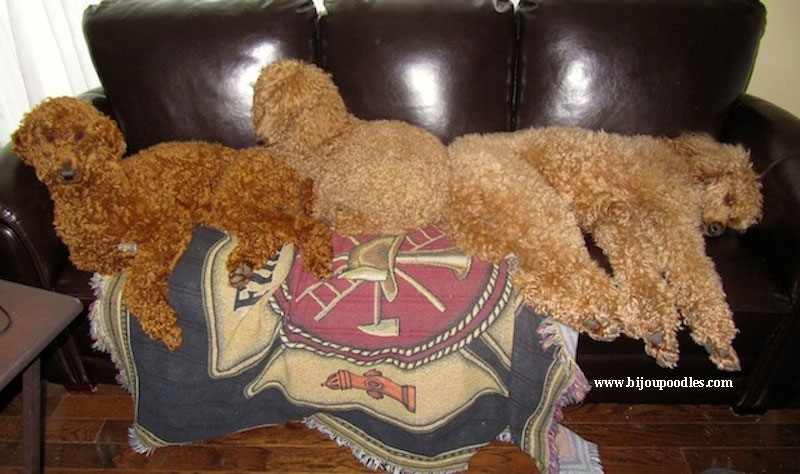 Our Poodles and Poodle pups are raised in our home in our Poodle Nursery.
Of course because we are a Home and not a kennel facility
this means that if someone is interested in a puppy from us, they may have to wait up to a year for a puppy.
We do accept $200.00 non-refundable deposits, for those that wish to secure a spot on our waiting list and
who are willing to wait for one of our quality puppies.
All of our puppy people will tell you, that the wait was worth it.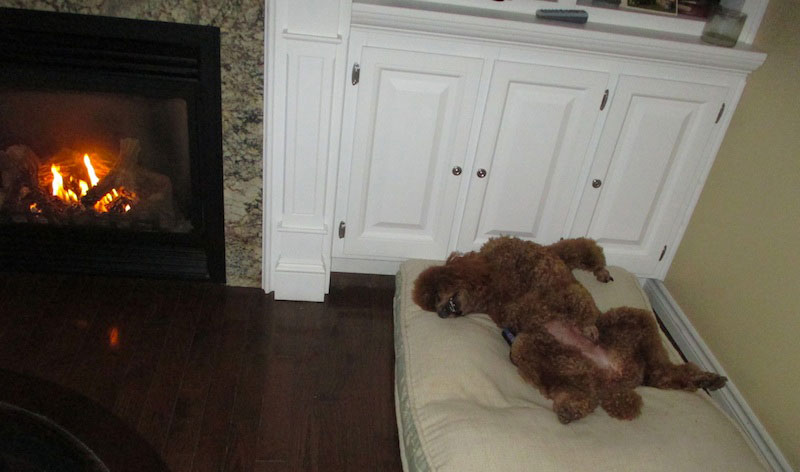 On occasion we do get cancellations because one of our puppy people had a family crisis,
or our own inability to send a puppy home, or we may decide that a puppy we have kept is not going to mature to be that
special Champion or Working dog that we thought that they would. In this case we will display any available pups
on our Available Puppy Page.





Although we accept Puppy Applications 24/7 this is only so we can get to know you
and address any questions or concerns we may have for you well in advance of puppy availability.
Although I would love to see everyone benefit from owning a Poodle, this is not always the best breed for some.
In that case I will let a person know and explain why I have concerns and also make alternative suggestions that I hope might be helpful.
I want every one of our puppy homes to be "forever" homes where they will be fully appreciated and a welcome family member.





We screen our puppy people to make sure that they get a puppy from a litter
that is best suited to them, using our Puppy Application as our guide.
We wish an Application to be filled out to see if you would be an
appropriate owner for one of our precious pups BEFORE we go any further in the process.
We have put together this web page Adopting a Bijou Standard Poodle Puppy for you to view the process.
Then we want to make sure you know all that you can About Us and our Poodle Parents
and about our Brown Poodles and our Red Poodles and Poodles in general.



....
...
...

Puppies getting used to being in a crate ............... Puppy arriving at the airport to their new Owner

Because we believe everyone deserves a great dog no matter where they live
we will and have shipped to loving, approved homes, world-wide.
We have Puppies showing in Israel, Japan, Korea and companion pups in Russia, The Netherlands and across North America.
The world comes to Bijou Standard Poodles for a superior quality, healthy, gorgeous puppy
Our pups are conditioned to their cage, when we introduce it into their puppy box as their bed where they
all love to cuddle in. Our pups are also used to travelling in a crate to the Vet, to friends and family's homes
and by the time they are ready to go home, they are excited and ready for their big adventure,
as they know that plenty of playing and loving, is waiting for them at the other end, so they come out tails wagging.





Our Poodles moms breed, give birth and raise their puppies ~Naturally~ to ensure the best, strongest health of our pups.
We also ONLY use North American lines ~ NO EUROPEAN LINES ~ because poodles bred in Europe
are tiny, fine boned, Poodles, that have very little health testing and are rarely OFA'd
have rarely passed the usual DNA health screening and have rarely been temperament or performance tested
by way of Performance/Working Titles and may be immune compromised from lack of vaccination protocol
common within North American and are not a true dark red colour upon maturity (over 6 years of age) as of 2022.

In 2013-2022 we have seen a number of breeders importing flashy Poodles from European FCI show homes,
Some of these poor poodle pups are groomed amazing, but can't move properly because of their structural defects.
Bred for exaggerated movement for Dog Shows and as a result have ended up with
poodles who can cover a lot of ground in a show ring, and look amazing "stacked" (standing still)
but who because of their weak sickle hocks, move like German Shepherds, who would have a hard time in the field
This is what is driving breeders from Europe to want purchase from Bijou Poodles, because
these flashy Poodles may have glorious coats from never leaving a cage or kennel but
as a result of their show ring breeding and lack of proper exercise have
weak sloping pasterns, are sickle hocked and over angulated, paper feet and straight shoulders.

Features North American breeders have been striving to correct for years.
Bijou Poodles are not bred for the show ring. Our Poodles are first bred to be loving, healthy pets
Working Poodles second and we do enjoy proving they are structurally close to the breeds ideal by earning Show Conformation Titles.

Bijou Poodles want to only use only healthy, intelligent, capable Poodles that are physically sound, that also will not fade
to best ensure we produce the soundest, healthiest, Conformationally ideal, darkest coloured pet, working, Poodle pups that we can.



...

(Brown - Mom, Puppy, Dad......................................................................Red - Mom, Puppies, Dad)

Our mothers are such great sweet natures that they involve everyone in their joy of raising their puppies, including the Dads.
You can read about your Puppy's Development from conception to birth on a special web page we will
do up for you for each of our litters so you can follow your puppy's growth, just like this example Pregnancy Progression
which we try to update with photos of the mom growing and information about the puppies growing.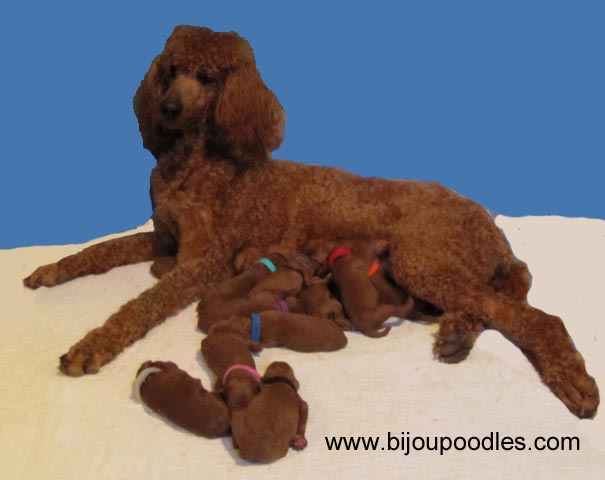 As soon as the pups are born we follow this Puppy Development Page which is updated weekly with videos and photos of the pups.
You can read about your Puppy's Development from conception to birth on a special web page we will
do up for you for each of our litters so you can follow your puppy's growth, just like this example Pregnancy Progression
which we try to update with photos of the mom growing and information about the puppy's growing.





Our pups are born and raised in our home in our Nursery Room next to our Bedroom.
I am right in the whelping box with mom, from the moment she starts having her pups until she is done
having her pups, to offer her support, aid her and keep her clean and comfortable and make sure each puppy gets the best
start on life. I also document every stage of each of our puppy's lives so that Puppy owners will feel totally involved
and begin the bonding process. I want our puppy people, to feel involved as if they were right there with us and their puppy.
We do not believe in over stimulating our pups at key growth periods, as this creates very hyper, high strung Poodles.
I have the cleanest, best Nursery area in our home, for our pups to properly develop
emotionally and physically, healthy and happy.



...


Daily we also introduce the pups to various toys, noises and scents to keep them stimulated and challenged.
At 6 weeks of age we introduce the pups to pigeon wings if people are looking to do Field work with their Poodles.
I use frozen pigeon wings and just let the pups check it out. We Let them grab, drag, run, or do just about
whatever they want to with the bird's wing and praise when they carry them.
As a group of pups they have more confidence and quickly become "birdy" all wishing to get the wing.





During the course of the pup's development we practice Early Neurological Stimulation also known as Biosensor Stimulus with our Pups.
Based on years of research, the military learned that early neurological stimulation exercises could have important and lasting effects.
Their studies confirmed that there are specific time periods early in life when neurological stimulation has optimum results.
We do 5 exercises that include: Tactical stimulation (between toes), Head held erect, Head pointed down, Supine position, Thermal stimulation.
We also administer daily Desensitization Methods so that your puppy after adjusting to their new home, will be confident around most unpleasant stimulus.



...


After a few weeks the pups and mom are introduced into their Puppy Box so they can begin toilet training.
Our pups will come mostly toilet trained thanks to our latest training tool that we call our Puppy Box
which provides an area for pups to feed and play and a separate area for toileting, simulating "outside".
We use the "Bijou Method" of potty training your puppy so that when they come home they are already started their training
The Bijou Method encourages the puppies to start peeing and pooing farther and farther away from their sleep/play area until they can be
trained to go right outside 4x a day to toilet. Your puppy will come "Paper Trained".
This Puppy Box took us years to develop. We also searched the world
to find the proper material to build our Puppy Box with and style to design it, that will best work for training and raising
Clean pups that know not to mess where they eat and sleep.
The results of our diligence shows in our references which can be read here on our References from Past Puppy Owners web page.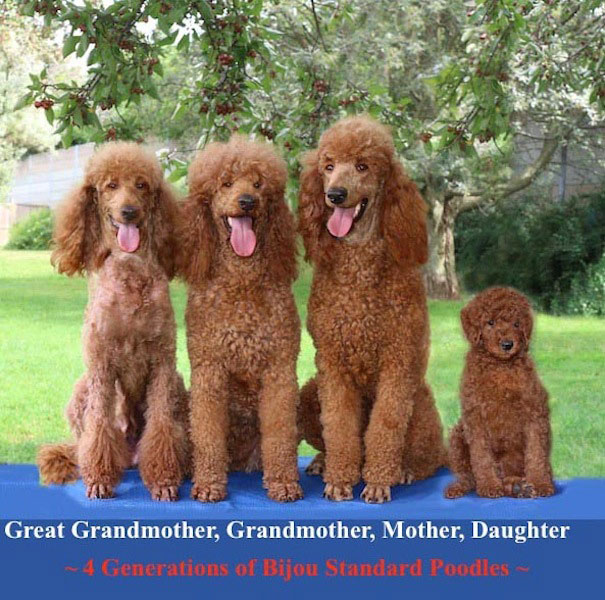 ...

Rose.................Dare................. Reva ......................Poppy (3-Generations: Mother Truffle........Grandpuppy Spice........Grandmother Java)

We breed to produce a puppy for what we want. Which is a calm, sweet Poodle that can do ALL dog sports.
As a result we have generations of our healthy, beautiful lines.
We also look at avoiding close inbreeding, to keep our amazing calm stable temperaments and exceptional health.
You can view our Retired Poodles to see how they are doing and maturing
Bijou Standard Poodles have generally lived to 11-15 years of age before going to Rainbow Bridge
However in today's toxic environment we do know the national average for dogs of all breeds is now 8-12 years of age.
We know our pedigrees (your puppy's family tree and ancestors) inside and out.
We also use a tool that tells us an actual number of inbreeding called a COI (Coefficient Of Inbreeding).
The lower the COI number the less the amount of inbreeding.
For each planned litter we provide the COI number on the Litter's web page and
below the advertised planned breeding that appears on our Upcoming Litter page.




8.5 years old "Raven"

Winning Best of Breed July 2010 over Poodles half her age or less !
Bijou Poodles are always in top condition, even when they are Retired.
Our Poodles continue to have desire and ability to learn and achieve.




10 years old "Cocoa"

Winning 2nd high in trial for her Rally Obedience Novice, completing Rally II and going on to Rally Excellent
Bijou Poodles are also known for their health and longevity with grandparents and great grandparents still enjoying life at 15 years of age.






We know everyone is excited to get their new puppy and they may wish to do some shopping for their new
family member so we put together this What to buy for new puppy we hope you will check out.





As of 2017 Bijou Poodles is feeding our Pups RAW
*Click to view Current Food Recommendations
Click here to read more about feeding your Bijou Puppy





We listen to the needs of our Puppy Buyers and they have been requesting Pediatric Spay and Neuter which
we have decided would only be responsible for us to pay for and do, before puppy goes home.



YOUR PUPPY COMES WITH :
NEW changes in 2020 including going paperless
- Collar
- Health Record (emailed when you comfirm you have puppy)
- Leash (3-4 foot)
-Up to date Vaccination Information
- Microchip Permanent ID
- Tails and Dewclaws done
- Life time Breeder Support
- Spay and or Neuter Completed when possible
- Cage - 27"x19"x17"H (ONLY included in shipping charge)
- Health Certificate from our Vet stating puppy is healthy when available.
- Owner support through our many web page links loaded with information.
- Online photos and videos of mom pregnant and of the pups taken WEEKLY until they go home.
- Purchase Agreement online and 24/7 LIFETIME breeder support, emails are answered within 24 hours or sooner

Of course we take weekly video of the litter to help you start in the bonding process.
- Owners benefit by receiving a puppy that is the product of 30 years of breeding only the best to the best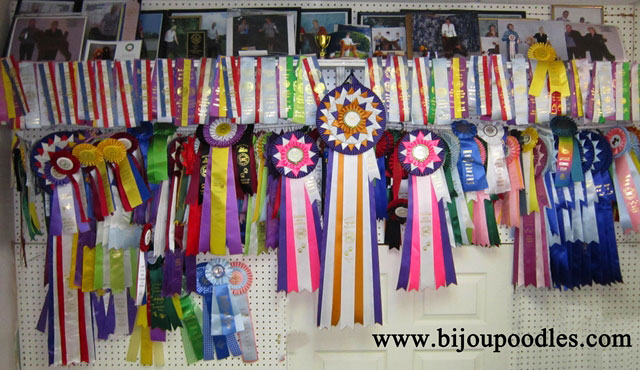 We are very Ethical, Reputable and Conscientious, Breeders
who have spent a lifetime continually learning and earning the right to be breeding wonderful Poodles.
To better describe what we mean we put together a web page describing our long journey called Our History.
Being a Reputable Breeder also means to us offering a home to any of our pups at any time
during their life span should they be in need of a home and for ANY reason.
None of our pups will EVER be in a shelter or in a home that can't properly care for them.



One of Our Mom's with a First Time Visitor
We don't often have strangers come to visit, because we would be opening up our Home,
potentially exposing our precious puppies to disease, parasites and or toxins.
We also want to make sure everyone has taken the time to read ALL of our information to make an INFORMED choice
to purchase a puppy from us BEFORE coming out to our Home
We want to make sure people are fully prepared to raise a healthy happy puppy and not buy on impulse,
falling in love with our cute happy bouncing puppies and later being overwhelmed by the Demands of Puppyhood.



our Dog Show set up


Most weekdays after work, we are doing training with our dogs.
On weekends we are usually at dog shows, performing various Dog Sports,
hoping to do well enough to achieve a Working or Conformation Title,
as proof of our dogs having the proper Structure, Temperament, Intelligence and Health
to be worthy of being reproduced. You can read more about Why is Bijou Poodles is so Busy, here.



(Ula at 6 months of age and Finn who is 11 months at their first dog show)

Dog shows are usually the best place to meet up with us and it is
a great place to meet up with your litter mates and generations of our Poodles
that come out to show their poodles in Alter Class, Obedience, Lure Coursing or just for fun.
Meeting our Poodles at a show is also a good opportunity to see our dogs at work and also their personalities,
outside the comfort zone of their own home.





We wish to make sure you have carefully considered if you are really ready for The Demands of a new furry family member
and if you prepared to raise a happy, confident, loving puppy. We have set up some suggestions on our Obedience web page.
I also have set up a web page that addresses some of the most common "AFTER" purchase questions we get asked
I call my New Puppy Questions page.




(Dad "Razz", Mom "Dare" and their green collar puppy with his new family)

Our web site helps us find the best Puppy People for our Bijou Puppies and hopefully helps people find their new best friend.
Every other question you could possibly imagine are all listed on our Puppy Questions and Answer Page or contained
within the links below. If we missed answering a question do let us know so we can add it onto our web page :)
When we are confident that you have taken the time to do your research and are prepared for a puppy, we can set up an appointment
for you to come out and meet us and our Poodle family.
While this sounds like a bit of a long process, for us it is the most responsible way to match puppys with forever homes.



....


We are also hope all our Puppy People will keep in touch with us and share their Puppies accomplishments.
There are many Events you can enter with your Bijou Standard Poodle



Finnegan, Reigna, Finn
We hope to encourage and motivate our Puppy's families to do this by offering a cash Incentive





We often get asked "what is the difference between your Red Poodles and your Brown Poodles
I can ONLY speak about "OUR" poodles since other poodles are NOT the same as ours
as we are not all breeding for the same qualities, purpose, looks or temperament.
Bijou Poodles are more robust, courser, thicker, more muscular Poodle
than what you would typically see at a dog show as we expect our Poodles to Work and also to Protect.
Our Poodles make excellent jogging partners and are athletic and healthy enough to do any activity with you.
Our Poodles that live with us and the parents of our puppys have never had bloat or torsion.
WE are talking over 20 years with no health issues typical to the Standard Poodle.




RED STANDARD POODLES:
Physically: Our Red poodles tend to be 24"-28" in height and also 45-65lbs.
Reds are slighter boned and more refined and "pretty" in their looks more like what you would find in a show ring.
Reds we keep are dark Irish setter red, black pigmentation, muscular and thicker boned, which we breed together.
We will usually get dark Irish setter pups with correct dark brown eyes and jet black nose, eye rims commonly referred to as "points"
in our litters, but this is still very rare with only a hand full of breeders producing real reds.
Photos of our reds just do not do them justice, as they are so much darker than they appear in video.
Every colour will fade at some point and at some degree but we hope to prevent or prolong that from happening by select breeding and DNA testing.
Our Reds can stay Irish Setter Red or, if they are born lighter, they can mature to a light red or dark apricot with age.
We have seen dark red pups from other breeders go almost completely white if they have not had a mostly red Pedigree.
Best guarantee that your puppy will stay red is to see both of the parents current photos and videos.
Our reds are FAST... they are the Lance Armstrong of the poodle world for sure. Lots of wind and can
out race our browns in a game of keep away or tag. Our Reds would LOVE Agility, Rally, and of course Therapy work.
Temperament : Well if you have seen Velcro on shoes... you will know what I mean when I say
our Reds are like Velcro dogs. They want to be everywhere you are, even in the bathroom.
Reds are total devotion, dedication and adoration and huge cuddlers.
All our poodles have calm laid back temperament. NO hyper pacing or barking.
Males are more laid back content to rest on your feet
Females wish to be on your lap and also wish to know where everyone in the household is and what they are up to.



BROWN STANDARD POODLES:
Physically: They range from 24"-28" and 45lbs-85lbs.
Our Browns tend to range in size really depending on the parents
Our smallest brown female is Sophie and our Largest is Java
Our Browns tend to be more "course" than what you would typically see at a dog show and for sure
have loads more muscle and boning than the average chicken boned poodle you may meet.
Our Brown poodles are DARK brown. This is very difficult to have achieved and took many years.
Our pups may get a sprinkle of grey hairs through their coat when they get older and may even lighten
on their muzzle or tail area when they age. There really is no guarantee on colour even though we do
DNA test to ensure our poodles do not carry the fading gene and we selectively breed the darkest browns.
Temperament : Our Browns are sweet natured, calm and yes they have that poodle sense of humor.
All our poodles have calm laid back temperament. NO hyper pacing or barking.
Our Browns love to be with you in the same room or on the couch beside you cuddling during a movie.
I use my browns as my jogging partners as they are taller and longer limbed able to do 6km with me
without any stress or strain and they actually look forward to it and enjoy the activity.
Browns and all poodles will actually do any activity that pleases you as that is just the breed's nature.
Over the years I have done Tracking (ALL dogs love this sport), Schutzhund, Obedience, Rally, Conformation,
Pet therapy, Lure Coursing and Agility with my poodles and they all performed well.



ALL OUR POODLES HAVE:
~ have a Performance or Working Title
~ are UKC Champions or Grand Champions
~ EVERY CONCLUSIVE health test completed (OFA)
~ 24/7 Lifetime Breeder support (we have been around since 1988 !)
~ have the calmest most gentle natures of ANY poodles you will ever meet.
~ Our Poodles are the Total Package ~





MY LEARNING NEVER STOPS
AND I'M ALWAYS WILLING TO SHARE WHAT I DO KNOW
...
...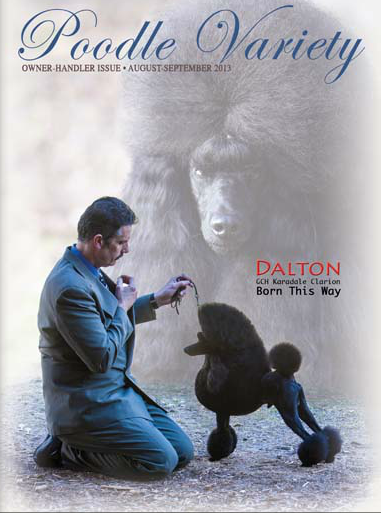 2011, my article "Lure Coursing for Poodles" was published in Poodle Variety JUNE-JULY 2011
Multi Colored Poodle Club of America's newsletter the Partiline
the online resource The Dog Press 1Dog Press 2 and my dogs are featured on the
United Poodle Breeder's Association web page for their accomplishments
In 2012, I contributed to an article in "horse and hound" magazine about our BioSensor Testing
2013, my article "Weight Pulling - Another Activity for the Versatile Poodle" published in Poodle Variety AUGUST-SEPTEMBER 2013
In 2014 we contributed to an educational PowerPoint presentation on BioSensor for the Association of Professional Dog Trainers