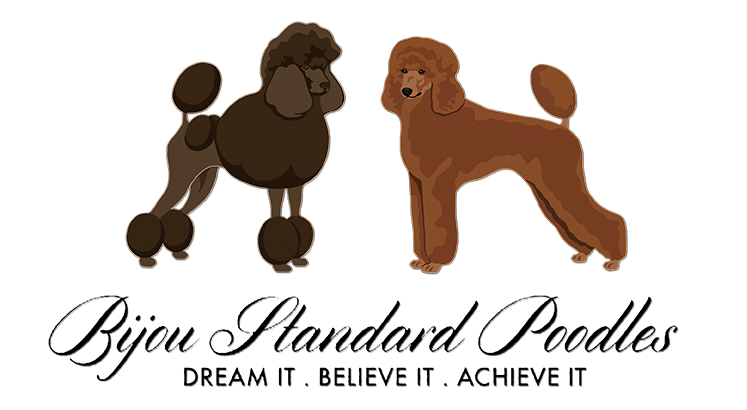 !! AVAILABLE PUPPIES !!

Meet Our Poodles... Our References... Web Page Links

Questions Answered... Whats New at Bijou...Bijou Difference

Contact us: brownpoodles@yahoo.com




Is the Microchip Registered to Bijou Poodles or to Me ?
A. Bijou Standard Poodle's purchases FDXB ISO chips which are not registered in anyone's name.
It is up to the Puppy's owner if they wish to register their
microchip with a Recovery Association or not.
Bijou Poodle's include a microchip barcode sticker and microchip number in the Puppy Package.




IF you want your dog found and returned to you, the best guarantee is to
have a tag on the dog's collar saying "REWARD" on one side and
your contact information on the other side.
Microchips are ONLY for ID purposes to prove the dog
is yours in a dispute, instead of someone else claiming them, based on heresy.
There are just too many Recover Agencies for a shelter or dog pound
to be bothered contacting, and too many various scanners that are not up to date
or able to scan the most current and world standard chips.

As well most shelters are CLOSED on
weekends and charge over $100.00 fine for dogs found
In the USA shelters have also been known to NOT contact owners because they can make
more money selling found dogs to new homes.

I know myself, if I found a dog and it had a tag with the owner's contact information on it
I would call the owners, quick and simply done and they would get their dog back immediately.
Instead of depending on 3rd party contact and sharing of
information and only during normal business hours.
You would be wise to put an updated phone number and email address on the tag.
You can get tags made at most petsmarts.
Today there are also several "tracking" devices you can attach to a dog's collar.


Q. What is a Microchip?
A. A microchip is a very small capsule about the size of a grain of rice that
contains a computer chip which stores an alphanumeric code
that is unique and
specific to the animal which receives the implant.
This unique number appears on your registration papers and can be used
to identify your pet should any dispute arise as to ownership.


...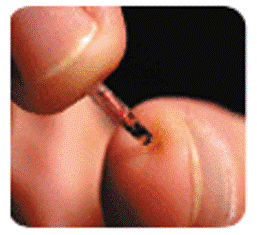 Xray of implanted microchip, photo of the microchip, actual size of the microchip


Q. What microchip does Bijou Standard Poodles Implant?
A. Bijou Standard Poodle use ISO chips which are approved by
The National Companion Animal Coalition and meet the new Canadian Standard.
CKC accepts all microchips approved by the National Companion Animal Coalition
and meet the new Canadian and World Standard of ISO chips.
The RFID Microchip is the latest ISO standard FDXB format and can be read by any ISO FDXA/B scanner world-wide.
This is also the only chip the Canadian Kennel Club recognizes.

...



Q. How is a Microchip Placed

A. The microchip is injected under the skin between the shoulder blades and into the connective tissue of your pet
with an instrument much like a hypodermic needle. It is no different than having your
pet vaccinated, the process is quick, simple and causes minimal discomfort to your pet.
In over 20 years we have never had a microchip "migrate" like some people believe might happen.
I have seen Breeders and even Vets implant into "tented" skin and poke out the other side,
resulting in the chip dropping to the table.
I have also seen Vets implant without tenting the skin resulting in a painful muscle implant.
Like anything, mistakes can be made, so it is best to be done
by someone with experience (Vets and Breeders alike).


Should you Register your Microchip
How the Recovery of a lost pet should work:
Ideally when a lost animal appears in a shelter, humane society,
or veterinary clinic, it will be scanned for a microchip.
If one is detected, a specific alpha-numeric code will be displayed.
With that code number in hand, a call will be made to a recovery database using a 800 toll free number.
That code number can be traced to the pet owner listed in the database files, 24 hours a day 7 days a week.
However, detection of the microchip is contingent upon the skill level
of the person scanning, the chip used, the scanner being used
and which recovery association of the MANY ... that will be contacted.
Not all microchip companies use the same database.
American Veterinary Identification Devices (AVID) uses PETtrac.
HomeAgain now operates its own database system.

Some Recovery Associations to Choose from:

AKC Recovery
24 Pet Watch
Home Again
Pet Link


Where to Purchase Microchips From:
Viaguard
10 Pack - $79.00
50 Pack- $299.00
100 Pack - $495.00
Optional Lifetime Registration with Viaguard - $19.00
~ Save an Extra 20% Because we pay the taxes and shipping ~
?Phone 1-877-842-4827
1232 Kingston Road
Toronto, Ontario Canada M1N 1P3
www.accu-metrics.com/microchip.php