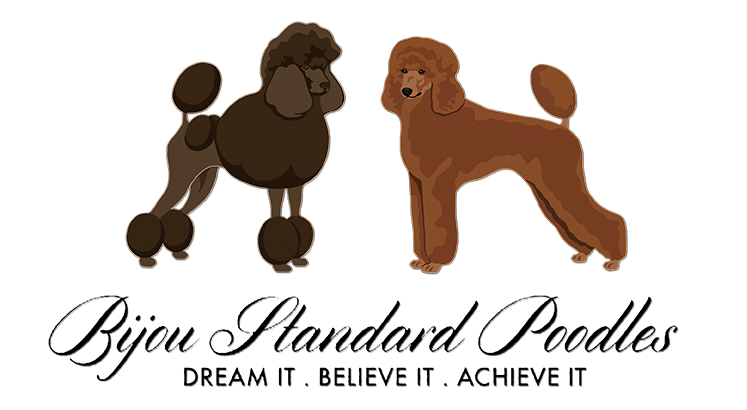 !! AVAILABLE PUPPIES !!

Meet Our Poodles... Our References... Web Page Links

Questions Answered... Whats New at Bijou...Bijou Difference

Contact us: brownpoodles@yahoo.com






PUPPY LAYETTE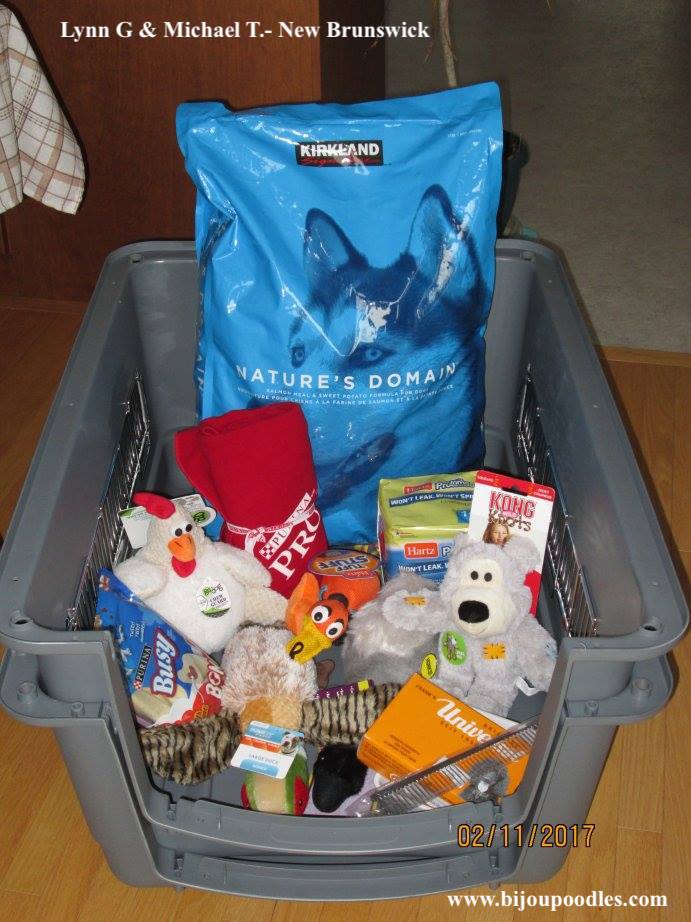 I always get asked "what will I need for my puppy".
So I spent "hours" gathering up information and pictures of products
that I hope will assist you. You do NOT need to buy everything you see here.
This is just a guide for you to explore.
If you find something useful that is not listed here please let me know
so I can add it. Many people have a "Puppy Shower"
and you could "register" at your local Pet Store such as Pet Value or Petsmart.
they often offer discounts and usually every pet stores offers "gift Certificates"
You can bring your puppy with you to Petsmart for a socializing opportunity or shop online on amazon



TRAINING GEAR TO BUY FOR YOUR NEW PUPPY
* Click to view what to buy and from Where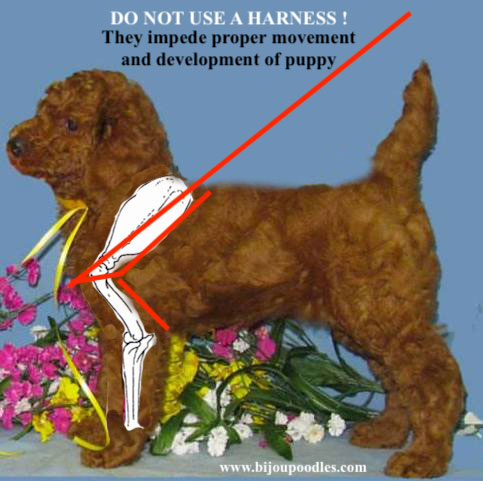 NEVER EVER USE THIS TORTURE DEVICE !!!





or on our Grooming Supply Page that is TOO extensive to list here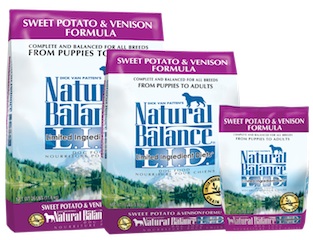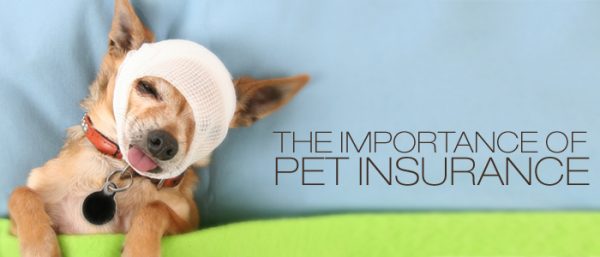 PET INSURANCE COMPANIES

Make sure to sign up for a Petsmart Pet Perks Card
if you are planning on shopping there for great discounts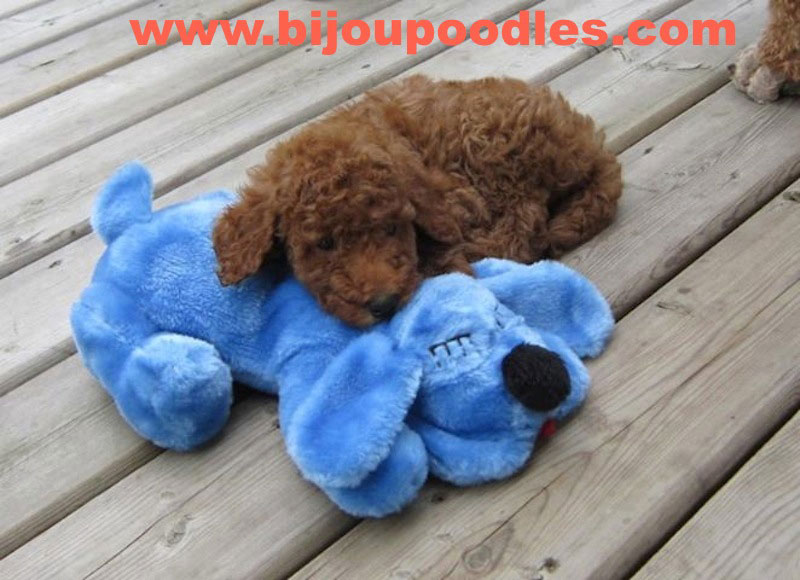 Snuggle Puppie
The Snuggle Puppie is an award-winning
innovation with everything you need to make a puppy or new pet feel
warm and welcome. Plush dog has a Velcro pocket into which you can slip
the battery operated "heartbeat" and warming device, as well as a
bottle so baby animals can feed if needed. Comes complete with
heartbeat, 2 disposable, non-toxic heat sources that provide up to 20
hours of warmth each, and a terry cloth bag that lets you create your
own heat source using white rice. Heartbeat contains long-life
batteries that can be replaced with style 357 calculator or watch
batteries. Snuggle Puppie measures approximately 13" from nose to tail
and can be machine washed in cold water. So far I can only find these
at "Petacular food and supply stores" and Walmart has a scaled down
version for sale on occasion. You can also find it online





Dog Tag or collar ID Band
Reward and your contact information.
This will ensure 100% should puppy get lost that anyone finding puppy
will be able to return puppy to you ASAP. Unlike dog catcher who are
usually only open On-Friday and have a fee to return the dog to you.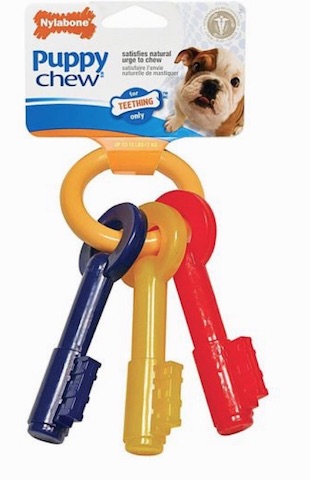 Nylabone Puppy Teething Keys
THE ONLY Nylabone product pups really love
Specifically designed for teething puppies.
Helps clean teeth and control plaque and tartar.
Most pups don't like the nylabone products we have bought in the past
However pups and adults LOVE LOVE LOVE these keys.
The added benefit is that they wash up easy and last a long time.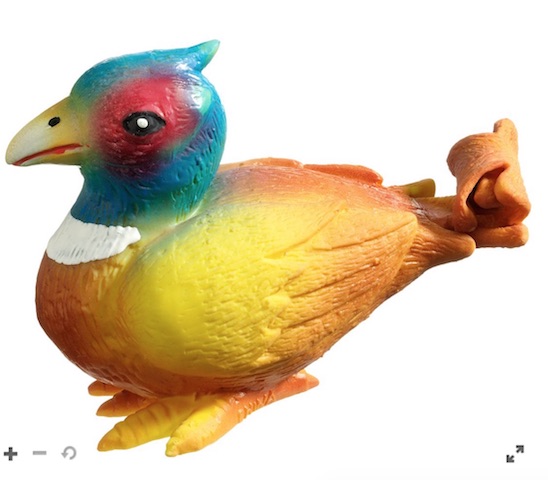 PetSafe Squeeze Meeze Dog Toy
Soft squishy toys the pups love to chew and carry around
ONLY for young pups 8 weeks-12 weeks of age.
They LOVE LOVE this toy.




!1 Indestructible Dog Toy !!
West Paw, Zogoflex Dog Toys
Global Pet Foods in Canada carries these






Migrator Plush Wild Bird Dog Toys

This is Ruby and Raven's favorite toys These realistic-looking plush toys will grab your
dog's interest with their unique wild bird shapes. Each toy contains a
squeaker that produces a realistic "bird call" sound. They're easy for
dogs to pick up and carry and they'll soon become your dog's constant
companions.Toys have no removable pieces, the eyes are sewn in. My guys
LOVE these.



KONG Snugga Wubba features two thick fleece covered balls with tails for shaking or tugging.
Also come in other designs such as rabbit.




Puppy KONG Binkie for Beginning Chewers
My pups love these





JW Pet Good Cuz/Bad Cuz Dog Toys
Great for pups over 4 months of age
Valor, Razz and Ruby LOVE this toy



...

One of Ruby's Favorite toys
Meaty Beef Bones or Dina Bones
Bijou Poodles highly recommends RAW bones (fed outside)
pups love chicken feet, rabbit ears, chicken necks, rib bones





Elk Antlers are great long lasting treats for dogs because
They don't splinter, Last Long, Excellent source of calcium and minerals
No Chemicals, No dyes or preservatives, No detectable order, don't get the dog's coats messy




Information on getting a Dog Walker or Dog Sitter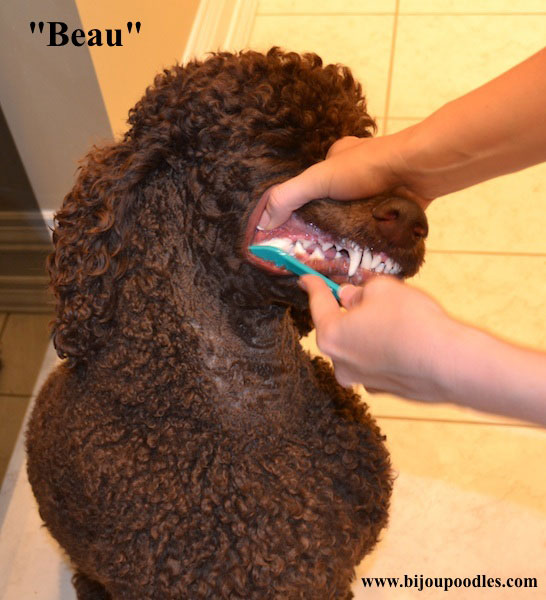 ...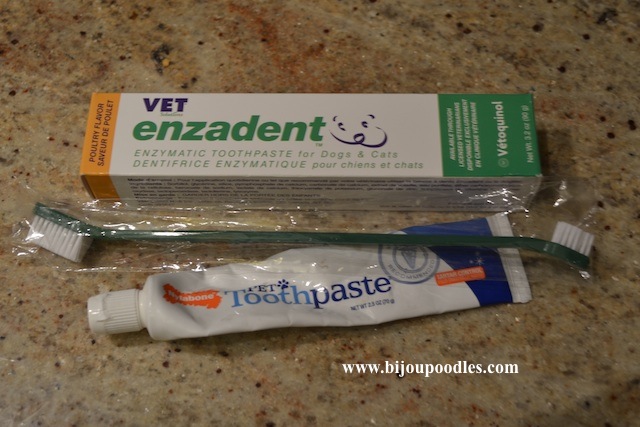 Beau getting his teeth brushed Some people will brush their Poodle's teeth and tongue daily
Supplies available at Petsmart or your Vet




Booster Bath available at Costco (click to go there)
$159.99 Item # 901529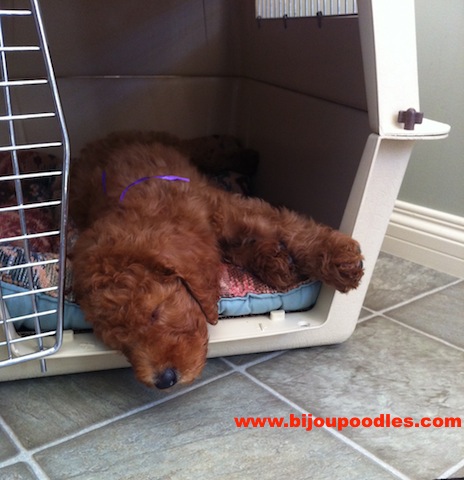 Plastic Cage
ANY name brand will be fine.
A cage size (Medium: 26"L x 18"W x 18"H) is the cage size you need for Puppy's first day at 8 weeks of age
and should last puppy a couple weeks at least until they outgrow it and the size that puppy will be shipped to you in.
Grreat Choice Dog Carrier from Petmart
We use the plastic crates as they are more den like
They have less areas for puppy to injure themselves on
Less chances of them grabbing anything to pull in and destroy
Also easier to clean if the puppy makes a mess (which they should not if it is the proper size)
However a 36" D" X24"W X26"H size carrier or may be listed online as a 36"
should do a lifetime, for short time confinement.
In order to toilette/Crate train a puppy in an over sized cage you will need
to make it smaller to only allow enough room for puppy to lay down (and not to pee in there
by blocking the extra space with either cardboard boxes or toys or wooden wall.
Any Cage name brand will do and any store such as Walmart, TSC Store or Petsmart
are reasonably priced. Do not get the "wire" cages.
...

Doggie Dooley Disposible waste system
3016D from Costco: $37.99 in-ground pet waste disposal system.
Also at Petacular It works like a miniature septic system, safely breaking down feces,
allowing the residue to harmlessly sink into the surrounding soil.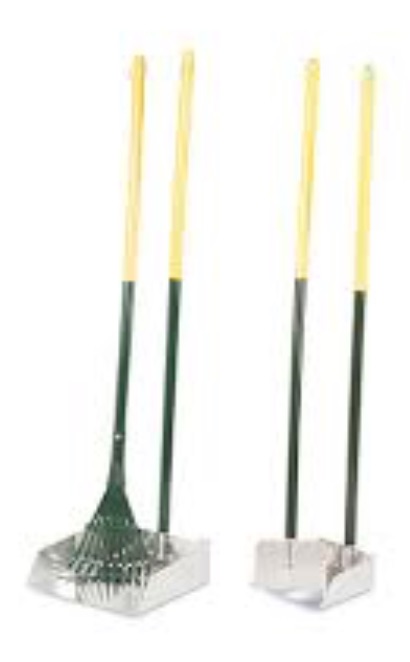 Poop Scooper
I have this and a kitchen garbage can lined with a garbage back
sitting out in the yard. Easy quick yard pick up. Aluminum will last long.



Bags on Board
You'll never forget your bag again
when you have Bags on Board. This compact dispenser fits on ANY LEASH
and holds 12 bags. Packages include dispenser, 2 sets of 12 bags and
cable tie to attach to your leash. Refills available. Bags are 100%
Biodegradable!
Hands Free Gate
Keeping your pet out of restricted areas while coming and going is
easier with the Hands Free Gate. Simply step on the food pedal and the
gate swings open, leaving both hands free for carrying items. The pedal
requires pressure from an adult's foot to open it, adding safety for
pets and kids. Pressure mounted design holds securely without marking
your walls. Fits openings from 29"-34"W; each extension panel
(sold separately) adds 5" to the width.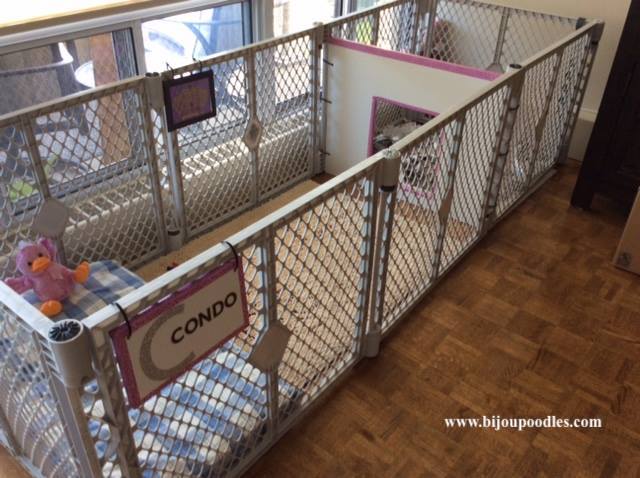 Top Paw Pet Yard Containment Pen or Superyard XT* or North State - Superyard XT Portable Playard
This LIGHT WEIGHT, easy to clean with a garden hose
When pups go home people can start toilet training them by forming a rectangle shape
and putting sleeping area and toys, food, water at one end and papers at the other end.
Comes with six 30 in. W by 26 in. H inter-locking panels. You create a gate by sliding and lifting the panels apart
or use tie wrap and double ended latches. I put two of these sets together to make a bigger puppy pen.
never lift puppy over the top as will teach them that they can just jump over and out.
I have had my same ones for over 10 years. Easy to clean, durable and totally portable.
These also come apart in 2 panel sections which can be used to block doorways and stairs
Two pannels will block an average porch or deck opening and is cheaper than buying baby gates.
Petco, You can usually get these used at used baby shops or new at Toys R Us and Sears or or right now the cheapest is Walmart online $45.00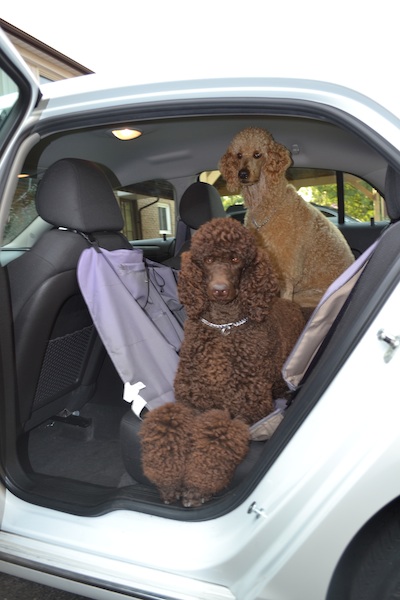 Dog Hammock Style Car Seat Cover
I prefer to see dogs travel in a cage for their safety...however this is an option people like
Car Seat Cover will protect your car seats from mud and water
The hammock style discourages your dog from jumping into the front seat and is safer for sudden stops.
Back seat can be split to accomdate a passenger, as well as your pet!
Tough and water resistant, this seat cover will protect your expensive car seats
and will also help organize your leash and supplies with its' pocket feature.
Fits most cars and SUVs with headrests and is 57" by 59" in size Model # 20190
Available at Walmart for: $23.28




Coolaroo® Pet Bed
Elevated pet cots protect pets from uncomfortable cold, hot, damp, and uneven surfaces.
Strong, durable knitted fabric suitable for indoor and outdoor use.
Flea and mite free. Simply hose clean! Resists mold and mildew.
Breathable fabric unaffected by moisture and natural temperature extremes.
Five year fabric warranty against UV degradation.
Our Poodles have the Small ones until they are a year old and then they get the Medium.
Medium ..... 43 1/2" x 25 1/2" supports up to 65 lbs
OH-C2 Medium Coolaroo® Pet Bed $21.95
OH-C3 Large Coolaroo® Pet Bed $24.95
OH-C5 Medium Replacement Cover $8.72
OH-C6 Large Replacement Cover $9.84
Jeffer's Pet Supply




Kuranda Dog Beds they cost a fortune but will last a lifetime
These are really great and just wipe clean.
We bought the 40 oz. Vinyl, Poly resin, Size Large, as our kids like to share.
Available at Country Paws Boarding Inc
1766 Wilton Grove Road
London, Ontario
Tel: 519-644-1771
london@countrypaws.on.ca




Pet Bed with cedar shavings
Available cheapest at Costco for $36.99
Item # 237295
We bought several from them and they have lasted over 2 years with regular washing (entire bed)
I like the dogs smell of cedar but not the greatest if you have allergies.
(note *The bigger ones dont' always fit in the washing machine*)
Costoc has several other style beds that are inexpensive




DogPedic Beds
Memory Foam Bed, as seen on TV, with WATERPROOF liner and a suede like cover.
I like this bed for the simple reason that liquids wont absorb through the entire
bed so I only have to wash the cover and wipe the liner down.
Also the fact that the bed will hold it's shape and not get all fluffy just at the one end
However you do pay for these added features..
Standard Poodles will need the "Medium" sized bed which is 37" x 24"
$70.00 +SH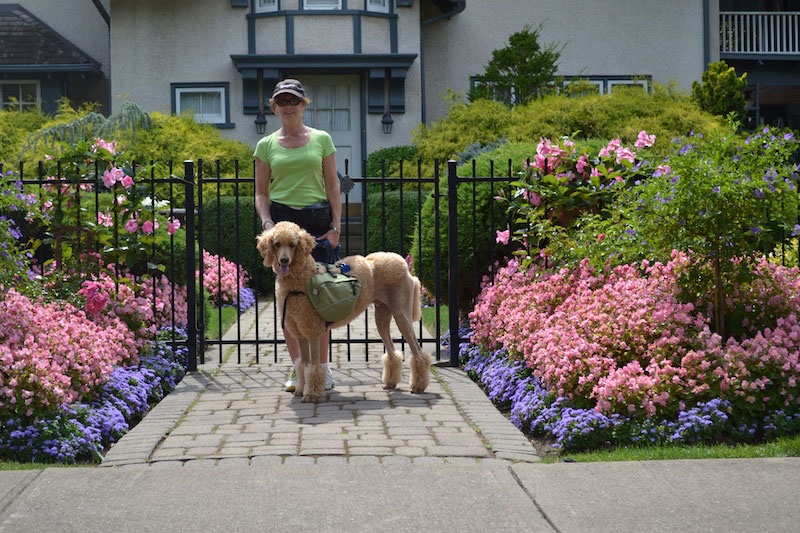 Outward Hound Dog Backpack
Our new backpacks are perfect for the outdoors with their roomy saddlebag compartments,
mesh pockets, and durable zippers, whether on the trail or around town.
They are often used to give active working dogs a "job", thus calming them down.
Dogs like to have a job and why not let them contribute to your adventures.
Available at Walmart and Petsmart



Flexi Long Leash Classic 3
Leash offers maximum freedom to the
dog & convenience to the owner. The dog feels free & will
hardly notice the smooth Recoil of the spring, but can be easily
restrained by a gentle pressing the brake. The brake can also be locked
into place. The flexi Classic 3 features a cord retractable leash that
extends up to 26 feet and is available for all size dogs. Some come
with flashlights now too. If you are walking along a road, please do
not use the flexi lead. Many dogs have ran out onto the road before
their owners could "lock" the leash.
Ruff and Tumble Flashing I.D. Tag
It's an I.D. tag by day and a flashing safety tag by night. Flashing tags
are equipped with motion and light sensors so they only light up at
night while your pet is moving. This feature increases the life of the
battery from hours to months! Visible for up to 1/3 mile. Tags are
waterproof. Battery included. There are many other brands that you can
activate when you wish it to blink. Personally I want to know where my
pet is when he "isn't" moving as well as when he is.
No-Spill Stainless Steel Dog Bowls or Ceramic bowls
Tough, rust proof stainless steel is the perfect dish for food and
water. Easy to clean in the dishwasher and lasts forever.
Ceramic you have to wash by hand but they won't be able to push it around
on the floor making a lot of noise when eating. Neither one will cause acne like plastic.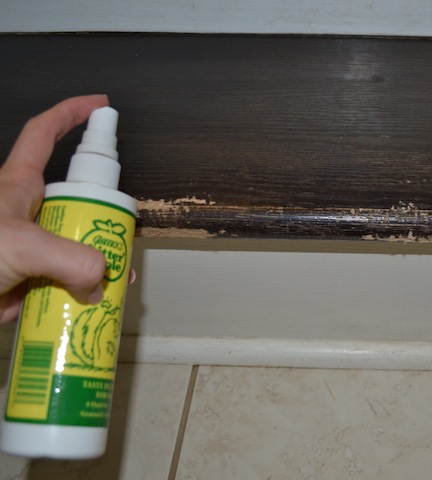 Bitter Apple Spray
This non-toxic chew deterrent is safe
and effective. The bitter taste stops dogs from chewing edge of
furniture, bandages, fur, electric cords, cage doors and wounds
allowing them to heal properly. Can also be used on furniture, hands and items
you want to protect from being chewed up.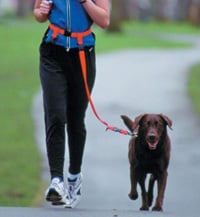 The Buddy System Leash
Hands free jogging or walking leash.
Available at Amazon or buy direct at their web page. Buddy System
I really love this product and I will be using it for Skijoring and sled pulling along with a harness
WHERE TO SHOP:
Please keep in mind that if you buy from the USA you will have to pay exchange, shipping, duty and taxes.
Jeffers Pet Supply

http://www.jbpet.com

Needs N Desires

Cherrybrook show Supplies

Pet Edge (cheapest place for clipper blades)

Coscto Pet Supplies

Petacular

http://www.petsmart.com/ps/main.jsp

http://www.petsupplyhouse.com/

http://www.renspets.com

http://www.superpet.com

Walmart

TSC Farm Supply Store

le Pooch

Four Paws Only



Weight pulling or carting harnesses

Lure Coursing Coats and Collar's from Sirius Dog Supply
(Official supplier of Bijou Poodles racing Poodles)
email at sirius-supply@sympatico.ca




Skijoring Information
Getting Started
Ruff Wear Omnijore™ Joring System
We also know that serious sled dogs use the cheaper cordura dog boots very effectively.





TIPS FOR YOUR PUPPY:
*Grooming
*New Puppy
*Trimming Your Puppies Nails
*Vaccinating Your Puppy