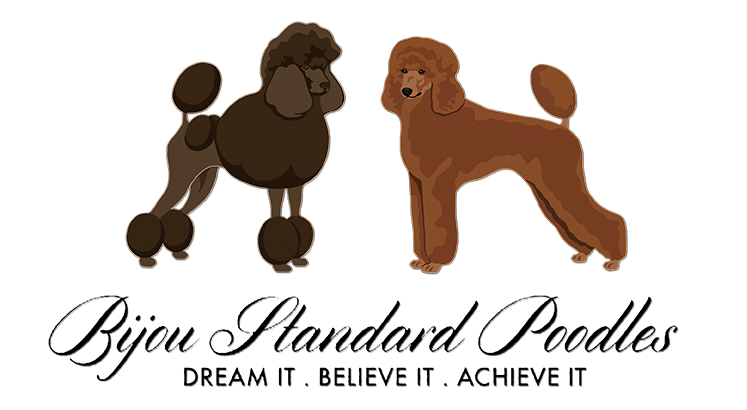 Meet Our Poodles... Our References... Web Page Links

Questions Answered... Whats New at Bijou...Bijou Difference

Contact us: bijoupoodles@yahoo.com




World famous for Dark Brown Standard Poodles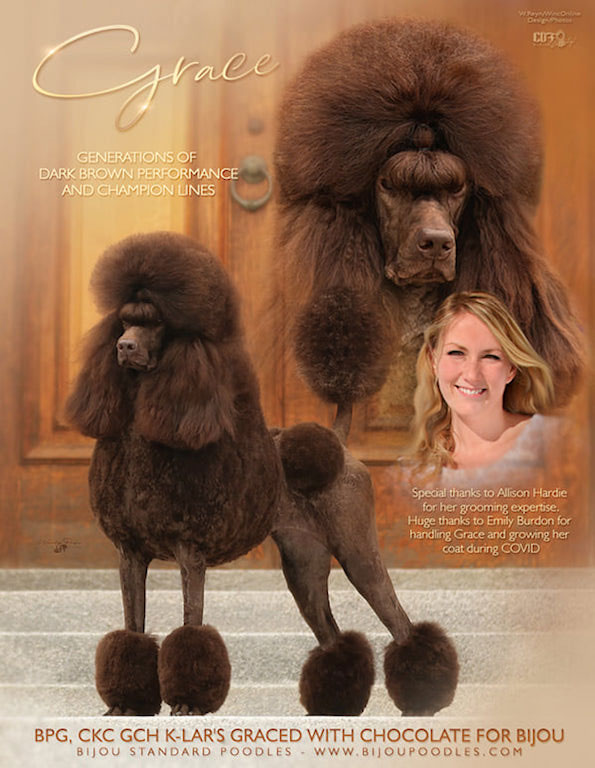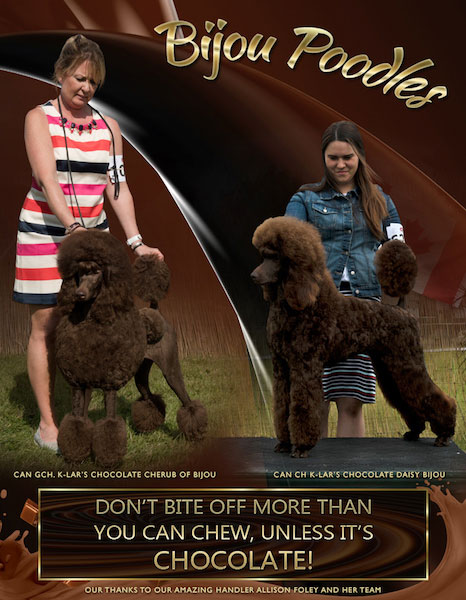 Canada's only CKC Grand Champion Brown Females





Rollin's Brown Poodles Gertrude and Gretel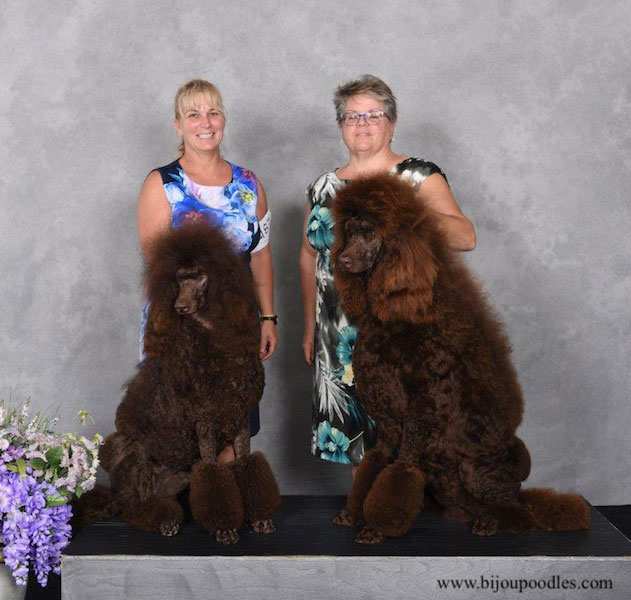 Lily and her brother Oscar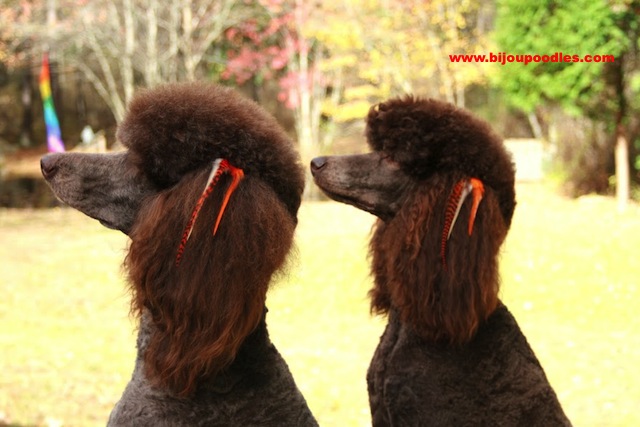 BROWN STANDARD POODLES:
.....

Larger standard poodle at 28" tall and a normal standard poodle sized at 24" tall


...

~ AKC Breed Standard ~ States: Standard Poodle Size :
The Standard Poodle is OVER 15 inches at the highest point of the shoulders.
Any Poodle which is 15 inches or LESS in height shall be disqualified from competition as a Standard Poodle.
~ There is no limit for how tall a Standard Poodle should be in AKC, CKC, UKC ~





Physically: Our Browns range from 24"-28" and 45lbs-80lbs and are within the AKC Breed Standard.

Our Browns tend to be more "muscular" than what you would typically see at a dog show and for sure
have loads more boning than the average chicken boned poodle you may meet.
This is because our Browns are Working Dogs, and must be physically capable to work.
Our Brown poodles are DARK brown. This is very difficult to have achieved and took years to develop.
Our pups "may" get a sprinkle of grey hairs through their coat as they mature, and may even lighten
on their muzzle or tail area when they age. There really is no guarantee on colour.
The overall appearance of our browns are undeniably that of being BROWN.
We do have the darkest browns, with substance, that you will find in the "world".
*Click to read more about Colour

Temperament : Our Browns are sweet natured and calm.
All our poodles have calm laid back temperament. NO anxious, hyper pacing or barking.
Our Browns love to be with you in the same room or on the couch beside you cuddling during a movie.
I use my browns as my jogging partners as they are taller and able to do 6km with a good pace with me
without any stress or strain and they actually look forward to it and enjoy the activity.
Browns and all poodles will actually do any activity that pleases you as that is just the breed's nature.
Our working Poodles do Tracking, Schutzhund, Physical Support Dogs, Special Needs
Obedience, Rally, Pet therapy, Coursing, Weight Pulling
and Agility with my poodles and all performed well and accomplished titles.




~ Winter 2014 ~
Look who came to visit !!
Sophie, Joy, Truffle and Dream





OUR BROWN STORY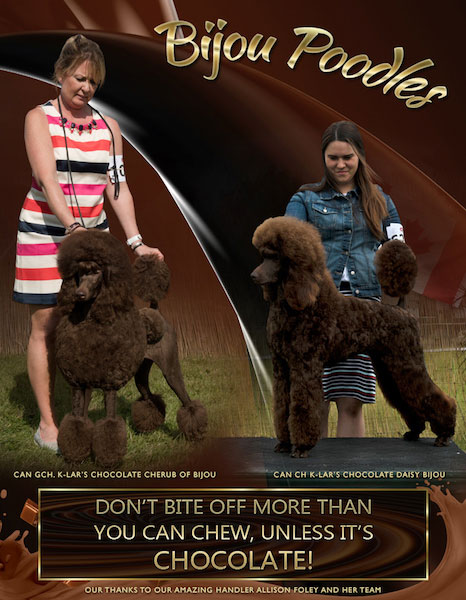 in 2016 Bijou Poodles bred the FIRST Brown Female CKC Grand Champion in 127 years of CKC History !!!
In 2017 Bijou Poodles bred the SECOND Brown Female CKC Grand Champion in CKC History
in 2018 Bijou Poodles had the honor of breeding the SECOND brown male Grand Champion in CKC History.
Bijou Poodles now has the distinction of Producing the most brown Grand Champions in CKC History !
!! Our Browns are the darkest browns you will find in the world !!
"12" OFA and DNA Health Clearances (yes we go above and beyond), Calm, sweet Temperaments, Longevity
AKC, UKC performance and temperament titles, CKC and UKC Championships or Grand Championships
Why would anyone settle for Less ?
Well we don't, and thanks to our Foster homes, helping us out
you don't have to either !







Our Quest for brown was a long one. We bought and re-homed many in our search
for a dark brown that was calm and laid back, that would produce puppies we would
be proud of, and know that we could in good faith, place in pet, obedience and therapy homes.
There was no way I would produce unhealthy, or hyper brown poodles, so our standards were very high.
This cost us financially, emotionally, and took many years.
I could not find browns like what I wanted to own, or produce
so I waited and kept searching for over 5 years.
I can also only house "3" Standard Poodles,
so it made the journey even more difficult.



~ THE END ~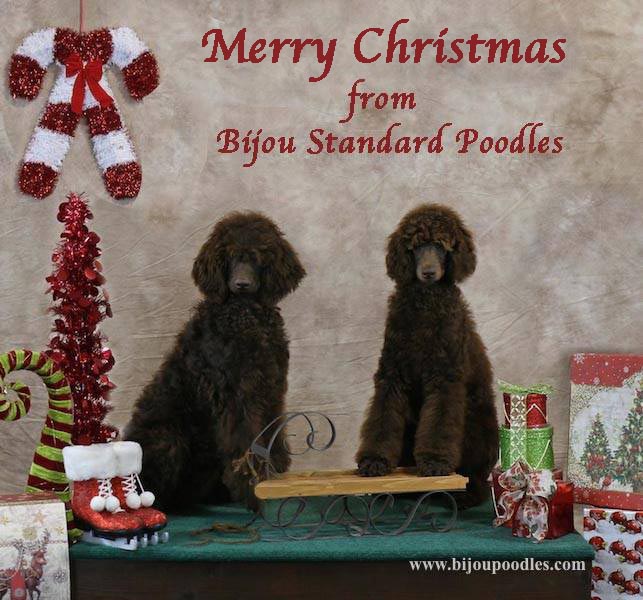 "Bijou's Gretel" enjoying her vacation incognito, but obviously the Paparazzi found her



Bijou Poodles Gerty and Gretel enjoying sipping Margaritas at the Cabana bar




We have found our browns are laid back, kind and loving and yes they love to be silly if
you are in the mood for a chase or to play with them.
Our poodles enjoy doing anything that will make you laugh...