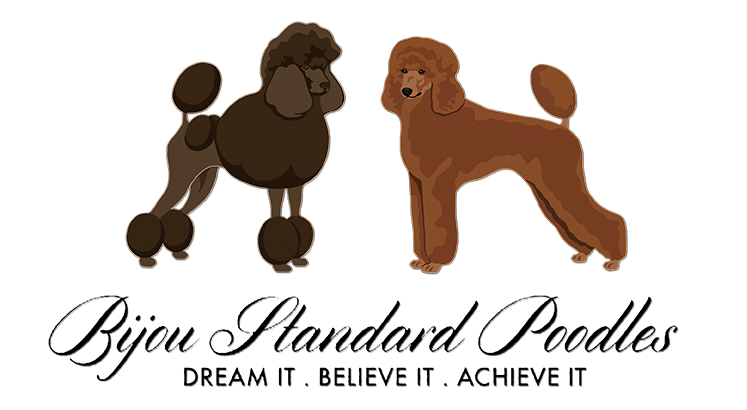 Meet Our Poodles

Questions Answered... Whats New at Bijou...Bijou Difference ... Puppies

Contact us: bijoupoodles@yahoo.com
ABOUT US AND OUR POODLES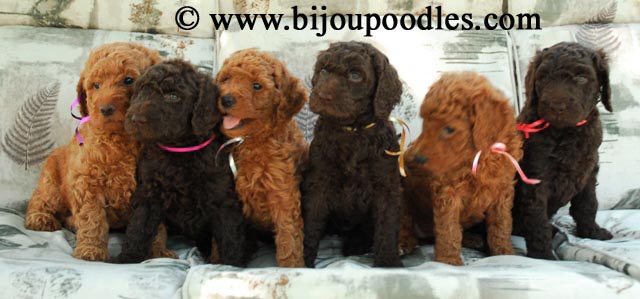 "They are not my whole life but they make my life whole".
Dark Brown, Vibrant Red Standard Poodles.



THINGS TO CONSIDER "BEFORE" GETTING A PUPPY:


This is how we raise our pups
until their eyes open.

1. Are you prepared for the first week of no sleep while crate training your puppy ?
(We do offer training suggestions in our manual )
2. Are you prepared to feed and let the puppy out to toilet (with you there with them to praise) every 6 hours ?
3. Have you found a Groomer in your area and are you prepared to pay their fee every 3 months or learn yourself ?
4. Do you have the patience and time to train a puppy?
5. Have you found a Vet that you would like to have work 'with' you ?
6. Do you have a min. 4 foot fenced yard ?
7. Are you prepared to be a responsible owner and not have your dog bark or disturb your neighbors ?
8. You understand that Bijou Poodles will at any time in the puppy's life take that puppy back, no matter what.
9. We do not do refunds, as our pups are not disposable nor do we offer "test runs".
Our pups only live only to please you their owners.
10. Our pups do not come trained. They do arrive as confident happy puppies willing and eager to learn from you.
11. Please Read: Am I really Ready for my first Puppy ?
You need to carefully consider your commitment (financially, emotionally and physically) to having a puppy,
before leaping into a purchase.
12. How to Find an Ethical Responsible Breeder
13. Bijou Poodles requires a $200.00 deposit to secure a puppy from our Litter.
14. Did you fill out our Application

Answers to some common questions we often get asked:


Do you do Health Testing? and do you have proof ?

Do you Show your Poodles ?

Do you do Tail Docking ?

Do you remove Dew Claws ?

How do your dark browns and rich reds keep their Colour?

What Types and Sizeof poodles are there ?

Are poodles OK with people with Allergies?

How much grooming is needed?

Can we come and Visit your Poodles and Puppies?

What is the difference between Male or Female?

Is it better to get two or one? at a time ?

Can I run with my Standard Poodle ?

What Environment is best for a Standard Poodle ?

What are your Temperaments like?

Is there any difference in Temperaments between the Colours ?

What is in a Puppy Package what does a Puppy come with?

Is Shipping hard on the pups?

How do I Reserve and Purchase a puppy?

Do you have a non-breeding Contract or Guarantee ?

IF I work can I still have a puppy if I hire a Dog Walker ?

Do you have a Puppy Application Form

What Items do I need to buy for my puppy








...
...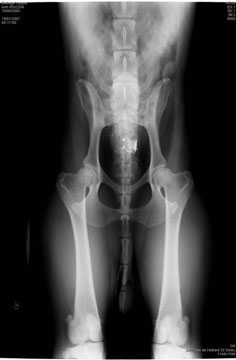 Yes. Each of our dogs are Health Tested for all "CONCLUSIVE" health testing available today,
Which the Ortopedic Foundation for Animals (OFA) offers.
Although each of our Poodles are CHIC Registered, we go above and beyond that minimal testing to complete:
Hip Dysplasia, Elbow Dysplasia, Patella Luxation, Thyroid Disease, Legg-Calve-Perthes, Congenital Cardiac Disease
Full Dentition, Degenerative Myelopathy, Von Willebrand's Disease, Neonatal Encephalopathy with Seizures Disorder
CMTP (Congenital Macrothrombocytopenia), prcd-PRA and CERF (Canine Eye Registration Foundation ) Tested.
DNA Certified. As well as DNA Colour Testing
our Poodles against carrying recessives or dilute which is "believed" to cause poodles to fade in colour.
You can veiw all of our health testing Certificates by looking up our dogs on the OFA web page.
Also the numbers for all our health clearances or certificates are on EACH of our Poodle's individual web pages for you to verify.
*Click to Learn what those OFA numbers mean
You can also see what our Coefficient Of Inbreeding (COI) numbers are, on each individual Poodle's web page for anyone, at anytime, to Verify.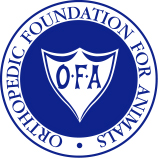 We also offer a 2 year guarantee against congenital or hereditary illness that we test for.
All our pups are Vet checked and receive a Health Certificate before going home.
CONTRACT
A lot of environmental exposures can mimic hereditary health problems normally associated with the breed.
If your dog is vomitting and having diarrhea they need Vet care ASAP as they will get dehydrated fast.
We can't guarantee against bloat, torsion or cancer or environmental factors that we have no control over.

A lot of dogs lately are having food allergies so we are providing this information Food for you to read about.


DO YOU SHOW YOUR DOGS?
...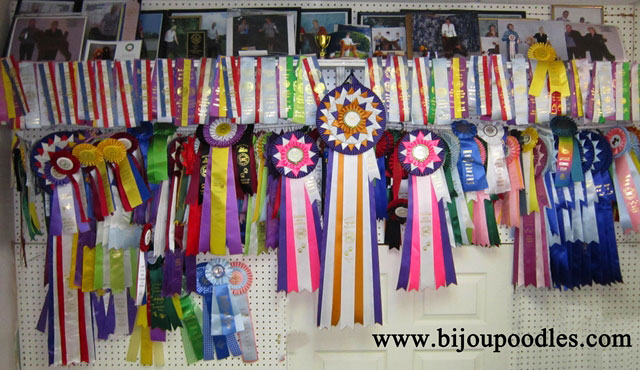 (Only some of our awards, the rest are in boxes as we are still in boxes)
Our dog's have Health, Temperament, Beauty, Brains ~AND~ the Certificates and Tiles to back it up !
Yes, as a reputable Breeder I do show my dogs you can view by clicking on our Champion Page
*Click Here to view our Current Activities
We believe that if someone breeds, that they should be proving that what they are breeding is worthy of being reproduced,
We believe that they should be proven physically sound and correct (by a Grand Championship title),
that they have brains (through a Performance Title) and that they are healthy (as of 2015 with 12 OFA and DNA health clearances)

2010 = 17 New Titles
2011 = 34 New Titles
2012 = 31 New Titles
2013 = 38 New Titles
2014 = 34 New Titles
2015 = 10 New Titles
2016 = 37 New Titles
2017 = 33 New Titles
2018 = 22 New Titles

POODLES WE OWN HAVE ACHIEVED until 2011 (too hard to keep track now)


~ UKC Championed "24" Standard Poodles with multiple Group Wins and Best in Show Wins (more on the way)
~ UKC GRAND Championed "10" Standard Poodles since 2010
~ 12 Rally Obedience Level 1 Titles (many High in Class wins)
~ 6 Rally Obedience Level II (many High in Class wins)
~ 6 Rally Obedience Level III (high in Class wins and HIGH IN TRIAL)
~ 4 Poodles with URX legs (with Class Wins and High in Class)
~ 3 UKC Weight Pulling Titled Poodles
~ 3 NADA Weight Pulling Titled Poodles
~ 8 UKC CA Titled (Coursing Aptitude Titled) Standard Poodles FIRST IN HISTORY !!!
~ 3 UKC CAX Titled (Coursing Aptitude Excellent title) Standard Poodles FIRST IN HISTORY !!
~ 4 AKC CA Titled (Coursing Ability Title) AKC's First Standard Poodle IN AKC HISTORY !!!
~ 3 Alter Champions (shown by their owners), with Group and multiple Best in Show wins
~ 1 Alter Rally Obedience Title (shown by their owner)
~ CGC Certificates
~ CD titles
~ St. John Ambulance Therapy Dog Certificates
~ Pups in the Lions Seeing Eye Dog Foundation being used Seeing Eye Dogs
~ 4 x Recipient of the UKC Activity Rewards Program
~ 8 x coveted "TOTAL DOG AWARD" Winner
~ 2011 UKC's #4 TOP TEN POODLE - GRCH. Bijou's Ooh La La (winning BOB over 62 Poodles)
~ 2011 UKC's # 9 TOP TEN POODLE - GRCH. Bijou's Dare to be Different (winning BOB over 33 Poodles)
~ *Click here to follow all our Poodle's accomplishments as too many to keep listing
~ Bijou Poodles also offers Incentives for our Puppy People !!

All our Poodles have Health, Temperament, Beauty and Brains and the Awards, Certificates and Tiles to back it up !
We put together a web page on:
"Showing and What to Bring to Dog Shows" (For Bijou People only email for info)
*Know the Standard Poodle Breed Standard
*Events you can do with your Bijou Poodle



...
Bodhi and friend enjoying a summer dip.........................Autumn (Rose x Razz) enjoying winter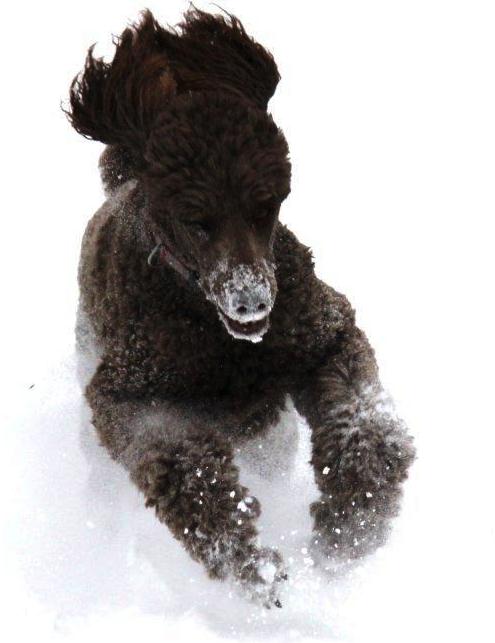 Silas (Razz x Rose) and Kodie (Hershey x Java) Enjoying their first snow fall



Poodle Snow Ball Boots
The poodle coat will collect snow balls in the winter if it has any length to the coat.
One of our owners uses a hair blower to dry their Poodle after such outings.
We bring our poodles inside and put them in a crate laying on towels until they thaw out to save our hardwood.
Standard Poodles LOVE the Water and LOVE Snow




...


Tail docking is performed when the puppy is between birth or three and five days old.
It takes seconds and mom is in the same room and nurses them directly after.
Web page on Tail Docking and Dew Claw removal (GRAPHIC Photos)
There are a variety of reasons given for docking tails, aesthetics and adherence to breed standard being two of them.
At Bijou Standard Poodles we dock tails because a majority of our pups go on to be Service Dogs or Pet Therapy Dogs.
After seeing several injured tails from being run over or caught in wheel chairs, and the agony that our dogs experienced,
we decided it is in our pup's best interest to avoid any chance of injury,
which will only lead to surgical amputation performed as an adult and under general anaesthesia (major surgery).
We also feel that the purpose of our Poodles as pets, is also benefitted by shorter tails as our dogs will not
knock over small toddlers or the elderly with their long whip like tails or clear any coffee table drinks.
While these may sounds like a trivial reasons, you just have to see a child with their head bleeding or face burnt from hot liquids
or a hip operation done on the elderly to put everything back into perspective.
Our dog's are born with a purpose and tail docking helps them best perform that purpose be it Loving Companion or a Service Dog.
While tail docking costs Breeders a more money at the Vet, (hence the popularity of tails being left natural),
our priority is the welfare of our pups.




...

Dewclaw removal is most often performed in puppies around 3-5 days of age.
Bijou Standard Poodles removes dewclaws to prevent future injury.
We have had our poodles dewclaws greatly injured at groomers who didn't expect a dewclaw to be there
and almost amputated it when clipping.
Removal of tails and dewclaws (beware Graphic)
We have had our dog's themselves almost pull their dewclaws off when caught in carpet while running.
We have also seen dewclaws gotten forgotten for months and not been clipped.
Dewclaws will wrap around itself and imbed into the leg causing great discomfort and needing a great deal of care to clip if not surgery.
Dewclaws do not get worn down on their own like other nails as they do not touch the ground.
An injured dewclaw has a major amount of blood loss and excruciating pain to the dog.
As a result of all of this we now routinely remove the dewclaws to ensure our pups are injury free.



How do your Rich Reds and Dark Browns keep their Colour?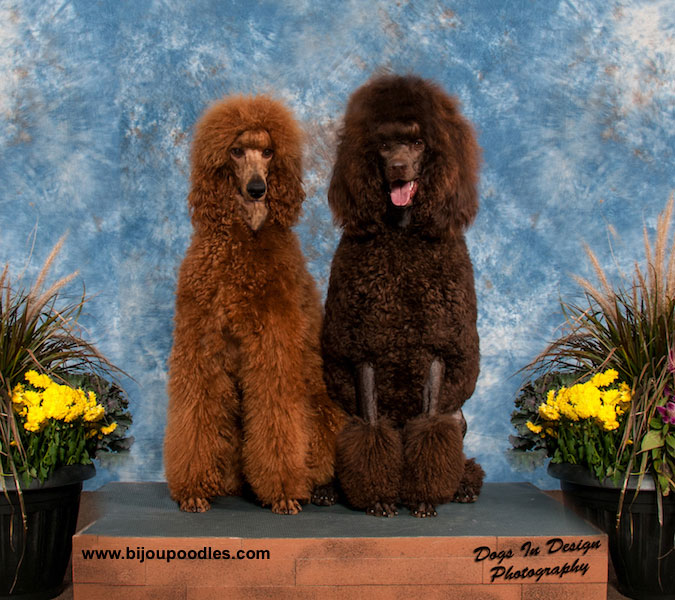 What types of Poodles are there?

Red Toy Poodle...................................Red Miniature Poodle.............................Red Standard Poodle
Toy is the smallest under 10", Minatures are 10"-15", Standard Poodle is over 15"
Registries such as the CKC, AKC, UKC, only have 3 sizes of Poodles that they officially recognize & register.


.....

Larger standard poodle at 28" tall and a normal standard poodle sized at 24" tall



Brown Miniature and Brown Standard Poodles

Breeders however have created marketing phrases to emphasis the size of their poodles.
So phrases like "Tea Cup" for really small Toy Poodles, "Moyen/Klein" for larger miniature poodles or
"Royal Sized" for larger Standard Poodles, which are marketing tools to describe heights.


...

I often get asked "how do you measure a dog" so above is a photo illustrating
how to measure from the ground to the dog's withers/shoulders.
At a dog show they may also use wicket (you can make your own)
or you can buy a professionally made one such as the E-Z Wicket
http://www.ezwicket.com
http://www.starsandstripesagility.com/FreePage6.htm
http://wicketsbymel.com/FullSizeCutDownWickets.html
http://barrelvalleycockers.homestead.com/wickets.html
http://www.doubleringkuvasz.com/wickets.html
which drops across a dogs withers/shoulders to give a measurement
Breeders will also use "chocolate" to refer to browns as Chocolate just sounds nicer than "brown".
however Brown is the AKC correct name for the colour "Brown". Breeders may use the term "Irish Setter Red" to describe the dark red of a puppy.
but the only name acceptable with AKC for registering red is "red".

Toys and Miniatures are almost like a separate breed from the Standard in personality and temperament.
Toys and Miniatures tend to be higher strung and quick to bark at anything.
Our Standards (I speak for my Standards only since various lines are different) are
relaxed, laid back, confident and athletic and so VERY into their owners.
They prefer to be with their owners doing what ever their owners want to do, whether it is jogging, watching movies,
or working for a living. Standards do have a clown type personality and thrive on attention.
If they do something that makes you laugh, they will do that behaviour again and again.
All three varieties do seem to share that poodle empathetic nature. They can feel when you
are upset or hurt and will want to comfort you, getting as close to you as they can as if to absorb your pain.
Standards have been described as the SUV of Poodles.
Our poodles come in a variety of sizes from Marigold who is are smallest at 22" and a "muscular" 40 lbs
to Oscar who is are largest at 28" and a VERY muscular 78 lbs.
We can assist you to select the best litter suited for you
in way of size, function and colour that you are looking for.
Temperament, well that goes without saying "calm with a poodle sense of fun" not hyper.



Are your poodles ok with people with Allergies ?


Yes. Unlike mutt breeds or pseudo "Designer breeds", or anything "oodle" (aka mutt),
Standard Poodles are ideal for those with Allergies.
We have been involved in breeding since 1989
and have even provided the Lion's Seeing Eye Dog Foundation with pups for
Seeing Eye Dogs for people with allergies
and we have only had 1 person complain that they had an allergy to our dogs.
Even my husband who is highly allergic to cats and dogs does not react to our poodles.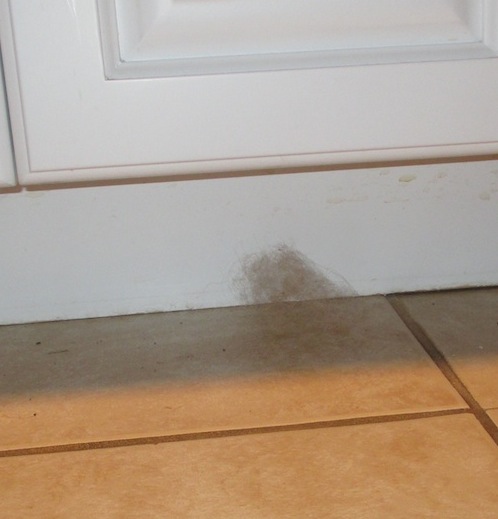 Dust Bunny

Poodles do not shed.
However the hair stays in the coat until it is brushed out.
Occasionally you will find "dust bunnies" in the corners of your rooms.


Canis familiaris allergen 1 (Can f 1) and Canis familiaris allergen 2 (Can f 2)
are the two major allergens present in dog dander extracts.


There is now report the isolation of cDNAs encoding both proteins
and present their nucleotide and deduced amino acid sequences.
Can f 1, produced by tongue epithelial tissue, has homology with the von Ebner's gland (VEG) protein,
a salivary protein not previously thought to have allergenic properties.
Can f 2, produced by tongue and parotid gland, has homology with mouse urinary protein (MUP), a known allergen.
Recent findings confirm that Can f 1 and Can f 2 are major and minor dog allergens, respectively
Which now allows certain labs to be able to test for these allergens.
It is also interesting to note that there are MANY dog breeds that are said to have lower allergen levels
so a person is not restricted to just the Poodle breed because of allergies. Just google "hypoallergenic dogs".




How much grooming is needed?
...
...


How much grooming is required really depends on you and how you wish for your poodle to look.
You can shave your poodle down every 4 months as the poodle in the photo above
or you can let the coat come in longer and leave the face furry and get your poodle groomed every 8 weeks.
Grooming can cost as little as $45.00 or as much as $160.00 depending on the groomer
and how many tangles your poodle has to work through.
Generally speaking smaller Cities charge less.
We have several reccomended groomers listed at the bottom of our Grooming web page
When searching for a groomer you need to know how they take care of the ears and anal gland.
There are various schools of though as to if ear hair should be pulled out but Anal glands need to be expelled.
*Click here to read more about Grooming



Can we come and visit your Poodles and Puppies ?


SURE you can !
We have always enjoyed visitors and the opportunity to show off our family of Poodles.
We are able to show people first hand the difference between our Poodles and pups who are raised in the home,
as opposed to Poodles and pups they have seen that have been kept in a kennel or in a large breeding facility,
or in the country not exposed to city noises, or people.
Plus I just LOVE showing off my beautiful, loving Poodle Family.

There is nothing sweeter than going to see a litter of fuzzy playful, cuddly puppies.
Unfortunately, because of the Parvo Virus, that could mean a death sentence to these wonderful innocent pups.
With the prevalence of Parvo being such that it is, we cannot accept visitors to see our puppies until they have had their immunizations.
It has happened many times within North America that entire litters have been infected and die a horrible death within just days
of having an unsuspecting visitor bring in the virus while seeing the puppies.
We welcome visitors to come and see our home and our wonderful dogs,
but only when our pups are immunized and we do not have an expectant Mother.

Visits are arranged Mon-Friday and usually a morning appointment between 0900-10:00
because we have dog classes and or training in the afternoons and we are at dog shows on the weekends.
We are unavailable during holidays because as full time Professional Firefighters we are working.

When our pups are ready to go home we welcome you to pick them up and visit again with mom and siblings
or we can ship your puppy to you, see our Adoption Procedures for more information on deposits, allocation and shipping.

We understand that you want to know as much as you can and see the puppy
you are going to bring home and we try to help fulfill this wish with lots and lots of pictures.
You will receive pictures and or videos at least every week and sometimes even more.
We love to take pictures and or videos from conception until the week the pups go home.
You can see examples on this web pages: Pregnant Mother, Puppy Development
We start taking pictures of the puppies at rest and play so you can get an idea of their personality.
At around 4 weeks of age we stand them (called stacking)
so that you can get an idea of what the pups are like conformation wise as well.
Our photos are taken with good lighting and with quality cameras.

We promise that with all of the pictures and file we supply to you,
you WILL already have a bond with your puppy by the time he or she is in your arms!

On a lesser important note I know that people find it difficult to fathom that we do get 100's of
inquiries a day, from people all over the world wishing to visit, or to speak on the phone.
It is unreasonable to expect us to accomplish all that we do with our Poodles, raise our pups to the level that we do
work full time and have any quality of life, if we were to entertain all of these inquires by a visit or a phone conversation.
People choose to obtain a puppy from us because of our good reputation
and our healthy TOTAL poodles, so I hope you can understand that this is why we prefer email contact initially
so that I can answer your inquiry when I have the time to fully address your questions.
Thank you for your understanding.


ALL our Poodles have a Working Title and a Championship to attest to this fact Bijou Poodles "walk ....the talk".

As a result of my dedication to my dogs with my busy schedule, we can meet people at dog shows.
This is a great way to meet our dogs away from their comfort zone of being at home.
We also usually show pups we have prouced, so it is also a great way to meet our adults and progeny
You can also watch our Poodles in action, earning those obedience, conformation,
weight pulling, coursing or temperament titles.
Meeting people at shows also helps us to not expose our expectant mothers or young pups to disease and illness that can be brought into
our home inadvertantly, by people on their hands, clothing or footware.

We are not a Kennel and I work full time and my Husband works full time, to afford only the best quality care for our Poodles, no shortcuts !

Our pups are raised in our home and are treated like the well loved fur babies that they are.

Backyard breeders or Puppy Mills prefer to chat on the phone and are VERY eager to open their homes
to potential puppy buyers, as frankly, they have to do this in order to peddle their puppies, before you know the difference.
Many irreputable breeders will also refuse to answer questions in writing on emails, preferring to speak on the phone
so you have no record of their answers or promises... Buyer Beware !
I would prefer for people to take their time and read all they can to learn about the breed, learn about us as breeders,
to read all about what we do and put into raising our confident puppies, fully read our contract, before coming out to our home
and falling in love with the first puppy that comes over and covers them in kisses.
We know this seems like a long process to get one of our pups, but we would prefer to find forever homes.
We do have a VERY detailed Links Web Pageand this is so that you can get to know us,
our Poodles and view our pups of the past as they grow up and are fully grown on our Red Poodle and our Brown Poodle pages.
We have an extensive Reference page where you can read and see
what people who have our pups have experienced.

And lastly I did do several videos of each of our dogs and also an introduction video:




By having an extensive web page there is always up to date accurate, information will be available 24 hours a day, 7 days a week,
to aid people in their search for a loving companion, and our poodles and poodle puppies will continue to receive all the time,
training and attention that they require to develop into amazing companions.








We recommend that our Puppy People consider a variety of factors when making their choice:
Our males will average, as adults, between 65 and 85 pounds.
Females will average 45-70 pounds really depending on the parent's size.
We do occasionally have smaller or larger than average standard poodles in our litters.

We consider sex to be a neutral consideration when choosing our Poodles. But we do find some subtle differences in OUR Lines.
Our males are more laid back and relaxed with the busy comings and goings of a busy household.
Males are content to be in the same room as their owners.
Our females can be a bit more concerned with where their owners are and that everyone is OK and like to touch their owners.
Both sexes are calm and loving and will be content laying with you watching a movie or being your new jogging partner.
Habits specific to the sexes:
Our females are generally more protective than our Males.
Females allowed to roam in yards will urinate on lawns, in some cases burning the grass.

Males instead cock their legs and their adverse effects on lawns are less but they will kill bushes and plants.
Some males also tend to roam more than females if given a chance. Neutering can mitigate this in some instances.




Is it better to get One or Two puppies at a time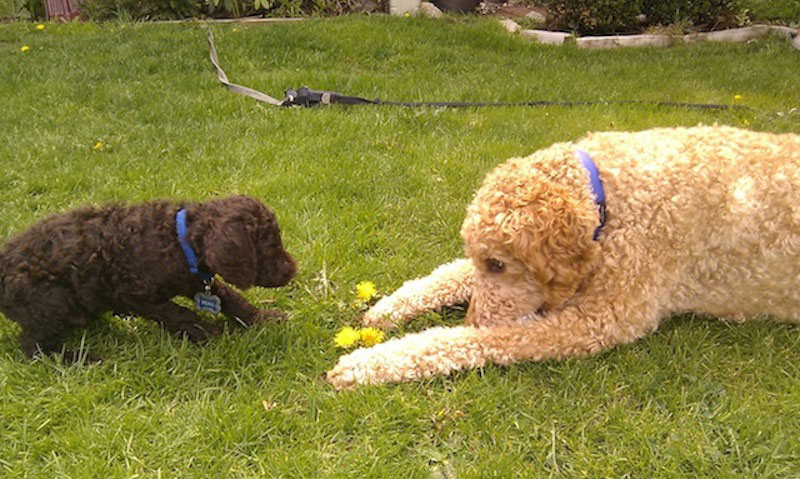 .....


A lot of our puppy people come and see the pups interacting with each other
and decide that they would like two adorable pups instead of 1 for a variety of reasons
1. They want their puppy to have company during the work day
2. They think that training two dogs at once would be better than doing it again later down the road
3. Siblings will generally get along better.

One thing to consider is that two pups at the same time really gives the pups their own pack.
The pups will tend to bond with each other, focusing their attention on each other and a little less on their owners.
As long as owners are aware of this we will sell two pups to the same home at the same time.
What we recommend is 1 puppy at a time with a second addition 6 months to 1 year down the road.
As you can see from our Reference Pages we have many people come back to us for their second Standard Poodle.
The reason for this is that this will give first puppy time to acknowledge and differ to the owners as the leader,
learning the rules of the household or as I call it "pack". When second puppy arrives the first puppy
will teach the second puppy the rules and will also show the new puppy what is acceptable, making training easier.
The same goes for introducing a puppy into a home with an adult or geriatric dog. It is just easier to train.
Many people want to bring a puppy home before their senior dog passes to ease the transition of loosing a loved one.
We also need to warn puppy people that the senior dog will often perk up and appear healthier with extended life.
We are not sure why this happens but after a few reports on this happening we can't deny it happens.
We also ask our puppy people to not interfere with the senior dog disciplining the puppy. He is teaching the puppy
boundaries and that is a good thing. If you stop him from that then you are asking for trouble because there will be no warning next time.
It can also sound like the older dog is killing the younger dog...they are not...they are simply
ROARING in order to not use as much physical discipline, but to warn puppy enough is enough.

People can be particularly antsy when one of the two housedogs is a pup and its on the receiving end of a little dog-to-dog discipline
and you might confuse "parenting" for resentment. Again, generally speaking the older dog knows exactly what its doing
which is teaching boundaries of acceptable behaviour, at least as far as its own comfort zone goes.
Not too much, not too little. You will be on your own as far as establishing your idea of acceptable behaviour with you.

Introduced properly most dogs sooner rather than later find a balance as to which is going to have say over what and it is normal
for dogs living together to have scuffles once in a while. Problems can arise if the dogs owner keeps interfering with the dust-ups
before they have resulted in a conclusion satisfactory to the dogs. Unresolved issues can result in an escalation of aggression so it is
usually better to let them work it out. Easier said than done though as the difference between a dog argument and a dogfight
is difficult to tell apart. You know there must be a way to tell but either way all you want to do is to find a way to make it stop.

Make the introduction off property if you can. Tire out both dogs before the meeting and leave the puppy in the crate in your house
until your dog has had a chance to investigate and you for a feel for which way the wind blows.
Here is what Cesar Millan had to say.



Do Standard Poodles Get Along with other Animals ?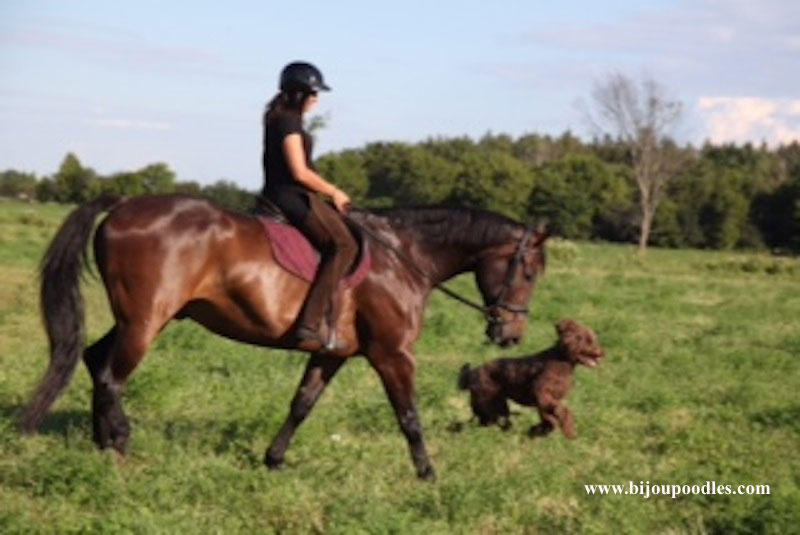 ...
...
...
...


Yes. Poodles love everyone and everything from horses to birds.
However it will be up to the new owners to make the introductions
a pleasant experience for the puppy. Our pups tend to be very confident and quick to recover when startled.
New owners need to encourage this confidence by being matter of fact about any new situation
and NEVER EVER comfort or coddle a scared puppy. Puppy meeting new dogs and or animals need to "sort it out"
for themselves with as little human interference as possible. If they get carried away, leave the room,
Poodles want to be with their owners so they will follow you and this will end any rough housing.
Pups think birds or other family members are just that "family members" and will treat them with respect if you
are a good leader.

It takes 1-2 weeks for a senior dog to accept a new puppy and 2-3 weeks for a cat to accept a new puppy.
Guaranteed within the month your new puppy will be cuddled up with the rest of your furry family.
Smaller dogs do get along very well with Standard Poodles as do Horses and other species.



Can I run with my Standard Poodle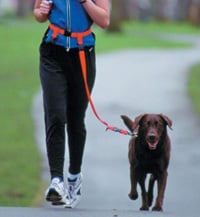 Yes. Raven will run 6km a day with me and is also my running partner
when I am training for duathlons. As with humans you have to build up to distance.
Young pups should not be pushed or expected to run until they are fully developed.
The rule of thumb is five minutes per month of life, so if your puppy is 5 months old then 25 mins per day.
Walking is good exercise but you can do damage and cause problems to their joints which in later life
can mean arthritis if you over do it, and that's the same with any breed.
As with humans ligament and bone injuries can occur if you over do it.
We put together a web page on running with your Poodle:
Jogging with your Poodle



What Environment For Standard Poodles
.....


Townhouse, Condo or Home ?
I often get asked what kind of environment is best for a Poodle.
Well my answer is anywhere that their owners are no matter the size of home as Poodles adapt.
But truthfully a poodle puppy will need access to the outdoors every couple hours during
initial toilet training to potty. We have had people in condos find this was too overwhelming
for them to walk down the hallway, outside and down the block to a yard
and so returned their puppy to us.

Owners will be happiest if they have an accessible fenced in yard area
ideally by just opening their patio doors. We have placed pups in townhouses, apartments and
condos where the owners were fully prepared for the demands of puppyhood and they raised their puppy very successfully.
Indoor areas need not be overly large as Poodles take up very little room
indoors often curling into tiny little balls. If invited to sprawl out though, they will.

Adult Poodles do need at least 1 hour a day of high paced exercise and not just a leisurely stroll
around the Neighborhood either unless you want a fat out of shape poodle with short life span.
People often find 2 poodles will provide enough exercise by playing with each other.
Others find that hiring a dog walker or using a puppy day care will suffice.
Poodles do need to burn off their energy by RUNNING and you will have to provide them with this opportunity.



..
...
...

Our pups, Tess, Cocoa and Archer, Joy, Sophie, Java, Ruby, Nikki

As a result of our diligence in raising sound healthy pups, some of our pups have jobs or are performing or titled in:
Canine Good Citizens, Temperament Tested, Therapy Dogs, Field Titled (or hunt), Obedience Titled, Seeing Eye Dogs, Hearing Dogs, Special Needs Dogs
Lure Coursing, Weight Pulling, Tracking, Canine Good Neighbors, Accomplishments Continue
We also do Biosensor Testing with all of our pups, which sets a superior foundation.



(One of our Puppy Owner's Visiting their new puppy)

We make sure through selective breeding that we are ONLY using sound, stable, CALM Standard Poodles in our
Breeding Program. After 30 years we feel we have achieved producing some of the Calmest, sweetest poodles you will meet.
So much so that many of our poodles have been placed in Special Needs Homes around the world
All our puppies are beautiful, socialized and happy-go-lucky by the time they are ready to go to their new homes,
so 1st, 2nd, 3rd, etc. pick is not really necessary and based on our application we will match up the most
suitable puppy for your home.
We will post videos and photos weekly if not daily of the pups for you to view.



We spend hours a day with our pups to ensure all of our pups are of equal confidence and socialization
we conduct BIO-SENSOR conditioning, exposing puppy to various surfaces,
smells, handling and other stimulus, each having a positive outcome.
This way your puppy will be desensitized to most environmental sights, sounds, smells
and puppy will react confidently to new situations as a gut reaction.
It is up to you their NEW PACK LEADER to continue this expectation and to build on the solid foundation our pups go home with.

Puppys will change an adapt when introduced into their new pack (your home)
as their new "pack" will have different rules and expectations than what we have.
No amount of evaluating or puppy testing will change that.
We will not give you a false sense of security by providing this trendy tool,
because it is of no value beyond the moment.

Our poodles adapt and will fit in to that new environment whether your household
consists of a quiet single person or a house full of kids.
Basically you will get more of what you already have ...
as that is your family's norm (pack norm) and is the behaviour that you allow and encourage to happen.
With clear, consistent rules and praise, your puppy will continue
on the path we have set out for your puppy (even before conception), to become a great canine companion.
Our Puppy Owner's Manual introduces you to our concepts and explains our commitment and success,
in providing well adjusted healthy, happy puppies, to families around the world.


Is there any difference in temperament between different Colours such as Red or Brown?


Years ago I would have said "yes" to this question. 10-15 years ago rare colours were just that "rare"
and people breeding often took shortcuts to get the rare colours by inbreeding father to daughter or son to mother.
As well as many people were breeding their unregistered Poodles (or as they called them Purebred not registered)
Which sounds fine on the surface, except that those unregistered dogs were often very related
but no one had a way to know because they were unregistered.
Both practices of inbreeding resulted in very unstable, unhealthy rare coloured poodles in the 1980's.
Today there is greater diversity (bigger gene pool) within the rare colour gene pool, which is reflected through low COI numbers.
Today there are only subtle differences within the various colours that might be notable.
Browns are known as the clowns of the colours and while ours are extremely calm and do
well in obedience, they do love to make us laugh & do tricks
Blacks are known as the most intelligent, while very pretty, I have not found this to be true with mine.
Reds are known as being more "dedicated" to their owners and I have found this to be true
along with being the most affectionate of all the colours.

Today the public also knows to only buy purebred registered Poodles so that they know what they are getting.
Purchasing purebred means buying from someone who is held "Accountable" and will be there for support or should problems arise.
As well as knowing that the dog you bought is a purebred Poodle and not a mix that will cause allergic reactions.
Reputable breeders care about what they produce.
Through careful selection and extensive research we are able to achieve rare colours with calm stable temperaments.
As a result in OUR dedication and research, there is no difference in temperament between OUR rare colours and OUR more recognizable blacks.
To read more and see some of our reds develop click here: OUR REDS
To read more and see some more of our Browns growing up click here: OUR BROWNS



What is in the Puppy Package. What does a Puppy come with ?
YOUR PUPPY COMES WITH:


New as of 2019 we are going paperless !!


YOUR PUPPY COMES WITH :


- Collar
- Leash (3-4 foot)
- Health Record (will be emailed out to you)
- Registration Papers - will be sent when we receive proof of alter before 12 months of age/
- Toy with mom's scent (unable to send this if shipping)
- Blanket with mom's scent
- Microchip Permanent ID
- Tails and Dewclaws done
- Life time Breeder Support, just an email away and usually within 24 hours
- Food Sample of RAW, to last a couple days if puppy is being shipped.
Health Certificate from our Vet stating puppy is healthy.
- Link to a web page Containing TONS of information including Obedience to crate training.
- Puppy web page containing photos of mom pregnant and of the pups from birth to go home day (kept live for 1 month after pups go home)
(We take weekly photos and video of the litter and individual shots at birth, to help you start in the bonding process).
- 24/7 LIFETIME breeder support, emails are answered within 24 hours or sooner







Is shipping hard on the pups?
...


Our pups have been prepared for travelling
since they were 5 weeks of age, by travelling in a crate to my family
and friend's homes or to the Vet 2 hours away.
Our pups think that travelling means going somewhere to be played with and cuddled.
Our pups are very happy to reach their destination to play
and think the plane is just one large bumpy car ride.
We have only trusted Air Canada Live Animal Cargo for quality care.
Shipping is $350.00 within North America except Western Canada where shipping will be $300.00.
Overnighting a puppy during shipping will be an additional $100.00 and this is rarely needed.

*Click here to read more about our Shipping
(we arrange all shipping so all you need to do is pick your puppy up)
How do I Reserve and Purchase a puppy?

*You have read our web page and feel that we are the breeder that you wish to obtain a puppy from*

PUPPY COMES HOME !!!
We know you may be frazzled and after picking up puppy may have a zillion questions
I know you will want these questions answered quickly and probably not between 9-5pm so
I put together a web page for our pups, to address the most common concerns we get.
Of course I am always available via emails and I will answer within 24 hours but this way you may get your question answered instantly.


Do you sell your pups with a non-breeding Contract or Guarantee?


When you purchase from Bijou Standard Poodles you agreed that you are purchasing a PET puppy
that will arrive already altered, or be spayed/neutered before puppy reaches 12 months of age.
When Bijou Poodles receives proof of alter we will then mail you out your puppy Ownership
papers called Registration Papers, until puppy is altered they remain in my name as owner.

If you wish to breed, you should purchase a puppy with "unlimited" Registration
sold with a Breeding Agreement Contract.
so that your puppy will be able to be bred and that all resulting pups will be able to be registered.
Unlimited Registration does cost a lot more because of the increased value
of the puppy as a result of the ability to be bred.

We "Encourage" and "Recommend" on our Purchase Agreement Contract that our buyers spay and neuter
after puppy either before puppy leaves our home OR has physically and mentally matured around 1-2 years of age
for various health reasons that your breeder can explain,
but we know people will make their own choice as to if they are going to spay or neuter
their puppy and at what age and no contract can enforce that choice.
Please read our "Purchase Agreement" before you consider a purchase from us.



Bijou Standard Poodles really are the "Complete Package".


If I was to be descriptive, I would say that they are calm,
loving dogs, very human like, that can walk with you in a china shop
or go jogging through the bush
and still come home and curl up at your feet.
Most of our pups go with their owners to work.
Our poodles are unique in that even though they are large,
they don't take up space in your home.
Some of our "invited" visitors walk in
and don't even know we have dogs.
Some "uninvited" visitors walk in and discovered how protective Standard Poodles are.
We are breeding for what we want for our Pets,
Obedience Champions, Pet Therapy Dogs, Rescue Dogs.
Our dogs have brains & ribbons !
We also have kept a dog out of our breedings.
We do not give out our previous puppy buyer's names and numbers.
While everyone loves to talk about their amazing dogs,
my puppy's owners do not wish to be pressured
into breeding their "non-breeding" puppy,
or to be socilicited for dog products (yes this has happened).
We are a Veterinarian recommended breeder.
Most Veterinarians around North America have heard of us and send us puppy people.

We only breed our females once a year.
We do not have a waiting list, but ask that you contact us
with your interest around the dates provided on the "Available Puppy Page"
(usually around Spring and Fall) if you are interested
in one of our upcoming litters. We get so many phone calls a day
that it would be impossible to speak to everyone
looking around for a puppy. We encourage you to email us,
so that when we are done all of our training and have put the dogs to bed,
we can take the time, to answer all of your questions personally :)




If you are concerned that you might be allergic
to Poodles, rest assured you won't be.
We have sold many of our pups to people highly allergic
to other breeds of dogs and they have not reacted to our poodles.

All of our pups are sold on "limited" ownership and agreement,
unless otherwise negotiated to "PRIOR" to purchase.




We raise our puppies and our dogs in the house, not in a kennel.
Our pups are ideal for those seeking a non-allergenic, non-shedding, dog
that is intelligent enough to do anything with you,
quiet and calm enough to go anywhere with you,
large enough to protect you, eager to please and loving enough to melt anyone's heart.
Most of our dogs actually go with their owners to work, they are so well mannered.
We also have provided dogs to the Guide Dogs Canada and to Dogs for Special Needs.
For an ideal training video I highly recommend
Good Owners, Great Dogs video by Brian Kilcommons

We often get asked about the grooming.
Well, We have created this web page "Grooming"
containing grooming information.
Hair grows back, so we encourage you to give it a try yourself
and highly recommend Oster Poodle Grooming video
(available online http://www.ckc.ca/store/booksvideo/display.asp) to assist you. R>



These are the only AKC accepted clips
you will see in a show ring. However you may trim your poodle in any style you wish.



This is our hairy gang !!

Our dogs are bathed 1x every 6 weeks and clipped every 4 months into a puppy clip (no fru fru cuts at our house!).
So you can decide for yourself if you wish them to have a ton of coat (which is beautiful)
but will need regular brushing and grooming at
least every 6 weeks and can cost up to $65.00.
Or you can choose to do it the easy way and keep the coat short
and try grooming yourself at no cost. Yes, you can clip them any way you wish to.


Freshly Groomed in a town and country clip.

We have been training, trialing, Tracking, doing Pet Therapy, breeding,
Ring Stewarding, Agility, Canine Good Citizen recognized Testers
and members of many breed and dog clubs in good standing for many years.



..
..
..

Agility, Retrieving, Obedience & Therapy.
Our Poodles do it all !

We belong to numerous breed clubs and committees, to continually
further our knowledge about the breed, breeding, training,
trialing and behavior. We also are very proud to have produced
the puppies with the proper temperament and health to be accepted
into the "Lions Seeing Eye Dog Program" to become Seeing Eye Dogs and
Special Needs Dogs. We feel by doing all of these things,
we will continue to offer our buyers not only a loving,
beautiful companion, but an intelligent,
healthy, quality puppy that will be your "ideal" pet as well as ours.




Despite the popular belief of our past puppy owners,
we don't toilet train your puppy. However, your puppy will know not
to toilet in their cage and living quarters and if you are diligent
and follow our training recommendations, your puppy may be toilet trained
to not eliminate in the kitchen area, in as little time as a week
and house trained within a couple weeks.


...

Our dogs are also gentle enough for children
and get along very well with other animals, even cats !!

In our goal to place our puppies in great homes where their training
will continue, our pups come with:
Extensive Owner's Manual outlining care, feeding, training
Toy with mom's scent on it to aid puppy in the transition from our home to yours
Micro-chip Implant ID (permanent identification) that you may choose to register with Petnet or other world wide rescue data base
collar
leash
registration papers
Up to date vaccinations and deworming
health record
tails and dew-claws done
2 year health guarantee against any genetic defects we test for or crippling hip dysplasia.
The pups parents are health checked, and have been tested for every conclusive test available today.

We have and will ship world wide, to an airport closest to you (Mon-Thursday)
that has customs and serviced by "Air Cargo".
In our belief that good people deserve good pets, no matter where they live,
we have shipped all across North America and Over Seas (including Japan) by this method, with great results.
Shipping is usually $250.00 within North America.
Prices may be more to Western Canada.
Shipping cost we quote you includes health certificate, vet check, cage, shipping and transport to the airport .
We handle all of the shipping arrangements.



Brown, Black and Cream

We specialize in Chocolate/Brown, Red, Apricot and Black puppies from
Obedience, Tracking, CGC, Field trained or titled, healthy, parents
that are our house pets. You can learn more about the breed at:
http://www.akc.org/breeds/recbreeds/poodle.cfm If you have any other further questions
or wish to be considered for our upcoming litter please feel free to email us to see what we may have for you.

Good luck in your search for your Puppy Companion.




Breeder: Bijou Standard Poodles
Email: brownpoodles@yahoo.com
To read in detail more about our process of getting into breeding read here "The Beginning"