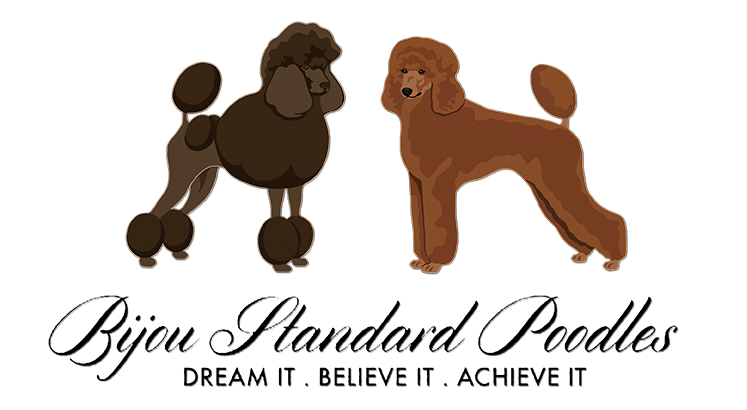 !! AVAILABLE PUPPIES !!

Meet Our Poodles... Our References... Web Page Links

Questions Answered... Whats New at Bijou...Bijou Difference

Contact us: brownpoodles@yahoo.com


"Success is not measured by what you accomplish but by the opposition you have encountered,
and the courage with which you have maintained the struggle against overwhelming odds."
~ Orison Swett Marden ~




Who is Bijou Standard Poodles ?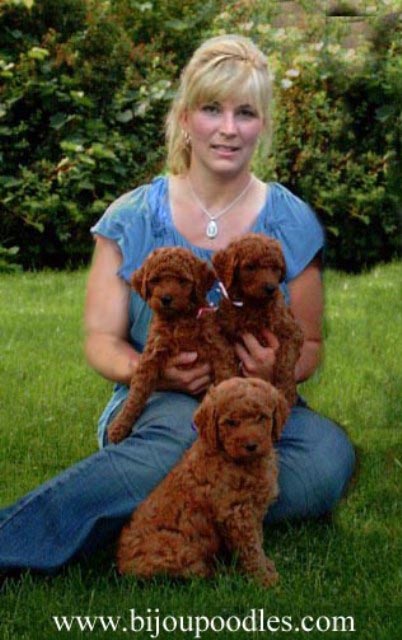 Since 1967 my family has always had black Poodles. Pepi was a Black Standard Poodle
who was my companion growing up. I heard stories about how as a toddler she would let me fall asleep on her
and pull her ears and poke at her, without her ever fighting back or getting up and leaving me on my own.

After Pepi passed on, we got a wonderful little miniature Poodle, we named "Teddy"
who I have very fond memories of teaching many elaborate tricks to
and many nights confiding in about bullying I endured in school
and enjoyed posing him for the many photos that I spent my all my baby sitting money
developing, for my photo albums.
I really thought I would be a dog photographer when I was older.


In the summer time, I worked for Carol's Grooming Parlour in St. Thomas, combing out and bathing dogs.
I think that was probably why I so despise Poodle Grooming to this day.
Other days, I worked for a Guinnee Pig and Rabbit Show Breeder cleaning out ammonia smelling cages.
Loving and caring for animals was pretty much ingrained in me from childhood.
They don't judge and just love unconditionally.


In my 20's I purchased my first home, which felt very empty without a dog.
So I began my search for a breed large enough to protect
with a sweet, calm loving nature, that would minimally shed and be clean.
I dragged friends to many breeders to check out a variety of breeds.





However much I loved the coat and size of the Irish Water Spaniel I didn't like their aloofness and rat's tail
However much I loved the coat and size of the Portuguese Water Dog I didn't like their cold eyes and aloofness
However much I loved the coat and size of the Curly Coated Retriever I could not get past they were not empathetic like the Poodle.
My one friend finally said to me "you keep comparing every breed to the sweet human like nature of the poodle, just get a poodle"
Well there was no way I was getting one of those "fru fru" breeds I said, but in the end she was right
No other breed could compare to the human like, empathetic nature and intelligence and warm loving eyes, that the Standard Poodle had.




What I was to find out was how well the Poodles excel in all dog sports




My life has always been shared with canine friends.
My interest in Dog Sports grew and expanded with every new experience
and I realized that I had really found my passion in life. Something that I had so much energy and drive to learn more about and do more with.
I found that I was good at handling and training dogs and also really got a lot of joy out of sharing my passion with other
like minded people, that I met along the way and who I also learned so much from. I have been doing dog sport or activities ever since.
It would be very difficult for me to list all our accomplishments from the pre-video, pre-internet, pre-digital camera
pre-cell phone and pre-personal desktop computer age. It is literally impossible to reconstruct the titles earned by the dogs
I have owned and or produced. The best I can offer at this point is to present what records we have been keeping during these past decades
and add to the totals each successive years' figures on this page: Whats New at Bijou




When I started doing sports with my dogs, I soon discovered that I really wanted to be the one to have planned
and bred the dog that was doing all the winning, to get the sense of accomplishment from start to finish.
I wanted to learn and start breeding my own dogs, for my dog sports and to raise my own loving companions
because I just could not find a Standard Poodle with all the qualities I wanted such as "CALM" temperament, Size
which passed all the health testing and of course last but not least, a Standard Poodle with Good Colour.
When I started out breeding Standard Poodles, breeders didn't know how to colour breed and didn't do any DNA health testing
so my breeding program was a very slow steady progress to perfection, through many hardships.
Even today breeder's tend to breed "willy nilly" not taking into consideration if their dogs are quality that should be bred
they use catch phrases on their web pages such as "we breed for health" but then they don't have any health testing done other than Hips.
Every breeder's breeding dog's health testing should be like our's such as our Sophie or our Ula's OFA testing

When I say that "I know what it is like to want to start breeding" I do, as I was once there.
But I do want you to know that myself and others who are well established, paid our dues
and it is a long difficult journey, not to be taken lightly. What breeders do effects EVERYONE and the Breed.




So here I am today with the breed that I was born with.
The most diverse, capable, sound, loving, gorgeous dog breed in the world.
I know what I have in my dogs lines health, looks, pedigree and temperament wise.
However I prove this to the public by mentally, physically and emotionally accomplishing all that I do with my dogs.
I studied Pedigrees for years before I ever purchase ANY Poodle for my program.
I have short and long term goals for my program that involve 10 years down the road.
I produce pups to keep for myself for companions and to win with at my dog sports. I know I can't keep every puppy
so on occasion we may have pups available to the public as spayed or neutered show dogs, special needs dogs and companions..
I and the public, know exactly what I will do for a puppy buyer that is calling with ANY concern through our contract and 25 years of experience.
I am prepared to accept back any puppy whose home is unhappy or disrupted, at any age and for any reason.




...


I have always owned my own home, which helps people in feeling comfortable knowing I'm going to be around
a long time, to help them with any training concerns or my honouring any of my guarantees.
Unlike breeders that rent homes, and are usually very transient.
My home sits on an acre fully fenced lot, which allows my poodles plenty of exercise and fun with games of tag.
My Vacation home in Florida also sits on a massive lot in which our poodles enjoy fun in the sun.




Judges are always surprised at how physically fit our Poodles feel when they go over them.
Judges are even more impressed when they see how our Poodles properly move out,
with loads of reach and drive that most poodles are generally lacking from being
caged and kenneled 24 hours 7 days a week, so that their show coats, remain perfectly intact.
It also does mean that I do show my poodles without 100% perfect coats or clips.
Thankfully judges usually prefer form, type and function over 2 feet of coiffed, sprayed
top knotted coats, so we have done a lot of winning in the show ring with our Poodles in Sporting Clips.




Breeders Whelping Box

My pups are born and raised in our home, in my Nursery Room next to my Bedroom.
I am right in the pool with them from the moment the mom starts having her pups until she is done
having her pups, to offer her support, aid her and keep her clean and comfortable
and make sure each puppy gets the best start on life.
I also document every stage of each of our puppy's lives so that Puppy owners will feel totally involved
and begin the bonding process. I want our puppy people, to feel involved as if they were right there with us and their puppy.

In 1991 when my tried and true, "pool" caused bacteria infection, I was horrified as I'm so clean.
I spoke to my Vet for some feedback on how to improve my puppy environment
based on my Vet's feedback and my library research, I discovered I needed a proper whelping box.
Keep in mind this was well before the internet, so I spent a lot of time at the library, learning about "coodies" and construction.


As a result of my desire to provide my Poodles with only the best,
I spent over $3,000.00 and many years, on various products, researching and development
to design and build the best Puppy Box, to ensure that my pups are all Clean, Happy, Healthy
and have already begun their toilet training
and to have pups learn not to mess where they live, sleep and eat.
I went through many prototypes along the way to my goal of the perfect Whelping Box.

Today, I have the cleanest, best Nursery area, in our home, for our pups to properly develop
emotionally and physically, into healthy and happy pups. But our many references speak for us.
My Whelping Box is now used by some famous Breeders and trainers all over North America
But my research and improvements will never end. I'm continually exploring new products, new ideas
to give my Poodles and their progeny the best start in life.





When the internet became more common,
other breeders started to see my whelping box and my puppy weaning box
and ask me to build them one, which stimulated me again
to work on developing a Puppy weaning box
that was more obtainable and affordable to other breeders
so they too could raise clean, healthy, puppies too.
This lead me to design and create the 2in1 Box
2in1 Box takes a litter, from whelping to weaning, easy transition for mom.
I also wanted to encourage other breeders to adapt the "Bijou Method" of puppy potty training.

Of course, it was such a phenomenal idea, that my fabricator, stole my design and started selling it himself
and in 2017 sold the design to a big company currently selling it today
Whose price I could not match, after paying for fabrication costs and materials
so in 2018 I stopped selling the 2in1 Box that I had spent years designing.

However I continued to build my specially designed Breeder's Box
Keeping the price affordable and the design ideal, for the Seasoned or New Breeder to use.
www.puppybox4u.com
I also started providing other whelping accessories, I feel are essential to breeders
to keep their pups safe, secure, healthy and clean.

My Dog Hobby is just such a passion of mine, that I constantly seek to improve my Poodle's quality of life.
When I retire in 2020 I can work on more projects like this and develop a "one stop" Breeder's Shop.
For now I just am happy to share what knowledge I have for free, and any products I develop, at my cost, to help others.





Our pups are subjected to Biosensor stimulas and normal household
sounds, smells and textures which also enables transition from our home to yours to be less stressful.
We also practice a method of Desensitization which involves applying a normally startling stimulas and then
administering a pleasurable reward such as meal times, gradually increasing stimulas.
The result of our combining these techniques provides us with secure, confident, happy go lucky pups.




I have the support, the finances, through my working as a Professional Firefighter
to afford my hobby, which pretty much takes up my entire pay check.
Probably just like any parent who has kids involved in Sports or in School.





I also have the care, knowledge, conscious and established reputation it takes to raise
healthy happy dogs and puppies and to find the ideal homes.
When or if owner's find themselves in a situation where they can no longer care
for their Bijou puppy, I'm still here ready and able to take back any of our Poodles
at any age, for any reason, no questions asked. I'm committed to the lifetime of our Poodle pups.





I will make the tough choice to spay/neuter and find a loving pet home
for any of our pups or adult poodles that do not meet our very high expectations,
or are done contributing to our program, or are not producing the quality
that I feel they should be and so are Retired from our program.
Some reasons can be because they don't have the temperament "I" want in my pets
or not producing the quality or even colour that I am trying to obtain on my pups,
or just do no have the ability or nature to participate in dog sports
instead of continuing to breed them, knowing they are not 100 % Ideal for my Breeding program, or for my puppy people .
This is a choice that BYB's breeding "Pups for Profit" would NEVER choose to make at a financial loss.
This choice to retire or to find a pet home for one of my cherished poodles is an emotionally tough one to make, but no one said
that having Ethical and Reputable breeding Practices was going to be easy.




Mom......... Grandpuppy @4wks ........... Grandmother

We breed for the purpose of producing and keeping, our next Conformation, Obedience, Companion and Ideal Poodle
As a result, our pedigrees contain generations of our Poodles, that we have produced.
Our poodle parents, grandparents and great grandparents are alive and well, at 11-15 years of age.





Because I wish to only have a clean home and have our Poodles enjoyed as our pets, I can only properly house a
limited number of poodles. Anyone that has been breeding/showing/trialing as long as we have
which is close to 3 decades, will eventually be faced with the same choices of limiting numbers to only the best.
Anyone ~new~ to breeding will find this difficult to understand until they are as established as ourselves.
I have had to re-home a number of fantastic Poodle friends
just because it is the next generation's time to shine and carry on our world famous lines and it doesn't get any easier
but we believe it is the responsible Breeder's responsibility to ensure quality of life for all their pets.



(Java with her new family)

The one thing that does make re-homing our retired kids easier, is when I find a fantastic home that embrace my poodles
as if they were always a member of their family and I see the huge grin on my Poodles faces, happy in their homes.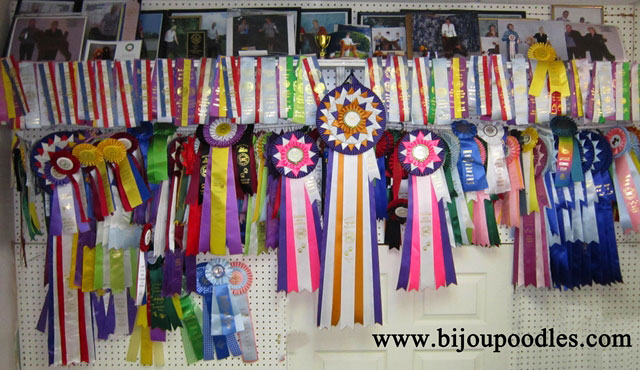 (only a portion of our many awards up to 2006)
Showing, Trialing and Working as Partners with our Poodles
is not about the many Awards and Accolades we have achieved,
it is about the wonderful quality of life we are able to offer our Poodle parents, the special bond we have with each of them
and is proof of the Health, Intelligence and Superior Lineage, our Poodle Puppies come from.
Reputable Breeders ~ do stuff ~ with Poodles they "produce" and have the titles to prove it.

Breeding is not a passing fancy, my living, or done as an education for my children.
I have been showing and trialing since 1989, constantly trying to improve my chosen breed.
Doing Dog Sports with my Poodle family, is my passion and I will be doing this for many years to come
which means I will still be around to honour my guarantees and be a knowledgeable support system for our puppy people.
I have the education, background and achievements to assist any puppy buyer with any problem solving,
offering real and informative solutions and when necessary even referrals to better resources.




(UKC Rally Obedience Class qualifiers and top 4 High Scorers, we placed 2nd !)

As a responsible breeder I am committed to provide to you the healthiest, best looking, well adjusted, calm, smartest puppy that I can.
I can best ensure this by starting out properly with the Total Poodle in mind.
Health ~ we have low COI's and passing all conclusive Health Testing, breeding only dogs in top condition
Brains ~ Each of our Poodles has a WORKING Title, which means breeding with a PURPOSE.
Temperament ~ We breed only calm, stable, sweet natured, Poodles to maintain our world famous reputation for breeding great dogs
Looks ~ We have Correct Conformation (according to licensed Judges) & CHAMPIONSHIPS all while improving coat colour through experience



HOW I GOT TO THIS POINT:
1n the 1980's when I finished Nursing College and got married, we decided we needed a dog.
I had my eye on the cute furry pups in one cage
while my ex decided he wanted a Rottweiler puppy from a litter contained in a different cage.
Kelly's Kennels located near London Ontario had 12 different breeds all housed in one location to view.
I had no idea what a puppy mill was or what horror I was contributing to.
This was all before the internet and before people were educated.
Our first Rottweiler died after 3 days of being home, from Parvo Virus.
A few hours of camping out at "Kelly Kennels" and I did receive a cute female replacement.
She was shy, skittish, totally unsocialized, but she survived.

Being new and naive dog owners, we needed a lot of guidance with training
and behaviour problems that I now know, that I had created . So off to obedience school I went.
My obedience instructor oddly enough was a Rottweiler breeder of quality and of Very Good Reputation.
Horrified at what and where we had purchased, she very reluctantly took us in her class.
I could not believe that I could change and or mould my dog's behaviour. A new world opened up to me.
I soon heard her talking about her dog shows and what they entailed and I was soon following her there
with my Puppy Mill purchase Rottweiler, much to her dismay, she just could not shake me.
I had a blast, the dog shows felt like "home".

It took 1 year of "un-training", determination and working with a behaviour specialist and I
was in the obedience ring with my Puppy Mill purchase, earning my first CKC Obedience Title.
The feeling of exhilaration, euphoria and satisfaction, is really indescribable, but I was hooked.
"I" did this, ME, I developed a loving, working relationship with my dog.
I also started entering conformation fun matches with her, really enjoying the trusting relationship I was building
with my dog and spending time with the many like minded people I was meeting along the way.




I went to all the dog shows and worked for free for Professional Handlers, cleaning up all the poo,
washed and combed out, and walked all the dogs and assisted at ring side, basically learning the ropes and
earning my stripes, doing all the grunt work, starting from the ground up. Eventually they let me handle
dogs for paying clients and I LOVED IT. So I also took handling Classes during the slow months,
obedience, field, tracking, Schutzhund, Ring Sport, Agility, Pet Therapy Lessons.

I was lucky enough to have my Mentor and Obedience instructor eventually work with me.
I pestered her a year before I finally earned the right, in her eyes,
to buy one of her dogs for breeding purposes, all the while continuing my education
of all the ins and outs of proper breeding.

After a lot of learning and many trials and tribulations I became a breeder of quality Rottweilers.
In return for my "free work" my mentor taught me how to give vaccines, groom,
remove tails and dewclaws, maintain basic medical care, Artificial Insemination, basic care
so that my dogs and puppies would have immediate and proper care because I could recognize signs and symptoms
of any problems or concerns that the uneducated breeder would miss and not treat, or notice sometimes too late and differ to a Vet.
Real breeders also do their own tails and dewclaws so that they are done properly. Vets do not have the capability
to know hundreds of specific breed standards to do them properly and I want my tails and dewclaws done correctly, without
exposing my precious babies to disease and illness lurking in a Vet's office.



........

My first dog and first dog show in 1980's ................ years later after a lot of learning

My mentor was also an obedience instructor and taught me how to train dogs for CKC Obedience trials.
She taught me the value of having healthy dogs with great temperaments that also conformed to the breed standard.
We would sit at ringside and watch each breed, with her asking me who I thought was a good example and why.
She also had me learn my breed's standard inside and out so that I could easily and quickly assess a puppy or dog's potential
and or faults and learn what I would do to improve the faults if possible.
I spent a small fortune on books and videos and I spent hours learning from everyone I could find.
Keep in mind this was well before the Internet existed
Rottweilers were relatively new to Canada at this time but were quickly earning a bad reputation
because of inappropriate and bad owners. So when my life circumstances changed, I was found without a dog
and no desire to continue on with Rottweilers as my breed of choice, instead I returned to the Standard Poodle.

Knowing I had no desire or skill to maintain a fluffy show coat for showing and missing the CKC show Ring
I embarked on breeding Boston Terriers. I read every breed standard I could get my hands on, I even was able to purchase
the Boston Terrier Breed Book of Canada which depicted Generations of Boston Terriers. I learned what lines I wanted and
what type I wanted to breed and I set out on my journey. Thanks the the Assistance of Calvin Middlebrook, Robb Isle Kennel and
Robin Cameron (ABACAB Bostons, who taught me Boston terrier grooming) I exceeded my goals for the breed, with my many
owner handler wins in breed and in Group with my Boston Terrier's Progeny.
However when I met my "ex" he was allergic to all dogs except Poodles. It was around that time that
I got accepted at the Fire Academy so I made the choice to place my Bostons and place my show Pugs
and return to school to get a better career to provide a better life for my fur kids.
Course after months of being away, I returned home and he still had his allergies....LOL so I could only have Poodles.
I was at a CKC show, hoping someone would ask me to handle for them (back in those days I was young and tiny and I believe
very good at handling dogs, as I was always being asked to handle the dog people wanted to win with). A very nice lady came up to me
and said "where are your Bostons, are you not showing any more"? and I explained I had "poodles" and I could not.
She told me to keep a secrete and not tell anyone else, but "there is this friendly new club that only friendly happy people are
being told about so we can keep this show venue fun for everyone, but... it is called the United Kennel Club and you can show
your poodles shaved down"... WHAT?? so in 2006 I moved over to the UKC, just after CKC had started all their talk of bankruptcy
so my feelings towards CKC along with a few other people was not good as they just didn't care about their members, so timing was perfect.
I quickly Championed and Grand Championed my Poodles and helped MANY other people with their dogs and really had a blast with UKC.

Then I heard of all sorts of other Dog Sports and I was off, taking courses, studying up on these events and then training
my poodles for these events with all the information I had gathered. thankfully UKC judges are very friendly and are exhibitors
so I did receive a lot of help along the way. My weird shifts just didn't allow for "classes" so I had to learn on the fly.




I had already worked with a behaviour specialist who taught me all about canine behaviour and various alternative
methods of training and how to temperament test my dogs and puppies. As an addictions counsellor teaching
Transactional analysis and behaviour modification to humans, I have to admit I found this most fascinating.
I started up my own obedience school, a puppy kindergarten and was starting a program with Fanshawe College
before life changed again for me

I studied pedigrees, colour breeding, genetics.
As a Nurse I think I just do have a natural interest in this field and it helps push me to continually learn more.
I joined many dog breed clubs and read many articles in my effort to educate myself.
Eventually after a great deal of accomplishments, I was established and welcomed as a valuable resource within the dog community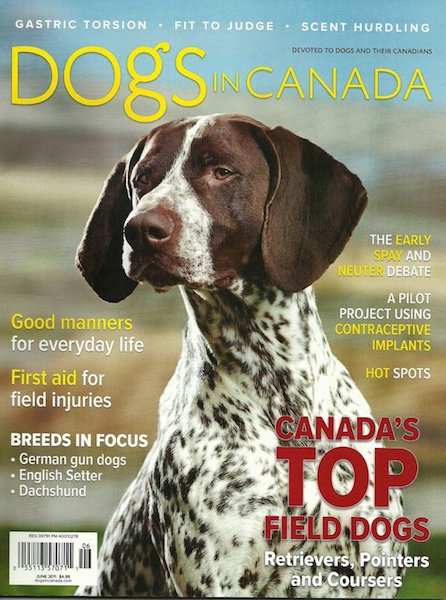 After many years, of being involved in all things dog,
I began writing a monthly column under the Breedlines Headline in CKC monthly magazine
as the President of the American Bulldog Club of Canada the National Breed club which helped introduce a
relatively new breed into Canada and formed the first Breed Club of it's kind, which unified Responsible breeders and
became the breed's resource for many issues involving legislation within Canada.
I also did breed Rescue and Rehoming for 5 years within the Club.

I also wrote many articles for CKC newsletter, on my breed and breeding, such as
"SO YOU WANT TO BE A BREEDER? - Breeding the female"
that many years later still appears on many web pages world wide as a reference for new breeders.
Some other articles were received well enough, to be published in CKC magazine such as "Why I bought from a Puppy Mill"
which stimulated much debate, discussion and even some changes in the way we breeders practiced.
Because of my good reputation of being proactive and experienced, I was even invited to sit on my City's "Dog Legislation board"
to help come up with an alternative to banning breeds.




...
...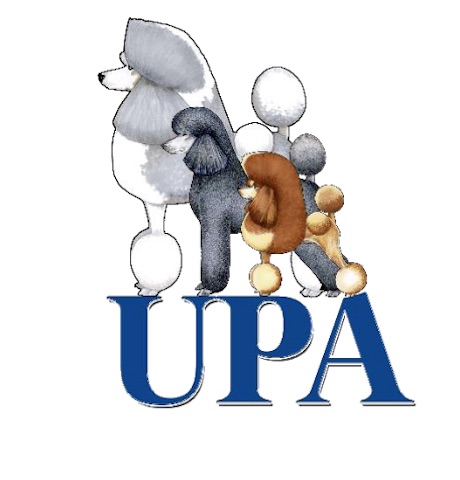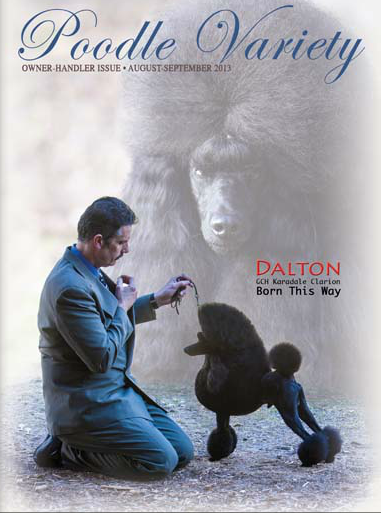 2011, my article "Lure Coursing for Poodles" was published in Poodle Variety JUNE-JULY 2011
Multi Colored Poodle Club of America (now United Poodle Association) newsletter the Partiline
2011 My article New Solution to Spay & Neuter was published by the Dog Press
2012 My article Do Shelters support Puppy Mills ? was published by the Dog Press
and my dogs are featured on the United Poodle Breeder's Association web page for their accomplishments
2012, I contributed to an article in "horse and hound" magazine about our BioSensor Testing
2013, my article "Weight Pulling - Another Activity for the Versatile Poodle" published in Poodle Variety AUGUST-SEPTEMBER 2013
2014 we contributed to an educational PowerPoint presentation on BioSensor for the Association of Professional Dog Trainers
2015 we contributed to Poodle Variety's feature, on Poodle Activities
2016 my article Manny A. Doglover was published in the Dog Press





....
....


Because I could not keep or do a show coat on my Poodles to show with CKC or AKC, I decided to spend my energy
learning and doing obedience, later becoming an Obedience Ring Steward
Becoming a Lieutenant with St. John Ambulance and a St. John's Pet Therapist,
getting my CGC (Canine Good Citizen), Becoming a CGC evaluator, doing Tracking, Agility and building Agility equipment
and even started in Schutzhund with my poodles.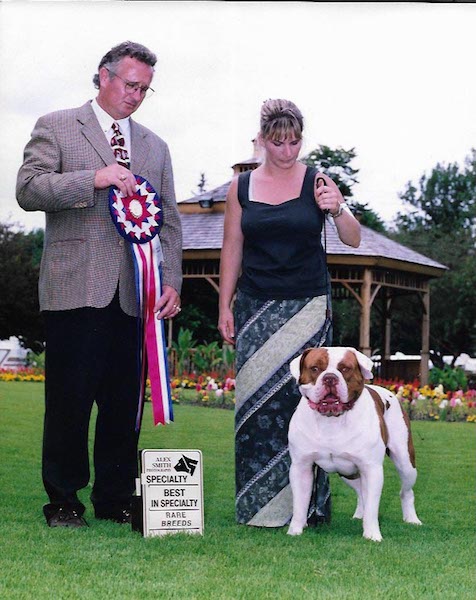 ...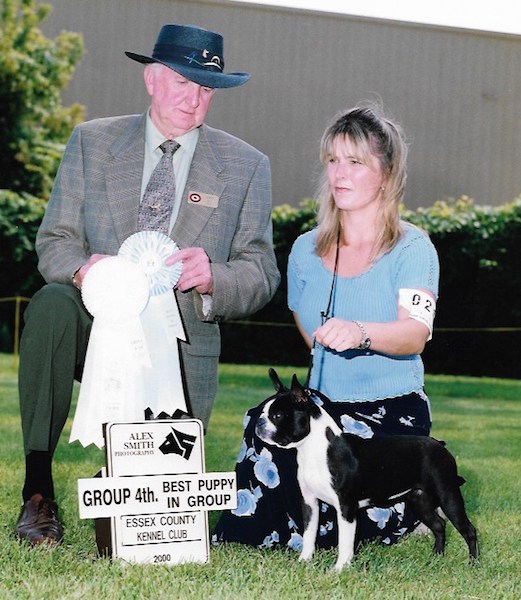 ...
....
...


I continued to handle and show non-coated breeds for acquaintances, to their Championships
with Group and Speciality wins, within CKC and Rare Breed Associations.
Along the way, uniting and establishing the American Bulldog Club of Canada, CKC's recognized National Breed Club
And was involved in the planning of the first St. John Ambulance SAR Dog program in my City,
before we moved away. I believe good breeders should "constantly" learn, grow and develop
to improve and aspire, as the public and themselves will benefit.
I feel as a breeder, I can do that through club affiliations, attending shows
and learning from the judges we show under.

Because of my continued interest in DNA testing, I was invited to and did, participate in VetGen's Lab
search for the DNA marker for the brown gene which thanks to the efforts of myself and other brown breeders was achieved !
We complete EVERY conclusive health testing available and as it comes available

Because of my ongoing interest in genetics and accomplishments in COLOR Breeding
I have been credited in the Persian Parti-color CFA History books as bringing a newer colour into breed acceptance
to the breed standard Called Lilac-cream shown in Parti color division in 1993 under the name "Kim-ball".
In 2006 I was asked by CTM to publish a more in-depth article about my discovery
of another new color within the Persian breed, I called "Cinnamon".

I guess now would also be the time to share, that I was a world respected breeder of Himalayan and Persians
in the 1990's. I saw a photo of a Lilac Person and a Chocolate person and I knew I wanted to breed that and
make it a Himalayan. Then I wanted to introduce the silver green to create tipping which would be a Lilac Chinchilla.

Now, Imagine trying to learn colour genetics and research pedigrees without a computer or internet and limited books
because you could only use what was in the library, or what they could order in, or what you could find at the book store.
AND very few breeders even knew much about colour breeding and those that did, were not keen on sharing.
Well I had a job cut out for me for sure, but I knew it could be done. I sure got laughed at, at all the cat shows and I mean LOUDLY.

But back in the day, to achieve TYPE and COLOUR on a Persian, well, breeders just said "it could not be done, and laughed at me"
Few short years later I was back at the CFA cat shows and breeders came over and shook my hand congratulating me.
I have to admit my most cherished moment was when a world famous blue point breeder from Ontario made the comment
"I said I would shake your hand when you did it, well the moment has come, congratulations". She was referring to my
Lilac point Himalayan and my Chocolate Persian at the time.
Being mentioned in Cat Fanciers Association's 1996 Article about the Parti-Color Persian
for producing one of the first Lilac-cream Champions, was a huge honor.

For MANY years after I got out of cats, I still would get phone calls of breeders asking me how to breed for certain colour
or patterns. Today there are MANY color charts available for free online, that really makes it simple for most breeds and species.
I think that is why it angers me so much to see, falsified pedigrees on Brown Standard Poodles.
Folks if there is no brown in a pedigree for over 5-6 generations on either side... that brown you see in front of you
Either came out of a brown male (duel sired or a brown carrier) or somewhere not far in the background on both sides
is either a brown sired litter registered under a black stud... or had a duel litter with a brown sire OR... the pedigree is doubled up
on a brown carrier in the first 3 generations. You can not just fabricate a brown out of a pedigree that does not show to carry brown.
it is genetically IMPOSSIBLE.
AND
Probably the biggest 'ooops" people do when fudging a pedigree is they don't understand that
brown has to carry on BOTH SIDES..... You can not get a brown out of only ONE Side of the pedigree showing brown.
Folks we know when you are messing with your pedigrees, when it comes to the brown gene, so STOP IT !!!


In 2010 we were instrumental in bringing to light a new DNA test available to screen for Renal Dysplasia
which became OFA accepted in 2011 (which was later dropped). While Dr. Mary Whiteley is still fine tuning her test, this could be a huge breakthrough
for our breed and for us as breeders to keep aware of.
In 2011 Bijou Poodles was the first to discover a DNA test through HealthGene that would identify Parti colour and Mismark carriers.
In 2011 Bijou Poodles decided to aid our Canine Community by holding a yearly CERF Clinic in our home.
As of 2011, Bijou Poodles is one of the first and only "red" Standard Poodle breeders in the world
that utilize ALL DNA health screening and OFA testing available to Standard Poodle Breeders such as
but not limited to, the following:
Hip Dysplasia, Elbow Dysplasia, Patella Luxation, Thyroid Disease, Legg-Calve-Perthes, Degenerative Myelopathy
Congenital Cardiac Disease, Von Willebrand's Disease, Neonatal Encephalopathy with Seizures Disorder,
Congenital Macrothrombocytopenia, prcd-PRA and CERF Testing (Canine Eye Registration Foundation ).


We are always investigating and discovering new ways to test our dogs physically, mentally and emotionally
to ensure we produce the best quality that we can.
Of course offering these type of assurances to our Puppy People is very costly and time consuming, but we feel
when people are looking for their lifetime companion, they will want the best assurances they can get to a healthy puppy.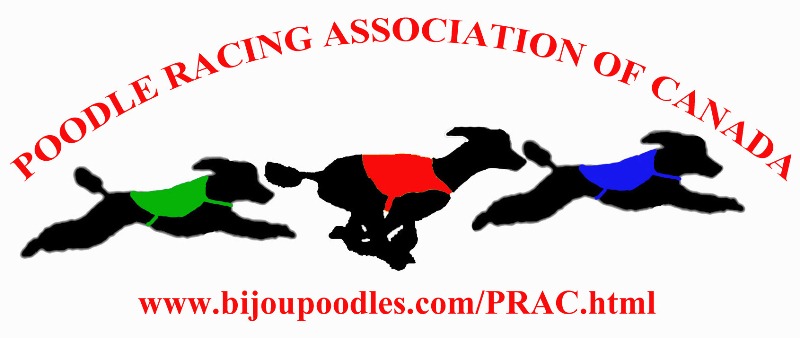 In 2012 Bijou Poodles started the Poodle Racing Association of Canada responding to the
needs of our puppy people and other Poodle people, who wanted to continue
racing because their dogs just love the sport, but who had also finished all their UKC Coursing Titles.
Poodle Racing Association of Canada (PRAC) is the recognized racing club for Poodles,
by the Canadian Amateur Racing Association (CARA) who hold racing events across Canada.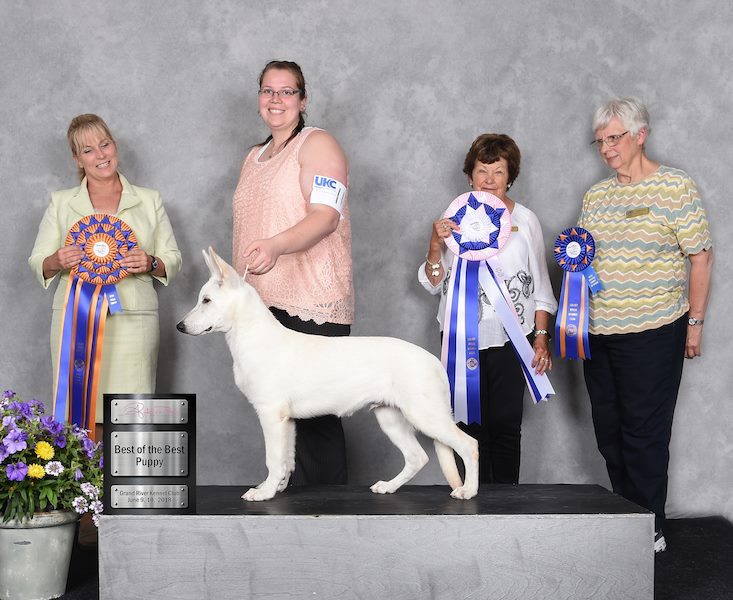 June 10, 2018
Grand River Kennel Club's UKC show
I was honored to be asked to judge the "Puppy Palooza" this weekend.





Learning and growing to become a Reputable Breeder sounds like a long process ?
Well it was and it is ongoing.
I never stop, improving my Poodles with each generation.
I never stop, proving each of my Poodles are superior quality for their breed
I never stop, doing dog sports with each of my Poodles because they love it.
I will never just sit at home and just pump out puppies for profit
I will never just sit back and be satisfied that I have done all that I can do.

That is why I say I am ~ EARNING ~ the right to breed.
It took me 3 years from expressing an interest in breeding
to actually owning a show quality puppy and 5 years before having my first litter.
(which did not go as I had planned, but that is another story)
~ My learning never stops ~
In this hobby there is always learning opportunities and I aspire to keep up to date and an open mind.
Now many years later (over 24 years) I own Quality dogs and or Puppies for my program
and offer support to people for any training, grooming, feeding questions or problems they may encounter.
God forbid there is any health problems, but if there is, I am still going to be around
to offer support and information to my puppy people for their dog's lifetime. As of 2016 I have a total of:
21 Canadian Kennel Club Champions and 3 Grand Champions
(first Red in CKC history and first brown female).
39 UKC Champions and 17 UKC Grand Champions
placing in UKC's Top Ten 7x with Poodles of my breeding.
And have earned over 200 Performance/Working Titles on my Poodles




Lure Coursing Conformation


Obedience
We don't just "say" we produce Total Dogs
we have the UKC TOTAL DOG AWARDS to prove it !!
...

Not everyone agrees with my Breeding Practices and they don't have to,
as they don't understand our goals for the future or what we are accomplishing.
However, I"m very open to explaining any choice I have made along the way in my breeding program
I also offer mini evaluations of my program with videos I have done on each generation of my Poodles on their web pages
But we believe that "the Proof is in the Pudding"
So check out our numerous Accomplishments for yourself



Bijou Poodle's next generation of Red Standard Poodles
Grand Champion - "Bijou's Cherry Blossom"
Grand Champion - "Bijou's Ooh La La" #4 in UKC's TOP 10 FOR 2011
Grand Champion - "Bijou's Dare to be Different" #9 in UKC's TOP 10 FOR 2011




(GrCh Bijou's Ooh la la UKC's 2011 #4 Poodle and GrCh Bijou's Dare to be Different UKC's 2011 #9 Poodle)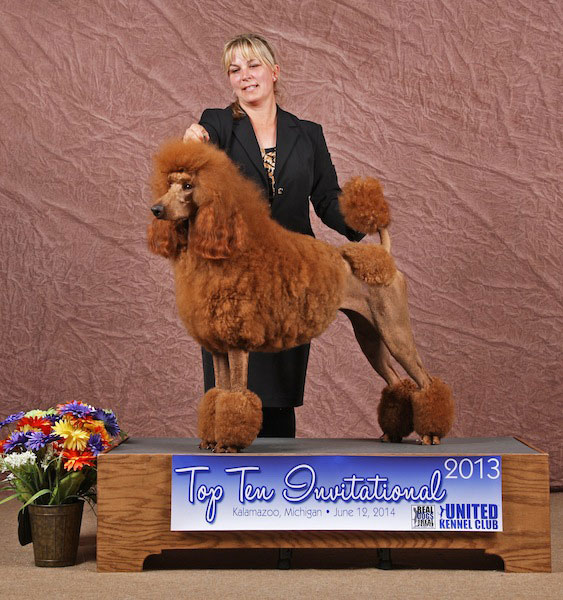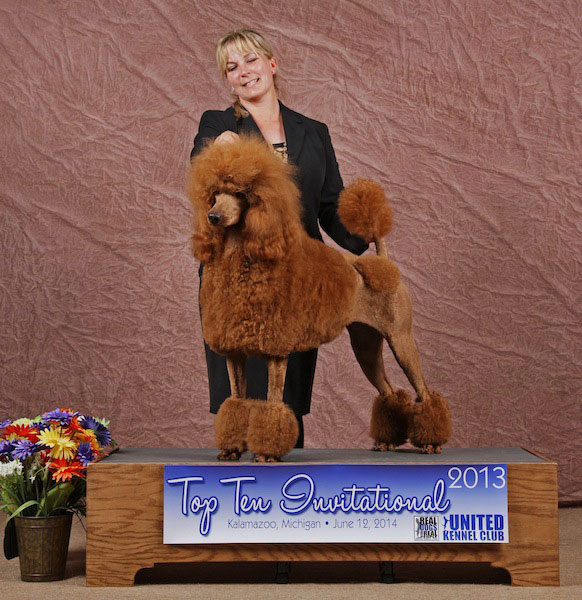 (GrCh "Bijou's Red Revolution UKC's 2013 #1 Poodle and GrCh "Bijou's Glorious Red of Rose" UKC's 2013 #6 Poodle)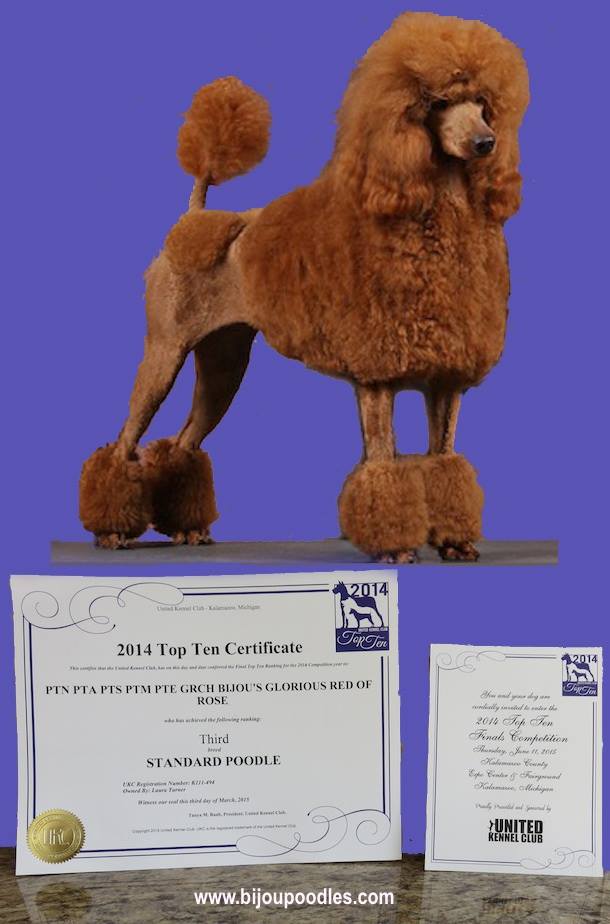 BPIS, RBIS, GrCh "Bijou's Glorious Red of Rose"
(UKC's 2014 #3 Poodle)



2010 = 17 New Titles
2011 = 34 New Titles - #4 and #9 Standard Poodles in the World
2012 = 32 New Titles
2013 = 38 New Titles - #1 and #6 Standard Poodles in the World
2014 = 35 New Titles - #3 Standard Poodle in the World

Because of our World Wide Reputation of owning and producing amazing Poodles
and our ethics, we have been invited and did join most "code of ethics" breed clubs
which are listed at the bottom of our Main Page





The one thing that no one can deny, is the fact that we have some of
the Calmest, Sweetest Natured, Loving, Beautiful, Healthy, Red and Brown Poodles
with Correct Conformation found in the World and our puppy people come back to us
for their second Poodle, some over 10 years later. But don't take our word for it Just read our references




Our pups have had such perfect temperaments and health, that we contributed and are asked yearly
for more pups to join Lion's Seeing Eye Dog Foundation for guide dogs.
We also have provided many pups to homes with Special Needs
We have mentally & physically healthy, well socialized, happy, good looking adults and puppies.
Which is all anyone can really ask for and hope for.



One of our Puppies in the Lion's Seeing Eye Dog Program


We are very busy taking dog lessons, going to dog shows, Training our Dogs, grooming, cleaning
Updating video and or photo on each of our dogs for everyone to see,
continually trying to learn new skills and accomplish more and new titles on our dogs to prove
that we have the great dogs that we say we do
(We walk the talk )
and this helps us to provide the best foundation that we know how, to ensure we own and are producing the next generation
of the healthiest, smartest, greatest looking pups and dogs that we can.

No matter how busy we are, we are available 24/7 to anyone needing help,
to answer questions or be a support for any issues that come their way.

We hope that all ~ our ~ health testing, Working and Conformation titles, OFA health clearances,
our diligence to own only the best foundation Poodles to start with and our manyReferences and Titles
will speak volumes for us.


....

(from the beginning as puppies .................................... to our amazing Adults)

Breeding Red and Brown Poodles is a long and ongoing process for me, because I'm trying to
keep our Health and Temperament, gain even deeper, darker Colour that sustains, continue to have correct Conformation and Type
without comprimise and without loosing anything or going backwards on any quality.




The science, studying, data collecting, formulating, calculating, planning,
implimenting, assessing and then Evaluating each litter is a great deal of work, VERY expensive and frustrating at times.
However all that effort provides a great deal of joy, when I see my planning come into fruition
and the pups grow into the cherished, Stunning amazing adults that I hoped and planned that they would be.
One answer I have is that "I don't care so much about the now... now doesn't matter any longer, as it is here.
I see what "now" can get me in 3-5 years and then in 10 years where I will be with my Breeding Program and what
accomplisments I will be able to achieve. I constantly strive to grow and improve, in my hobby and in my life.





I often get asked "why do you breed" ?
This is so hard for me to answer, as how to I explain Passion and Vision ?
How do I explain that with each Breeding I get that much closer to MY and my Breed's Ideal.
How to articulate the sense of pride and accomplishment when a puppy I have bred
grows up to not only be a cherished and well loved companion, but who also is a hunting buddy,
fufilling their breed's purpose every hunting season

Or our puppy that goes in the breed ring and is evaluated as being so close to the breed standard
that they are awarded Best in Breed, Group wins or an amazing BEST IN SHOW win.

I think the greatest sense of accomplishment for me has to be producing a puppy
that gets a Performance Title, because that is such a testament to the partnership and relationship
I have with each of my Poodles. Performance Titles also show case my poodles and their ability,
desire and eagerness to work and to please me.

Of course I am always thrilled when we place in the Top 4 at every show we go to
and it is a huge honor to win our High in Class and High in Trial wins and our TOTAL DOG AWARDS

However what makes me most happy, is hearing from our puppy people, about the joy that one of our pups
brought to their lives, such as one of our pups we placed in a home with a women with MS
who is using her puppy as emotional support and "physical helper" keeping
her steady from falling, saving her from injuries, and more recently one of our pups
who helped their owner discover she had Sqeamous cancer
and so she received medical attention before it could develop into melanoma.
We are continually enjoy many stories like these about our amazing pups.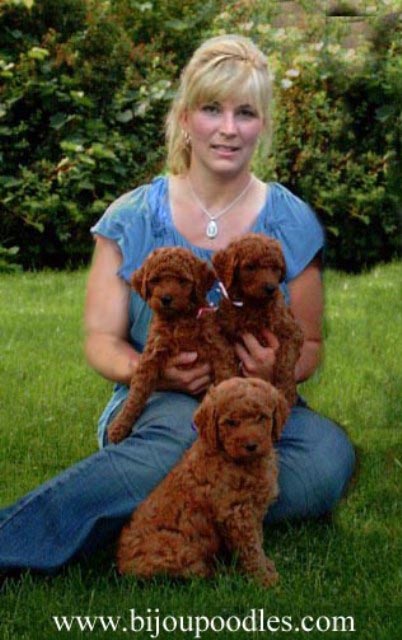 VISIT WITH BIJOU POODLES
~ Click to visit with Bijou Standard Poodles 2010~
Visit reloaded 2021
2010 Visit Browns
Thank you for visiting us !
Return to Bijou Home Page