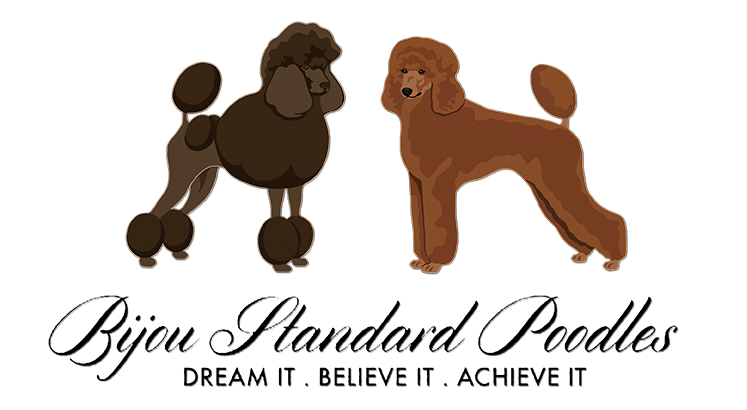 Meet Our Poodles

Questions Answered... Whats New at Bijou... ... Puppies

Contact us: bijoupoodles@yahoo.com



We don't just "say" We have Total Dogs
We have the Titles and "TOTAL DOG AWARDS" to prove it !!

"Pedigree indicates what the animal should be.
Conformation indicates what the animal appears to be.
But performance indicates what the animal actually is."
~ Author Unknown ~



..
...
..
..
..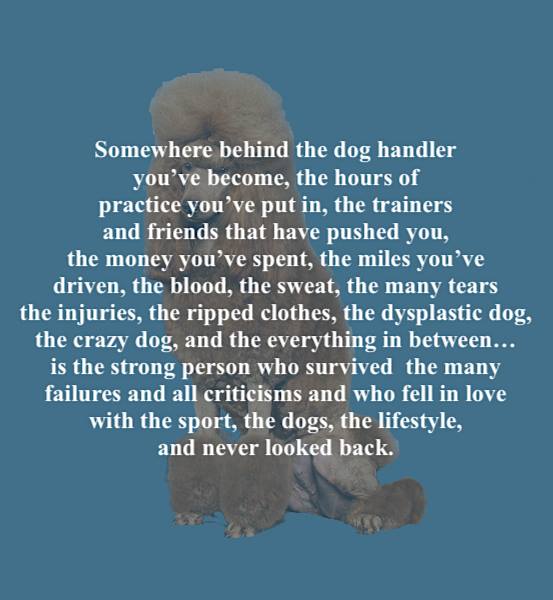 WHY IS BIJOU POODLES SO BUSY ?
YEAR AFTER YEAR
We train our poodles for Conformation, Obedience, Rally, Tracking, Weight Pulling
Retrieving, Lure Coursing, Nose Work, Barn Hunt and we attend Training seminars and classes.
Each of our Poodle kids seem to have a different Dog Sport they enjoy doing.
We compete in American Kennel Club (AKC) and United Kennel Club (UKC) and Canadian Kennel Club (CKC) Events.

Because we have more than just one dog, training is very time consuming and it is a daily commitment on my time.
Through the week if I am not working (I work full time as a Professional Firefighter to afford this expensive hobby)
I try to get to training classes, or work with friends, to hone our skills or learn new ones.
On weekends we all pile up in the car and drive 2-6 hours to an AKC, UKC or CKC dog show,
to perform those learned skills for judges, who will award us titles if we succeed
Because I have a coated breed, my time is also spent doing some basic grooming to keep our poodles in tip top shape.

I often get asked "why do you bother, why not just sit at home and pump out puppies,
as people looking for pets, don't care about titles and costs you so much money".

While I hope this is not true. I hope people would care about the quality of their puppy's parents
and care about what quality of life and opportunities that breeder is providing for their puppy's parents
and that they are not just kept confined, just used as breeding machines
and also care about what kind of breeder that their puppy purchase is supporting.
Our Poodles each spend tons of 1 on 1 time with us daily, and the many titles they achieve prove this fact.
As do the up to date photos and videos on each of our Poodle's web pages.



We don't just "say" we have Total Dogs
we have the UKC TOTAL DOG AWARDS to prove it !!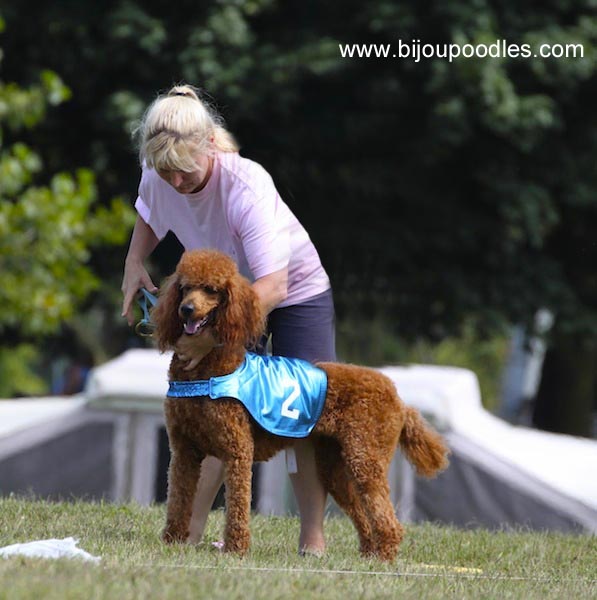 Lure Coursing Conformation


Rally Obedience



BELIEVE IT OR NOT..
there are some very pretty Poodles out there, that because of poor temperament should never be bred
There are some very friendly and social and intelligent Poodles, that should never be bred because of horrible conformation
Bijou Poodles offers our puppy people the Total Package.
Now, as a Buyer paying huge dollars for a puppy that should live 8-15 years, wouldn't you wish some assurances
in Health, Looks,Temperament in the puppy you are investing in and to support a reputable Breeder ?

First and Foremost, I ONLY breed to create my next generation of loving Friends,
Champions and Working Poodles to enjoy dog sports with and not just producing
puppies for the public like a pet store.

Secondly, Poodles thrive on having a job and also pleasing their owners, so training
keeps my poodles mentally stimulated, happy and also gives us individual quality time together.
Just looking at their smiling faces and wagging tails, in videos on their web pages
assures me I'm making the right choice for my Poodles.

I also want to prove that the poodles I own and Poodles that I breed are worthy of being reproduced.
That my poodles have the Health, Looks, Temperament and Intelligence
that are characteristic, for the the Standard Poodle breed standard.
Obtaining titles in Performance, Conformation (looks), and Temperament Tests done by Professionals
helps me prove my Poodle's ability without a doubt.






I believe the biggest thing is, that in order to accomplish all that I do
is that I just can't spend the day on the phone or in person
peddling my pups to people interested in a Bijou Puppy which would be 20-100 a day.
I would never have any quality family time or time just relaxing with my fur kids.

I prefer to spend all my time off of work, having fun with my Poodles.
I think my Poodles would agree with my choice, to spend my time with them, and if we loose a sale
because we are not motivated salespeople, then so be it. I want to place my pups in homes where people
appreciate the time, research, effort that I put into each puppy and or litter that I produce.





People that still wish to meet up with me in person and see generations of my Poodles in person and in action
are invited to the shows we attend. They will meet pups of our past that are out performing with their owners
They will also see our Poodles in person in public and out of their comfort zone of being at home.
I also created the most informative web page with the most up to date and extensive information about EACH of our Poodles
to help people see the quality, health, temperament and ability of each of our Poodles
and hopefully they will feel like they have gotten to know Bijou Poodles a bit better
I prefer my communications through emails so that I can respond to people within 24 hours when I have down time.

We hope people can appreciate all the time and dedication that we devote
to our Poodles and devote to proving that our Poodles have the health, beauty and brains
to be able to produce a superior Poodle puppy that would make a welcome addition to any home.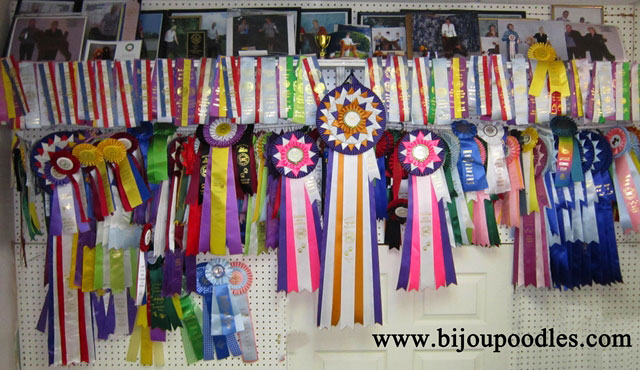 (only a small portion of our many awards)
Showing, Trialing and working with our Poodles is not about
the many Awards and Accolades we achieve,
It is about the quality of life we are able to offer our "3" Poodle parents
and is proof of the quality of lineage our Pups come from.
CLICK TO RETURN TO BIJOU HOME PAGE