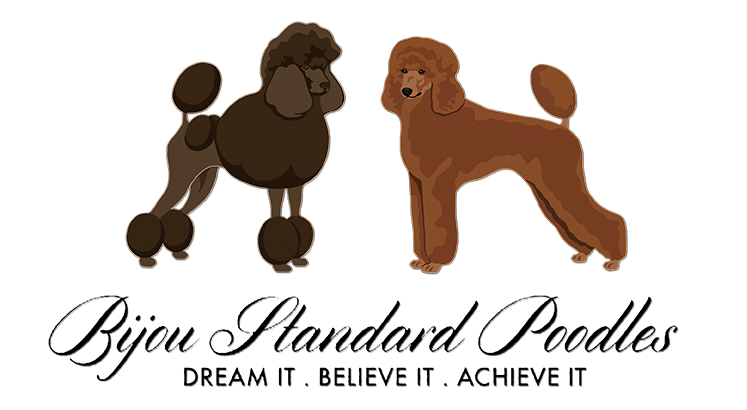 !! AVAILABLE PUPPIES !!

Meet Our Poodles... Our References... Web Page Links

Questions Answered... Whats New at Bijou...Bijou Difference

Contact us: brownpoodles@yahoo.com






FINDING AN ETHICAL REPUTABLE BREEDER:
© 2009 Bijou Standard Poodles

(Bijou Poodle's specially designed and built Whelping Box)


ANYTHING WITH "OODLE" IN THE NAME IS NOT PUREBRED

Easy way to find a reputable breeder is to find a Breeder
That has all their dogs Titled At BOTH ends of their registered names
(Performance/Working AND Conformation Titles) ie Total Dogs
and all 12+ OFA and DNA health testing completed !!!
(yes this is rare to find, but oh so worth it
to best ensure a healthy, well adjusted Poodle)
No Back Yard Breeder, Greeder or dispassionate Puppy Factory
would ever spend the time with their dogs, that it takes to Train and Title
and emotionally invest in their Poodles for generations the way Reputable Breeders do
let alone spend the huge amount of money it takes, to completely test their dogs
and have full results displayed on the OFA site that Reputable Breeder's spend.

ALL OFA and conclusive DNA testing available for the Standard Poodles as of 2020:
Hip Dysplasia, Elbow Dysplasia, Patella Luxation, Thyroid Disease, Legg-Calve-Perthes, Degenerative Myelopathy
Congenital Cardiac Disease, Von Willebrand's Disease, Neonatal Encephalopathy with Seizures Disorder
PRCD-Progressive Retinal Atrophy, RCD-4-Progressive Retinal Atrophy, CERF, Congenital Macrothrombocytopenia




BREEDER RATING SYSTEM:
Breeder accomplishing Temperament Title, Championship Title, Performance/Working Titles, All OFA and DNA testing on puppy parents = BEST BREEDER
Breeder accomplishing "either" Championship Title or Performance Title and ALL OFA Testing on puppy parents= BETTER BREEDER
Breeder completing, All OFA and DNA testing on puppy parents= OK BREEDER
Breeder completing just OFA Hips on Puppy Parents = BAD BREEDER
Breeder completing NOTHING on puppy parents= WORST BREEDER
Breeder breeding any breed to a Poodle = PUPPY MILL GREEDER !!!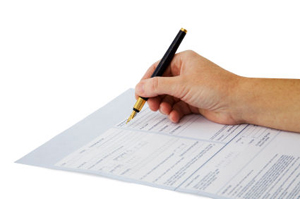 Do they have an Application and wish to know about you, your family and the environment that the puppy will be living in ?
Reputable breeders want to know a great deal about you before having you to their home or placing a puppy with you.
Beware of breeders that invite you to come out to their home on short notice and
without asking any information about you to find out if you would be a suitable owner.
This is usually so that you will come and buy from them before you can find out more information about them and their dogs
because they hope that you will fall in love with and buy the puppy once you see it.

Bijou Poodles has an extensive application we require to be filled out prior to anyone visiting our home.
We will provide a response after receiving an application, usually within 24 hours Mon-Thursday.
Of course not everyone that has money to buy, is an appropriate owner, for one of our precious pups.
We are very select in who we place our pups with. Please do not take offence if we have several more questions to ask you
above and beyond our application. We only want the best for our pups and we only want happy owners.
You can also read more about how to obtain one of our pups on our Adoption Procedures web page.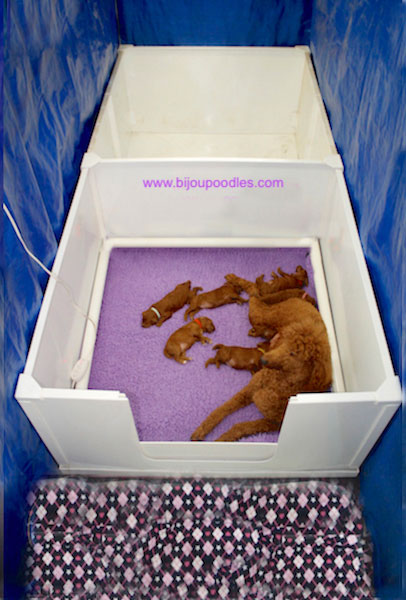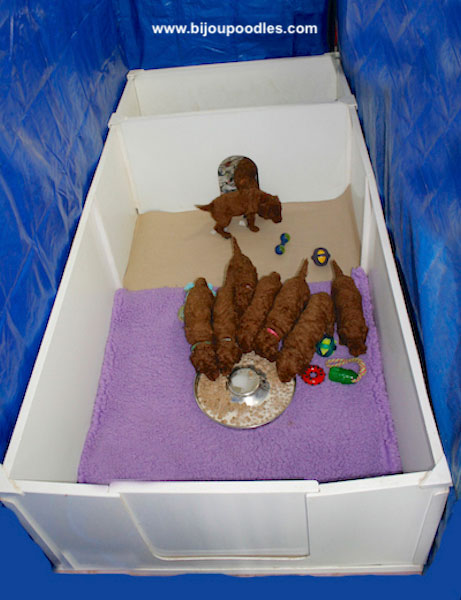 Bijou Poodle's specially designed, and professionally fabricated, our 2 in1 Puppy box
to ensure that our mom and pups are safe, CLEAN and go home potty trained
Only the best for our Poodles !!


Where and How are the pups raised ?
Breeders really differ in how they raise their pups.
Most often you may receive a photo or photos of pups in some
bacteria riddled pool or wooden or cardboard type whelping boxes,
wire or plastic pens in the living room, kitchen, laundry room or basement.
Lined with cheap, filthy, mismatched towels or blankets for pups to try to stay dry on.

Beware of the breeder that can't send you photos and or video of the pups WITH mom
as such video will show you true colour of mom and you can see how the pups are raised
and if and how healthy they are.

If you are looking for dark red or real brown beware of the Breeder only showing photos
that are darkened or only done under red or yellow or even dimly lit videos and or photos.
Or whose mom is a light cafe or apricot or light red as the pups will not hold colour.

When you go to pick up your puppy you should know that when raising a litter of pups
there is always going to be a certain puppy and newspaper odor that is always present,
but there should be no strong Ammonia smell from urine and or extensive feces smell or dirty whelping areas.

Whelping or puppy areas that do not have a separate area for the pups to learn to pee and poo, are not acceptable.
Although a lot of people still smoke, the puppy area and home should be smoke free environment
to not endanger the health of the puppies just like you would not smoke around a baby.
The area should be CLEAN with fresh absorbent material lining the bottom of the whelping area.
The room should be bright, have lots of fresh air and
be exposed "periodically" to the normal household noises to ensure the pups
are desensitized to a variety of stimulus and noises to develop properly.

Pups should never be kept 24/7 in the family room or under a constant bombardment of noise or stimuli.
Pups need quiet and to be undisturbed to physically and mentally develop properly and not be hyper or insecure.
Pups should have MINIMALLY enough room to eliminate (pee/poo) at one end
and eat and sleep at the other end, to start toilet training the puppies
and also teach the pups to grow up to be clean dogs
IDEALLY the pups should be contained in an area that provides
lots of room for play and eating and a "defined" separate area to eliminate in, or access to outside so the pups
learn to move far away from their -home- to eliminate. This also assists pups to start their toilet training early on.
Puppies should never be raised in wire cages/pens as not only is this uncomfortable but it doesn't teach the pups to be clean.
Pups raised "wild" in the house or bedrooms also don't have learning opportunities.

Our puppy people, receive weekly videos and or photos of our pups and our mother nursing and interacting
with her pups, to provide assurances to our puppy people that their puppy is receiving the utmost care
and that they are clean, well nourished, very socialized happy pups, so people can appreciate our amazing colour
and sweet calm natures of our Poodle mothers ! We do have the darkest reds and browns in the world.
We even provide video of our pups first learning to use the potty area, by using our "Bijou Method" of puppy raising.

When you come to pick up your puppy the first thing you will notice is that our home is smoke and smell free and clean.
We believe it is paramount that pups are not exposed to carcinogens and other toxins.
I'm always amazed at the number of people that come to our home and tell me that the first thing they notice is our home does not smell of pee or smoke.
I really have to wonder what type of breeder's homes that they have been to previously.
I would not wish to raise my precious Poodles in a home that smelt, or even looked dirty, or was over run with packs of dogs.
My Poodles are my fur kids and as such are clean and well mannered and treated and raised like the family members that they are.
At Bijou Standard Poodles our Mom's and our pups are raised in our Home.
Our moms deliver and raise their pups in our Nursery room next to our bedroom, until they are 14 days old
when they are moved to our specially custom designed and built Puppy Box that took us years to design.
Our Puppy Box is important because it allows the pups to have room to grow and learn to be clean and soil further and further away
from where they eat and sleep, starting their toilet training which is called the "Bijou Method".
Mom also has room to do her training and to properly care for her pups and teach them to be clean as well.
We clean our puppy boxes 2-3x a day which is a ton of extra work and cost, that I know, most breeders do not engage in
but my goal in doing this, is to encourage and promote clean, healthy puppies with no bad habits and who have started their potty training.
Judging from the feedback that we get, about our pups learning to be house trained in one week, tells me my efforts are worth it.





Do they complete ALL conclusive health testing ?
Conclusive OFA Health Testing for Standard Poodles as of 2014 is:
Hip Dysplasia, Elbow Dysplasia, Patella Luxation, Thyroid Disease, Legg-Calve-Perthes, Congenital Cardiac Disease
Full Dentition, Degenerative Myelopathy, Von Willebrand's Disease, Neonatal Encephalopathy with Seizures Disorder
CMTP (Congenital Macrothrombocytopenia) and CERF (Canine Eye Registration Foundation ) Tested.

Reputable breeders will have all the parents OFA health clearances available for you to see
or numbers that you can verify online on the Orthopedic Foundation for Animals (OFA) web page.
Most experienced breeders are not comfortable displaying, or giving strangers copies of their Poodle's
health clearances, as they do not want them used falsely by anyone else for their dogs,
so do take the time to verify the numbers of any OFA health clearances, which can be done on the
Orthopedic Foundation for Animals web page (top left under "Search OFA Records") such as our Poodle

"Dare"
If the dogs do not appear on the OFA web page...run...don't be fooled by breeders that say they
health test differently or the parents are healthy. OFA is the WORLD recognized standard for health testing and
only costs $300.00/dog in Canada, so very minimal cost for a breeder to invest considering the price of the puppy.
If they do not have health clearances from OFA to show you then chances are, their Poodle failed OFA
or the breeders are only breeding for profit, not caring about what the health of their pups will be.

Bijou Poodles only breeds Poodles, that have passed every conclusive DNA and OFA health screening available
As of 2020 we are one of the ONLY Poodle breeders in the world that OFA our Poodles
for every "conclusive" health screening available such as but not limited to:
Hip Dysplasia, Elbow Dysplasia, Patella Luxation, Thyroid Disease, Legg-Calve-Perthes, Congenital Cardiac Disease
Full Dentition, Degenerative Myelopathy, Von Willebrand's Disease, Neonatal Encephalopathy with Seizures Disorder
CMTP (Congenital Macrothrombocytopenia), prcd-PRA and CERF (Canine Eye Registration Foundation ) Tested.

As well, our Poodle parents are CHIC registered, which you can view and verify by going to the OFA web page
Of course never take a Breeder's word for it, go to the OFA web page and search their Kennel names and see what comes up.
A search done on the OFA page of Bijou's brings up these many pages of health clearances
Bijou Poodles really has raised the bar for what other breeders striving to now test their Poodles for.

This was not an easy process as we purchased many Poodles that failed OFA and DNA tests, which then we had to spay/neuter and find good pet homes for.
Just because Poodles look healthy does not mean they are clear of disease or genetic defect. Only health testing will prove a dog is healthy.
The more the public asks and demands health testing on their Poodle puppy parents, the more bad breeders will be forced to start testing,
that otherwise wouldn't care to spend the money on health testing. Genetic problems in the poodles would then soon be eradicated.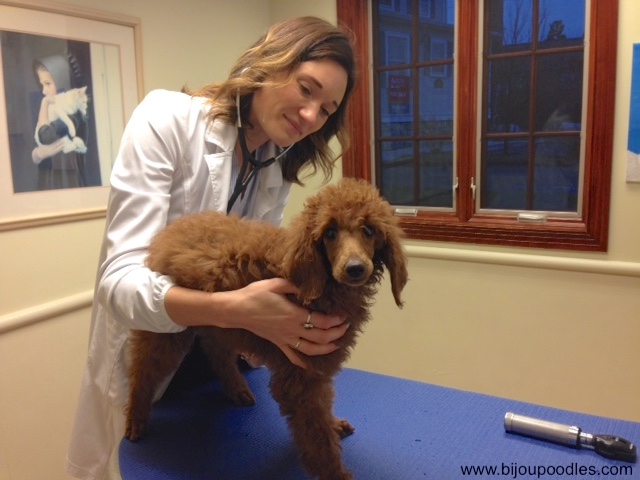 Have the puppies been Vet checked ?
Breeders can choose to bring their puppies to a Vet and if puppy
is healthy the breeders can choose to pay for a Health Certificate to attest to this fact.
Breeders that ship their puppies MUST have a Health Certificate on their pups
Health Certificates in the USA are good for 10 days from visiting the Veterinarian.
Health Certificates in Canada are only good for 30 days from visiting the Veterinarian.

Bijou Poodles have no chemical exposure by
not using any topical insecticide application (flea and tick products)
we do not use toxic chemicals for heartworm prevention
we do not use chemicals on our lawn or our environment.
We are very fortunate to not have flea or tick problems where we live
We also use limited vaccine protocol
Our Poodles are on a high quality limited ingredient food and drink filtered water
We also have a smoke free home and environment.
Our Poodles are also dog athletes, so they get routine aerobic exercise
routinely get cleared by our Vet, by having blood work up, on occasion receive an evaluation by a canine chiropractor
massage therapist, T-Touch and stretching.
We believe all these precautions and care, add up, to a healthy Poodle Mom and Dad that will
produce puppies without health issues brought on by these many chemical and environmental exposures.

We take our puppies to our Vet to be health checked at around 7 weeks of age.
Our very healthy puppies are awarded an International Health Certificate to prove they have been
Health Checked to include the following, but not limited to:
*Pups are parasite free (no ticks or fleas)
*Pups have no ear or eye infections
*Pups have no hernias needing repair
*Pups have no dewclaw regrowth
*Pups joints and patellas are intact and in good condition
*Pups are hydrated and receiving proper nutrition and are a healthy weight
*Pups gums and teeth are in perfect condition
*Pups glands are normal and not inflamed or enlarged
*Pups heart checked to be free of murmurs
*Pups eyes free from entropion or ectropion
*Pups lungs listened to be free of abnormalities
You will receive a perfectly healthy puppy that has been thoroughly examined by a Health Care Professional





...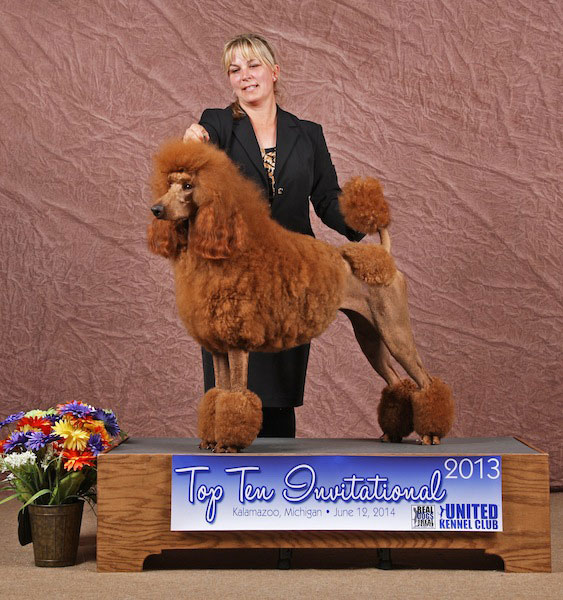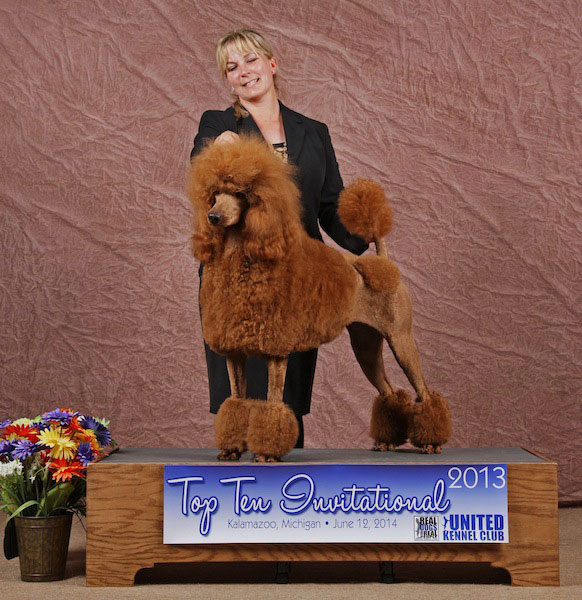 a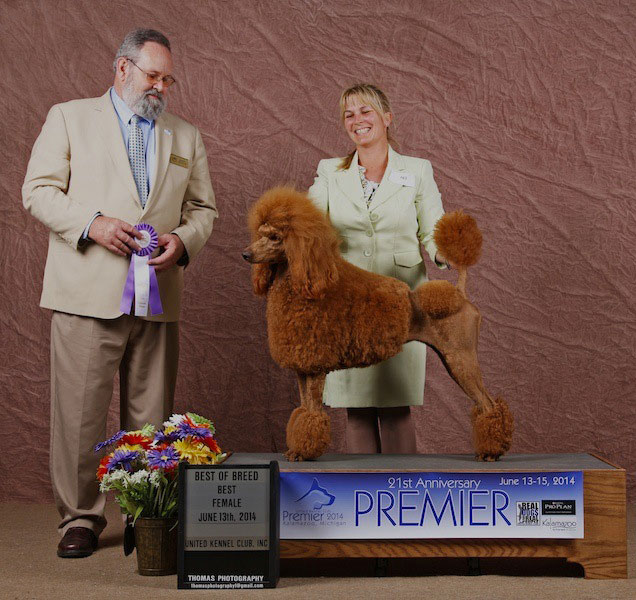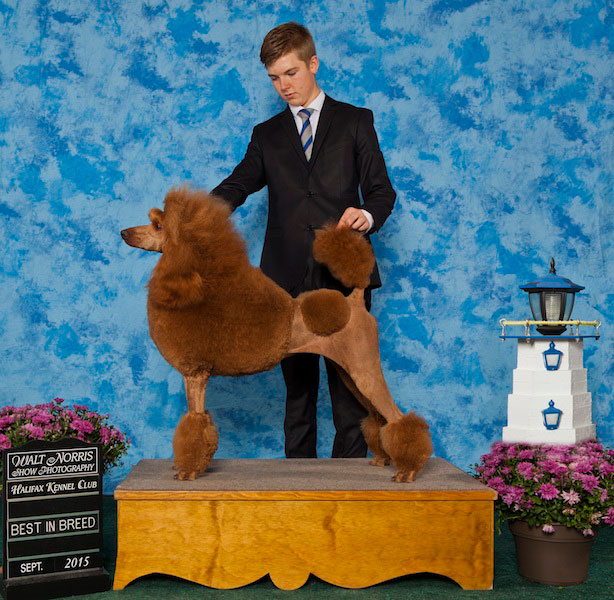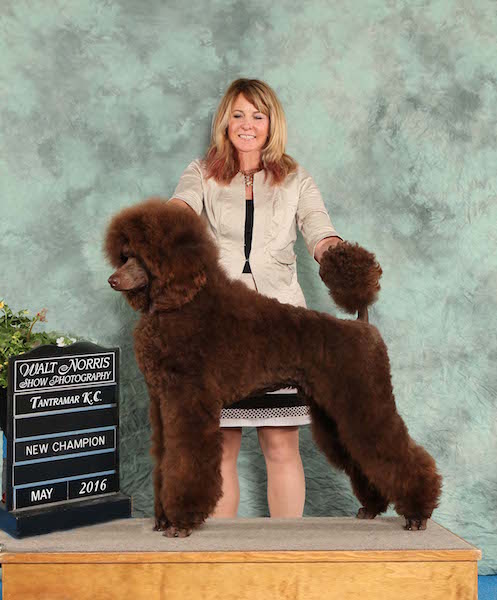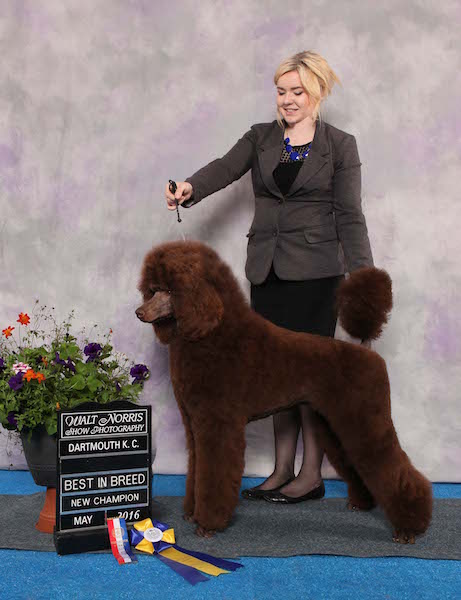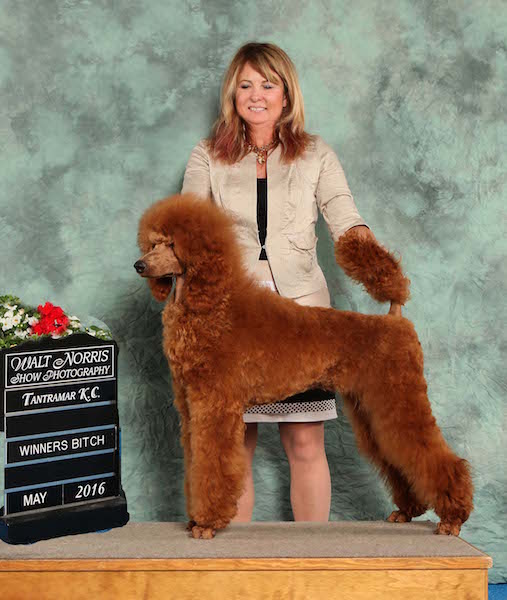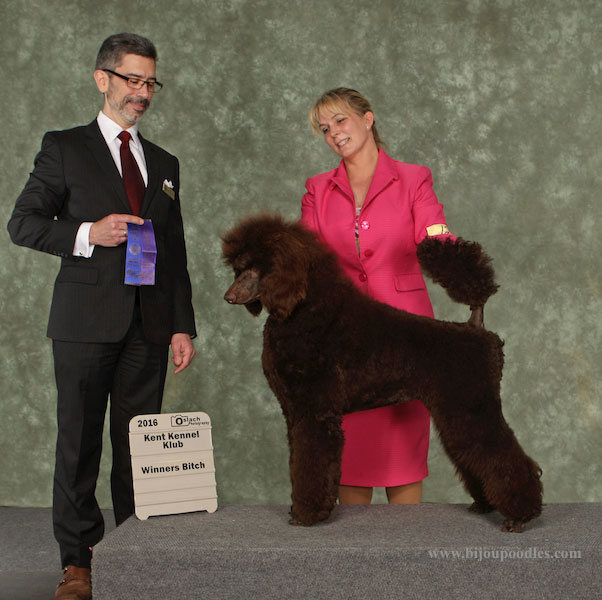 Do their Dogs have a Championship in ~Any~ Association ?
Reputable breeders wish to show and gain a Championship Title in order to prove that
Physically their Dogs MEET the Breed Standard according to a Professional Licensed Judges
and therefore that their dogs are "physically" worthy of being reproduced. Even knowledgeable breeders can get kennel blindness and
make statements like "my Poodle has a glorious topline, lovely head, great rear angulation, beautiful feet" or the funniest is when
people that breed say that their Poodle has "beautiful confirmation" when the correct term known by those that do show is "conformation"
but only a Championship Title is an unbiased assessment, performed by a Licensed Professional
that has studied the Standard Poodle "breed standard", can truly decide how well a Poodle's conformation truly is by awarding points.
A poodle meeting the breed standard and beating competition of other show poodles will be awarded Points towards a Championship Title.

Any breeder can make claims that "everyone says my dogs are great looking", or "so and so said my poodles are amazing"
or worse, "we don't require it"

ONLY a Championship Title from a licensed Judge, proves conclusively, that a dog has the temperament to allow strangers to go over them
and not be shy or timid, and that the dog is physically sound, MEETING the breed Standard, without a doubt to the WORLD.
This is also a sign that the breeder is breeding with specific goals in mind, not just breeding ~Pups for Profit~
with no regard to Health, Structure, Temperament.

Showing is also VERY expensive and is a sport that most Back Yard Breeders and Puppy Mills will not engage in,
because it is a huge loss of Profit and nothing to be gained from a financial perspective.
Bijou Standard Poodles spends over $60,000.00 yearly
just to prove our Poodles are "ALL THAT" by earning Titles.

Believe it or not,
there are some very pretty Poodles out there, that because of poor temperament and or health, should never be bred
There are some very friendly and social and intelligent Poodles, that should never be bred because of horrible conformation
Now as a Buyer paying huge dollars for a dog that should live 8-15 years, wouldn't you wish some assurances
in health, looks and Temperament in the puppy you are investing in ?

Bijou Poodles knows that a structurally sound Poodle will move well and will have less injury and health problems.
Poodles that have championships have been found structurally sound and having good movement by Trained Licensed Professionals
Poodles with a Championship were also found to meet the poodle breed standard and as such will look like they are supposed to.
Championships assure the public that the breeder's Poodles are of quality and proper looks for a Standard poodle and that
the breeder knows what they are doing and understands the Poodle Breed standard which is the blue print for the Standard Poodle.

Bijou Poodles show our own Poodles in UKC and show them naturally,
with very minimal grooming and no products or cheats or fake hair added.
We also prefer to show them in a "Sporting Clip" which is harder to show a poodle in
because the coat follows the body and shows the entire true Poodle body structure.
There is no hiding any faults with fancy clip, to the public observing or Judges who do go over a dog "hands on"
to evaluate Poodle Physical Structure.
EVERY Bijou Poodle not only has their Championships but they also go on to their Grand Championships
which they obtain with many Group wins and even Best In Show and Reserve Best in Show wins.
Poodles we produce continually placing in UKC's Top Ten
against Standard Poodles showing in UKC World Wide
(this is over competition from All of Canada, 50 USA States and 25 foreign Countries !)
As of 2020, we are on our 3rd - 4th generation, of our Breeding
and we have Championed 20 of our Poodles in CKC (Canadian Kennel Club, Canada's version of AKC)
as well as Producing the First CKC Red Grand Champions and first CKC Brown Grand Champion Females.
As of 2021 Bijou Poodles have produced the most Brown and Red Grand Champions in Canadian History !
*Click to view our Champions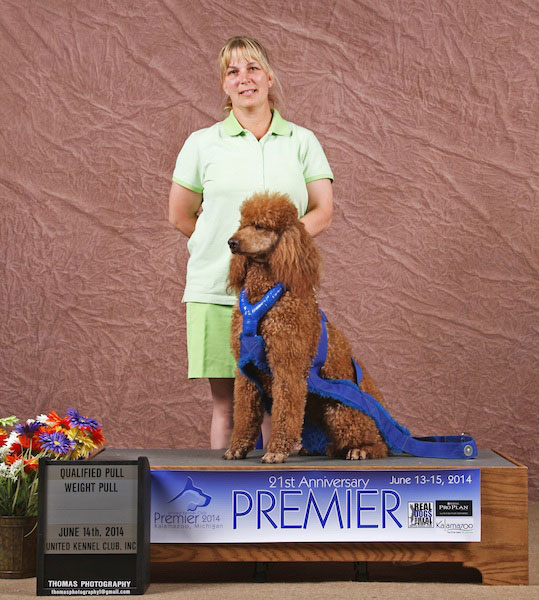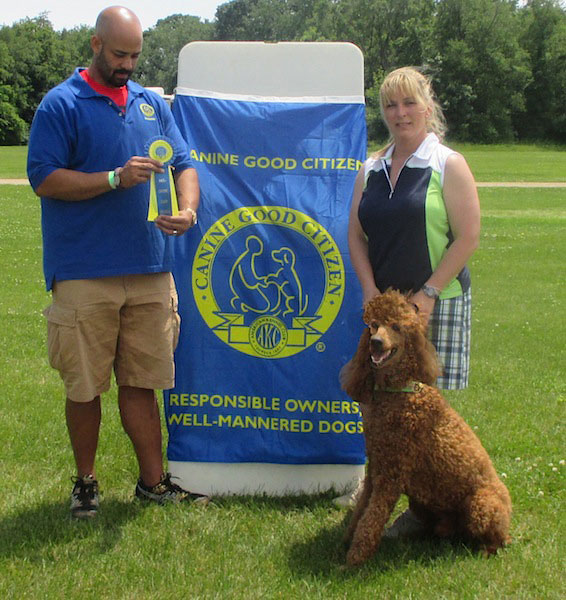 Do they compete in any Working events?
Agility, Rally, Obedience, Tracking, Field , CGC, Lure Coursing to name a few
and have the Working Titles to prove that their dogs are mentally worthy
of being reproduced.
Anyone can "SAY" their dog has "abilities" or "brains" or has "graduated Advanced Obedience classes from Petsmart"
but only a Working or Performance Title from Licensed Professional Judges proves this without a doubt to the WORLD
that an unbiased Professional has deemed that the poodle in question has any ability to work for their owner and did well.

Achieving a performance title, also shows that a Breeder has specific goals in mind for
breeding and not just to produce pups, for an already flooded puppy market.
There are many working and or performance Events Poodles can do, a breeder has no excuse other than GREED
to not spend time with their poodles and proving their ability, if they are choosing to breed.
Some events we list for the world to see on our Bijou Poodles Events page.

In order to have a dog reliably follow commands in an uncontrolled environment by their owner
takes a TON of "one on one" time spent with their dog. A breeder that has achieved working titles on their dogs
spends a ton of time with their dogs individually, so a working title is a good sign that a breeder cares and works with their dogs
and those dogs love and respect their owners enough to work for them.
IF a Breeder doesn't have ANY titles (performance or conformation or temperament) on their dogs that they breed and own,
they are referred to as "backyard breeders" because those breeders only breed, not caring
if the dogs they are breeding are physically or mentally sound or even if they meet the Poodle Breed Standard
a HUGE indication they are producing $ Puppies for Profit $
with no regard to Temperament, Health or Proper Structure.
Believe it or not,
there are some very pretty Poodles out there, that because of poor temperament and or health, should never be bred
There are some very friendly and social and intelligent Poodles, that should never be bred because of horrible conformation
Now as a Buyer paying huge dollars for a dog that should live 8-15 years, wouldn't you wish some assurances
in health, looks and Temperament in the puppy you are investing in ?

EVERY Bijou Standard Poodle has their UKC and or AKC Rally Titles
also having or working on their UKC and AKC Obedience Titles
EACH Bijou Poodle has or is soon to achieve their Temperament Titles of SPOT, CGC or CGN
EVERY Bijou Standard Poodle has an additional Performance Title in AKC and or UKC.
ALL Bijou Standard Poodles also have TOTAL DOG AWARDS or are working towards it
You can verify the work and effort, we put into proving each of our Poodle's ability and intelligence, on their individual web pages
or keep up with our many activities our fur kids are doing, by checking on our Whats New page.
Titles are the Dog World, equivalent to a University Degree.
A tangible measurement of intelligence for that dog.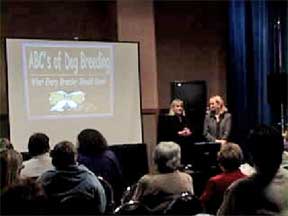 Do they belong to any Clubs ?
Clubs will only accept members who will abide by the Club's Rules of Conduct.
Breeder's join clubs to learn how to be better breeders, to share what they know and also in order
to have a voice in anything that effects their breed. Breeders join clubs because they wish to be kept up to date
on the latest issues such as health testing, standards, methods and tools available to improve their breeding programs.
Breeder's join clubs because they care about betterment of their breed

Bijou Poodles is a member of code of ethics Poodle and a variety dog clubs
some of which are linked on our front page
We also regularly contribute to many breed newsletters and magazines
including having been published in the Canadian Kennel Club's Monthly magazine and in Poodle Variety.



= = =
(Nikki produced "Hershey" who produced "Sophie" who produced "Charm")


= = =
(Rose produced "Dare" who produced "Reva") who produced "Poppy")

Why did the Breeder choose those Parents to breed together?
Reputable Breeders will be able to tell you in detail what qualities of each parent and
What aspects of the pedigree that they were working with and what goal they were working towards.
EVERY Poodle in the world will have Champions in the "background".
So saying a breeder has "champions" in the background or a "imported" lineage "alone" are not enough redeemable qualities to do a breeding.
If asked, Reputable Breeders will have more than a two line answer and for sure be willing to expound upon their reasons.
Reputable breeders will also have photos of parents, grandparents, great grandparents and great great grandparents to show you.
This is because they have studied pedigree and followed certain lines and have goals in their breeding programs.
Beware of the breeder that only displays a couple old photos of their poodle parents.

As of 2006, Bijou Poodles has individual web pages for EACH of our Poodles
containing up to date video and photos of each of our puppy parents
Grand Parents and Great Grandparents so people can see the long path we have taken
to achieve our successful, healthy Breeding Program.






Do they have experience (at least over 10 years) in the breed "first hand" ?
This is so that you know they can offer insightful advise and help you out down the road with any problems you may have.
Also so that you know they will still be breeding to honor any guarantees that they offered.

Bijou Poodles has been involved with Breeding, Training and Showing dogs since 1989.
I have mentored under Top Breeders over the years, learning the ins and outs of proper breeding
and how to properly raise and train, healthy, happy dogs. I do believe in "paying it forward" and have been
mentoring new breeders, who I have felt showed promise to put their dogs first.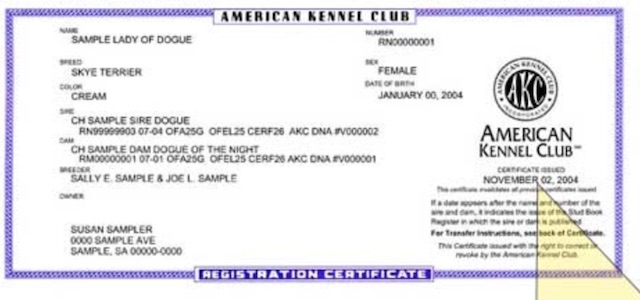 Are their parents and pups Registered?
While you might wish to purchase ~just a pet~ registration papers is your ONLY proof
that the puppy you are purchasing and investing time and effort into, is a purebred and will adhere to all the qualities
that brought you to that breed in the first place.
Registration papers also protect you from purchasing a puppy from someone who did not have legal rights
or permission to breed their dogs. You certainly do not want your puppy seized from your home,
should there be any legal battle in the future and because of legally binding contracts and DNA testing, this is very possible.
Registration papers means you bought a purebred.
If you do not receive registration papers, then you were just ripped off and your 'breeder' is laughing at you all the way to the bank.

Bijou Poodles sends our "altered" pups home with their Registration Papers in their hands.
Our contract does stipulate that our "Bijou" name appear first on our Red puppy's registered name
and "K-Lar's" name appears first on our Brown puppy's registered name, to reflect that we produced that puppy
and aid others in following our amazing lineage.
Unaltered pups will receive their registration papers, after we receive proof of being spayed/neutered.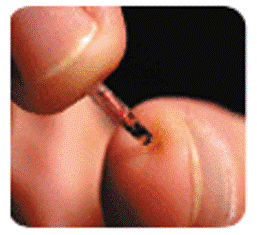 Are their puppies Permanently Identified ?
There are many ways a breeder can identify their puppies such as nose print, tattoo
and of course Microchip Implant from many different manufacturers
However registries may only accept certain methods of identification and certain brands of microchips

Bijou Standard Poodles, implants our puppies with FDXB ISO chips Manufacturer Code: 900
which are approved by The National Companion Animal Coalition and meet the new Canadian Standard.
Canadian Kennel Club, accepts all microchips approved by the National Companion Animal Coalition
Registering a Microchip ID is pretty useless due to the MANY registries and is contingent upon those scanning the dog.
Our pup's microchips are not registered, it is up to the new owners if they wish to do this.
You can read more and watch a video on this page: Microchip ID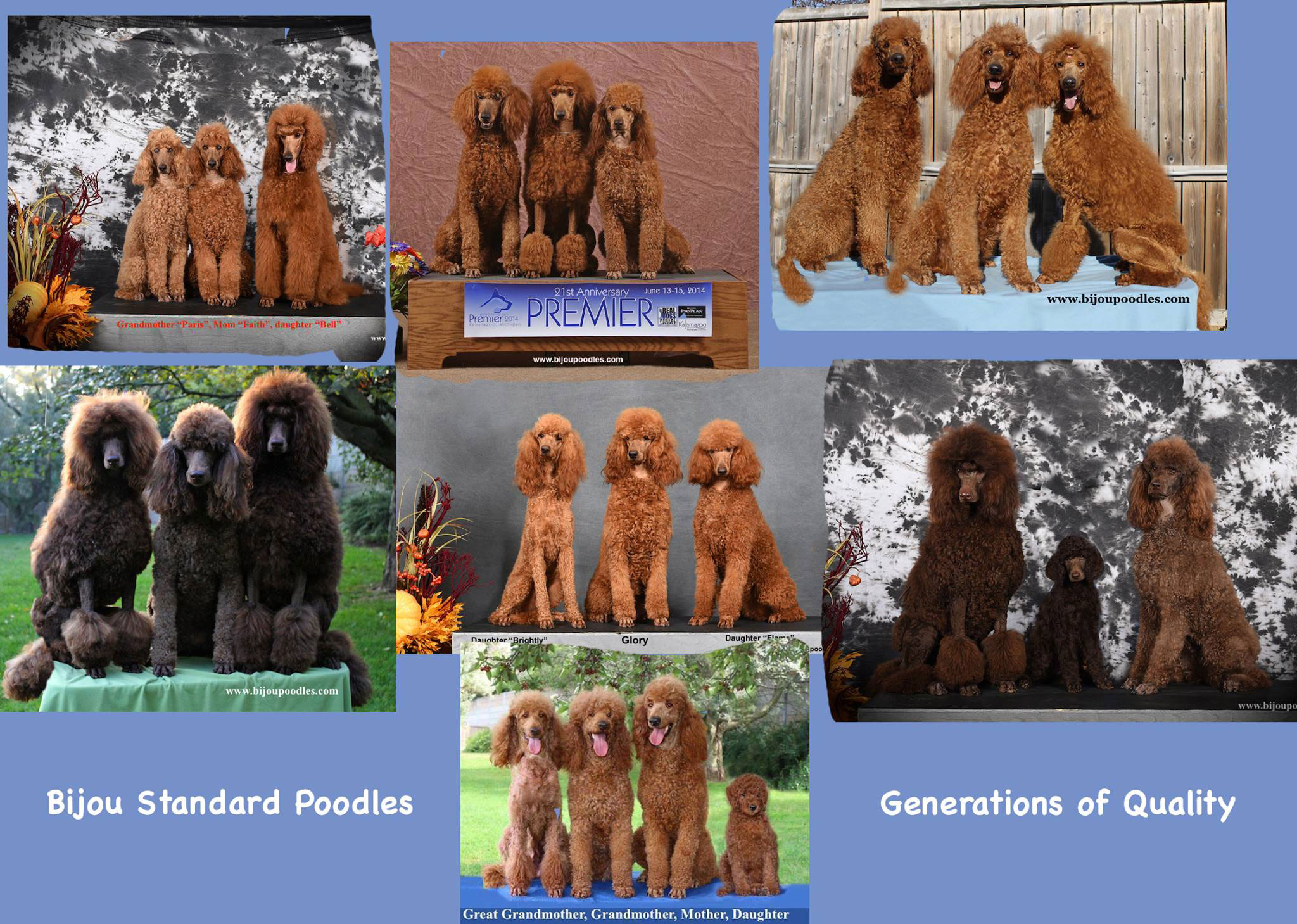 Buying Long Distance
Never purchase from a breeder that does not have a web page.
Web pages hold breeder's accountable and also is an assurance Breeders are going to be around tomorrow.
If you are buying long distance you should be able to view MANY up to date photos and video of mom growing up
Photos and video of dad growing up and current photo and video of pups, and not all under red lights or in the dark.
The breeder should have properly stacked photos of the parents to show you they are of excellent conformation and healthy.
Photos of pups and videos of pups should be clear and done in a variety of natural light to give you a proper idea of coat colour and health of pups.
Really beware of the breeder that only has puppy photos done under red lights or in near darkness
as this is done to deceive the public about the true colour of their pups which are probably cream and apricot or light brown.
"real" red and true dark brown, as of 2018 is still exceptionally rare to find.
The breeder should be able to share with you what you should be able to expect by way of colour, weight and height
judging by the parents and or previous litters the sire and dam have produced.

Bijou Poodles has the most extensive individual Poodle pages you will find anywhere.
This is because we actually do activities with our Poodles and are proud to share this with the world.
We also want to share how our Poodles develop from birth until their passing. This openly shared information helps everyone.
Each of our Poodles have individual web pages, that follow their life from birth to current date and that are constantly updated.
Each of our litters also has their own individual web page, that is constantly updated from conception, birth and until they go home.
Our photos are clear and in natural light, (not red lamps), so that people can get a true reflection of the colour and health of the pups.
We have nothing to hide and wish to share our Poodle's beauty and accomplishments.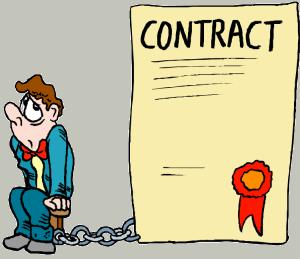 Do they sell with ~limited~ or on ~non-breeding~ Registration/Contracts ?
Reputable breeders are VERY select in who they sell to with breeding rights
because the choices you make with the puppy ~they~ bred will reflect back on their and their dogs reputation.
Reputable breeders care about the pups they produce and do not wish their pups to be indiscriminately bred
even if it means loosing a sale because they put their pups and dogs welfare above all else.
Reputable breeders may even offer to pay for Pediatric Spay or Neuter a savings for you of $300.00-$1,000.00 by their experienced Vet.
Limited Registration means that you have agreed that the puppy you are purchasing will be unable to be bred
and will be enjoyed as a loving family pet and will be registered in "your" name.
Limited Registration means that the dog is registered but no litters produced by that dog are eligible for registration.
If you wish to breed, you should purchase a puppy with "unlimited" Registration
sold with a Breeding Agreement Contract.
so that your puppy will be able to be bred and that all resulting pups will be able to be registered.
Unlimited Registration does cost a lot more because of the increased value
of the puppy as a result of the ability to be bred.
Before you consider breeding you may wish to view this page on Breeding Concerns

Bijou Poodles has spent a small fortune and years to achieve our breeding program.
We set our standards very high, only breeding Poodles that have their Grand Championships, Performance Titles, Obedience Titles,
Poodles that have passed EVERY OFA and DNA health test and after all of that, Only breeding Poodles that are Deepest Darkest of colour
with super calm, sweet, loving natures that have made us so famous over the years.
As of 2017 Bijou Poodles is the only Brown and Red standard Poodle breeders in the ENTIRE WORLD to accomplish all the above.

We believe that when producing pups, some of which may be available to the public
that the public does deserve the best quality, even if the public are just looking for a pet.
This means we have chosen to prove our Poodles are the best quality, conclusively through many venues of testing.
This ongoing testing does cost us around $60,000.00-$80,000.00 a year to keep up with.

As a result of all our work, expense, heart break, ongoing efforts and continual improvements
we very rarely place our pups in breeding homes.
This is because we do not want to see all our hard work and dedication ruined and or, our pups exploited or bred indiscriminately.
We want to protect all our hard work, protect our breed, and protect the pups we carefully plan, produce and who we lovingly hand raise.
We realize this is a rather unique way of thinking, for some people to grasp, but yes, I would rather loose sales
than risk any of my pups falling in the wrong hands, and being exploited, bred indiscriminately or abused.
We are thankfully to those people that support our efforts, and appreciate quality
and our dedication to our Poodles and to the Poodle breed.
We also offer our contract to view online prior to committing to a purchase for the public to read: Bijou Poodles Contract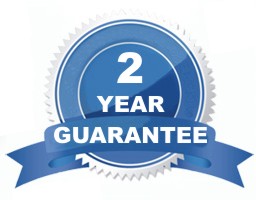 What is the Breeders Guarantee ?
Most Reputable Breeders have 1-2 year health guarantee on the pups that they place.
Some Breeders offer a Lifetime Guarantee but make sure to read the fine print on what that covers.
Guarantees are usually for ~replacement~ only of any sickly puppies or pups that would come down with
congenital disorders or inherent illnesses that the Breeder has health tested for.
Things like medical bills after purchase are the Buyers responsibility.
All pups should come with a Health Certificate from a licensed Vet attesting to the health of your puppy.
Make sure you have fully read the contract or guarantee and that you are FULLY aware
Of what is covered and what is not.
We also insist that our Puppy people are educated about Vaccines
and Veterinarians so they only provide care for their puppy
that is needed and not subject them to unnecessary and harmful chemicals, toxins or treatments that are offered yearly.

Bijou Poodles has a health guarantee that you can view online 24/7.
~ THE BEST GUARANTEE ANYONE CAN HAVE, IS BUYING FROM FULLY OFA HEALTH TESTED PARENTS ~






When does the Breeder want payment?
Reputable Breeders have a great deal of interest in their upcoming litters.
Most breeders will require a non-refundable deposit to secure your position on a
waiting list on an upcoming breeding. If you choose to put a deposit on a litter
make sure this deposit is refundable should the puppy you wished not be born.
Deposits help breeders be assured someone is serious about their purchase.
Deposits range in price from $200.00+ with balance being paid before the puppy
Is sent home or shipped.
Shipping is an additional price and is usually $450.00+


Bijou Poodles requires a $200.00 non-refundable deposit to secure a puppy in our upcoming litters.
Balance and Shipping costs (if shipping is required) is due when pups are 4 weeks of age.
Bijou Poodles has met people at the airport that fly in and fly back home with their puppy as a carry on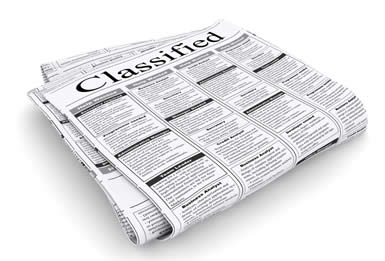 Do they peddle their pups and dogs on multiple forums, message boards or free classified ads ?
Ethical and Reputable Breeders are established and generally do not have to advertise on forums or classifieds.
Most ethical breeders wouldn't even consider breeding unless they plan on keeping a puppy
and have a list of loving homes lined up for the expected available pet puppies that will not be kept by breeder.
Most reputable breeders advertise in Annual magazines and or established web sites
or Club web pages where breeders need an "account" in order to advertise and breeders will be held accountable for their ads
unlike forums or free classifieds where anyone can advertise under any name and then disappear with no accountability.
Reputable breeders also usually place their pups based on referrals and word of mouth, not even needing to advertise.
Of course everyone needs to start out somewhere when they are first breeding, so those individuals should have "their" breeder
that they bought from, acting as a mentor that will refer puppy people to them. Reputable breeders will only sell to
people that they believe will have their pups best interest at heart and usually will share common goals and ethics with.
A new Breeder acting on their own, is just an accident waiting to happen and is going to have troubles.
The highest compliment any breeder can receive is to have a puppy buyer come back to them for their next puppy.
When people contact us saying they already own the best poodle or they met a great poodle, I encourage them to find out
who that breeder was or to return to their old breeder as you know and have met what they have.

Bijou Poodles usually has our pups placed before they are even conceived.
Most of our pups are placed in homes where people already have one of our pups
or to friends and or family members of people who have our pups and see how amazing they are.
On very rare occasions we have had a last minute cancelation or we have accepted back one of our older Poodles
due to divorce or owners are no longer able to keep their Poodle.
(Bijou Poodles will always take back any of our pups at any age and for any reason)
Those available pups or adults are featured on our Available Puppy Page






Do they have References?
While a lot of breeders are not comfortable giving out names and numbers of their
Past puppy people because of confidentiality and also those people don't wish to get 20 phone calls a day either,
most Breeders will be able to provide a web page containing photos and written references
from past puppy people and their families.
Most reputable breeders have many references and updated photos of the pups as adults
they have placed from puppy people that have kept in touch.

Bijou Poodles offers our ~ References ~ right on our web page
available for people to view 24/7. As well we do follow ups on our pups and display their adult photos and stats
on our web pages so that people can see for themselves what to expect in size, weight and colour on a Bijou puppy:
Bijou Red Standard Poodles
Bijou Brown Standard Poodles






Do they have Full Time Employment outside of their home ?
Reputable breeders don't sit at home breeding and peddling pups, they have a real job and are active in doing Dog Sports.
Reality is that Breeding with goals in mind and having high standards for their Breeding Program is expensive.
Most Reputable breeders have full time "real" employment out side of their home, just to afford their hobby.
Having real full time employment also allows a Breeder to make good choices for their breeding program with no compromises
that otherwise they might not do if puppy money pays the household bills (aka "self employed")

Reputable breeders have major expenses involved in proving their dogs
are quality worthy of being reproduced starting from the initial cost of their dogs purchase.
Health testing, training and lessons, courses, memberships, championing their dogs
titling their dogs with working titles and just maintaining their dogs (grooming, feeding etc), is expensive and an ongoing expense to keep up with.
Most reputable breeders are rarely home as they are out taking lessons, showing, trialing with their dogs.
Even raising a litter to be healthy, happy, clean, well socialized all takes up time and money.
Expenses on a 10 Puppy Litter can well add up to $7,000.00 to $8,00.00 depending
on what the breeder does with the pups, how pups are raised and what Breeder spends on their pups care.

Bijou puts our Poodle's needs first and foremost.
I want only the best for my Poodles and my Puppies and
I can afford to offer only the best, because I work as a Full Time Professional Firefighter.
There is no compromising on Quality of Care in "my" breeding program.
And this is a VERY VERY expensive hobby because my Poodles do have many interests
My job is also 24 hour shifts, so I'm only away from my poodles for 8 days, out of a month.
This does mean, that I prefer email, as I can answer emails at work on breaks or at dog shows anywhere in the world
when I am done for the day, or even at home, when I get some 'free time'. My world revolves around my fur kids.







Are the Poodles you meet in good condition ?
You should see Poodles with mat free coats, that smell and look clean.
Nails should be short and maintained.
Females should be tucked up and not appear to be out of shape or fat
Ears should be mat free and not smell of infection
Poodles (without pups) should be eager to see you and or meet and greet new visitors.
Temperaments of Standard Poodles differ with each breed and or lines.
You may meet extremely hyper, barky, jumpy, pacey poodles
or you might meet poodles that come over and wag their tails politely sniffing you in greeting.
It is up to you if you wish to own and entertain a higher energy poodle that might be ideal for agility or field
or a calmer more reserved poodle that would do well in obedience or therapy work.

Bijou Poodle parents are in such amazing shape that by the time people
come out to visit their pups, they would often never know that mom has had pups.
Our poodles have even won Best in Show 6 weeks after delivering pups, that is just how
healthy and in what great shape our Poodle parents are maintained in.
Course we can't take credit for this, as our Poodles just enjoy running on our 1 acre fully fenced lot
and playing tag with their friends. When people come out to our home, they are able to meet mom, grandmother
sisters, puppy siblings and if at all possible even daddy.
Our Poodles are so Calm, loving and intelligent that they are in Special Needs Homes around the world






Is the Breeder available and easy to deal with ?
You need a good rapport with your breeder because should their be any problems
Or even just questions in the future you want a breeder that is going to be approachable and quick to respond.
Most breeders understand that buying a new puppy is an often scary and
Exciting time in a persons life and they will be happy to answer any and all questions
you may have, even if you are ~just looking around~ usually within 24 hours.
Reputable Breeders are usually not available on the weekends because they are away at shows or conferences
so it is best to contact them on a Tuesday or Wednesday if you wish a quick response.
If you are corresponding with a breeder just by emails, make sure that they have an established
web page with a domain name as this is so that you know they are accountable and established.

Bijou Poodles is always available to our puppy people for their puppy's lifetime.
While we are most active with our fur kids, we will always make the time to offer support and insight
into any issues you may encounter along the way
We answer all emails usually within the hour, Mon-Thursday and for sure within 24 hours Mon-Friday.
We are always available 24/7 to our Puppy People and encourage
continual contact and updates on how their puppy is doing.
We still have people sending us their puppy updates over 15 years later !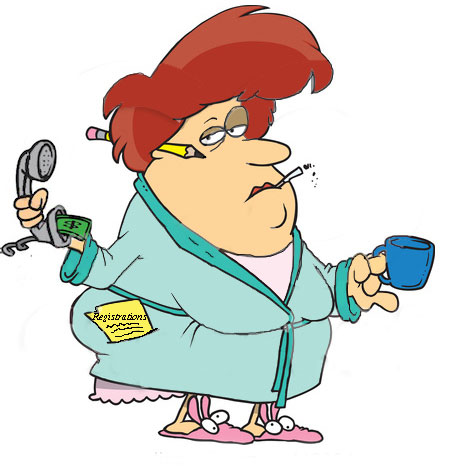 Beware of breeders that just wish to speak on the phone
Why is a breeder not willing to put anything in writing? What are they afraid of ?
What do they wish to say and later not be accountable for ?
Why do they have time to chit chat on the phone, what are they neglecting ?
Some Breeders just do not have the time for phone calls to be constantly interrupting their
Training, Grooming, caring for their dogs and or puppies or even just because they actually work full time.
Some other breeders are just so in demand that if they spoke to the 100's of people a day that call they would
never have any quality of time with their family and Poodles.

Emails are a great way for a Puppy Buyer to keep track of which breeder said what, or which breeder had what available.
Beware of the "breeder" who only wants to "speak on the phone" and then spends all their time bad mouthing other breeders
This is a manipulative ploy used by BYB's when they are cornered about their bad breeding practices, to stop your questions about them.
Lets face it. If a breeder had Poodles that they were proud of and were worthy of being bragged about,
that breeder would be focusing their time on telling you all about their dog's and their dog's accomplishments.
If you are going to speak on the phone with a breeder, make sure you have your questions written down to refer
to and keep asking those questions until you get your question(s) answered.

Because of the volume of interest Bijou Poodles get a day (more than 100), and because we are involved in all things "dog"
we do restrict contact to emails, so that we can respond during our down time throughout the day.
This way our Poodles get the full attention from us that they deserve and we still manage some family time.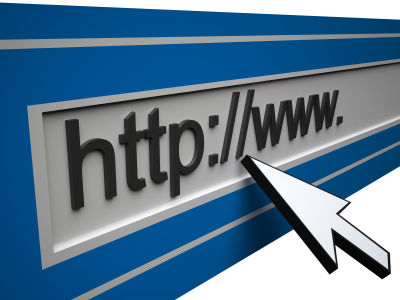 Do they have a web page ?
Most breeders have web pages for you to refer to.
Reputable breeders will have web pages offering a ton of information about THEIR dogs and THEIR puppies.
Web pages are visible for the world to see. Breeders are held accountable for the photos and information that they contain.
Web pages should ~at least~ have photos of their dogs stacked (standing) so that puppy people
Can see fully what that Breeders dogs look like. Web pages should contain photos of their pups, but also
Of those same pups all grown up. This shows that a Breeder is keeping track of their breeding program
And will also assist you in determining if they produce the type of dog that you are looking for.
Beware of the Breeder that has a web page full of generic information and links and no photos of poodle parents.
Beware of the breeder that says their priority is health and temperament, but then they don't display their Poodle's OFA clearances.
They will usually just have "cut and pasted" information about OFA health testing. Ask for and verify their health clearances.
An Ethical, Reputable Breeder will focus on their own information and their own dogs, pups, plans and goals for their breeding program
not just "cut and paste" generic information or have copied my web page onto their own.
Reputable Breeders go to a great expense, and effort, to make extensive, easy to navigate, web page available
to assist buyers with making an educated purchase.

Bijou Poodles has our information on each of our Poodles parents available 24/7.
Bijou Poodles also has the price of our Poodles displayed on our web page 24/7
along with other information on our Adoption Process

This way you know upfront what you could be expected to pay for a Bijou puppy
and you are assured that everyone is paying the same price no matter
what their employment or income is on their Puppy Application, or what type of car they drive up to the house in.
Bijou Poodles has jammed packed our web page with every tid bit of information that will assist people with learning
more about the Poodle breed, raising a Poodle, caring for a Poodle and of course individual web pages for each of our Poodles
that is kept up to date with photos and videos.






What is the Breeder's home like ?
No matter where the breeder lives you want to make sure that their home and yard is clean and smoke free.
IF a breeder can't even keep their household clean, or their home maintained,
you can just imagine the condition that their dogs are raised in when you are not there to view pups.
Ideally you should deal with a Breeder that owns their home.
Renters can be very transient and disappear with your money over night.

Bijou Poodles has owned my current home, since 2005
My home sits on a fully fenced 1 acre lot, in a well maintained, mature subdivision in the city.
I do not display our home address on our web page, because I was getting up to 3 people
a day "dropping by" hoping to visit with our Poodles. Just imagine this happening after you worked a night shift
or just returned from a weekend away at a dog show. I also value my dog's and my family's safety.
With the many robberies happening as well as murders, by Breeders opening up their homes to strangers lately
we have to be extra careful, and alert to who we invite into our home.
For this reason, I prefer to get to know people, before I invite any strangers, into my private home.
Of course I am always happy to meet anyone at a dog show we are attending as there is no risk of
disease being brought into our home and there is safety at a public venue such as a dog show.





Can you meet mom and dad when you pick up puppy ?
All breeders should be able to show you mom,
but many breeders use studs that can be located a great distance away.
In that case you should ask to see photos and or video of the sire.
Keep in mind mom might have a bit of a lack luster coat and be
a bit protective or timid with strangers being around her babies.
But she should be healthy, have clear eyes, tucked up (no hanging breasts), be well kept, mat free, clean coat (although with hint of puppy smell)
and appearing happy around her owners, who she should trust.
Reputable breeders do not generally have people out to see very young pups due to potential exposure to deadly diseases.
Some breeders might not even allow visitors before the pups have been immunized by at least one vaccination.
And other breeder's like myself in Emergency Services tend to be cautious of inviting strangers into our home
as we know all the criminal activity that goes on in real life (hidden from the public and news casts).

I have always enjoyed visitors and the opportunity to show off my family of Poodles.
I are able to show people first hand the difference between my Poodles and pups who are raised in the home,
as opposed to Poodles and pups they have seen that have been kept in a kennel or in a large breeding facility,
or in the country not exposed to city noises, or people.
Plus I just LOVE showing off my beautiful, loving Poodle Family.

There is nothing sweeter than going to see a litter of fuzzy playful, cuddly puppies.
Unfortunately, because of the Parvo Virus, and the Super Bug, that could mean a death sentence to these wonderful innocent pups.
I just cannot accept visitors to see my puppies until they are being picked up and your responsibility.
It has happened many times within North America that entire litters have been infected and die a horrible death within just days
of having an unsuspecting visitor bring in the virus while seeing the puppies.
I do welcome visitors to come and see our home and our wonderful dogs


Visits are arranged Mon-Friday and usually a morning appointment between 0900-10:00
while I am a small hobby breeder and I will never be big business or own a "facility" my fur kids do
keep me active in doing their dog sports that they so enjoy. I usually have dog classes and or training in the afternoons
and on the weekends I pack up the RV to go camping with my fur family
and head to Dog Events across Ontario and USA, where our Poodles have opportunity to be physically and or mentally evaluated by Professionals
who may present them with awards, rosettes, ribbons, placements and ultimately titles if they qualify or are of quality enough.
Of course my Poodles just think they are having fun showing off doing their "tricks" for the crowds that gather to cheer them !

I do enjoy meeting up with people at the many dog events I attend, which gives people opportunity to see my Poodles in action
and out of the comforts of their home, which will show people their true nature and temperament.
So while I would love to spend every day and all day visiting with people considering a Bijou Standard Poodle puppy
my priority for my time, is caring for and spending quality time with my Poodles and my family.
I hope prospective homes will understand my choice of time management and
will enjoy cruising my web pages to view my home, my poodles, how I raise my pups
and to see all that I have accomplished with generations of our Poodles
and what I have to offer them, out of such amazing Poodle parents.
Meanwhile, I have detailed individual web pages for each and every Poodle I have ever owned. Pages that are continually updated with videos and current photos.
Each of my Poodle web pages starting at the bottom, chronicle their development from birth to current day.
Yes, I am that proud of each of my Poodles.
I also know when buying long distance, people appreciate being able to get to meet and get to know their puppy parents and relatives.
My web page is also very detailed on what makes Bijou Poodles a cut above the rest.
I also offer an abundance of information contained on our Links Page.
People can also view how I care for pregnant moms on my
As well as
When our pups are ready to go home we welcome you to pick them up and visit again with mom and siblings
or we can ship your puppy to you, see our Procedures for more information on deposits, allocation and shipping.

We understand that you want to know as much as you can and see the puppy
you are going to bring home and we try to help fulfill this wish with lots and lots of pictures.
You will receive pictures and or videos at least every week and sometimes even more.
We love to take pictures and or videos from conception until the week the pups go home.
You can see examples on this web pages: Pregnant Mother, Puppy Development
We start taking pictures of the puppies at rest and play so you can get an idea of their personality.
At around 4 weeks of age we stand them (called stacking)
so that you can get an idea of what the pups are like conformation wise as well.
Our photos are taken with good lighting and with quality cameras.

We promise that with all of the pictures and file we supply to you,
you will already have a bond with your puppy by the time he or she is in your arms!

On a lesser important note I know that people find it difficult to fathom that we do get 100's of
inquiries a day, from people all over the world wishing to visit, or to speak on the phone.
It is unreasonable to expect us to accomplish all that we do with our Poodles, raise our pups to the level that we do
work full time as Professional Firefighters and have any quality of life, if we were to entertain all of these inquires by a visit or a phone conversation.
People choose to obtain a puppy from us because of our good reputation
and our healthy TOTAL poodles, so I hope you can understand that this is why we prefer email contact initially
so that I can answer your inquiry when I have the time, to fully address your questions.

Thank you for your understanding.



Something to think about BEFORE
you tell someone what their puppies are worth.
* Click to read "I am a Breeder"