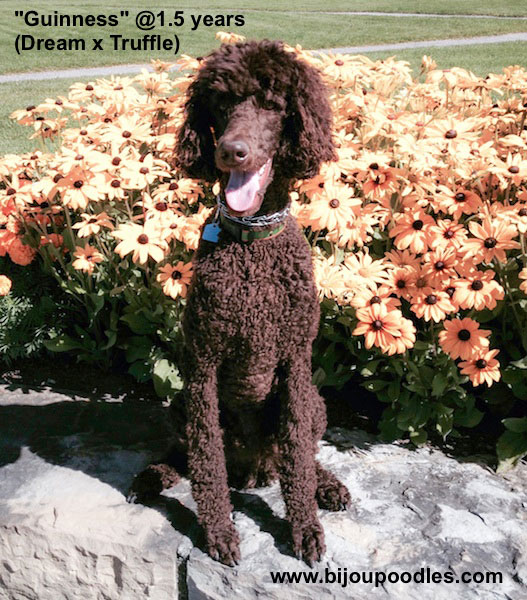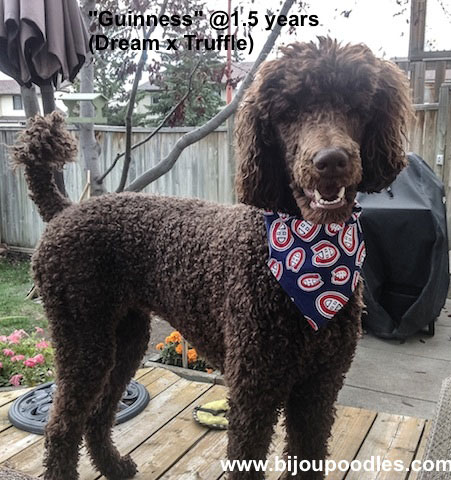 Hi Bijou Poodles,
I thought it was about time I sent you a couple of photos of Guinness (Father Dream and Mother Truffle), who will be 19 months old on Oct. 25th. Can't be more pleased how he's turned out. We are now nearing completion of our advance obedience training and Guinness is doing very well. He has such an amazing personality. Our trainer's nickname for him is Punk since on occasion in obedience class he decides that all of the other dogs and owners should just stop everything and play. I've never met another dog who can't wait to meet new people and other dogs. He's everyone's friend. I'm very fortunate that I live fairly close to the Bow River here in Calgary and the adjacent natural parklands that have been set aside by the City. This area includes a large fenced-in dog park which at times could have up to 30 or 40 dogs present. Guinness can always find someone to play with. His favourite pastime is chase. A very large area outside of the fenced-in dog park has now been designated off-leash, including vast areas that access the river. Guinness loves the water and is still swimming as recently as 2 days ago.
A couple of years ago, before I got Guinness, I was in a crosswalk when I was struck by a distracted driver. I sustained what now appears to be some permanent brain damage. I don't have any cognitive impairment but I experience dizziness, lightheadedness and occasional mild nausea when I'm up on my feet and moving about. As a result I was forced into early retirement after almost 30 years as a fire inspector as well as curtailing virtually all of my outdoors activities such as cycling and kayaking. I'm still teaching an annual short duration course in the Occupational Health and Safety program at the University of Calgary. That being said, the lingering effects of my injury has had a profound impact on my life. I have not had the ability to get back east to visit family in Mississauga and Kincardine since 2011.
Notwithstanding all of the neuro-physiotherapy that I was subjected to, part of my ongoing treatment is to go for long walks each day, in hope that perhaps one day my brain will learn how to "rewire" itself. Suffice to say that prior to getting Guinness, my daily walks by myself would somewhat boring and tedious. Once Guinness was old enough to accompany me on my walks, everything changed. I thoroughly look forward to my walks every day. So I guess Guinness has not only become my loyal companion but also my unofficial therapy dog. And when we are at the dog park or the adjacent of leash areas, I don't know who has more fun, Guinness or me.
Given my brain injury, something that I'm probably just going to have to live with, its very difficult to adequately convey how things changed for the better since Guinness came into my life. We've definitely become an inseparable team. He's even a staunch Habs fan. Couldn't be more pleased. Thanks for allowing me to bring this wonderful creature into my life. Couldn't imagine being without him.
Bob G. - Calgary Canada
...
Just an update on "Chance" from your Java x Hershey last litter.
I wrote this yesterday and I had saved it has a draft.
I see my husband, Bruce, sent his update already and I can tell you the proud "Daddy" wants me to send photos. I thought of you, noting how your husband had not had dogs before, and obviously you can relate to how hard they can fall when they have the right dog! Bruce even tried to do a little clipping and he did not take a backseat on other grooming details, as he was right there for bathing her and has been faithful about brushing and teeth cleaning (to be sure she is comfortable with the experience!). The anal glad cleaning he has left to me!! I am hopeful that she will grow out of this need as her body matures, but it is a small price to pay for such a wonderful companion!!
Can you tell.... Chance is adored! She is currently 24 inches, and weighs 46 pounds, at six months. She has a beautiful dense, course, and dark coat. Her strength and athletic body are apparent, and we are amazed to see her in motion. The saying, "poetry in motion", doesn't come close to the beauty of watching her run and prance. She is a healthy, happy, playful, intelligent, curious, highly adaptable and yet willing to assert herself pup. What other things can I say about her? Her ability to adapt to the various environments that she goes to is incredible for such a young dog. I could not be any more thrilled with her. Bruce had to return to the ship, and it is clear that he misses her. His parents met her for the first time, and the reserve she demonstrated was very much appreciated. Chance has taken her place in a tractor, on snowmobiles, ATVs, kayaks and she loved the seat at the bow of our boat. She can even be found hanging out with Jared, "reading"! Her ability to take the long rides with us in the car (over nine hours at times); shows me she will be able to enjoy RV trips with us in the future. I guess tent camping will come first!! She certainly adapts to our lifestyle!!! As you noted, curling up next to us "watching" television suits her just fine too! ( And from the email I just read that Bruce sent to you, you can see she is willing to keep pace with him too! When Bruce goes back to work, Chance knows the mornings go slow, they include school activities and she takes it easy so we can attend to our business!) Your breeding program, caring for her mom and litter are indeed evident in the quality of dog we now continue to do our best to care for and train.
When we heard Java was looking for a home, we knew besides not living in the Toronto area, we could not let her be queen... she would have to share the throne!!! Letting Java enjoy her retirement is a highly reputable breeder decision you have made; and I gather it was a painstaking decision for you, knowing the home you had planned to place her had changed due to health. I hope you have been able to find a solution that is to your liking.
We will continue to check out your website and keep you posted on Chance and her adventures. Who knows, maybe one day she will be looking to have a "sister" join us! For the time being, I just want to enjoy her. We do wonder how her litter mates are doing. Please feel free to share our interest in knowing how they are doing. Perhaps they will have some updates posted on your website. We did enjoy Einstein's "photo shoot". I have many pictures of Chance, but none so refined! Currently, my camera is not working, so the photos I can send are those taken up to Mother's Day. I do not want to overwhelming you with pictures, it will be so hard to choose!! She just keeps getting better and better, so it is difficult to make a selection, as she has woven herself right into our "hearts"