BIJOU STANDARD POODLES
Grand Champion
"BIJOU'S DARING RED REVOLUTION"
UKC's #1 Standard Poodle 2013 !!!
x ...
(Father : Razz x Mother : Dare)





"Reva" - Dark Red Female
*Click to meet Reva
Height: 26"
Weight: 58 lbs
10 generation COI= 4.40%



~ Click to view HEALTH TESTING COMPLETED ~
Reva will be certified CLEAR of the following Health Problems and Diseases:

*CERF (eyes)
*Hip Displasia
*Thyroid Disease
*Elbow Displasia
*Patellar Luxation
*Dentition Database
*Legg-Calve-Perthes
*DM (Degenerative Myelopathy)
*Congenital Cardiac Disease
*vWD (Von Willebrand's Disease)
*PRA (Progressive Retinal Atrophy)
*CMTP (Congenital Macrothrombocytopenia)
*NEwS (Neonatal Encephalopathy with Seizures)
*DNA Colour Tested ~DD~
(does not carry Dilute said to cause fading in Reds)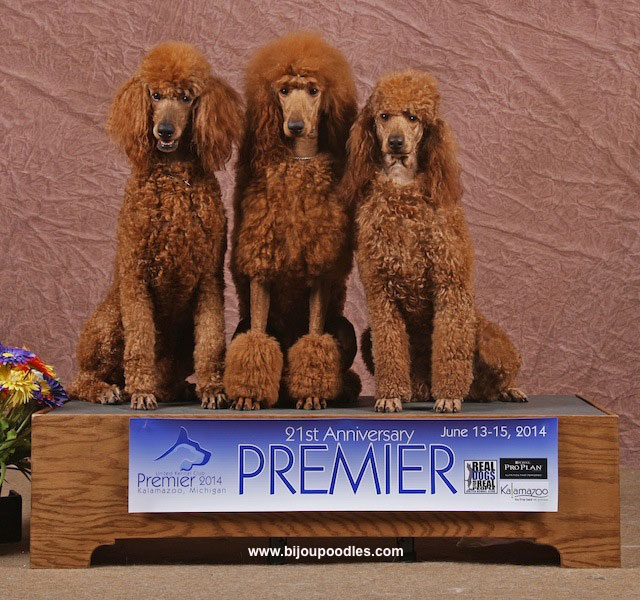 (Father "Razz" at 8 years of age, "Reva" at 2 years of age, Mother "Dare" at 4 years of age)
Generations of amazing red Poodles

Reva is a result of 8 years of careful planning and is a true testament to my belief
that true dominate dark reds bred together will produce dominate dark red pups, from an outcross breeding (unrelated).
Reva is also so structurally near the breed's ideal, that she placed #1 Standard Poodle in 2013 !! with limited showing but huge wins.
Not many Standard Poodles today have proper rears or shoulders, but Reva does and the judges appreciated this.
Reva is a super loving, confident, eager to please girl that just thrives with affection and attention.
After Reva finished her show career I decided to shave her down and WOW she is gorgeous under all that coat
Reva is going to be our next Rally and Obedience competitor in 2016 !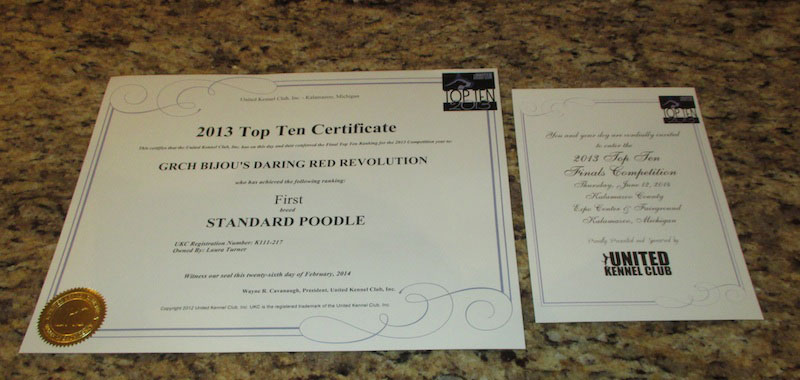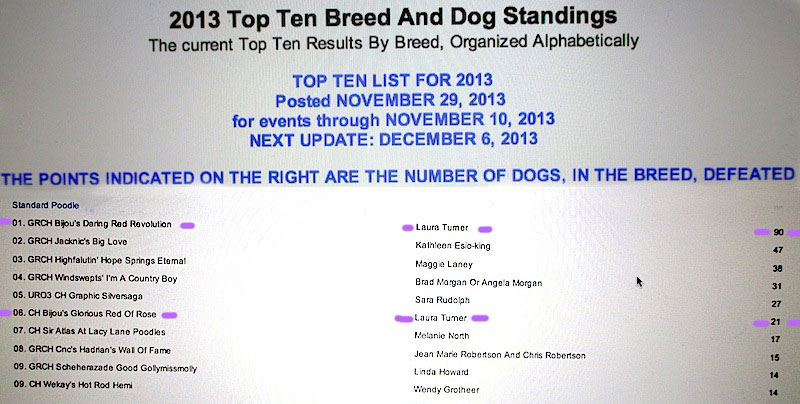 !! UKC's #1 STANDARD POODLE 2013 !!
Grand Champion "Bijou's Daring Red Revolution"
(Reva beat out 90 other Standard Poodles across the entire world for this honour)







Rose, Dare, Reva, Reva puppy
Reva took a break from shows and gave me a beautiful litter of dark red pups




Valor, Reva and one of their gorgeous pups



~ March 2015 ~
Oxford Dog Sports Club
Reva earns one URO1 leg
Judge Lisa Barnard



~ May 2014 ~
Reva checking out the Lure Coursing and Barn Hunt Trial



~ April 2014 ~




~ 2014 ~
What a great shot of daddy Razz @7 years of age and daughter Reva




~ February 2014 ~
Reva growing her show coat back





~ 2014 ~
Reva and Glory enjoying a winter day








November 2, 2013
Judge: Joseph Camp
Finger Lakes American Eskimo Dog Association
Locke, NY
Ula wins Best of Breed and Group 1st



Reva in Best in Show ring after winning Group 1st !!
Reva Best in Show Ring




November 1, 2013
Finger Lakes American Eskimo Dog Association
Locke, NY
Judge Kathy Kellogg
Reva winning Best in Breed and a Group 3rd !!
It was a Pyjama Party !!



~ October 2013 ~
Grand River Kennel Club
Rockton, Ontario
Judge: Eleanor Heagy - Best in Breed - 4 Top Ten Points
Judge: Deb Beean - Best in Breed and a Group 4th - 3 Top Ten Points



This is how Reva would look with full show coat if we showed AKC






Reva in Group







~ October 2013 ~
Reva in the "start" of her big girl hair cut




Reva and Ruby hunting for treats



~ September 2013 ~
Reva and Price waiting their turn to Lure Course
(Photos by Crystalizing Images)







"I almost have it" !



~ September 2013 ~
Reva relaxing and enjoying her summer vacation



~ August 2013 ~
Reva won 4 out of 4 best in breed = 16 points towards Top Ten
Nancy Beeman - Best of Breed and Group 4th
Antonio Raposo - Best of Breed
Roland Pelland - Best of Breed
David Kittredge - Best of Breed
For a total of 64 points towards Top Ten



~ August 2013 ~
Paris, Ontario
United Greyhound Club
Reva wins:
Judge: Joy Leiskau - Best of Breed, Group 1st
William Chrzanowski - Best of Breed, Group 2nd
Tina Camp - Best of Breed
Mary Alderman - Best Grand Champion
Reva earned 17 points this weekend
for a total now of 48 points towards Top Ten



~ August 2013 ~
Paris, Ontario
United Greyhound Club
Reva wins:
William Chrzanowski - Best of Breed, Group 2nd




~ July 2013 ~
Erin, Ontario
Maple Leaf Kennel Club
Darryl Hurst - Best Grand Champion, Best in Breed, Group 2nd (out of 10 Breeds)
Judge's comments "Really good shoulder lay back and depth of chest and really nice mover, very nice girl, I really liked her a lot"



~ July 2013 ~
Erin, Ontario
Maple Leaf Kennel Club
Gun Dog Group Placements 1- 4th place
YUP you are seeing all Reds...


...
~ July 2013 ~
Erin, Ontario
Maple Leaf Kennel Club
Judge: John Davidson - Best Champion, Best in Breed - 3 points



(only 5 of the 10 Gun Dogs showing)
~ July 2013 ~
Erin, Ontario
Maple Leaf Kennel Club
Judges:
Joy Leiskau - Best Champion, Best in Breed - 4 points
Sally Davidson - Best Champion
John Davidson - Best Champion, Best in Breed - 3 points
Joanne Hurst - Best Champion, Best in Breed - 1 point
Darryl Hurst - Best Grand Champion, Best in Breed, Group 2nd (out of 10 Breeds) - 1 point
(now totalling 31 points)




~ July 2013 ~
Erin, Ontario
Maple Leaf Kennel Club
John Davidson - Best Champion, Best in Breed - 3 points




~ July 2013 ~
Lansing, MI
HOT HOT HOT... did I mention HOT ?!!
My friend asked me to go outside because they thought I was having a heat stroke I was so red.
No air conditioning and high humidity was a huge challenge for all the dogs showing
However with lots of shade outside, plenty of water and fans blowing, the dogs faired better than the humans.
Reva seemed to enjoy the heat with her tail straight up strutting her stuff in the ring
as a puppy and taking a group win with 8 other gun Dogs in group.
Reva earns 4 wins towards her Grand Championship and 12 Points (now totalling 22 points)
Judge: Anne Hier - Best Champion and Best of Breed
Judge: Sunday Miles - Best Champion, Best of Breed and Group 3rd
Judge: Lori Sargent - Best Champion and Best of Breed
Judge: Nancy Gallant - Best Champion



~ July 2013 ~
Price, Reva, Glory and Blossom in the background relaxing after their big show day


Reva relaxing and admiring her big rosettes she won





Reva showing off




~ May 2013 ~
Kalamazoo, Michigan
K9 FANCIERS
Reva winning 6 Best of breeds, 11 points
at 6 months of age (42 lbs) over adults, thanks to:
Judges: Diana Allen
Judge: Lori Sargent
Judge: Kimberly Allison
Judge: Tami Hyden
Judge: Pamela Moore
Judge: Richard Klatt



~ May 2013 ~
Kalamazoo, MI
Reva also won a Group 3rd
Thanks to Judge: Lori Sargent



~ April 2013 ~
This was the first dog show for Reva and she did me proud by winning:
Judge Joseph Gubry - Best Female
Judge David Arthur (Poodle Breeder) - Best Female, Best of Winners and Best of Breed
Judge Joseph Camp - Best Female, Best of Winners and Best of Breed
Judge Tina Camp - Best Female
Reva Finished the weekend with 120 points and 4 competition wins and 9 Points
and her CHAMPIONSHIP her first dog show and as a puppy !!
Judges comments were "wow great front assembly, nice shoulder lay back which is great to see as is so lacking in Poodles,
love the rear angulation, nice head, lovely movement, phenominal colour, great coat (don't let the other puppy eat it..)"




Reva winning Best of Breed
Reva winning Best Female puppy
Reva winning Best Female
Reva in Group



~ April 2013 ~



~ April 2013 ~






Reva at 9 weeks of age








Price and Reva



















Reva is the yellow collar puppy









"Come on Dare we are waiting for those pups"
Dare enjoying her big rest before the delivery