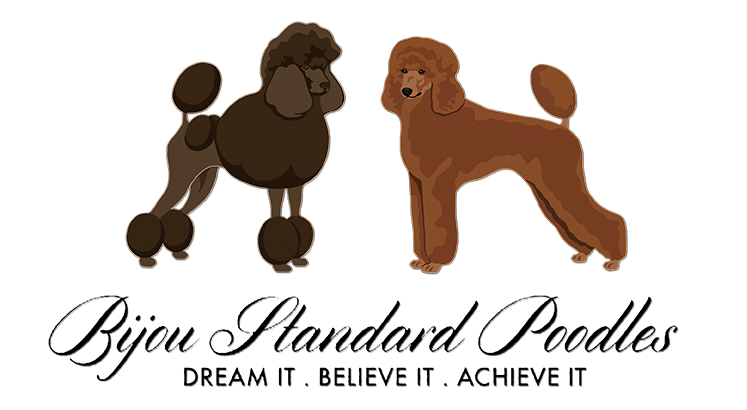 !! AVAILABLE PUPPIES !!

Meet Our Poodles... Our References... Web Page Links

Questions Answered... Whats New at Bijou...Bijou Difference

Contact us: brownpoodles@yahoo.com



We don't just "say" We have Total Dogs
We have the Titles and "TOTAL DOG AWARDS" to prove it !!

"Pedigree indicates what the animal should be.
Conformation indicates what the animal appears to be.
But performance indicates what the animal actually is."
~ Author Unknown ~



..
...
..
..
..
~ ONLY SOME OF OUR ACCOMPLISHMENTS ~
WHY IS BIJOU POODLES SO BUSY ?
YEAR AFTER YEAR
We train our poodles for Conformation, Obedience, Rally, Tracking, Weight Pulling
Retrieving, Lure Coursing, Nose Work, Barn Hunt and we attend Training seminars and classes.
Each of our Poodle kids seem to have a different Dog Sport they enjoy doing.
We compete in American Kennel Club (AKC) and United Kennel Club (UKC) and Canadian Kennel Club (CKC) Events.

Because we have more than just one dog, training is very time consuming and it is a daily commitment on my time.
Through the week if I am not working (I work full time as a Professional Firefighter to afford this expensive hobby)
I try to get to training classes, or work with friends, to hone our skills or learn new ones.
On weekends we all pile up in the car and drive 2-6 hours to an AKC, UKC or CKC dog show,
to perform those learned skills for judges, who will award us titles if we succeed
Because I have a coated breed, my time is also spent doing some basic grooming to keep our poodles in tip top shape.

I often get asked "why do you bother, why not just sit at home and pump out puppies,
as people looking for pets, don't care about titles and costs you so much money".

While I hope this is not true. I hope people would care about the quality of their puppy's parents
and care about what quality of life and opportunities that breeder is providing for their puppy's parents
and that they are not just kept confined, living their existence out in a kennel, just used as breeding machines
and also care about what kind of breeder that their puppy purchase is supporting.
Our Poodles each spend tons of 1 on 1 time with us daily, and the many titles they achieve prove this fact.
As do the up to date photos and videos on each of our Poodle's web pages.



We don't just "say" we have Total Dogs
we have the UKC TOTAL DOG AWARDS to prove it !!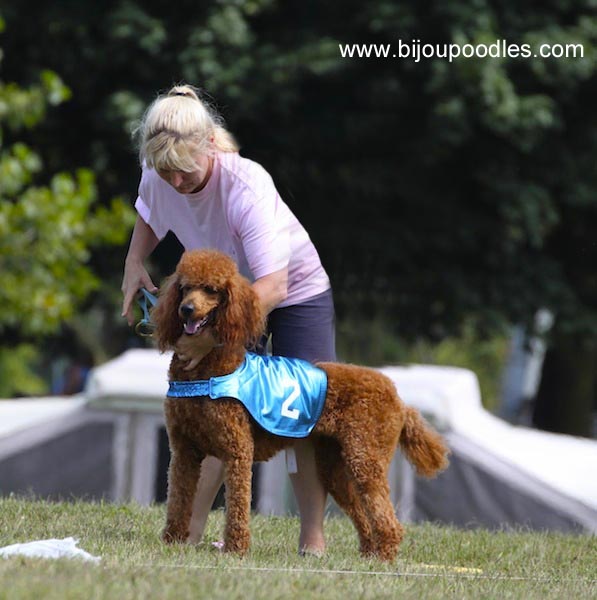 Lure Coursing Conformation


Rally Obedience



BELIEVE IT OR NOT..
there are some very pretty Poodles out there, that because of poor temperament should never be bred
There are some very friendly and social and intelligent Poodles, that should never be bred because of horrible conformation
Bijou Poodles offers our puppy people the Total Package.
Now, as a Buyer paying huge dollars for a puppy that should live 8-15 years, wouldn't you wish some assurances
in Health, Looks,Temperament in the puppy you are investing in and to support a reputable Breeder ?

First and Foremost, I ONLY breed to create my next generation of loving Friends,
Champions and Working Poodles to enjoy dog sports with and not just producing
puppies for the public like a pet store.

Secondly, Poodles thrive on having a job and also pleasing their owners, so training
keeps my poodles mentally stimulated, happy and also gives us individual quality time together.
Just looking at their smiling faces and wagging tails, in videos on their web pages
assures me I'm making the right choice for my Poodles.

I also want to prove that the poodles I own and Poodles that I breed are worthy of being reproduced.
That my poodles have the Health, Looks, Temperament and Intelligence
that are characteristic, for the the Standard Poodle breed standard.
Obtaining titles in Performance, Conformation (looks), and Temperament Tests done by Professionals
helps me prove my Poodle's ability without a doubt.






I believe the biggest thing is, that in order to accomplish all that I do
is that I just can't spend the day on the phone or in person
peddling my pups to people interested in a Bijou Puppy which would be 20-100 a day.
I would never have any quality family time or time just relaxing with my fur kids.

I prefer to spend all my time off of work, having fun with my Poodles.
I think my Poodles would agree with my choice, to spend my time with them, and if we loose a sale
because we are not motivated salespeople, then so be it. I want to place my pups in homes where people
appreciate the time, research, effort that I put into each puppy and or litter that I produce.





People that still wish to meet up with me in person and see generations of my Poodles in person and in action
are invited to the shows we attend. They will meet pups of our past that are out performing with their owners
They will also see our Poodles in person in public and out of their comfort zone of being at home.
I also created the most informative web page with the most up to date and extensive information about EACH of our Poodles
to help people see the quality, health, temperament and ability of each of our Poodles
and hopefully they will feel like they have gotten to know Bijou Poodles a bit better
I prefer my communications through emails so that I can respond to people within 24 hours when I have down time.

We hope people can appreciate all the time and dedication that we devote
to our Poodles and devote to proving that our Poodles have the health, beauty and brains
to be able to produce a superior Poodle puppy that would make a welcome addition to any home.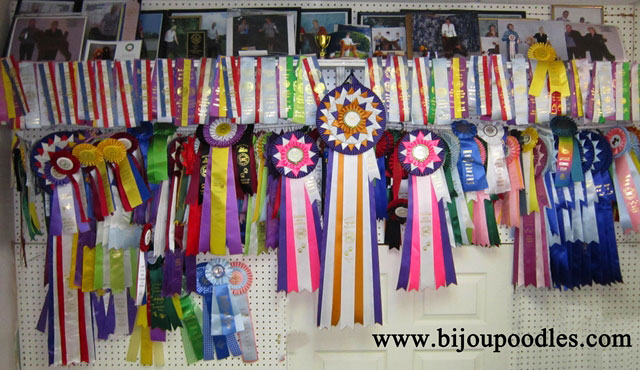 (only a small portion of our many awards)
Showing, Trialing and working with our Poodles is not about
the many Awards and Accolades we achieve,
It is about the quality of life we are able to offer our Poodle parents
and is proof of the quality of lineage our Pups come from.
~ FEBRUARY 2017 ~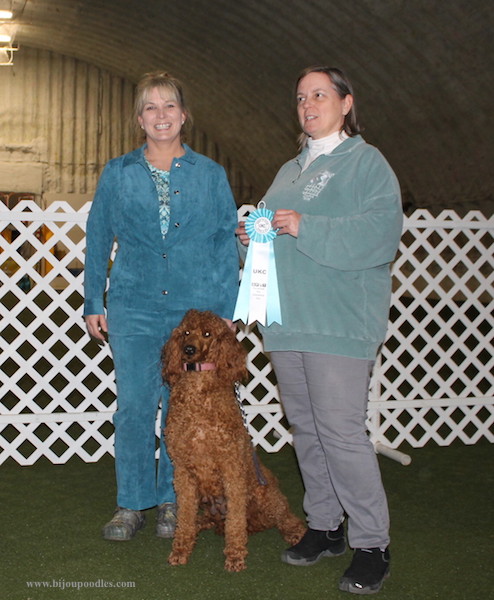 February 25, 2017
Ula earns her UKC SPOT title !!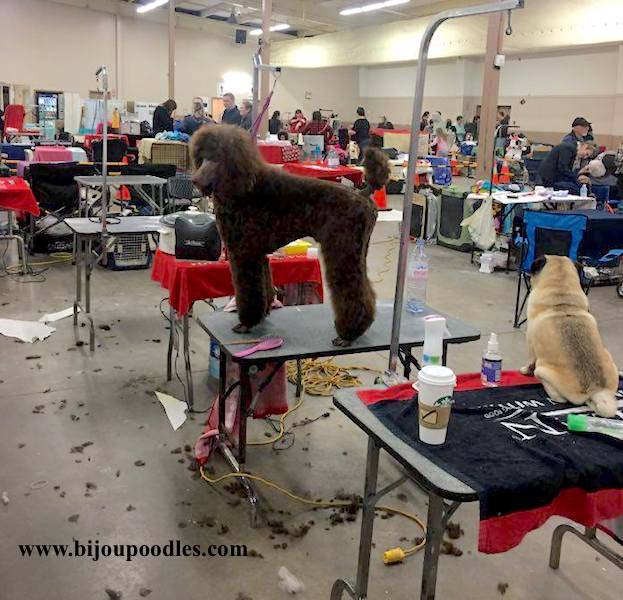 February 26, 2017
Halifax, NS
Cherub's first dog show she achieves 6 points !!
Judge: Allan Pepper
Judge: Wendy Anderson
Judge: Lee Steeves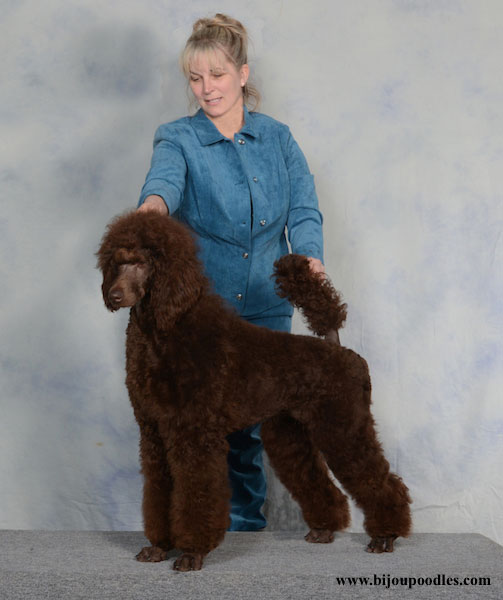 February 26, 2017
Daisy at her first dog show, just visiting, getting used to Showing
and getting professionally scissored up
(Thanks Allie !!)

~ MARCH 2017 ~




Bijou Poodles attend a Health Fair and get Hearts and Eyes Certified clear of issues !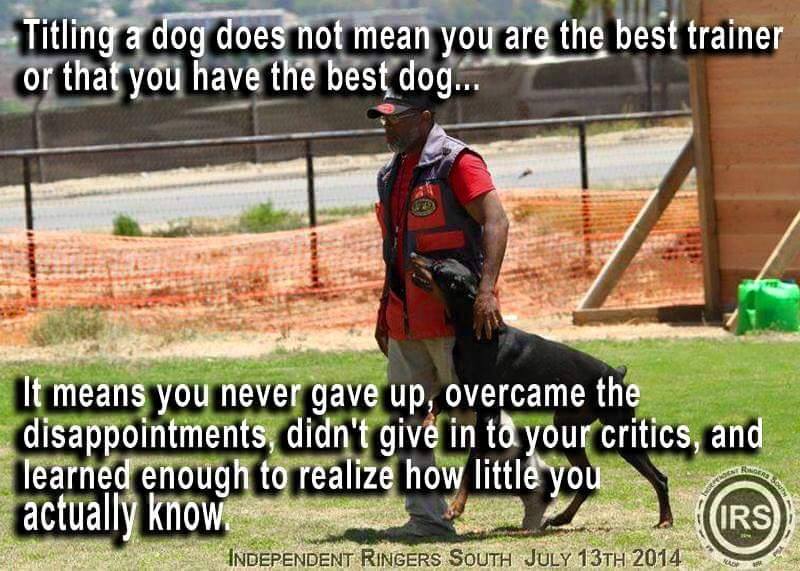 Bijou Poodles very busy training and getting ready for a busy
summer full of doing our Dog Sports with our fur kids !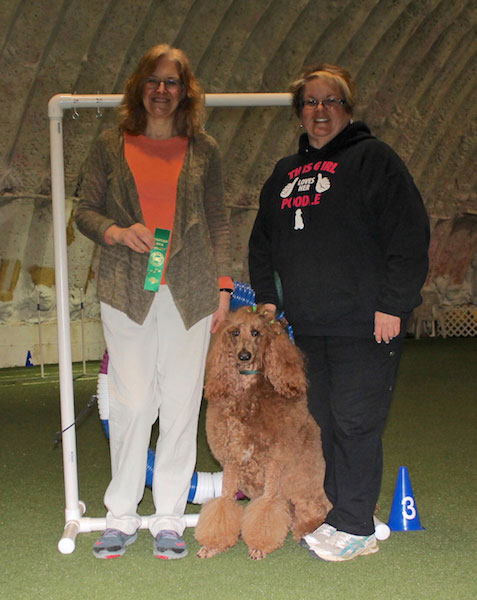 March 25, 2017
Finnegan earns 2 UKC Agility qualifying scores
and a 3rd high in Class !!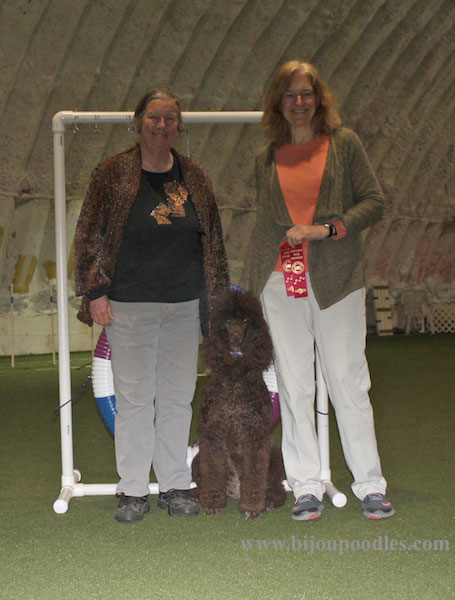 March 25, 2017
Charm earns her UKC Agility title
and a 2nd Class Placement !




APRIL 2017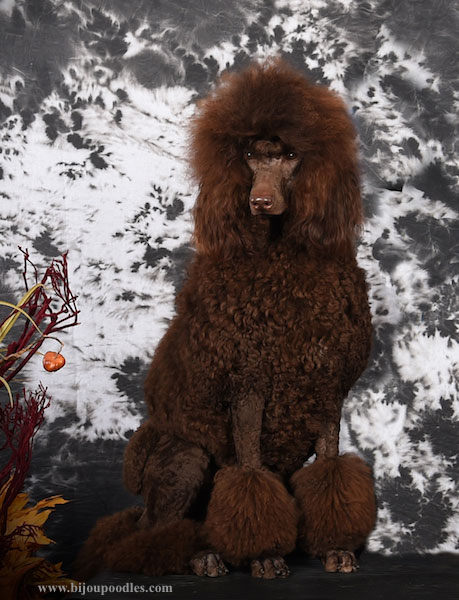 Charm earns her URO1 Title and UROII legs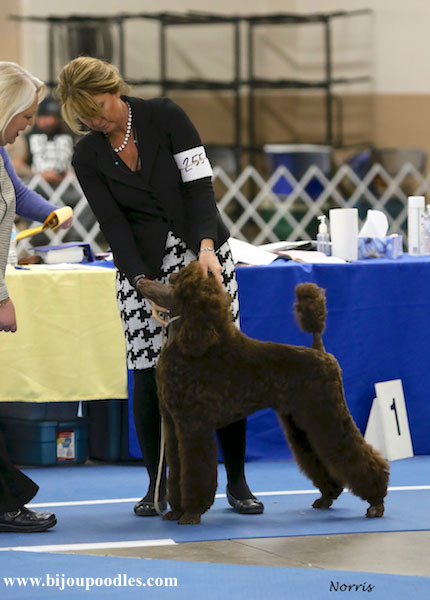 Fredericton, NB
Judge: Thomas Alexander winners Bitch
Judge: Sandy Alexander winners Bitch
Cherub Finishes her CKC Championship in 3 Shows !!




Charm takes and wins Best of Breed for CARA and PRAC !!
Charm wins her next race against a long haired whippets !!
Charm now has 2 BOB and 6 points for her standings
Poodle Racing Association of Canada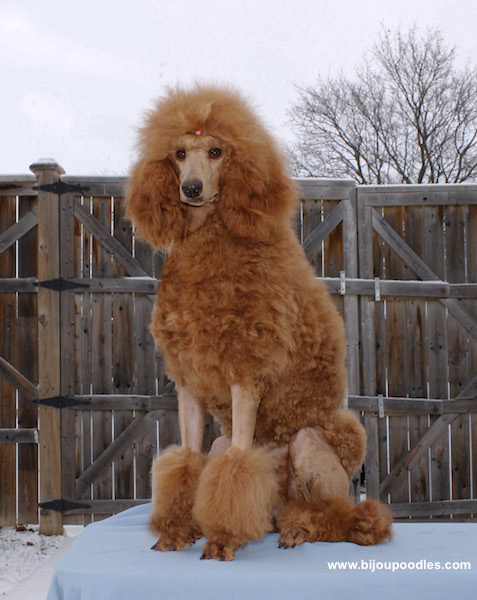 Judge Debra Florek
Poppy wins best female for her 1st competition win and 25 points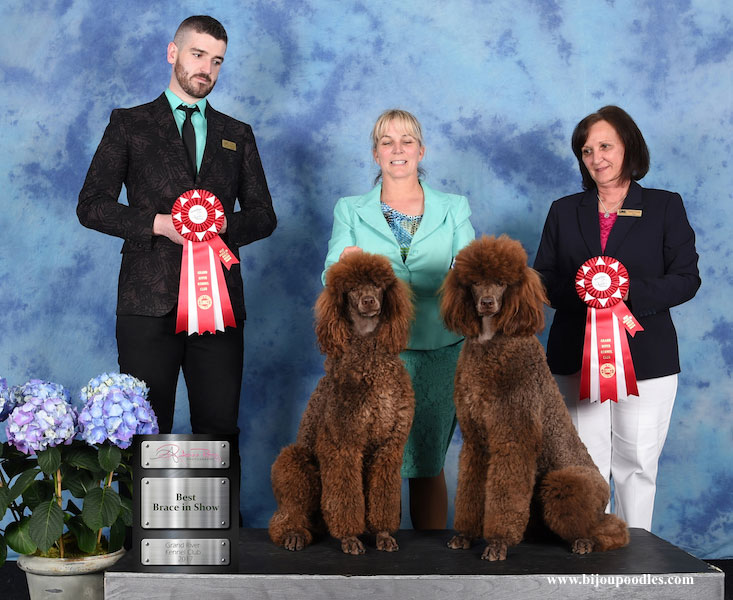 Judge Debra Florek
Judge Kevin Izard-carroll
Spice and Kahlua win Best in Show Brace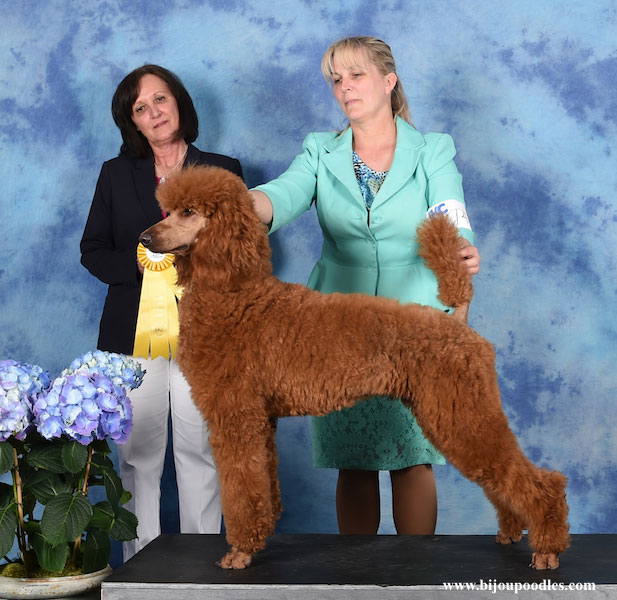 Judge Kevin Izard-carroll
(yes wrong judge, oops)
Bell wins Best Female and her first competition win and Group 4th
Judge Monica Park
Bell wins Best Female for her second competition win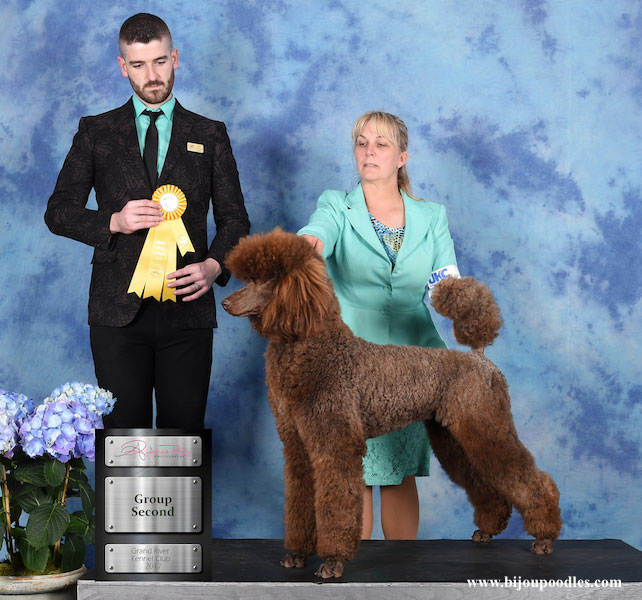 Judge Kevin Izard-carroll
Spice wins Best of Breed and a Group 4th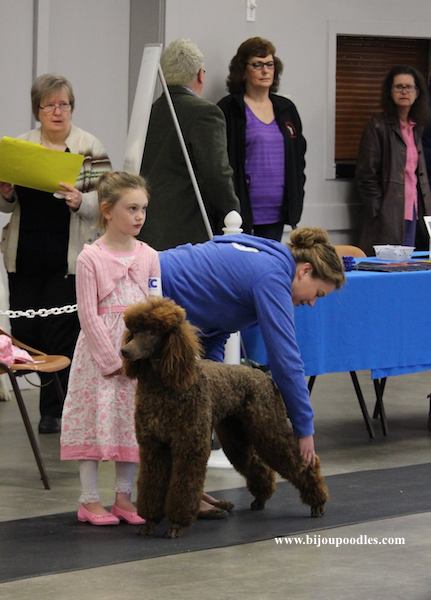 April 29, 2017
Spice helps out a Pee-wee Handler who placed 2nd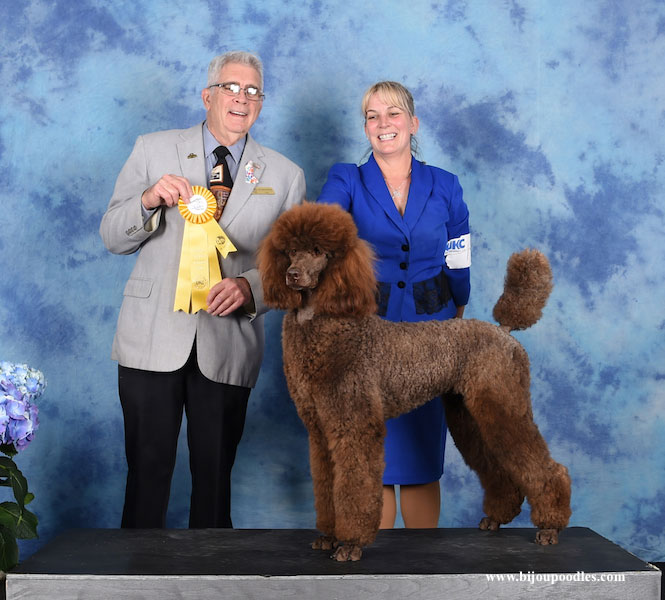 Judge William Hossler
Judge Monica Parks
Kahlua wins Best of Breed and her second win
towards her Grand Championship and a Group 4th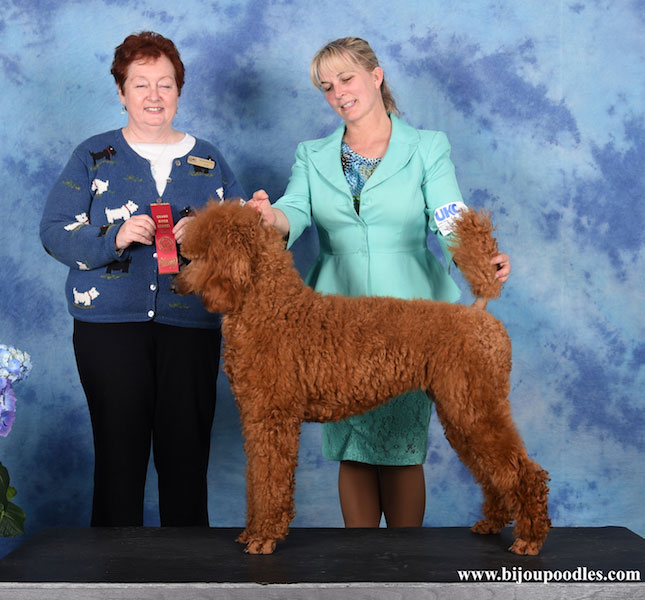 Rockton, Ontario
Judge Kim Alexander-Thomson
Pyro at her first Rally Obedience Trial
Pyro places 2nd high in Class !!
Pyro passes 2 more trials to finish her URO1 Title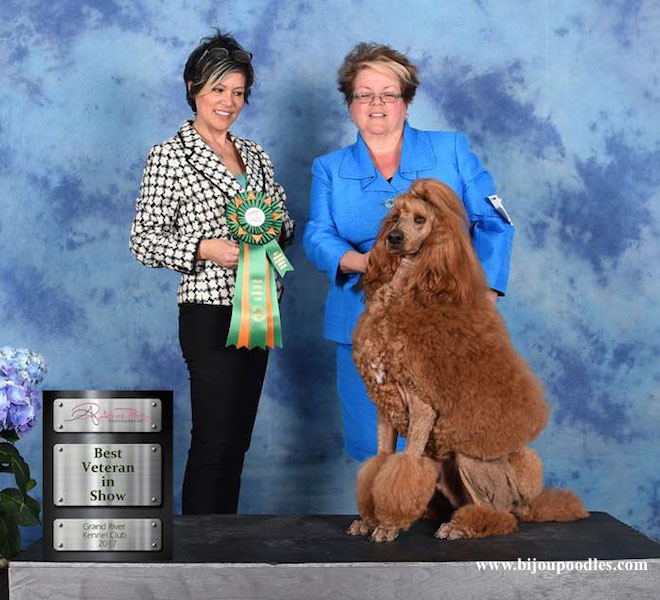 Rockton, Ontario
Judge Monica Parks
Finnegan wins BEST IN SHOW VETERAN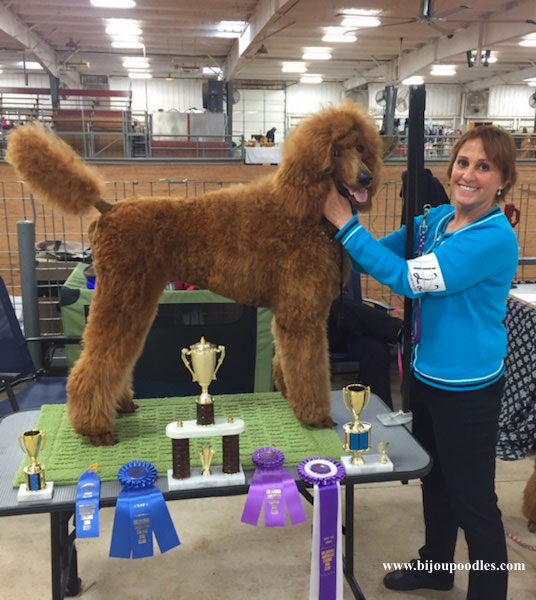 Judges Rick Gann, Tim Parr and Sandra Philips
Norman, Oklahoma
Alt Reserve Best in Show wins and New UKC Champion !!



MAY 2017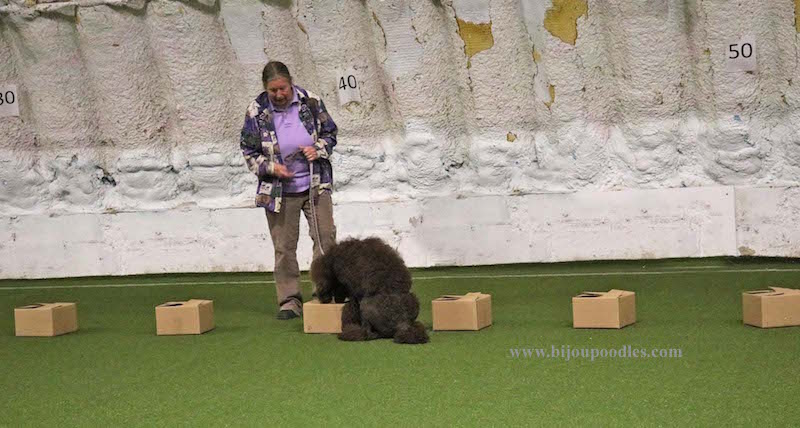 May 6, 2017
Princeton, Ontario
Charm achieves her first leg in Novice Exteriors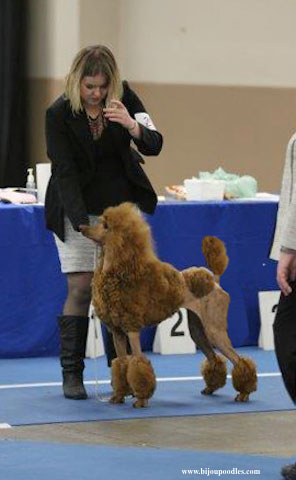 May 6, 2017
Fredricton dog show
Judge Alexander (MB)
Brightly takes Winner's Bitch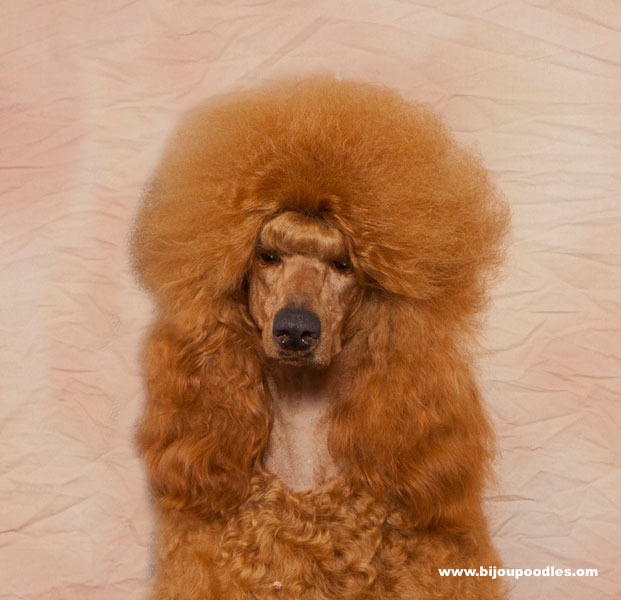 May 7, 2017
Fredricton dog show
Judge - Michael Shoreman
Brightly's second show in her Continental
Brightly takes Winner's Bitch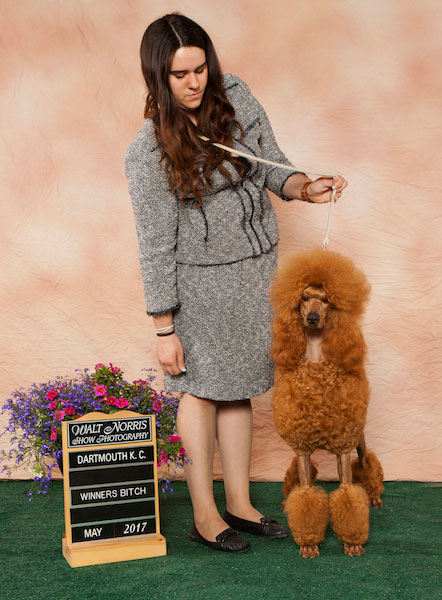 Dartmouth, NS
May 13, 2017
Judge Michael Woods or Martin Doherty
Brightly takes winner's bitch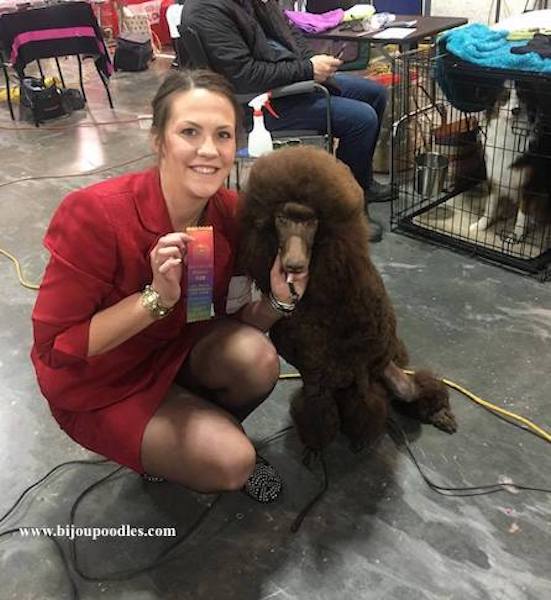 Dartmouth, NS
May 13, 2017
Judge Michael Woods or Martin Doherty
Cherub takes Select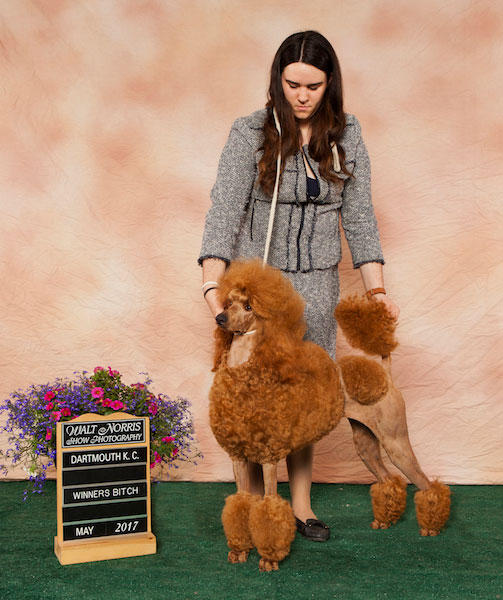 May 14, 217
Dartmouth, NS
Judge Margaret Jones or Peter Machen
Brightly takes winner's bitch and finishes her CKC Championship !!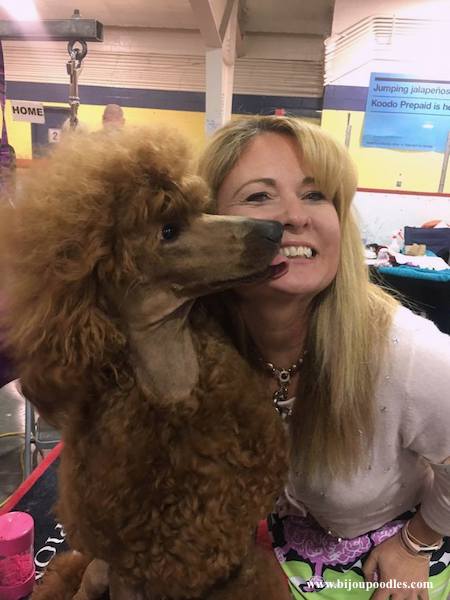 May 14, 2017
Dartmouth, NS
Blush out in her first show with her continental (fancy) clip
She is liking her Handler Allison Foley





Tantramar Kennel Club
May 20, 2017
Springhill, Nova Scotia
Judges: Janet Lobb and Joe Lobb
Blush wins 2 Winners Bitch towards her CKC Championship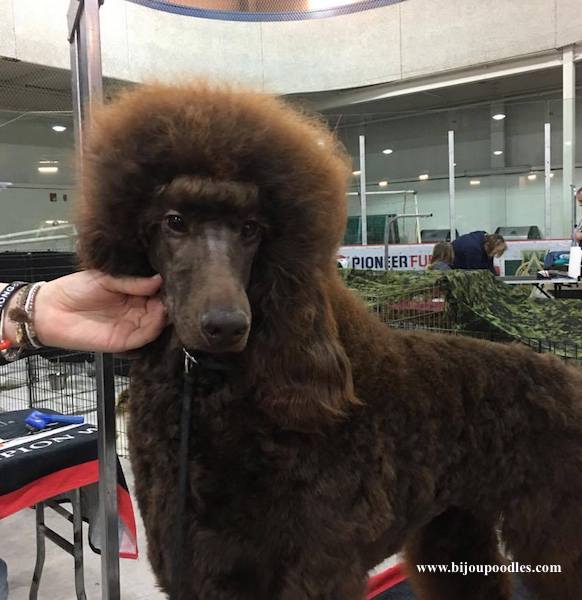 Tantramar Kennel Club
May 20, 2017
Springhill, Nova Scotia
Judges: Janet Lobb and Joe Lobb
Daisy's first show !!





Tantramar Kennel Club
May 20, 2017
Springhill, Nova Scotia
Judges: Janet Lobb and Joe Lobb
Cherub wins two Selects !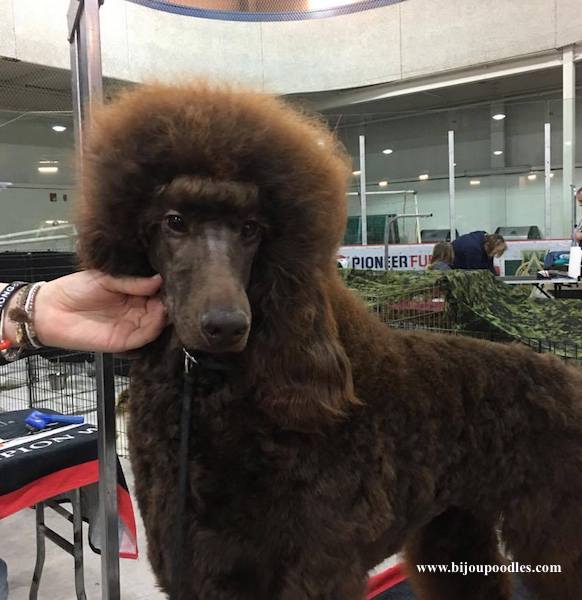 Tantramar Kennel Club
May 21, 2017
Springhill, Nova Scotia
Judges Cheryl Paterson or Rita Walker
Daisy earns winner's bitch for her first points towards her CKC Championship !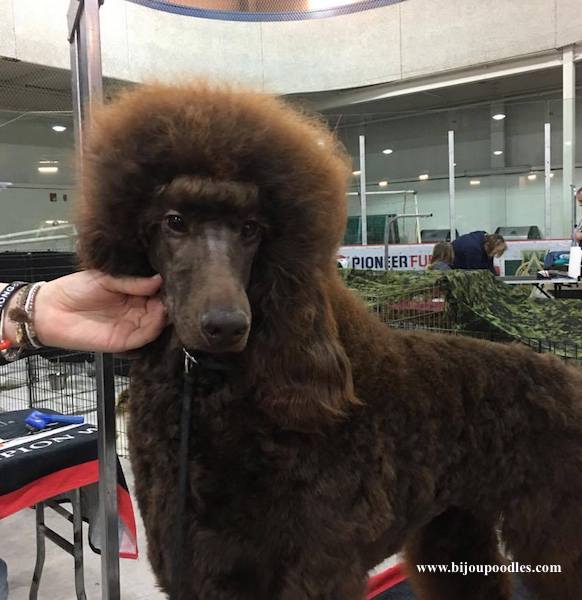 Tantramar Kennel Club
May 21, 2017
Springhill, Nova Scotia
Judges Cheryl Paterson and Rita Walker
Cherub earns two more Select wins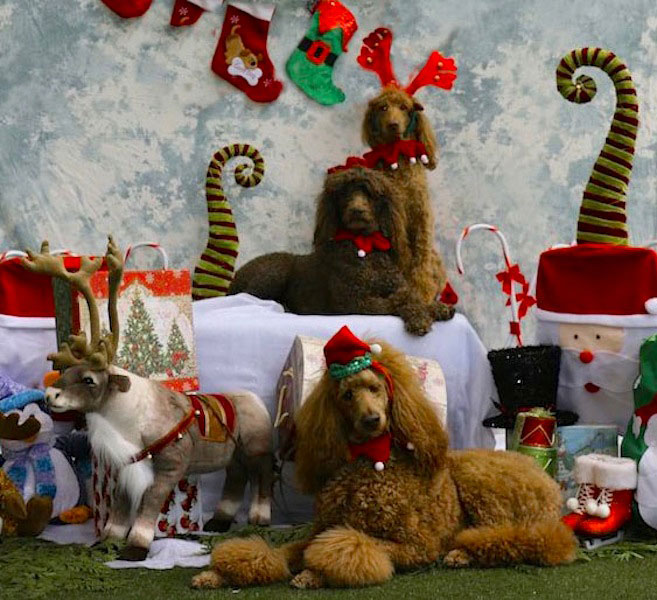 Truffle, Rose and of course Finnegan




Photo curtesy of Laurie Rollins
Return to Bijou Poodles Home page





POODLES WE OWN HAVE ACHIEVED TO 2011 (too hard to continue to keep track):
~ UKC Championed "24" Standard Poodles with multiple Group Wins and Best in Show Wins (more on the way)
~ UKC GRAND Championed "10" Standard Poodles since 2010
~ 12 Rally Obedience Level 1 Titles (many High in Class wins)
~ 6 Rally Obedience Level II (many High in Class wins)
~ 6 Rally Obedience Level III (high in Class wins and HIGH IN TRIAL)
~ 4 Poodles with URX legs (with Class Wins and High in Class)
~ 3 UKC Weight Pulling Titled Poodles
~ 3 NADA Weight Pulling Titled Poodles
~ 7 UKC CA Titled (Coursing Aptitude Titled) Standard Poodles FIRST IN HISTORY !!!
~ 3 UKC CAX Titled (Coursing Aptitude Excellent title) Standard Poodles FIRST IN HISTORY !!
~ 3 AKC CA Titled (Coursing Ability Title) AKC's First Standard Poodle IN AKC HISTORY !!!
~ AKC Coursing Ability Advanced (CAA)
~ AKC CD Titled Standard Poodles - with many Class wins and High in Trials with perfect scores
~ 10 AKC Rally Novice Titled Standard Poodles - with many Class wins
~ AKC Rally Advanced Titled Standard Poodles - with many Class wins
~ AKC Rally T Challenge - with 1st and 2nd Place awards
~ 3 Alter Champions (shown by their owners), with Group and multiple Best in Show wins
~ 1 Alter Rally Obedience Title (shown by their owner)
~ AKC CGC Certificates
~ CKC CD titles
~ St. John Ambulance Therapy Dog Certificates
~ Pups in the Lions Seeing Eye Dog Foundation being used Seeing Eye Dogs
~ 4 x Recipient of the UKC Activity Rewards Program
~ 8 x coveted "TOTAL DOG AWARD" Winner
~ 2011 UKC's #4 TOP TEN POODLE - GRCH. Bijou's Ooh La La (winning BOB over 62 Poodles)
~ 2011 UKC's # 9 TOP TEN POODLE - GRCH. Bijou's Dare to be Different (winning BOB over 33 Poodles)


2010 - 17 New Titles
Ch. K-Lar's Dream of Cadbury
Ch. Bijou's Hot Pepper of Majestic
Ch. Bijou's Flair for Majestic Red
K-Lar's Hot Cocoa, CD, URO1
Ch. K-Lar's Dream of Java, URO1
Ch. K-Lar's Chocolate Sophistication, URO1
K-Lar's Hot Cocoa, CD, URO1, URO2
Ch. K-Lar's Dream of Cadbury, URO1
Ch. Bijou's Flair for Majestic Red, URO1
Ch. Bijou's Majestic Red Ruby of LS, URO1
Ch. K-Lar's Chocolate Sophistication, URO1, URO2
Ch. K-Lar's Dream of Java, URO1, URO2
Ch. Bijou's Red Rose of Majestic
Ch. Palmares Paris to Mithril
Ch. Bijou's Red Ruby of LS, URO1, CA
Ch. Bijou's Red Razzberry of Majestic, CA
Ch. K-Lar's Joyous Chocolate Endeavours, CA

2011 - 34 New Titles
Ch. Bijou's Valor under Fire of Mithril
K-Lar's Hot Cocoa, CD, URO1, URO2, URO3
Ch. K-Lar's Dream of Cadbury, URO1, URO2
Ch. Bijou's Hot Pepper of Majestic, URO1
Ch. Bijou's Majestic Red Rose, URO1
Ch. K-Lar's Chocolate Sophistication, URO1, URO2, URO3
Ch. K-Lar's Chocolate Truffle, URO1
Ch. Bijou's Red Hot Pepper of Majestic, URO1, URO2
Ch. Bijou's Hot Ember of Majestic
Ch. Bijou's Red Sultan of Majestic
Ch. Bijou's Ooh La La
GrCh. K-Lar's Chocolate Truffle, URO1
GrCh. Bijou's Red Razzberry of Majestic, CA
Ch. Bijou's Red Sultan of Majestic, CA
Ch. Bijou's Hot Ember of Majestic, CA
Ch. Bijou's Dare to be Different
GrCh. Bijou's Ooh La La
GrCh. K-Lar's Chocolate Truffle, URO1
GrCh. K-Lar's Chocolate Truffle, URO2
Grch. K-Lar's Chocolate Truffle, URO1, URO2, URO3
Ch. Bijou's Red Hot Pepper of Majestic, URO1, URO2, URO3
Ch. K-Lar's Joyous Chocolate Endevours, CA, CAX
GrCh. Bijou's Red Razzberry of Majestic, CA, CAX
Ch. Bijou's Majestic Red Ruby of LS, URO1, URO2, URO3, CAT
Ch. Bijou's Majestic Red Ruby of LS, URO1, URO2, URO3, CA, CGC
Ch. Bijou's Cherry Blossom
GrCh. Bijou's Dare to be Different
Ch. Bijou's Majestic Red Ruby of LS, URO1, URO2, URO3, CA, CGC, AKC RN
Ch. Bijou's Red Hot Pepper of Majestic, URO1, URO2, URO3, AKC RN
GrCh. K-Lar's Joyous Chocolate Endeavours, CA, CAX, CAT
GrCh. Bijou's Red Razzberry of Majestic, CA, CAX, CAT
Ch. Bijou's Majestic Red Ruby of LS, URO1, URO2, URO3, CA, CAT, RN
GrCh. Bijou's Cherry Blossom
GrCh. Palmares Paris to Mithril

2012 - 32 New Titles so far
Ch. K-Lar's Dream of Cadbury, CA, URO1, URO2, URO3
GrCh. Bijou's Majestic Red Ruby of LS, URO1, URO2, URO3, CA, CAT, RN, TOTAL DOG AWARD
GrCh. Bijou's Ooh La La, CA
Ch. K-Lar's Dream of Cadbury, CA, URO1, URO2, URO3, UWP
GrCh. Bijou's Red Razzberry of Majestic, CA, CAX, UWP
Ch. Bijou's Red Sultan of Majestic, CA, UWP
Ch. K-Lar's Dream of Cadbury, CA, URO1, URO2, URO3, UWP,WPT1
GrCh. Bijou's Red Razzberry of Majestic, CA, CAX, UWP, WPT1
Ch. Bijou's Red Sultan of Majestic, CA, UWP, WPT1
Ch. Bijou's Red Sultan of Majestic, CA, UWP, WPT1, URO1
Multi BIS Ch. Bijou's Red Hot Pepper of Majestic, URO1, URO2, URO3, AKC RN, TOTAL DOG AWARD, CGC
GrCh. Bijou's Red Razzberry of Majestic, CA, CAX, UWP, WPT1, CGC
Multi BIS GrCh. Bijou's Red Hot Pepper of Majestic, URO1, URO2, URO3, AKC RN, TOTAL DOG AWARD, CGC
Ch. Bijou's Majestic Red Rose, URO1, URO2
GrCh. Bijou's Red Razzberry of Majestic, CA, CAX, UWP, WPT1, URO1, CGC
GrCh. Bijou's Valor under Fire of Mithril
GrCh. Bijou's Valor under Fire of Mithril, URO1, 2x TOTAL DOG AWARD !!!
Ch. Bijou's Majestic Red Rose, URO1, URO2, URO3, 2x TOTAL DOG AWARD !!!
Multi BIS GrCh. Bijou's Red Hot Pepper of Majestic, URO1, URO2, URO3, AKC RN, TOTAL DOG AWARD, CGC, UWP
Grch. K-Lar's Chocolate Truffle, URO1, URO2, URO3, AKC RN
Ch. K-Lar's Dream of Cadbury, CA, URO1, URO2, URO3, UWP,WPT1, AKC RN
Ch. Bijou's Majestic Red Rose, URO1, URO2, URO3, 2x TOTAL DOG AWARD, AKC RN
GrCh. Bijou's Valor under Fire of Mithril, URO1, 2x TOTAL DOG AWARD, AKC RN
Ch. K-Lar's Chocolate Sophistication, URO1, URO2, URO3, RN
GrCh. Bijou's Red Razzberry of Majestic, CA, CAX, UWP, WPT1, URO1, CGC, AKC RN
Multi BIS GrCh. Bijou's Red Hot Pepper of Majestic, URO1, URO2, URO3, AKC RN, TOTAL DOG AWARD, CGC, UWP, AKC CD
Multi BIS GrCh. Bijou's Red Hot Pepper of Majestic, URO1, URO2, URO3, AKC RN, TOTAL DOG AWARD, CGC, UWP, AKC CD, AKC RA
Grch. K-Lar's Chocolate Truffle, URO1, URO2, URO3, AKC RN, AKC CD
GrCh. K-Lar's Joyous Chocolate Endeavours, CA, CAX, CAT, AKC RN
Ch. K-Lar's Dream of Cadbury, CA, URO1, URO2, URO3, UWP,WPT1, AKC RN, AKC RA
Ch. Bijou's Hot Ember of Majestic, UKC CA, AKC CA
GrCh. K-Lar's Joyous Chocolate Endeavours, CA, CAX, CAT, AKC RN, URO1
GrCh. Bijou's Valor under Fire of Mithril, URO1, 2x TOTAL DOG AWARD, AKC RN, URO1



2013 - 38 New Titles so far

Grch. "K-Lar's Chocolate Truffle", URO1, URO2, URO3, UWP, AKC RN, AKC CD
GrCh. "Bijou's Red Razzberry of Majestic", CA, CAX, UWP, UWPCH, WPT1, URO1, URO2, CGC, AKC RN
Champion - "Bijou's Daring Red Revolution"
"K-Lar's Brown Bodhi of Russell" (TL 032-323), URO1, TOTAL DOG AWARD
GrCh. "Bijou's Red Razzberry of Majestic", CA, CAX, UWP, WPT1, URO1, URO2, CGC, AKC RN
GrCh. "K-Lar's Joyous Chocolate Endeavours", CA, CAX, CAT, AKC RN, URO1, URO2 (100%)
GrCh. "Bijou's Valor under Fire of Mithril", 2x TOTAL DOG AWARD, AKC RN, URO1, UOR2 (100%)
GrCh. "Bijou's Red Razzberry of Majestic", CA, CAX, UWP, UWPCH, WPT1, URO1, URO2, CGC, AKC RN
Ch. K-Lar's Dream of Cadbury, CA, URO1, URO2, URO3, UWP,UWPCH, WPT1, AKC RN, AKC RA
Ch. Bijou's Gotta Lotta Faith
Ch. Bijou's Daring Red Revolution
Ch. Bijou's Priceless Red Dare
Gr. Ch. Bijou's Daring Red Revolution
Gr. Ch. Bijou's Ooh La La, CA, URO1
Gr. Ch. Bijou's Ooh La La, CA, URO1, URO2
GrCh. "Bijou's Red Razzberry of Majestic", CA, CAX, UWP, UWPCH, WPT1, URO1, URO2, URO3, CGC, AKC RN
GrCh. "Bijou's Valor under Fire of Mithril", 2x TOTAL DOG AWARD, AKC RN, URO1, UOR2 (100% Score), URO3
GrCh. Bijou's Majestic Red Ruby of LS, URO1, URO2, URO3, CA, CAT, RN, TOTAL DOG AWARD, CD
GrCh. Bijou's Majestic Red Ruby of LS, URO1, URO2, URO3, CA, CAT, RN, CD, UWP, TOTAL DOG AWARD
Gr. Ch. Bijou's Ooh La La, CA, CAX, URO1, URO2
GrCh. Bijou's Majestic Red Ruby of LS, URO1, URO2, URO3, CA, CAT, RN, UWP, TOTAL DOG AWARD
GrCh. Bijou's Majestic Red Ruby of LS, URO1, URO2, URO3, CD, CA, CAT, RN, UWP, TOTAL DOG AWARD
GrCh. Bijou's Dare to be Different, URO1
MBIS, GrCh, "Bijou's Red Hot Pepper of Majestic", URO1, URO2, URO3 HIT, UCD, UWP, UCD, CD, RN, RA, CGC
GrCh. "K-Lar's Joyous Chocolate Endeavour", CA, CAX, CAT, URO1, URO2, URO3, AKC RN
GrCh. Bijou's Dare to be Different, URO1, URO2
GrCh. Bijou's Dare to be Different, URO1, URO2, RN
Gr. Ch. Bijou's Ooh La La, CA, CAX, URO1, URO2, RN
Gr. Ch. Bijou's Ooh La La, CA, CAX, CAT, URO1, URO2, RN
Ch. K-Lar's Chocolate Sophistication, URO1, URO2, URO3, RN, RA
GrCh. Bijou's Majestic Red Ruby of LS, URO1, URO2, URO3, UCD, CA, CAT, RN, RA, CD, UWP, TOTAL DOG AWARD
GrCh. "Bijou's Red Razzberry of Majestic", CA, CAX, UWP, UWPCH, WPT1, URO1, URO2, URO3, CGC, AKC RN, RA
Grch. "K-Lar's Chocolate Truffle", URO1, URO2, URO3, UWP, AKC RN, RA, CD
Grch. "K-Lar's Chocolate Truffle", URO1, URO2, URO3, UWP, AKC RN, RA, CD
GrCh. "K-Lar's Joyous Chocolate Endeavour", CA, CAX, CAT, URO1, URO2, URO3, AKC RN, RA, RE
GrCh. "Bijou's Valor under Fire of Mithril", 2x TOTAL DOG AWARD, AKC RN, RA, URO1, UOR2 (100% Score), URO3
GrCh. Bijou's Priceless Red Dare






Some of the Bijou Poodles Titled since 1989

Champion "Bijou's Daring Red Revolution
Multi Alt RBIS, Multi Alt BIS, Alt BISS, ALCH, URO1, URO2, URO3, CA, CAX,
"BIJOU'S FINNEGAN AVON",
CGN, CKC RN, CKC RA, CRNCL AKC CD, AKC CA, AKC CAA, AKC RN, AKC RA, CGC, Herding Instinct Certificate, CKC CD, TOTAL DOG AWARD

"K-Lar's German Chocolate Bark", CGC, RN, Iron Dog

Alt RBIS, Multi Alt BIS, CA, ALCh "K-Lar's Reigna Regal Lady", CGC

Champion, "Bijou's 24 Karat Gold", S.T.A.R. Puppy

Champion, "Bijou's Sienna Rosso Tramonto", CGC, RN, RA, Animal Assisted Therapy Dog

BPIS, Grand Champion "Bijou's Cherry Blossom"

Grand Champion, "Bijou's Dare to be Different", #9 TOP STANDARD POODLE 2011

Grand Champion, CA, "Bijou's Ooh La La", #4 TOP STANDARD POODLE 2011

Grand Champion, URO1, "Bijou's Valor Under Fire", RN, 2x TOTAL DOG AWARD

Grand Champion, CA, CAX, UWP, URO1 "BIJOU'S RED RAZZBERRY OF MAJESTIC", CA, WPT1, RN, CGC

Champion, URO1, UOR2, UOR3, CA, UWP, "K-LAR'S DREAM OF CADBURY", WPT1, RN, RA

Grand Champion, URO1,CA, CAX, "K-LAR'S JOYOUS CHOCOLATE ENDEAVOUR", CA, RN

Grand Champion, URO1, URO2, URO3, "K-LAR'S CHOCOLATE TRUFFLE OF BIJOU", RN, CD, 3x TOTAL DOG AWARD WINNER

Champion, URO1, URO2, URO3, "K-LAR'S CHOCOLATE SOPHISTICATION", RN, RA

Champion, CA "Bijou's Hot Ember of Majestic", CA

Multi Best in Show, Grand Champion, URO1, URO2, URO3 HIT, UWP, "BIJOU'S RED HOT PEPER OF MAJESTIC", CD, RN, RA, CGC~ TOTAL DOG AWARD WINNER ~

Champion, UWP, URO1, CA, "Bijou's Red Sultan of Majestic", WPT1, RN

URO1, URO2, URO3, Champion - "Bijou's Red Rose of Majestic", RN, 2x TOTAL DOG AWARD WINNER

Grand Champion, URO1, URO2, URO3, CAX, "BIJOU'S MAJESTIC RED RUBY OF LS" CA, CAX, RN, HIT, CGC, TOTAL DOG AWARD WINNER

Grand Champion "Palmares Paris to Mithril"

URO1, Champion - "Bijou's Flair for Majestic Red"

URO1, URO2 "K-Lar's Hot Cocoa", CD, CGC

URO1, URO2, Champion - "K-Lar's Dream of Java"

URO1, Champion - "K-Lar's Chocolate in Abstract"

Champion - "K-Lar's Hershey Wins Again"

Champion – "K-Lar's Brown Bruno"

"Whatchagot Tommy Junior", CGC, St. John's Ambulance Therapy Dog

Return to Bijou Home Page