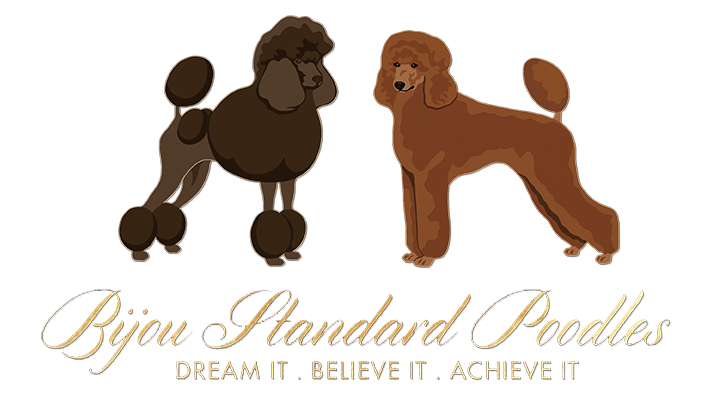 !! AVAILABLE PUPPIES !!

Meet Our Poodles... Our References... Web Page Links

Questions Answered... Whats New at Bijou...Bijou Difference

Contact us: brownpoodles@yahoo.com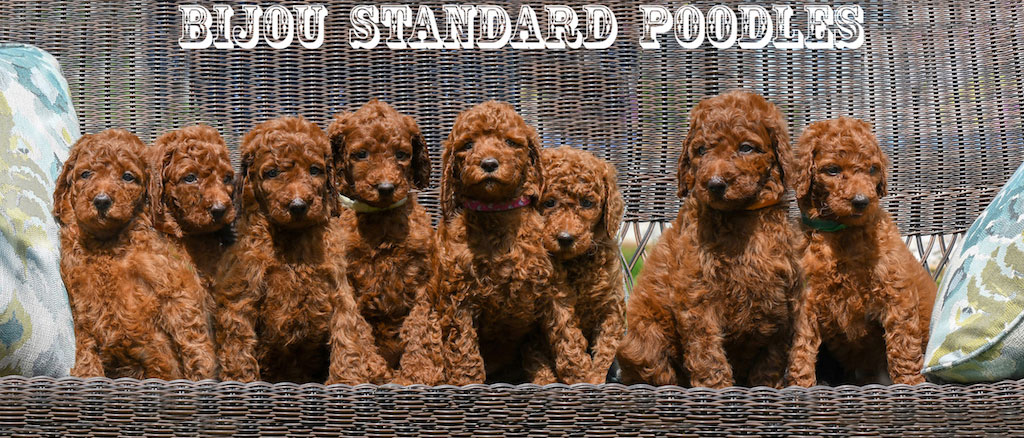 Welcome to our Red Heads Page !
(photos are at the bottom of this web page)






~ AKC Breed Standard ~ States: Standard Poodle Size :
The Standard Poodle is OVER 15 inches at the highest point of the shoulders.
Any Poodle which is 15 inches or LESS in height shall be disqualified from competition as a Standard Poodle.
~ There is no limit for how tall a Standard Poodle should be ~





Physically: Our Red poodles tend to be 22"-25" in height and also 35-60 lbs.
Our reds are thicker boned and more muscular than what you will typically see.
This is because our reds are Working Dogs, and need to be physically capable to work.
Reds are refined, "pretty" in their looks and VERY athletic, running like the wind.
Reds we keep, are dark Irish setter red which we breed together.
We will usually get dark Irish setter pups always with correct dark brown eyes almost black
and jet black noses and eye rims commonly referred to as "points" in our litters
*Read more about colour.
Darkest of red is still VERY rare to produce with only around 10 breeders in the WORLD breeding them
~ Red Poodle History ~

Photos of our reds just do not do them justice, as they are so much darker than they appear in video.
Every colour will fade at some point and at some degree
as of 2018 we have accomplished preventing and prolonging
fading from happening by Select Breeding and furthering our Education.
Our dark red pups will generally stay Irish Setter Red or medium red depending on diet and coat care.
Our lighter red puppies can lighten to a medium red or dark apricot with age
we can let you know at a couple weeks after birth which red shade of colour is likely.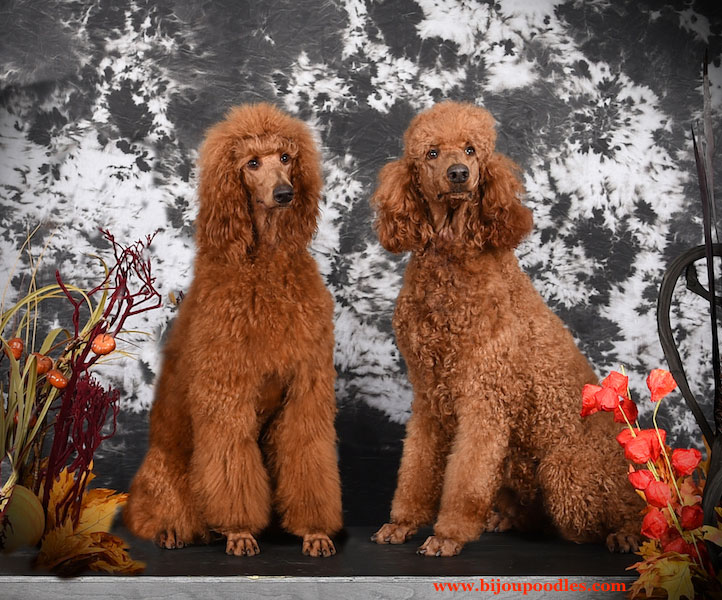 ~ Our Red Standard Poodles ~

Best guarantee that your puppy will stay red is to have dark red Parent(s) with a solid red pedigree.
Of course you have to see both of the parents in person or in current photos and videos.
Our reds are athletes, very FAST... Lots of wind and can out race our browns in a game of keep away or tag.

Temperament : Well if you have seen Velcro on shoes... you will know what I mean when I say
our Reds are like velcro dogs. They want to be everywhere you are, even in the bathroom.
Reds are total devotion, dedication and adoration and huge cuddlers.
All our poodles have calm laid back temperament as we breed for that specifically.
Our Poodles have NO hyper pacing, needless barking or anxiety issues.
Our Red Poodles are Special Needs Dogs and doing Pet Therapy, Protection work
Physical Helpers, Medical Alert Dogs and will do any dog activity you need them to do.
Red Males are more laid back content to rest on your feet
Red Females wish to be on your lap and also wish to know
where everyone in the household is and what they are up to.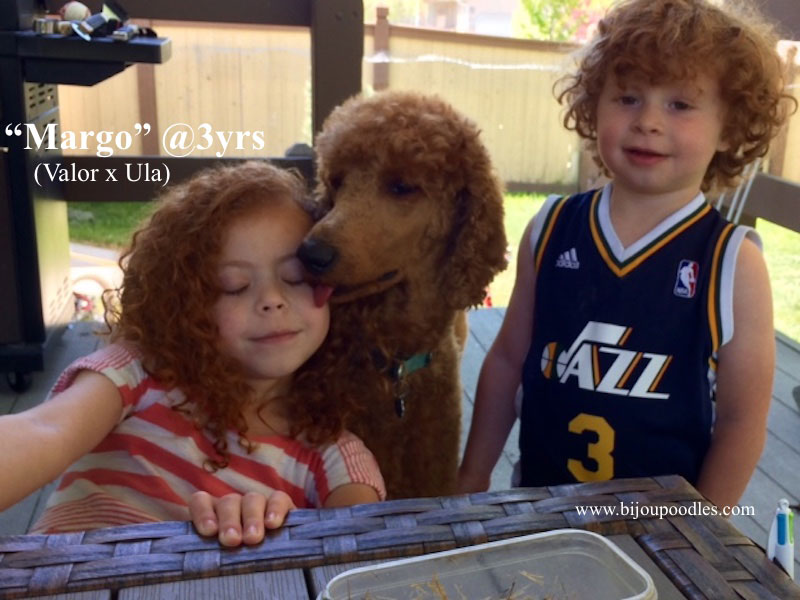 We often get asked about the temperament of our Red Standard Poodles.
Let me introduce "OUR" reds by saying that they are very, very CALM and LOVING.
This is what we looked for and what we are world famous for, along with the dark red coats.




(It's a Puppy Party !!)


Our Poodle's completed "12+" OFA and DNA health testing which appears on their individual web pages
and can be verified 24/7 on the OFA (Orthopedic Foundation for Animals) web page
In over 25 years we have NEVER owned a Poodle that has had bloat or torsion
and we have NEVER produced a Red standard Poodle with SA or with Addisons.
Our Poodles have GENERATIONS of healthy poodles behind them,
to best ensure healthy, happy Poodle Puppies.
Our Parents also have their Grand Championship Titles
and a Working/Performance Title proving they have Beauty and Brains
which they will pass onto their puppies to produce HEALTHY, loving companions, therapy dogs and working partners
~ Health, Beauty and Brains ... Bijou Poodles are the Total Poodle Package ~




Red Toy Poodle...................................Red Miniature Poodle.............................Red Standard Poodle

Toy is the smallest under 10"..... Miniatures are 10"-15"....... Standard Poodle is over 15"
Registries such as the CKC, AKC, UKC, only have 3 sizes of Poodles that they officially recognize & register.





Red, Apricot, Cream Hair from a poodle







Red, Apricot, Cream Standard Poodles





Light Red Hair.....................Red Hair.................Darkest Irish Setter Red Hair






Shades of Red: Light red to Darkest Red Adults





Light to medium red pups




Shades of Red, light red to our Darkest Red




Beautiful Dark Red Litter and one Apricot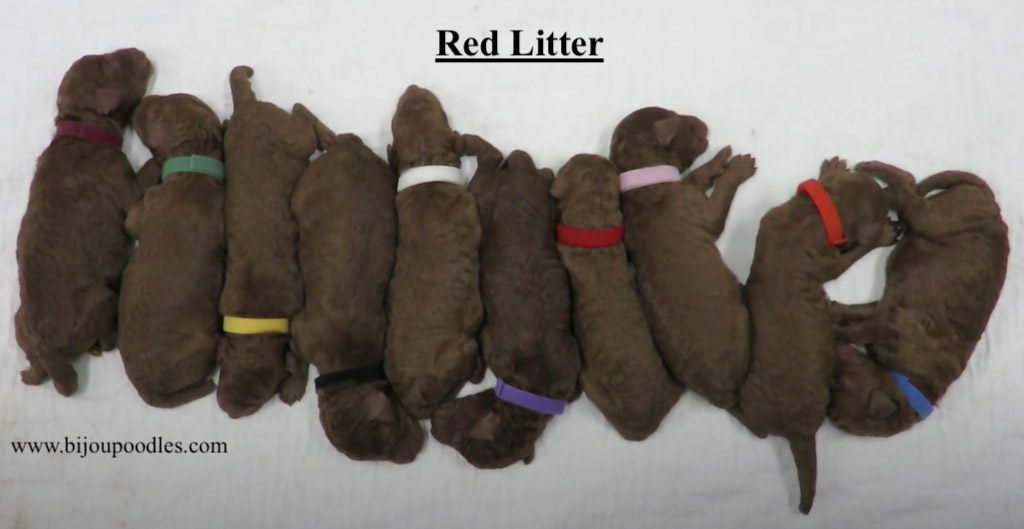 !! ALL DEEP DARK RED PUPS !!



Will Reds Fade ?

Light Red at 8 years of age............ Dark Red at 7 years of age (VERY RARE)

All colours will fade "to some degree" depending on pedigree and genetics.
As you can see from our extensive web page,
our Reds do not fade upon maturity. This is because they are "real" reds.
If a pedigree contains a lot of dilutes (Cream, Apricot or especially Blue, Silver, Cafe)
then chances are that they will fade upon maturity.
If a pedigree contains no dilutes containing only dark red
and if the parents are dark red then chances are puppy will not fade.
As you can see the red poodle on the right has held their dark red
colour and their pedigree is majority dark red.
An experienced red breeder that owns dark red poodles will be able
to know if the puppy produced should be a dark red.
I do think it is important to remind people that two recessives can NOT produce a dominate colour
Apricot bred to Apricot will NOT produce a red puppy no matter how dark red those pups look when born.




Here is my long story of my quest for red: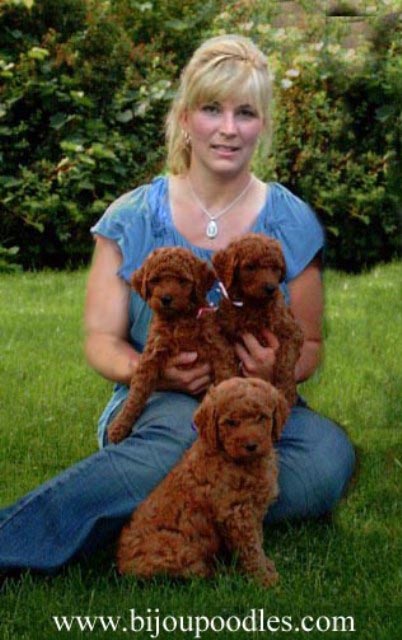 I first heard about Red Standard Poodles when I saw a photo ad in Dogs USA in 1980.
(This was before internet !!)
I began calling and sending out letters if inquiry to the breeders listed.
I also started to ask at the shows about them.
What I heard was not encouraging. They were said to be hyper, skittish and vicious.
I was told the reason for this was because breeders
bred their Standards to the smaller poodles (toys and minis)
who already had the red gene solidified and also that breeders inbred in order to guarantee the colour,
Not concerned about temperament, more concerned about colour.



Poodles LOVE winter

I decided against purchasing a red standard poodle at that time
based on their reputation of having a bad temperament.
I have always put temperament 1st since we produce poodles that must meet
the breed standard AND have calm loving temperaments for great family companions.
This is something that Breeders need to remember, in their pursuit of physical perfection.




ALL our Poodles have their Grand Championship Titles to prove they meet the breed standard
AND the great calm, confident, loving, sweet natures we have always been famous for.




Beautiful big light red puppies

In 2004 I began to see more and more reds advertised.
I began my search for a breeder with more determination.
I spent hours investigating many breeders who advertised dark red photos of puppies
but when seen with their mother's nursing, the mom's all looked like either
light apricot, creams or even white. This was disappointing
as photos also told me that the mom's were not really dark red after all,
but were just dark apricots or light red that carried the fading gene.
When I saw their pedigrees full of just cream and
apricot this also told me they were not real reds.




(Mom, Pups, Dad)

I believed that the pups "might" be a real red if the "sire" was a real dark red though.
So I began to ask for photos of dad. Breeders either refused
to send me photos (which told me what I needed to know)
or sent me photos of a dog that appeared to be a very light apricot or cream, when they were an adult.
A lot of the show people had amazing dark red photos of their reds but then had show photos of these
same dogs at 1 year of age, that appeared to be cream to apricot in colour and not red.






As a result of my frustration in searching out real dark reds, I vowed then that my web page
would contain Puppy and also Adult photos of my Standard Poodles and lately videos of each of our Poodles.
Not only to provide the public with accurate information, but also because I am VERY proud of my Poodles




Mom: Rose and Dad: Oliver and a couple of their pups

Finally after a couple years of research and scanning the world,
Yes WORLD...I found a breeder that had the pedigree I wanted
consistent with "real" reds and her reds were rumoured to have sweet, calm natures.
Not willing to take any chances, I chose to drive 20 hours to her house in person to meet these rare reds.



I could not believe what I found.
There the breeder was holding this cute fuzzy puppy
that was the colour of burnt orange, or a dark paprika colour
with jet black pigmentation (lips, eye rims, nose) or "points".
Really words can't describe the colour because it is so breath taking.


........



Photos and video also doesn't do the colour justice
as the colour varies in intensity depending on the lighting.
The one thing that was not mistakable was that this was a colour I had never before seen.
The best part was that their temperaments were calm, very loving with eyes that would melt any cold heart.
I also met the parents and the grandparents and saw photos going back 5 generations.
I was hooked on the colour and knew my research had proved correct. I found my breeders.





After months of researching pedigrees and tracing back
generations of reds and their photos as puppy and adult
I felt that I had found the lines that were "real" red and not just dark cream or apricot
and that when mature would still be red and not faded
to white or cream like I had seen online & in person,
as well as having that calm, loving nature we are so famous for.
This was a really difficult and long process for me because
for some reason, a lot of breeder have no photos of their poodles.
This is also an ongoing process for us, we are not done learning
and one we will continually strive to perfect our reds.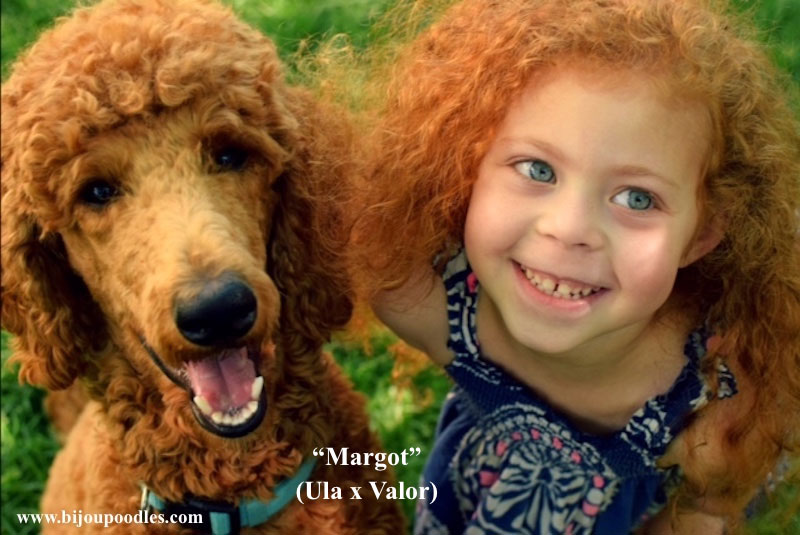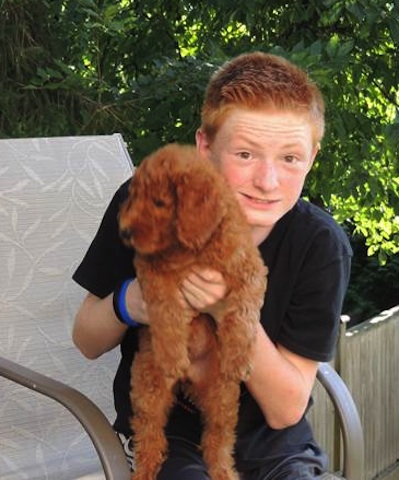 We often get asked "what does a red look like in person"
Our reply is "same as a dark red headed human"
Their hair is also as fine.





A typical red will love lying in our laps and winding around our legs
like cats for affection or attention. They are a very "soft" natured dog and respond well to "positive" training.
If you are harsh with them or they sense they are disappointing you they will mentally just shut down and pout.
They also want to be everywhere with you including the bathroom.
You will always hear the pitter patter of a red standards feet as they will be your shadow.




They love working for praise and or a laugh.
Once they know a trick, they will produce it with amazing precision with eager eyes waiting,
begging for your praise and you better be lavish with it if you want to see them happy.





(Rose pups)

I would describe our reds as being the most empathetic of all the colours.
It is as if they can read you and decide if you are happy in which case they may be silly to get a laugh
or they know that you are sad and will be calm and quiet and just rest their head on your lap waiting for you
to invite them up on the couch to watch a movie with you.
I do find that the reds are more "dedicated" to their owners.



(Valor and Ember)

Do not leave your red standard poodle at the window while you go to get a Tim Horton's coffee
or you will be met with the back of your red standard poodle and hear sighs of "woe" until you are forgiven.
Thankfully reds like all poodles, forgive quickly.
I will warn anyone that is thinking about getting a red Standard and plans on walking them,






that you will not get past a block without someone stopping you to see your puppy.
Everyone will want to know what breed it is and you will hear people exclaim
"I didn't know poodles came that colour or that size".
We have almost caused accidents by people slamming on their brakes to stop to look at us.
One thing is for sure is that if you go walking with your red you will make many friends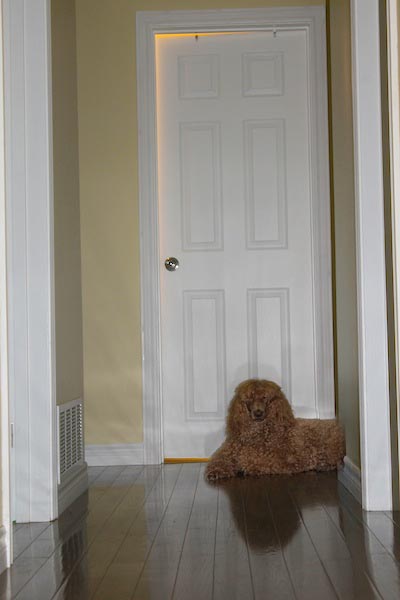 (Paris waiting for her owner to finish in the bathroom, after she tried unsuccessfully to get in)
This color Red is NOT for everyone. If you are not used to having a dog constantly at your feet or
on your lap, constantly touching you, or wanting to be in the same room as you
then you might find a red to be too "needy".








If you have plans on doing Pet Therapy
with a Red they are perfect for this as they are so gentle and caring, but please -limit- the time
you offer your Red to the service, as they can become easily drained from them absorbing others
emotional and sometimes physical pain. They do love obedience and showing, of course as how
better for them to show everyone how smart and pretty they are !





The dark eyes on a red is a real stunning contrast to the rich red coat, as they really stand out.
Our goal is to produce the darkest rich reds that have the
same calm loving temperament that our browns and blacks do.





We are trying to only produce reds with no white mismark (something that is very difficult to do)
and with jet black noses (points) as we feel that this
is the most striking and correct for the current AKC breed standard.
We feel that we have the best foundation to begin our red program and that those obtaining a Bijou Poodle
will be able to enjoy our efforts, as we CONTINUE to learn, develop and just enjoy our Reds.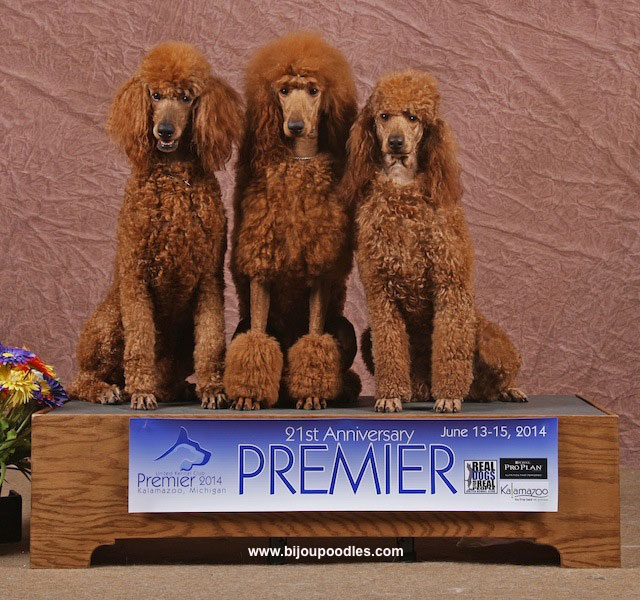 Daddy "Razz", Daughter "Reva", Mother "Dare"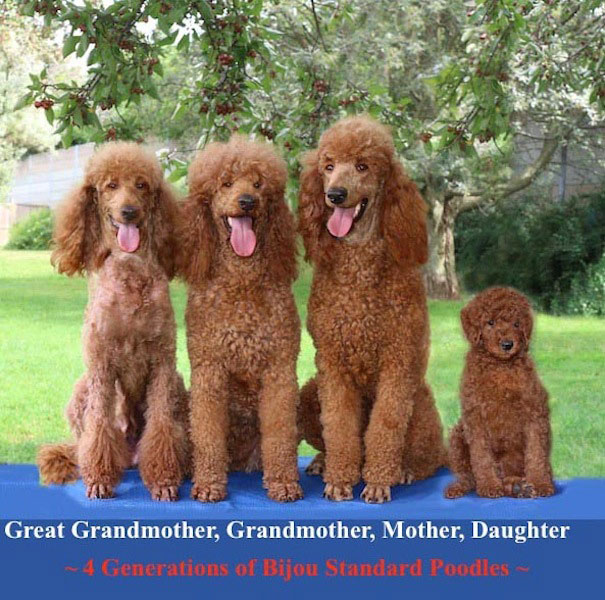 Great Grandmother "Rose", Grandmother "Dare", Mother "Reva", Daughter "Poppy"
Four Generations of the Rose Line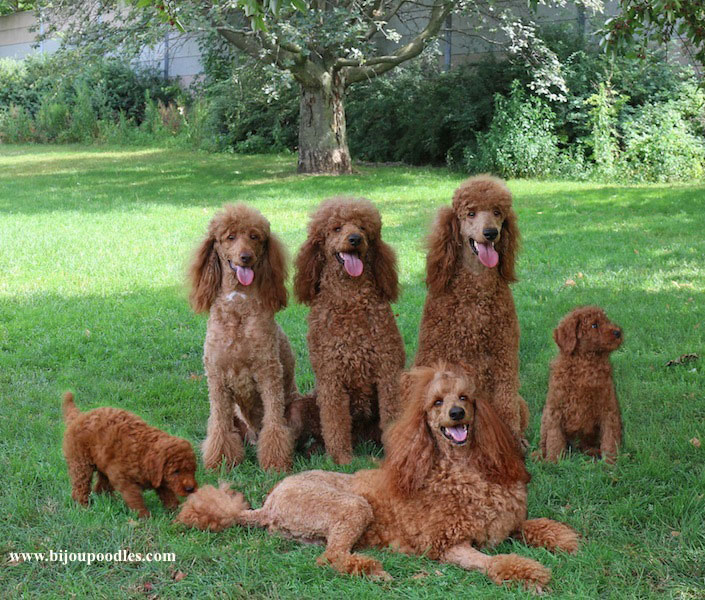 Great Grandmother "Rose", Grandmother "Dare", Mother "Reva", Daughter "Poppy"
Son, Uncle "Finnegan"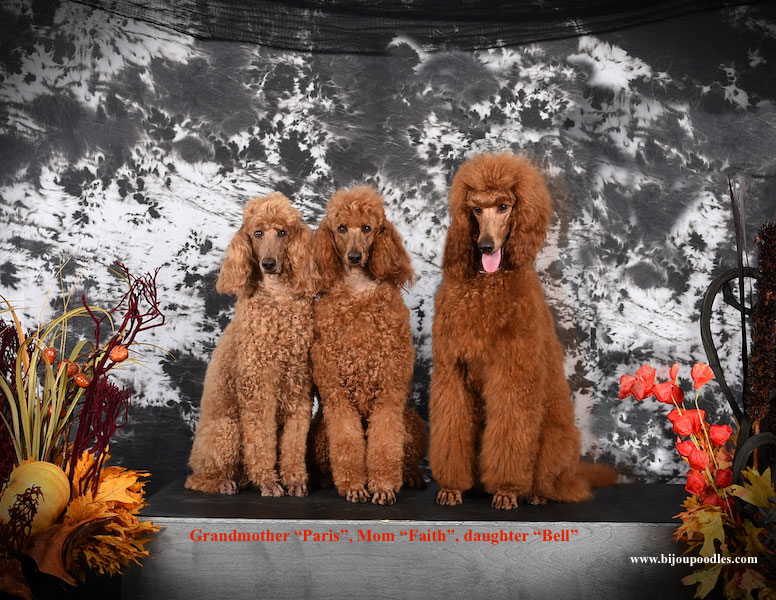 Grandmother "Paris", Mother "Faith" and daughter "Bell"
3 generations of Bijou Poodles of the Paris line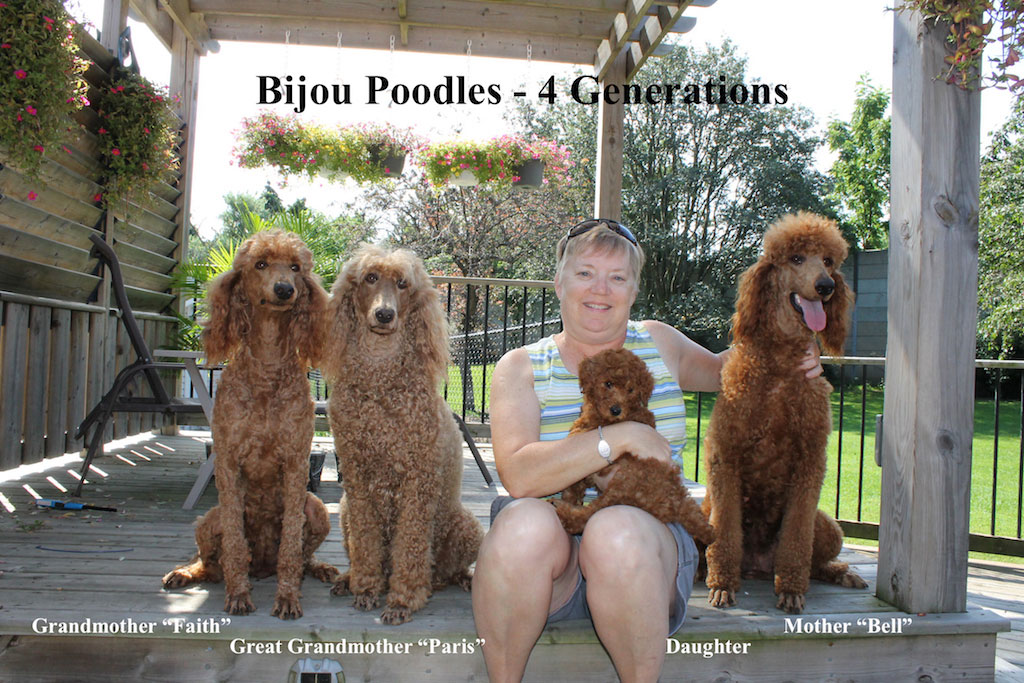 4 Generations of Bijou Poodles of the Paris line
Grandmother "Faith", Great Grandmother "Paris", daughter, Mother "Bell"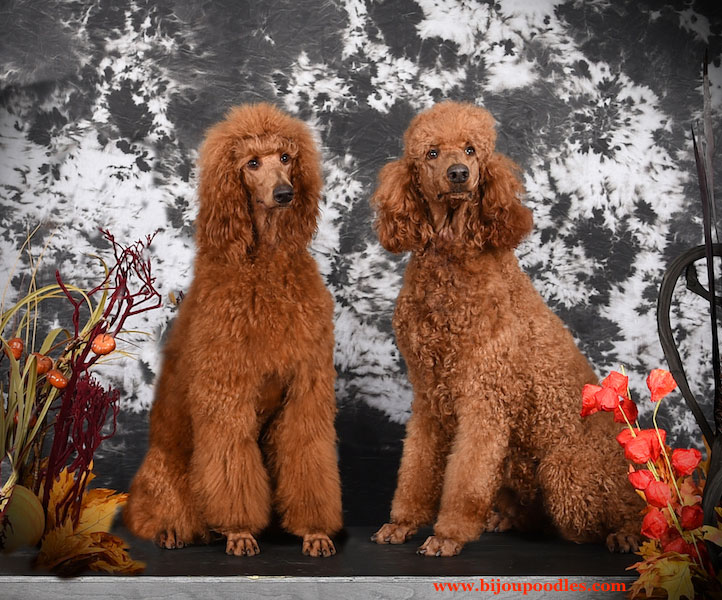 Bell and Valor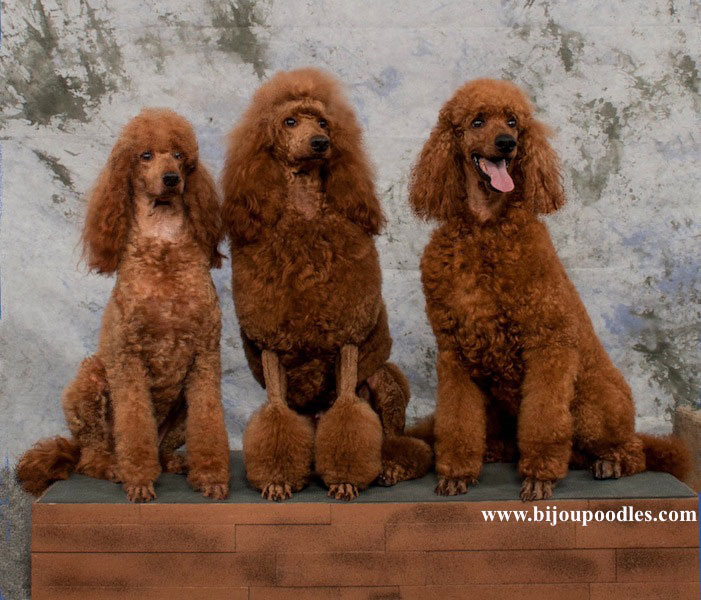 Mother "Rose", Daughter "Glory" and father "Razz"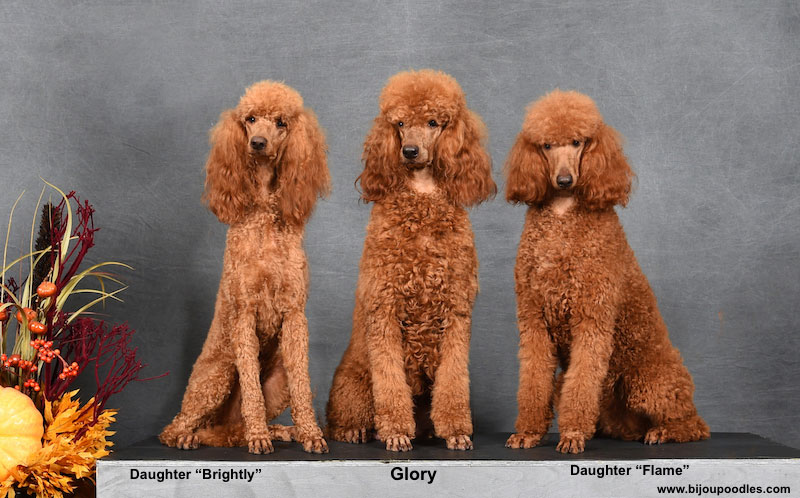 Glory and her daughters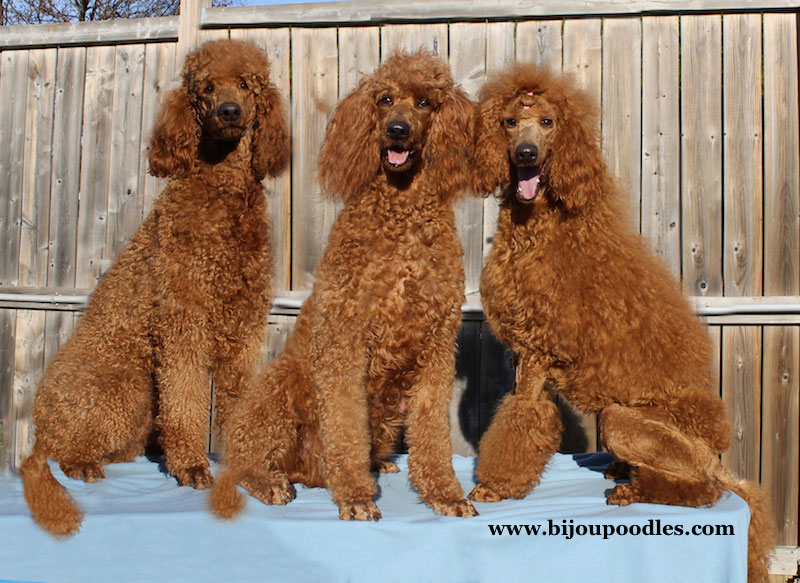 Daddy "Valor", Mother "Ula", daughter "Pyro"
!! I always love getting my Family Photos !!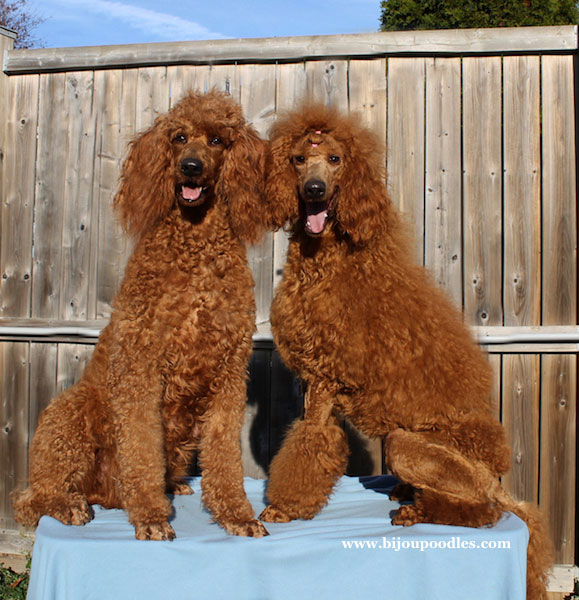 Mother "Ula", daughter "Pyro"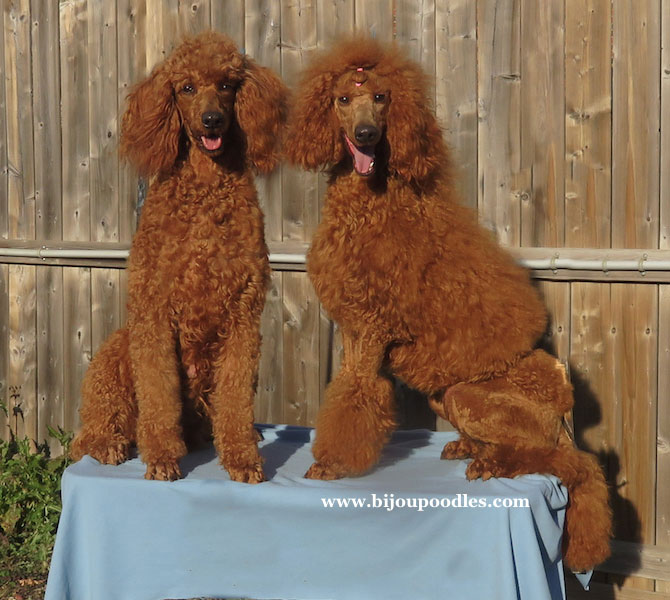 ~ November 2016 ~





OUR RED STANDARD POODLES:
~ BIJOU'S RAZZ ~

UKC Champion
UKC Grand Champion
"BIJOU'S RED RAZZBERRY OF MAJESTIC"
SPOT, CA, CAX, CAS, CAT, UWP, UWPCH, WPT1AKC RN, RA, CGC, URO1, URO2, URO3



~ BIJOU'S RUBY ~

UKC Champion
UKC Grand Champion
"BIJOU'S MAJESTIC RED RUBY OF LS"
SPOT, CA, CAX, CAT, RN, RA, CD, URO1, URO2, URO3, UCD, 2x HIT, UWP, CGC
~ TOTAL DOG AWARD WINNER ~



~ BIJOU'S FLAIR ~

UKC Champion - "Bijou's Flair for Majestic Red"
UROI



~ BIJOU'S ROSE ~


UKC Champion - "BIJOU'S RED ROSE OF MAJESTIC"
S.P.O.T., URO1, URO2, URO3, HIT UCD, UAGI
RATI, AKC RN, AKC RA, AKC BN, CGC
~ 2x TOTAL DOG AWARD WINNER ~



~ BIJOU'S PEPPER ~

UKC Multi Best in Show
UKC Champion
UKC Grand Champion,
"BIJOU'S RED HOT PEPER OF MAJESTIC"
URO1, URO2, URO3, UCD HIT, UWP
AKC CD, AKC RN, AKC RA, CGC
PT1, PT3, PT4, PT5, NCC
~ TOTAL DOG AWARD WINNER ~



~ BIJOU'S PARIS ~

UKC Best in Show Veteren
UKC Champion
UKC Grand Champion
"Palmares Paris to Mithril"
SPOT, CGN, TDI, CGC



~ BIJOU'S SULTAN ~

UKC Champion
"Bijou's Red Sultan of Majestic"
CA, UWP, WPT1, URO1, AKC RN



~ BIJOU'S EMBER ~

UKC Champion
Bijou's Hot Ember of Majestic
CA, CAX, CAT



~ BIJOU'S VALOR ~

UKC Champion
UKC Grand Champion -
"Bijou's Valor Under Fire of Mithril"
SPOT, URO1, URO2, URO3, AKC RN, RA, CGC
~ 2x TOTAL DOG AWARD ~



~ BIJOU'S ULA ~

UKC Champion
UKC Grand Champion,
"Bijou's Ooh La La"
CA, CAX, CAT, URO1, URO2, RATI, AKC RN, PT1, PT2, PT3, PT4, PT5
~ UKC's #4 Standard Poodle 2011 ~



~ BIJOU'S DARE ~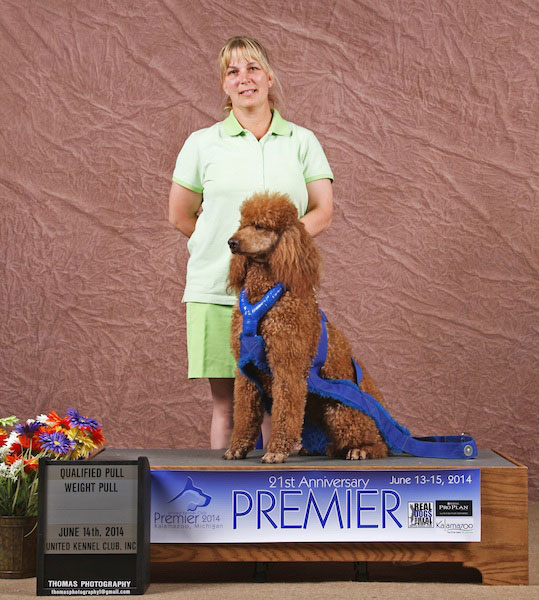 UKC Champion
UKC Grand Champion
"Bijou's Dare to be Different"
SPOT, URO1, URO2, RN, RATI, UWP PT1, PT2, PT3, PT4, PT5, NCC
~ UKC's #9 Standard Poodle 2011 ~



~ BIJOU'S BLOSSOM ~

UKC Best in Show Puppy
UKC Champion
UKC Grand Champion
"Bijou's Cherry Blossom"




~ BIJOU'S FAITH ~
UKC Multi Best Puppy in Show Champion
UKC Grand Champion
"Bijou's Gotta Lotta Faith"
S.P.O.T., RATI, PT1, PTN, URO1
"Faith" - Red Female


~ BIJOU'S REVA ~

UKC Champion
UKC Grand Champion
"Bijou's Red Revolution"
UKC's #1 Standard Poodle 2013
"Reva" - Red Female


~ BIJOU'S PRICE ~

UKC Champion
UKC Grand Champion
"Bijou's a Priceless Red Dare"
CGC, S.P.O.T., URO1, URO2
"Price" - Red Male


~ BIJOU'S GLORY ~
UKC Reserve Best in Show
UKC Best Puppy in Show
UKC Reserve Best Puppy in Show
UKC Champion
UKC Grand Champion
CKC Champion
CKC Grand Champion
"Bijou's Glorious Red of Rose"
PTN, PTA, PTS, PTM, PTE, PT1, PT2
PT3, PT4, PT5, NC, AC, SPOT-ON, RATI, URO1, URO2, UAGI
WP, WPCH, AP, CGN, CGC, TKN
~ 2015 TOTAL DOG AWARD WINNER ~
~ UKC's #3 Standard Poodle 2014 ~
2014 UKC's Premier Dog Show, Best of Breed Winner
~ UKC's #6 Standard Poodle 2013 ~
"Glory" - Red Female


~ BIJOU'S PYRO ~

CKC Champion
UKC Champion
"BIJOU'S SET THE WORLD ON FIRE"
SPOT, URO1, URO2
"Pyro" - Red Female


~ BIJOU'S BELL ~

CKC Champion
UKC Champion
"BIJOU'S SO HOT ALARM BELLS R RINGING"
"Bell" - Red Female


~ BIJOU'S POPPY ~

CKC Champion
CKC Grand Champion
"BIJOU'S RED POPPY FROM REVA"
"Poppy" - Red Female
SPOT, URO1
CKC's FIRST Red Standard Poodle Grand Champion, in CKC History !!


~ BIJOU'S FLAME ~
CKC Champion
"BIJOU'S CONTINUE TO FAN THE FLAMES"
"Flame" - Red Female


~ BIJOU'S BRIGHTLY ~
CKC Champion - (Grand Pointed)
"BIJOU'S BURNING BRIGHTLY"
"Brightly" - Red Female


~ BIJOU'S BLUSH ~
CKC Champion
"BIJOU'S DON'T MAKE ME BLUSH"
"Blush" - Red Female


~ BIJOU'S FANCY ~
CKC Champion
CKC Grand Champion
"Bijou's Tickle my Fancy"
"Fancy" - Red Female
Second Red Grand Champion in CKC HISTORY !!!


~ BIJOU'S MANGO ~
UKC Champion
"Bijou's Mango Mai Tai"
"Mango" - Red Male


~ BIJOU'S MARIGOLD ~
CKC Champion
"Bijou's A Pot Of Marigold"
"Marigold" - Red Female


~ BIJOU'S GLITTER ~
"Bijou's All that Glitters is Golden"
"Glitter" - Red Female


~ BIJOU'S EDDY ~
UKC Champion
Bijou's Limited Edition
"Eddy" - Red Male


~ BIJOU'S CHEDDAR ~
4x RBIS, UKC Champion
Bijou's Big Cheese
"Cheddar" - Red Male


~ BIOU'S LUCILLE LOUBOUTIN ~ (Valor x Ember - Red Female)
Lucy at 6 weeks of age .......... Lucy at 1 year, 25" and 53 lbs


~ BIOU'S MOLLY ~ (Valor x Ember - Red Female) ...
Molly at 12 weeks of age .......... Molly at 1 year, 25" and 50 lbs


~ BIJOU'S COPPER ~ (Valor x Pepper - Red Male)
Copper at 6 weeks of age .......... Copper at 6 months, 25" and 53 lbs



~ BIJOU'S AUTUMN ~ (Razz x Rose - Red Female) ...
Autumn at 8 weeks of age ....................................Autumn @ 1 year of age, 25" and 51lbs



~ BIJOU'S BINDI ~ (Razz x Ruby - Red Female)


UKC CH/IABCA INT CH - BIJOU'S BOOGIE WOOGIE BINDI PATRIOT POODLES
Bindi obtains her UKC Championship with a Group 3rd WIN !!!
Way to go Jean and Bindi!
Watch for Bindi in the AKC ring next!


~ BIJOU'S SIENNA ~ (Valor x Ruby - Red Female)
~ View "Sienna's" web page ~
Champion
"Bijou's Sienna Rosso Tramonto"
URO1, URO2, CGC, CA, Animal Assisted Therapy Dog, RN, RA


~ BIJOU'S FIAMMA ~ (Valor x Ula - Red Female)
~ View "Fiamma's" web page ~
Champion
"Bijou's Fiamma Picante"



~ BIJOU'S KARAT ~ (Valor x Ruby - Red Female)
~ View "Karat's" web page ~
Champion
"Bijou's 24 Karat Gold"
S.T.A.R. Puppy, AKC RN, BN, URO1, CGC




~ BIJOU'S CINDER ~ (Razz x Ruby - Red Male)
......
Cinder at 8 weeks of age......................Cinder today




CA, CAX, URO1, URO2, URO3 (HIT), URX, UROC, UCD
5 X Altered Total Dog, 15x RBIS, 9x BIS, 2x BISS, ALCH "BIJOU'S FINNEGAN AVON" CGN, CGC, CGCA, CRNCL, AKC CA, AKC CAA, AKC CD,
AKC RN, AKC RA, AKC RE, CKC CD, CKC RN, CKC RA, HIC, BH
~ 5x TOTAL DOG AWARD ~ (Rose x Oliver)

.....
Finnegan 5 weeks of age................Finnegan 1 year of age
Finnegan - 26 inches tall and weighs 65 lbs
Click here to go to Finnegan's web page



~ ALTER CHAMPION - BIJOU'S FINTASTIC ADVENTURE ~ (Ruby x Oliver)
...
Fin - 28 inches tall and 58 lbs


~ BIJOU'S DAKOTA ~ (Rose x Oliver)
....
Dakota 7 weeks of age ........................Dakota 1 year of age, 56 lbs and 26 inches tall at the withers.






~ BIJOU'S SILAS ~ (Razz x Rose - Red Male)
...
Silas @ 8 weeks of age......Silas today !! 60 lbs and what a Beauty !!
"Silas" lives in NY and enjoys the local Dog Park with his buddies.




~ BIJOU'S BLAZE ~ (Razz x Flair - Dark Red male)
...
Blaze 27 kg (60 pounds) and 26" high and still growing !


~ BIJOU'S DEXTER ~ (Razz x Flair - Dark Red male)
...
Dexter as a puppy ................. Dexter at 1 year of age
67 lbs and 27 inches tall.



~ BIJOU'S RIKA ~ (Razz x Flair - Dark Red male)
....
Rika as a puppy...................Rika as an adult
Rika is 57 lbs and stands 25 inches !


~ BIJOU'S MAJESTIC FLAME OF OSHER ~ aka "MOMO" (Razz x Flair - Dark Red male)
....
Momo @ 8 weeks of age.................................. Momo @ 9 months of age

...
Momo earning rave reviews, handled by his owner !
FCI Judge: Dr Zafra Sirik's Evaluation:
Very impressive and masculine puppy, well balanced, of a beautiful deep color.
Chest is well developed, excellent front, rear angulation is very good. Correct puppy movement.
BEST PUPPY IN BREED and second place in Best Puppy in Show !!


~ BIJOU'S RUBY TUESDAY ~ (Oliver x Flair)
....
Ruby - Red female will be shown AKC in 2010 !!


~ BIJOU'S DIRTY HARRY ~ (Oliver x Cora)
...
Harry - Red Male 30 lbs at 3 months of age ..............1 year of age 28.25" and 65 lbs






2015 Reds playing in our yard


~ BLOSSOM, DARE, ULA ~
3 of our red girls
The Future of Bijou Poodles




Rose and Razz enjoying spring flowers


Rose and Razz on our hot tub sun bathing.


Razz and Rose enjoying snow 2010.



Razz and Flair 2011


(Future mother Ember posing with Sultan)




Flair and Razz playing in the snow 2010