BIJOU STANDARD POODLES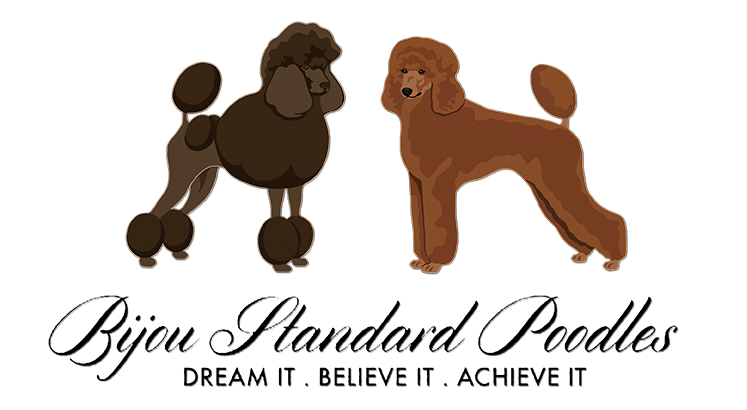 CKC Champion, Group 4th
CKC Grand Champion
First Red Grand Champion in CKC HISTORY !!
"BIJOU'S RED POPPY FROM REVA"
URO1- HIC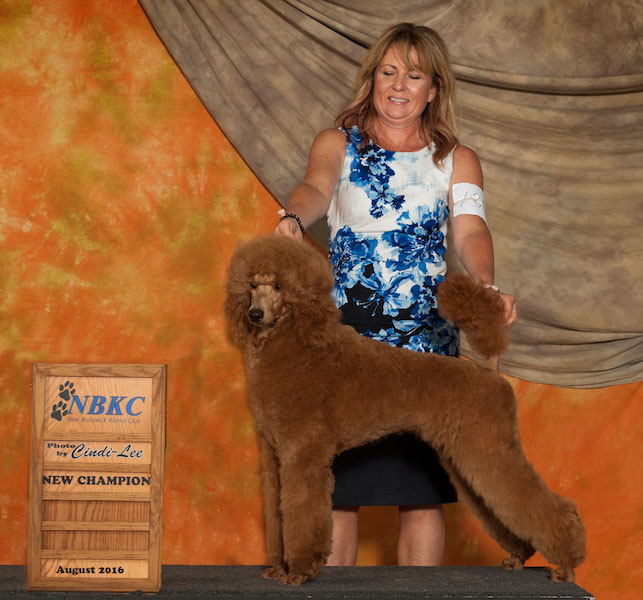 ... x ...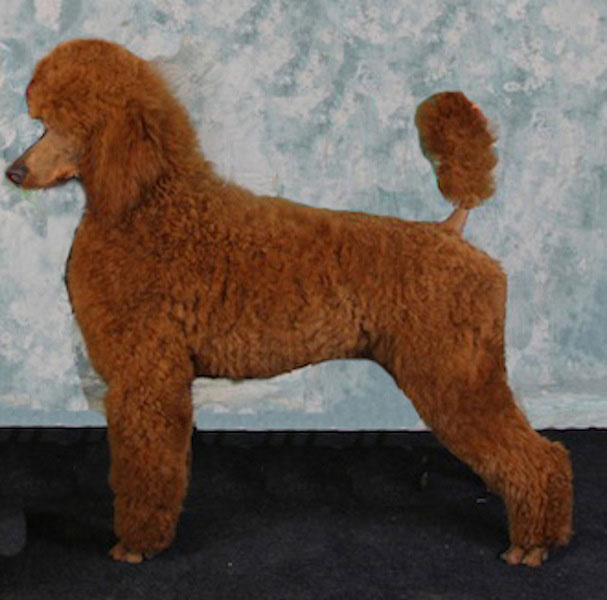 (Father : Valor x Mother : Reva)


"Poppy" - Dark Red Female
Height: 25"
Weight: 40 lbs (skinny), 1/06/04 - 35 lbs
10-generation COI = 9.94%
K114-866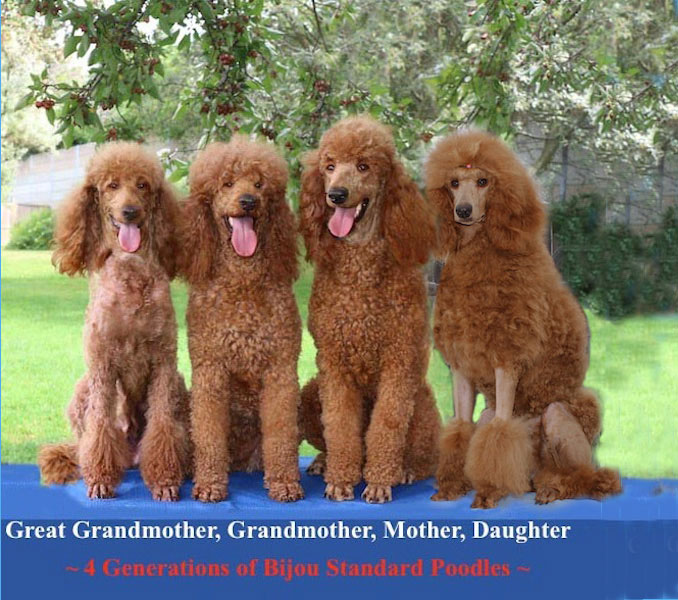 Rose 9 years , Dare 6 years, Reva 4 years, and Poppy 1 year of age


"Poppy Princess"
Poppy is our third generation of Dark Red Standard Poodles.
Her mother Reva was UKC's #1 Standard Poodle for 2013
and her Grandmother Dare was UKC's #9 Standard Poodle for 2011.
her Great Grandmother Rose is a UKC Champion with multiple Working Titles
Poppy comes from beautiful show lines, but what I love most about her lineage, is the super sweet
loving, melt into your lap, adoring nature, that our pups down from Rose line, have.

Poppy is a very square, girl with thicker coat, loads of rear angulation
dark eye colour, and black pigmentation and is very refined with pretty head piece.
Poppy's personality is that of a 60's flower child, so she is aptly named.
Poppy loves being admired and meeting her public, at shows, and she is for sure a Princess
I breed for larger poodles, but Poppy is one of my tiniest.
Because she was so tiny and adorable, I carried her around so the bigger kids
would not step on and hurt her. Mistake, as now she jumps gently up onto everyone wanting
them to lift her up to cuddle and carry her.

She is a great cuddle bug wanting to always curl up on my lap
We have afternoon naps with her on my lap, in my lazy boy chair (Faith shares)
Poppy is always up for doing something fun
so I'm hoping Coursing will appeal to her.

In 2016 Poppy finished her CKC Championship as a puppy with 6 Best of Breed wins
and Group placement so we deided to contue to show her
and with limited showing she achieved her Grand Championship Title,
Making Canadian Kennel Club history by being the FIRST
Red Grand Champion in 127 years of CKC History !!
Special thanks goes out to Allison Foley for making my goals a reality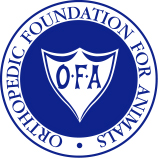 ~ Click to view all HEALTH TESTING COMPLETED ~
Poppy will be tested CLEAR of the following Health Problems and Diseases:

*CERF (eyes)
*Hip Displasia
*Thyroid Disease
*Elbow Displasia
*Patellar Luxation
*Legg-Calve-Perthes
*Congenital Cardiac Disease
*DM (Degenerative Myelopathy)
*vWD (Von Willebrand's Disease)
*prcd Progressive Retinal Atrophy
*rcd-4-Progressive Retinal Atrophy
*CMTP (Congenital Macrothrombocytopenia)
*NEwS (Neonatal Encephalopathy with Seizures)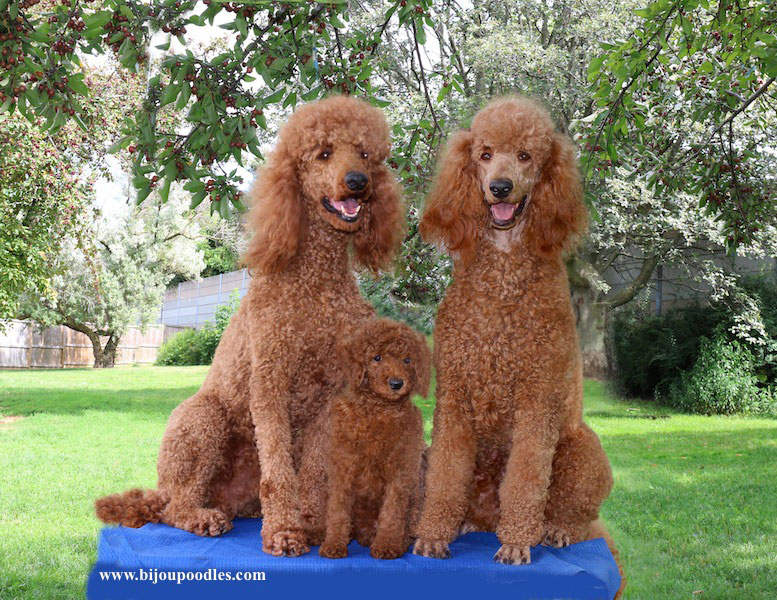 Daddy, "Valour", Mom, "Reva" and their daughter, "Poppy"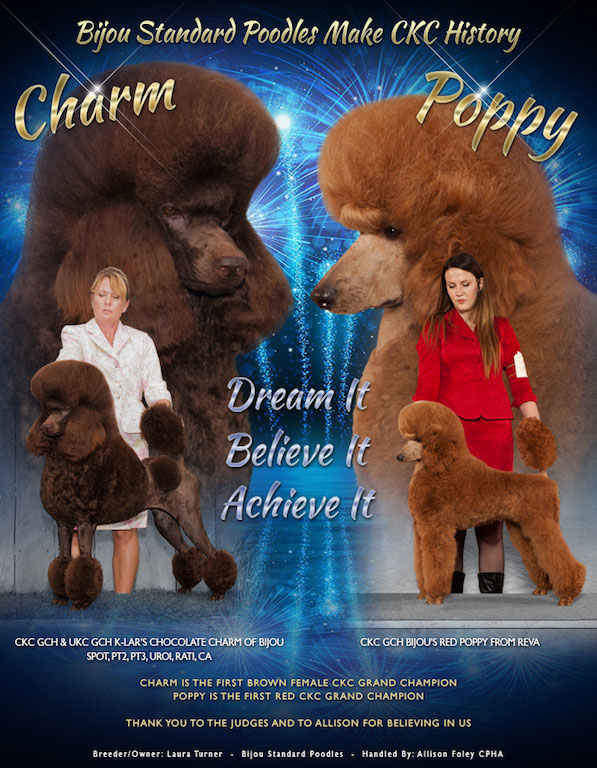 Poppy made CKC history, as the FIRST Red Grand Champion !!
Bijou Standard Poodles makes Canadian Kennel Club Record books, "Again"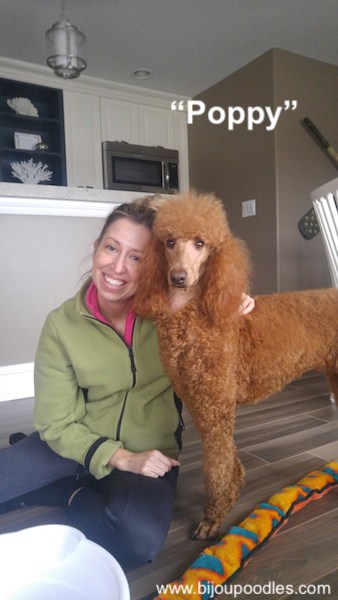 December 2018
Poppy in her new forever home with
Patrick & Shelly Frye - Michigan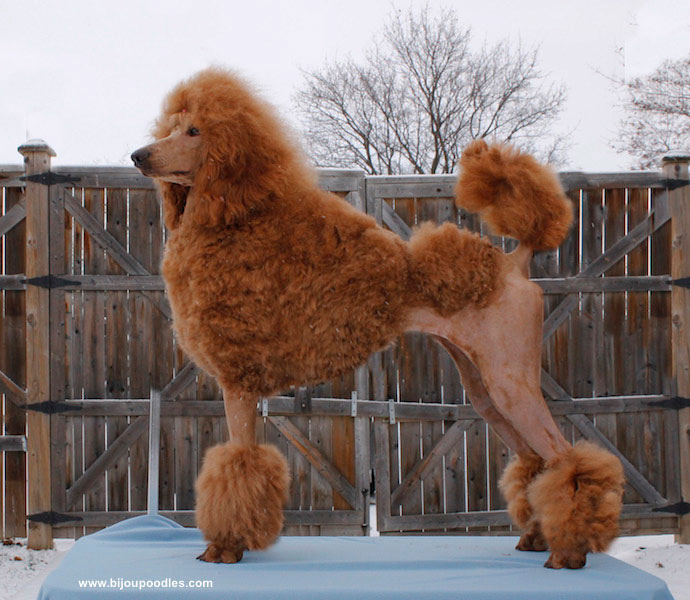 Wow this is why all the judges loved her !
OK her rear is not back far enough but... you can see she is such a
square girl with short back, loads of rear angulation, proper tail set, good shelf
good shoulder lay back, and such a pretty face and expression
Super dark eye colour and inky black pigmentation.
But of course she is also a showy poodle, who loves to prance around.
Poppy is sure a "judge's" style of poodle.



2018
Poppy groomed by Aunt Crystal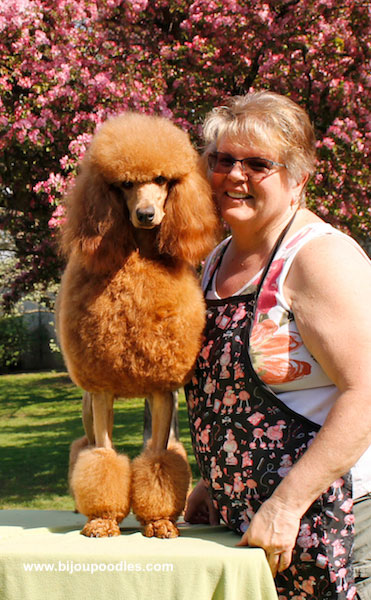 May 2018
Poppy with her friend Crystal
Crystal has been practicing show grooming and offered to take
my hairy beast of a girl and turn her back into a princess for me.
WOW did she ever, just like the professionals do.
Poppy was VERY pleased. I still have to clip her feet !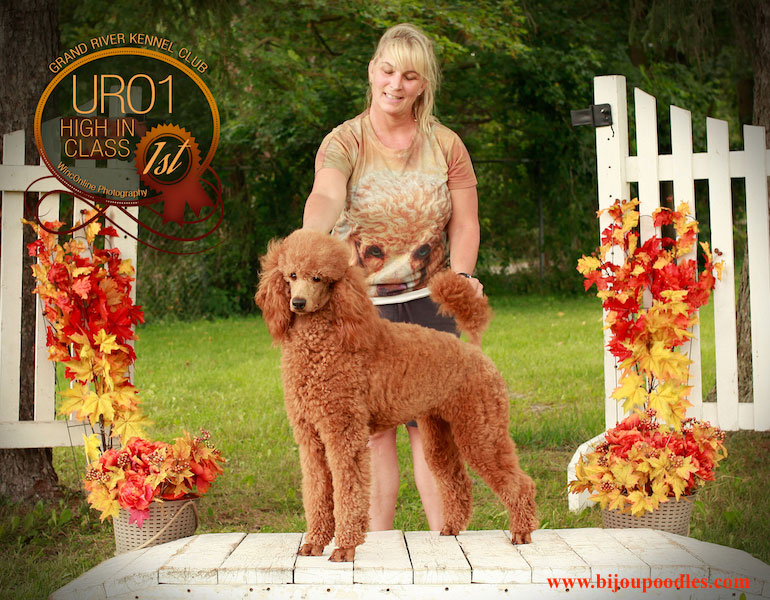 August 20, 2017
Judge Heidi Kadoke
Poppy earns her URO1 Title with 1st place and HIC !!
Not bad for only 2 weeks of training. Cute and smart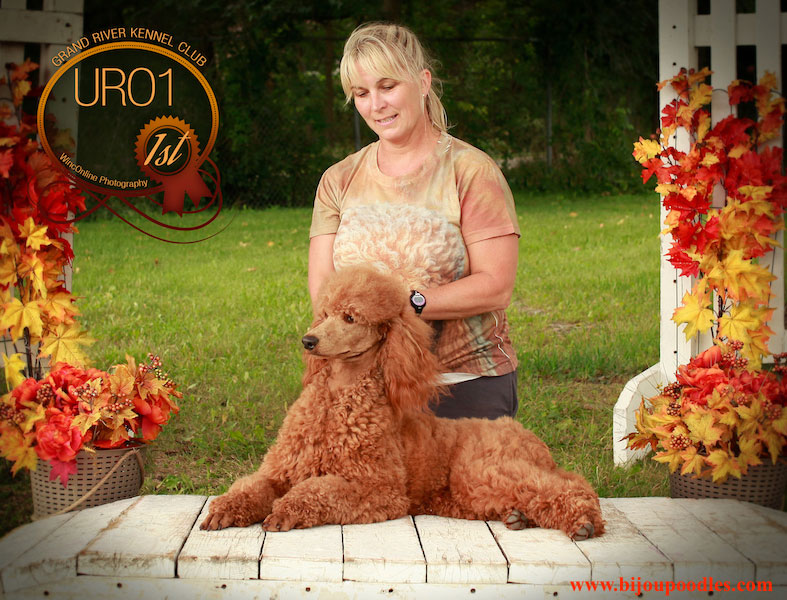 August 20, 2017
Judge Heidi Kadoke
Poppy earns her URO1 Title with 1st place and HIC !!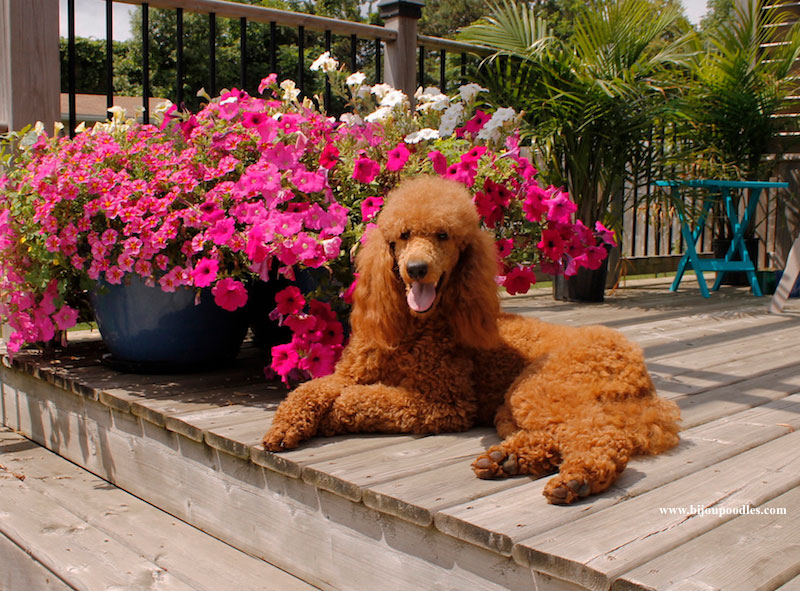 July 2017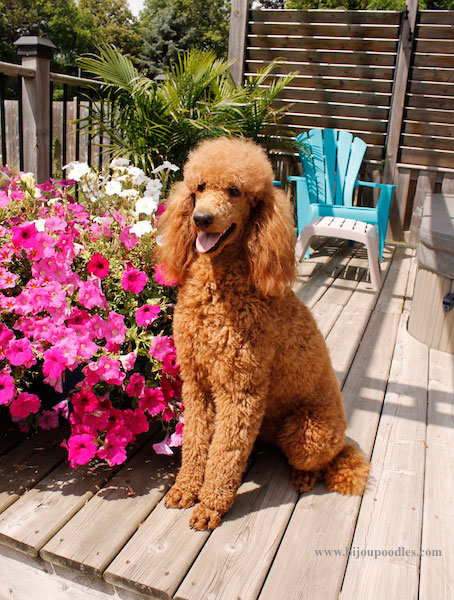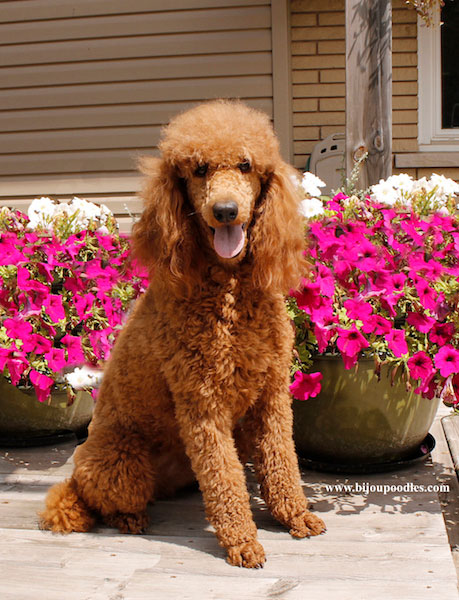 Poppy, my little cutie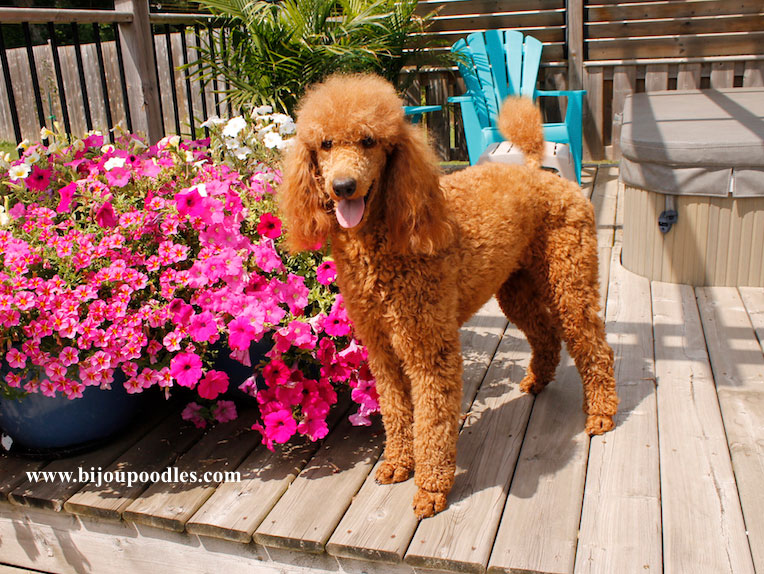 July 18, 2017
Poppy is the smaller red girl playing with her friends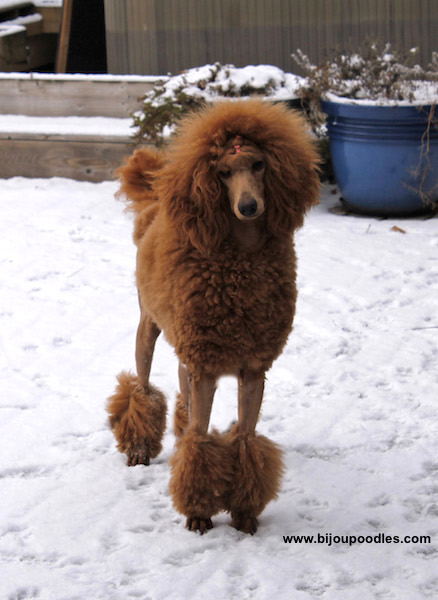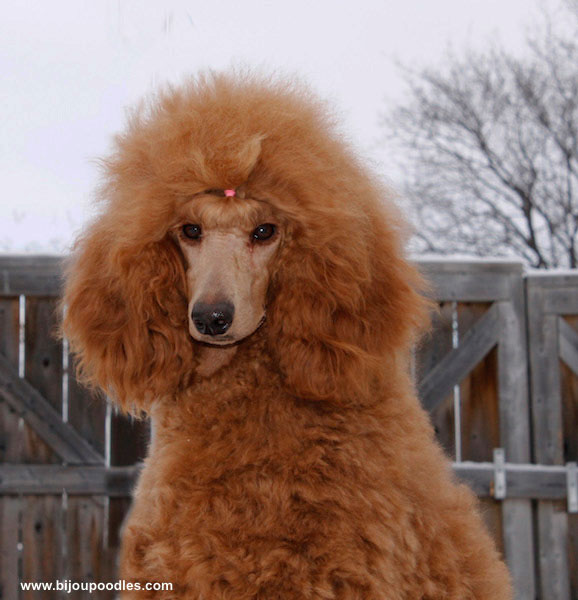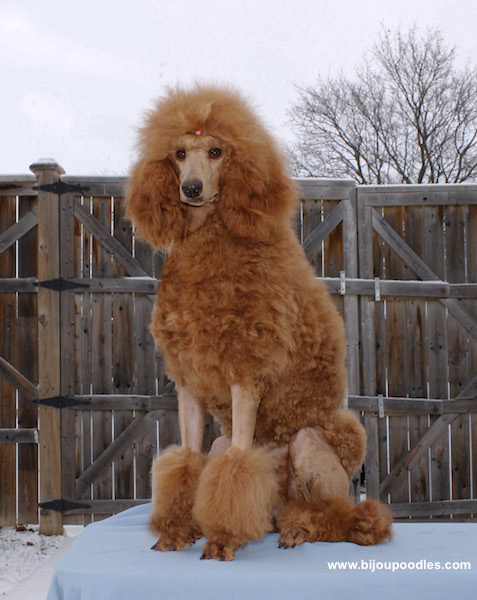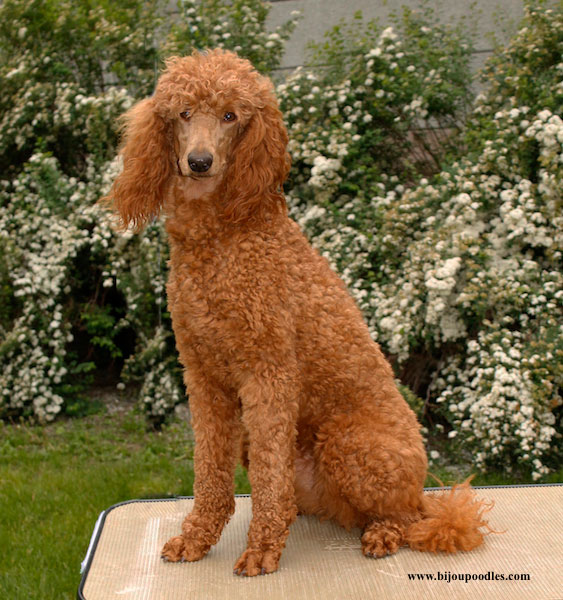 June 5, 2017
Poppy shaved BALD for summer
such a lovely sweet girl














April 29, 2017
Judge Debra Florek
Poppy wins best female for her 1st competition win and 25 points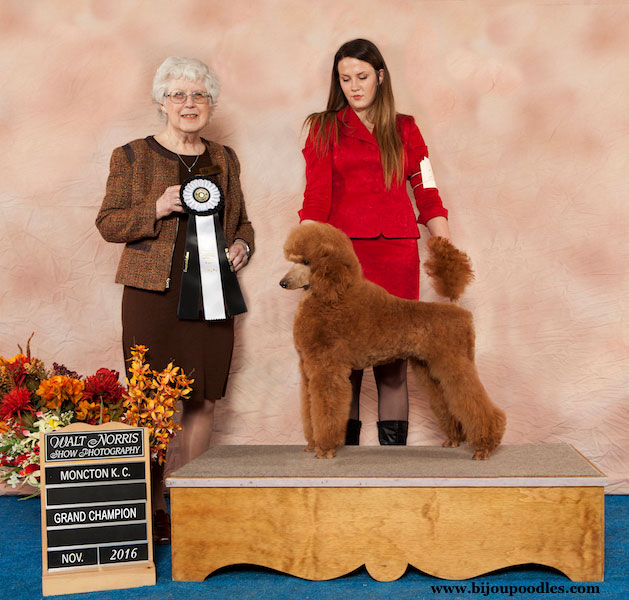 November 10,-12 2016
Moncton, NB
Judge Marion Postgate
Judge Edna St. Hilaire
Poppy wins Best of Breed
for a total of 24 Grand Championship Points
finishing her Grand Championship Title !!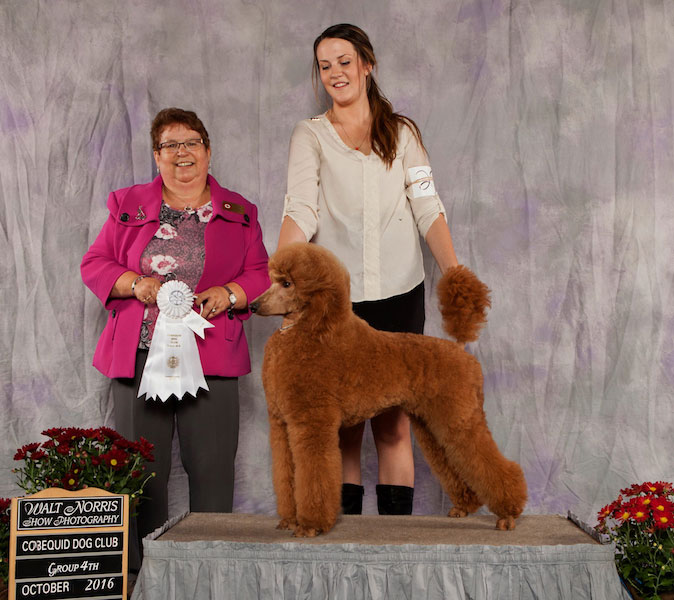 October 9, 2016
Cobequid Dog Club
Judge Deirdre McKinnon
Poppy earns Best of Breed, Group 4th and 7 points !!!
Total of 18 points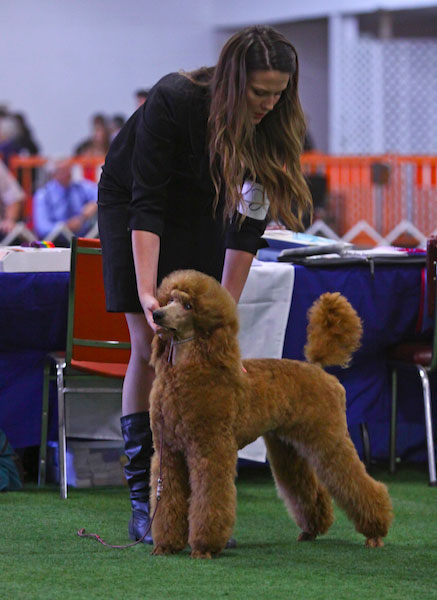 September 16-18, 2016
Club Canin comedy Inc. - Quebec
Judge M. Richard Meen - 2 points
Judge M. Michael Forte - 2 points
Poppy earns 4 more points for a total of "11" !!




Halifax Kennel Club
September 02, 2016 - September 04, 2016
Poppy earns 3 more points !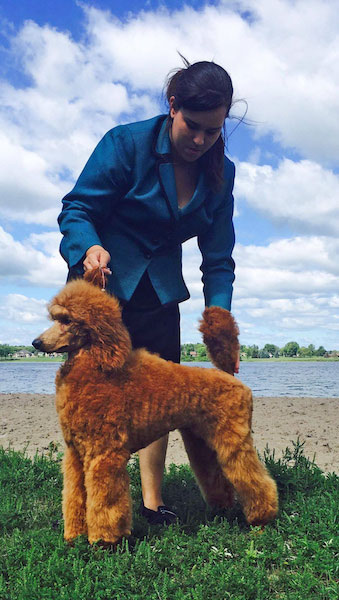 Storming, Dundas & Glengarry Dog Association - CKC
Cornwall, ON
August 26 & 29, 2016
Judge: Esther Joseph awards Poppy 2 points
Judge: Denys Janssen awards Poppy 2 points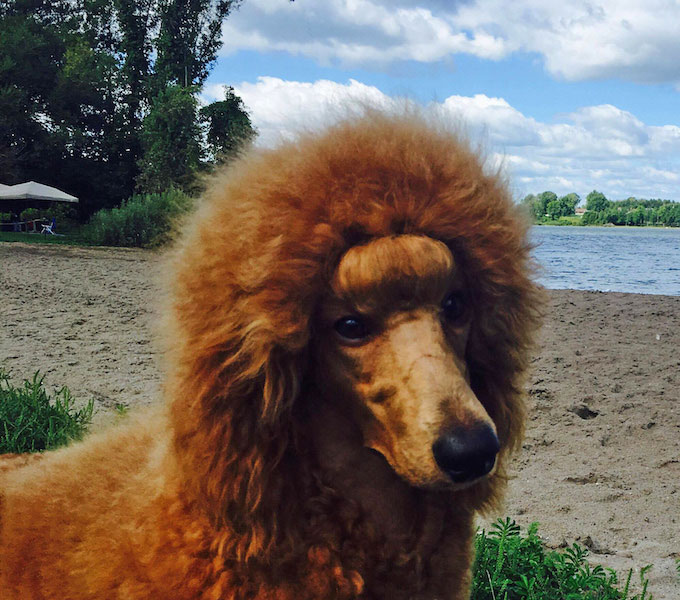 Poppy head study with flash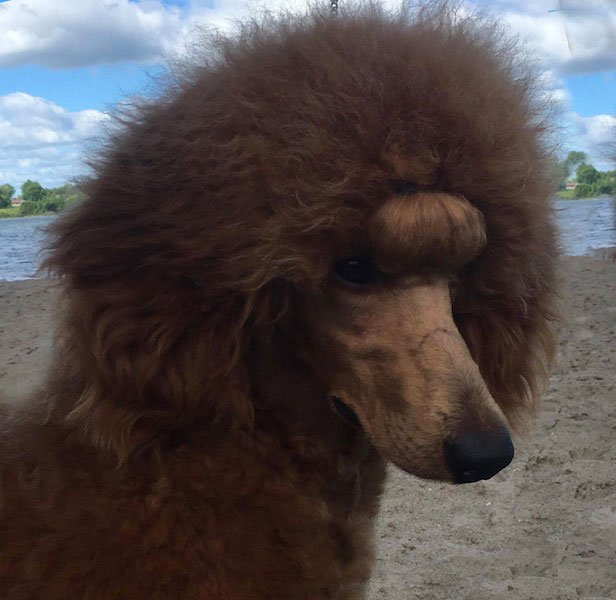 Poppy head study no flash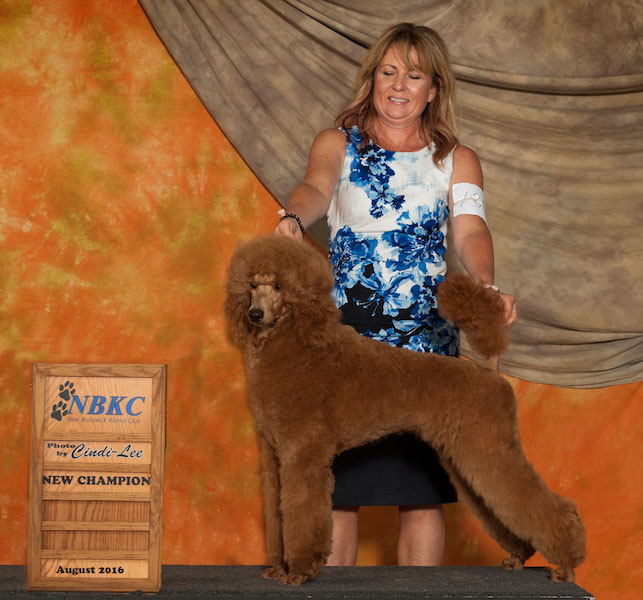 August 20 & 21, 2016
New Brunswick
Poppy earns Winner's bitch and finishes her Championship Judges:
Jack Ireland
Lee Steeves
William Gunn
Cheryl Myers Egerton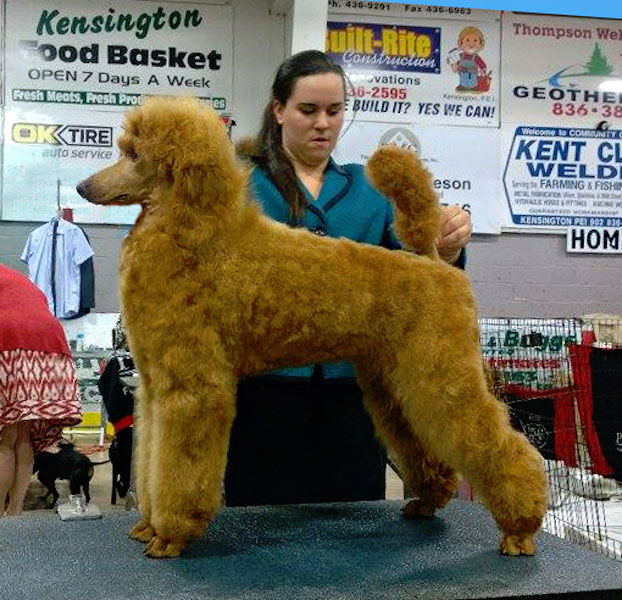 July 16, 2016
PEI
Poppy wins Winner's Bitch and 1 point towards her CKC championship



Poppy meeting her future handler




~ April 24, 2016 ~
Poppy and Bell practicing in the ring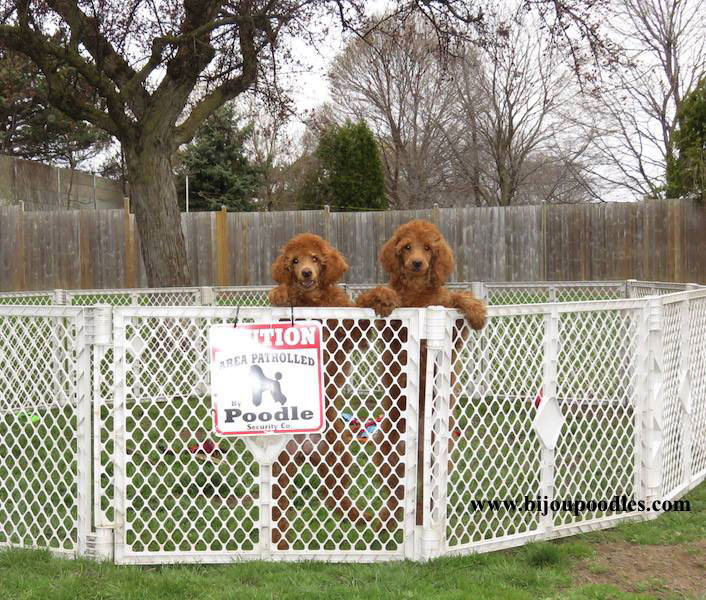 April 2016
Poppy and Bell




April 8, 2015
Bell and Poppy and Ruby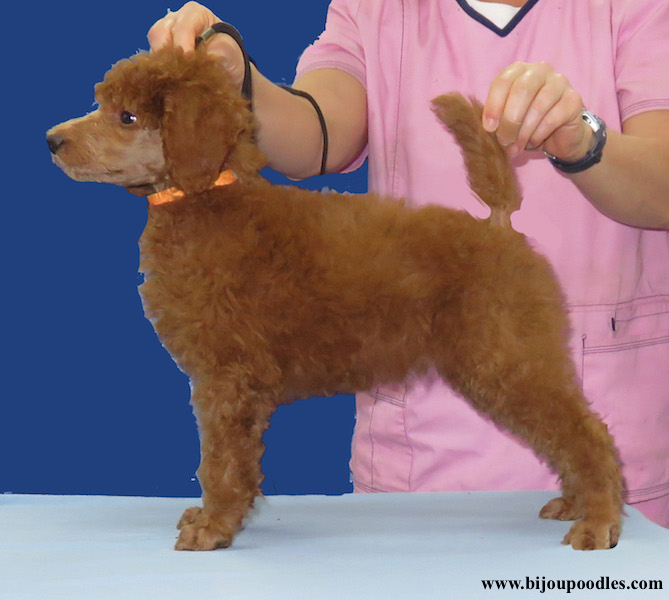 ~ February 20, 2016 ~
Poppy learning to show stack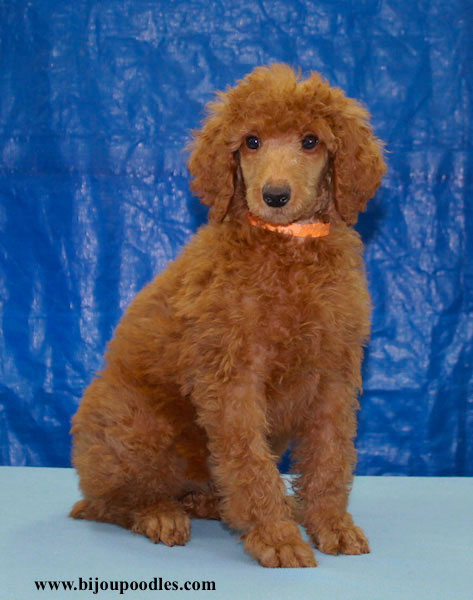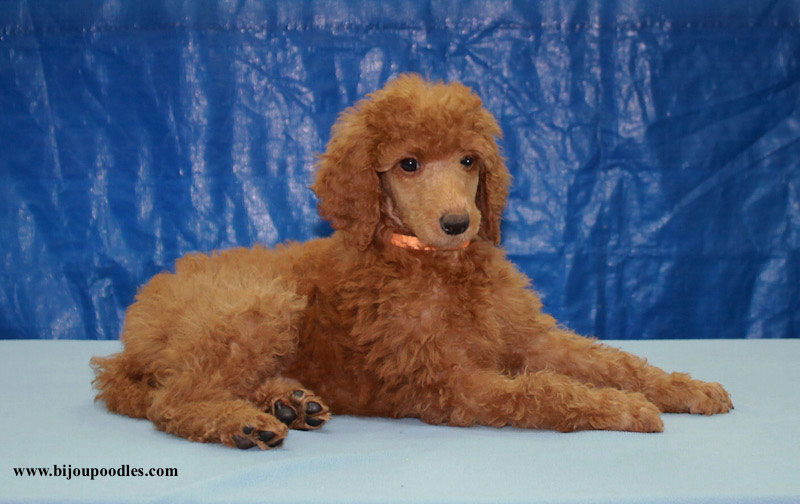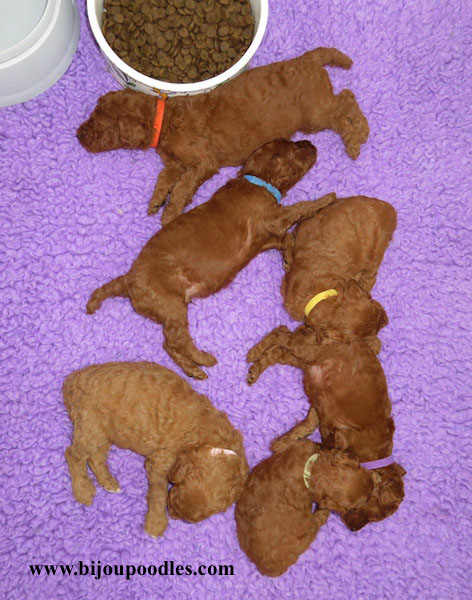 Reva's litter January 18, 2016
"Poppy" Peach collar puppy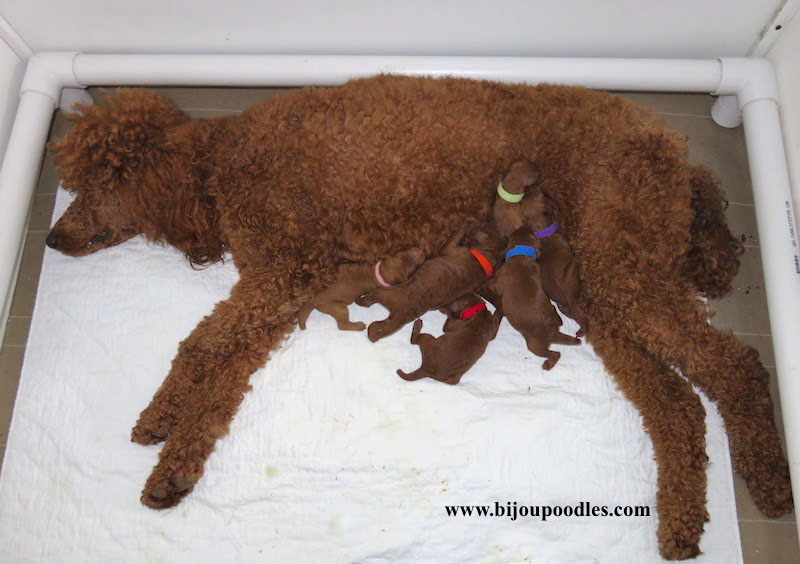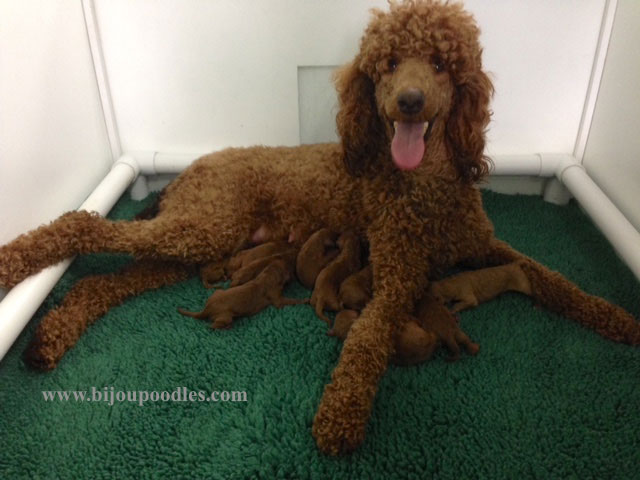 December 2015
Reva so proud of her newborns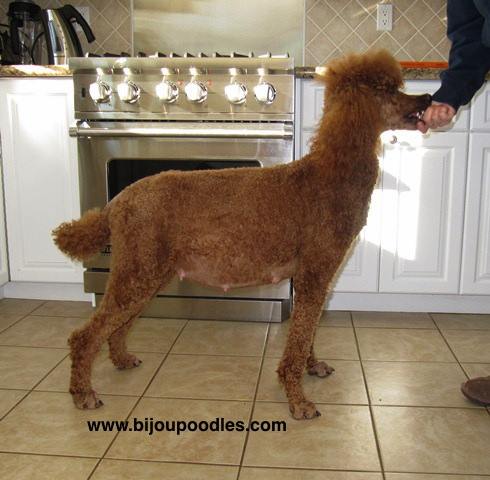 A very pregnant Reva !!
Even shaved bald she is a dark rich red !!














































Video of Reva's pups
Reva Pups January 6, 2016
Reva pups January 12, 2016
Reva pups January 12, 2016
Reva pups January 12, 2016
Reva pups January 18, 2016
Reva pups January 18, 2016
Reva pups January 18, 2016
Reva pups January 28, 2016
Reva pups January 28, 2016
Reva pups January 28, 2016
Reva pups January 28, 2016
Reva pups January 30, 2016
Reva pups January 30, 2016
Reva pups January 30, 2016
Reva pups January 30, 2016
Reva pups January 30, 2016
Reva pups Feb 2, 2016
Reva pups Feb 2, 2016
Reva pups Feb 2, 2016
Reva pups Feb 2, 2016
Reva pups Feb 11, 2016
Reva pups Feb 11, 2016
Reva pups Feb 11, 2016
Reva pups Feb 11, 2016