We much prefer people to pick up their puppy in person so that we can meet you
and you can meet to meet mom, siblings and aunts and on occasion dad
We are located near Niagara Falls





Adoption Procedures:

1. Complete an Application.

2. Once your application has been approved, we will invite you to put a $200 non-refundable deposit to secure a spot on our reservation list.
It may take 12 months for us to have a suitable puppy, for your consideration, because we are dealing with Mother Nature
There are no refunds ever, for any reason, so make sure you are wiling to wait for a puppy before you put a non-refundable deposit.

I wish I could meet the demand for Bijou Poodles more quickly, I really do.
I realize it is stressful for people not to be able to nail down a time frame for their pup's arrival and have to be on a wait list.
But there are reasons my Poodles have become so popular: they are beautiful, they are healthy, and they have great temperaments.
That is not just idle bragging; every single day, I get emails telling me about how much people love their Bijou Poodles.
Most photos and comments you can see on our reference page and our Facebook Album titled Brown Adults and or Red Adults
which is spanning over 15 years (well only since we got internet)

I am also always at the mercy of Mother Nature.
Dogs come into heat only twice a year "usually". Even when they do come into heat, their litters may be smaller than hoped
or we may get all of one sex.

When a large litter arrives and thrives, I rejoice, but it may not produce exactly the pup you have requested by way of sex or size.
When your number comes up, and the litter has not produced a puppy you wanted
OR a litter will be ready to go home during shipping Embargos and you require shipping, you may be out of luck at that time.
It is worth waiting to have the right puppy because this Poodle will be with you for the next decade.
The few months to a year you might have to wait for that perfect Bijou Poodle, is worth it.
Eventually, nature will produce a pup to your exact specifications.
Of course, If you can be flexible, on sex of puppy or you have the ability to pick up puppy in person
and drive or fly back with puppy, chances are good that your number will come up faster.

So, while the wait may be long, I am hoping that my puppy people understand
that I am breeding the very best Poodles I can in terms of health, brains, ability, looks, color, pedigree and temperament.
All the time and work that goes into producing a quality pup will pay off
when our puppy people tell me their long-awaited pup exceeds their expectations.

And while the wait may be frustrating, it does allow people to think about their decision very carefully.
Getting a puppy is a major life change, and not something to be done on impulse.
During the wait for your Bijou Poodle, you can do some reading, find a country Vet (large animal vet)
and find an AKC/CKC Club or trainer, research which Pet Insurance you will get, obtain some necessary supplies
and figure out exactly how you will handle your pup day to day.
I will say that people appear to be far better prepared now for their pups than they used to be.
So the wait has had an unintended upside!


3. We will accept "6-9 Advance" $200.00 non-refundable deposits on "anticipated" future litter(s).
Non-refundable, means, that if you change your mind about purchasing a puppy that you requested at any time
you loose your $200.00 non-refundable deposit.

I view a deposit as a sign of a commitment to me that you want a puppy from me
and are willing to wait as long as it takes for a Bijou Poodle puppy to come available.
I base the number of breedings each year on the deposits we have, so that the number of pups I produce
never exceeds the number of approved homes I have waiting. I want to be certain that all my puppies have good homes.
Making deposits non-refundable, also encourages people to think long and hard
about whether getting a puppy is the right choice for them, before taking the step and getting on the waiting list.

AFTER you put a deposit you will not hear from me again, until I have an available puppy announcement.
This is because I have nothing to say. There is no sense in me sending out bad news, daily, weekly or monthly.
I do keep my web page current, as well as my facebook page, if you wish to track and follow what we are doing.
You may also email me at any time, with any questions (using only one email address please) or concerns.
If you decide to purchase elsewhere, or wish to change your mind about an adoption from us, please let us know.


4. When a litter is born and thriving, we will contact people on our waiting list in the order in which
we received deposits. As each person responds, we add their name to their puppy's litter Page which they receive
and I continue down my waiting list. This process could take up to a couple weeks before you are notified
of any available puppies. But does give you around 6 weeks to prepare for puppy home coming.

Want to know what you missed during Mom's pregnancy ?
You can read all about it on this page: Mom's Pregnancy

Want to know what I will be doing with the Pups week by week ?
You can follow along by clicking here: Puppy Development

You may turn down the offered puppy/Litter for what ever reason
however you will loose your non-refundable deposit or be moved to our next litter 1x ONLY.
In my puppy litter announcement I email out, I also list the day that puppy can be shipped or picked up
so people have a few weeks to prepare for puppy.
The reason for this "ONE DAY" Shipping, is because I do work full time
working 24 hour shifts as a Professional Firefighter.
This means I have to book shipping when pups are 8 weeks of age and for a day I'm not finishing a shift
(as I won't make it to the airport in time or have pups freshly groomed) and for a day I'm not going to work.
AND also after puppy has had an appointment at the Veterinarian.
Keep in mind I also have to coordinate with 8-13 other puppy people.
As you can imagine, this leaves a limited amount of days
to facilitate shipping, across North America.

Puppy Pick up, in person, I do try to accommodate weekend pick ups,
as I know this is easier for people, and I am usually able to do this (just ask me)
even if I'm finishing a very busy shift, hoping people can come early morning so I can get to bed :)
If people wish to fly in and pick up their puppy in person, I'm able to meet people at Buffalo NY airport
or Hamilton, Ontario Airport they day that I have listed as Shipping Day.
Toronto Ontario Airport might be cheaper to fly into,
but I will never ever drive to that hellish traffic, and also my Van will not fit there
however, some people will fly into Toronto and then rent a car to come to my home.
Some people would like me to keep pups beyond my Pick Up Day
and I am sorry but I'm not able to accommodate this, because I do not have a kennel or facility
and I have usually booked a Dog Show, for that weekend, as I finally have some time available
after an exhausting 2 months of raising a litter of pups.


When you confirm acceptance of an offered puppy, we will send you, your Litter's web page
which will contain links to online information, updates, and usually weekly photos and or videos of the pups
until you can safely view your puppy and your puppies litter in person.
We hope to have our puppy people feel very involved and included in their puppies lives, from birth forward.

PLEASE PLEASE PLEASE DO NOT CHANGE THE "SUBJECT" LINE in any emails once you have been assigned a litter.
We do get around 300 emails a day pertaining to everything "dog" that we are involved in.
The subject line indicating the mother of the litter, aids me in instantly knowing you are a priority and not spam.
With everyone also using iPhones and such, we also ask that you only use "1" email address, again to save confusion.


5. The remainder of the adoption fee and shipping fee, is due when pups
are 4 weeks of age via paypal or e-transfers, unless you are picking up in person and paying Cash.


6. At about 5 weeks of age, We ask everyone to send us their puppy selection
in order of preference (pups wear different color collars)
Using that information the puppies are allocated by us, to families
also based on preferences, identified in the application form
and suitability of the pup to the family's lifestyle.

Selection is done in the order for which your name appears on your puppy's web page which was the order for which deposits were made. Most often people will get a puppy they selected in their top 3 picks.
Puppy's assignment will be displayed on their puppy page similar to the following so everyone knows which puppy is theirs:
Brown Male - Green Collar to Donald G. - Quebec (own Archie)
Brown Male - Blue Collar to Richard and Karen M. - Florida
Brown Male - Red Collar to Gayle & Art E. - Ohio
Brown Female - Gold Collar - Keeping
Brown Female - Peach Collar to Laurie R. - MA
Brown Female - Black Collar to Mellisa C. - Owen Sound, ON
Brown Female - Pink Collar to Jeri M. - Studio City, CA
Brown Female - Grey Collar to Christine G. - Dundas, ON
Brown Female - Lime Collarto Jill A. - Burlington, ON
Brown Female - Mint Collar to Trish W. - Riverview, NB
Brown Female - Purple Collar to Brian R. - London, ON

People put a deposit on one of our pups, based on the looks, health and personality of our Poodle parents.
You can view up to date video of each of our Poodle parents (something most breeders don't offer)
so what you see in videos and in photos of our Poodle parents, is what you will be getting.
The foundation we lay for our pups, is a combination of both parents looks and personalities and health
which is proven through their officially earned Titles in almost every dog sport there is
Their health is also proven through their passing over 12 health clearances which are
accessible to verify on the OFA Health Data Base
an online web page which is available 24/7 as well as a link to testing on each Poodle's web page.
Bijou Poodles don't just "say" we have "all that" we prove it conclusively through expensive testing and provide proof.
Don't ever just take a Breeder's word for it, ask for tangible proof !

I will not be describing all the personalities of the pups, because frankly it means nothing, beyond that moment.
All the pups will have the same sweet confident natures of their parents,
99% of how they mature when they leave us, is totally up to the new owners
Owners either keep our pups on the course we lay for them to be confident, loving good members of their pack
or create little out of control terrors. The end result, is totally up to Owner's skill level and their commitment to training.

Bijou Poodles has also kept a puppy out of EACH of our breeding parents
and for GENERATIONS. Those pups have achieved MANY accomplishments and titles
and health tests, which is a testament and proof of their Temperament, Health and Ability
when raised properly.
No other brown or red breeder in the entire WORLD, offers such proof or assurances.
If you still need "gimmicks" to know if you have a stable puppy, then you should find
a breeder that "says" they do this, because it helps sell their unwanted pups.

And lastly but ultimately, it never fails that despite all the personality testing, feedback we used to offer,
(which x 10 pups took hours and hours because I really did it) it never failed that people just ended up
selecting largest to smallest sized pups or darkest color to lightest color 100% of the time.
So now we pick assign our pups to homes
based on feedback stated on their puppy application and order of deposits
AND we only place our pups, with those that appreciate generations of well bred purebreds.

This process of puppy placement, has earned us the special respected reputation we have today
and pups many happy homes around the world, including many Special Needs homes
and in many Performance Homes


You can read about some of our Poodle placement success on our facebook page.
You can read about our Poodle's accomplishments on our Whqts New Page
Families selection will then appear on their puppy's web page.

7. At 6 weeks of age, I will be calling the airlines and booking your puppy's shipping.
13 days prior to shipping is the soonest the airline will accept a booking.
It is paramount that I know where you wish your puppy shipped before this time.
I am only able to ship to large international Airports. On occasion I may be able to get a puppy to a smaller
airport but they do on occasion require overnight boarding and additional fees, to facilitate this.
After I get a confirmed booking, I will send you, your waybill or booking number and also some instructions
to follow and what you should expect that day. However some advanced reading can be found on our Shipping Page.

8. Just before 7 weeks of age, the pups will be microchipped and we "used to" vaccinate.
More recent studies indicate first shots should NOT be given before 9 weeks of age because pups have immunity from mother.
OR only be given one Vaccine the first year, at 16 weeks of age.
Puppies being shipped will have had an examination by our Veterinarian and if found healthy
they will be awarded a Health Certificate and may, be Altered.
It is very important to realize that our Health Checks Include the following, but not limited to:
*Pups are parasite free (no ticks or fleas)
*Pups have no ear, or eye infections, entropion or ectropion
*Pups have no hernias needing repair
*Pups joints and patellas are intact and in good condition
*Pups are hydrated and receiving proper nutrition and are a healthy weight
*Pups gums and teeth are in perfect condition for their age
*Pups glands are normal and not inflamed or enlarged
*Pups heart checked to be free of murmurs
*Pups lungs listened to be free of abnormalities
You will receive a perfectly healthy puppy that will be of our 4th + generation of my Breeding lines.
If puppy is being shipped, that puppy has been throughly examined by a Professional(s) and a Licensed Veterinarian
as attested to by the pups receiving a Health Certificate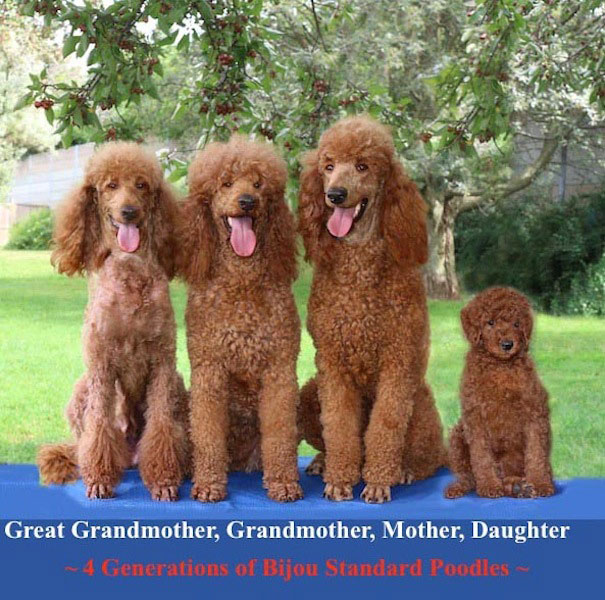 Puppy pick up day. People may get to meet Mom, Grandparents, Siblings, Aunts
9. Our pups go home at 8 weeks of age by people picking up
or having them Shipped to a location we can ship to. Shipping is an additional cost
(this includes travel costs, documentation and cage size: 26" or 28" depending on puppy, paid by purchaser, by using our Paypal page
however, we will arrange shipping for your convenience. We are restricted on where we are able to ship to
The cage that puppy arrives in (which is yours to keep) will fit the puppy for a few weeks after arrival.
If you are picking up in person, we arrange one day, usually on the weekend, for pick ups and the time is between 0930-11:30am
We have a web page for travelling to our home we will send out that week.
Travelling should NEVER be during commuter times, and is best done on the weekends.

If you are flying in to pick up your puppy the closest airport near us, is Buffalo, NY Airport - BUF
read our Shipping page under #18
for helpful tips to flying home with your puppy.
If you are in Canada flying in, there is Hamilton Airport which is usually empty and clear of traffic
Toronto airport is a major city and is bumper to bumper traffic with road closures do to accidents ALL the time
It is around 1-1.5 hours drive to our home from Toronto (pending on time spent at the border crossing)
but with the traffic can be up to 3 hours, though seems to be cheaper to fly into Toronto.
I will NOT fly to meet anyone in Toronto Airport, as my van will not fit in their parking.


10. Puppies come with a life-time support agreement from us and must be returned to us if you can no longer keep your dog.
*Click here to read the Bijou Difference
*click here to read our Contract
If your puppy has not been altered by us prior to leaving
we will hold Registration papers until proof of Alteration is sent to us 6 months - 12 months of age.
By sending us a deposit, you have agreed that your puppy
was purchased as a pet and intended to be spayed/neutered by you.

We don't just "say" we have Healthy, Smart, Beautiful Poodles
we have the UKC TOTAL DOG AWARDS to prove it !!

Obedience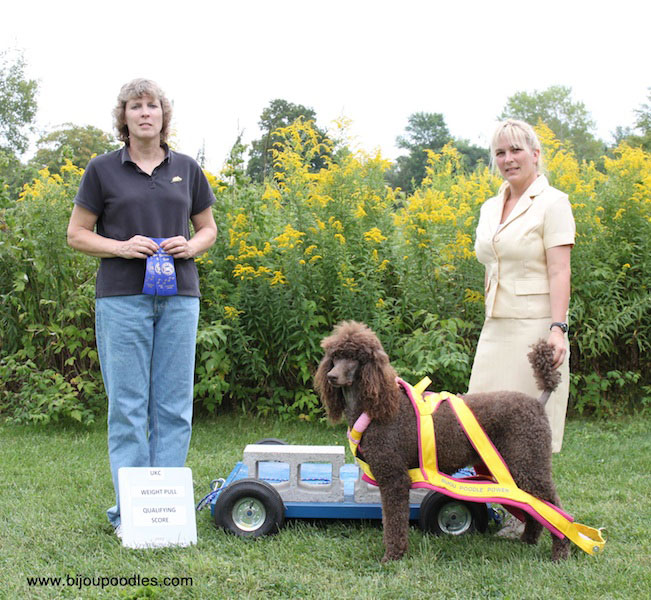 Weight Pulling Conformation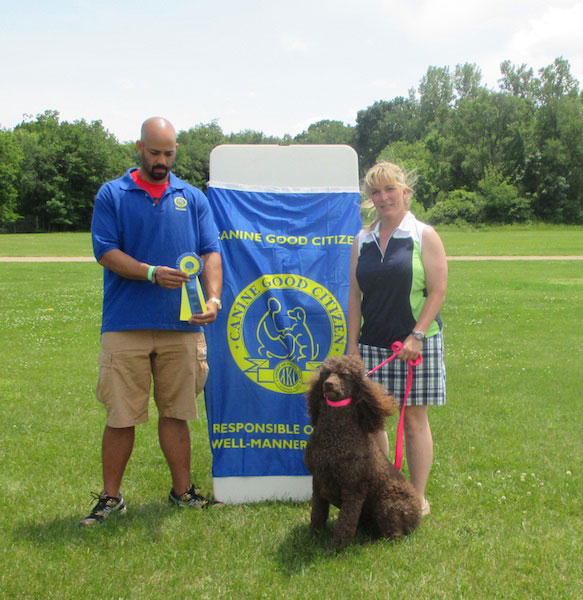 AKC Canine Good Citizen (CGC Title)


There is absolutely no comparison in quality, size, health, temperament or colour, between other Poodle "breeders" and us !
As a matter of fact as of 2015 Bijou Standard Poodles are the ONLY Red and Brown breeders in the World
that have accomplished all that we have mentioned above on EACH and EVERY one of our Red and Brown Poodles for generations.
We are so proud of all of our Poodle Parents that we have created individual web pages
for each of them containing up to date photos, and videos, to share their development and progress
from birth to current day, and of course, all of their achievements, including our Retired Poodles.
We also put together this page yearly, to document our Poodle's monthly achievements:
~ Whats New at Bijou ~






Our Poodles and our Poodle pups are raised in our home in the city which we "own".
Our home also sits on an acre property, which allows our fur kids to run and play all day long.
Our Poodles are desensitized to numerous stimulus and activities
that pups being raised in a kennel, or barn, or country just can not provide.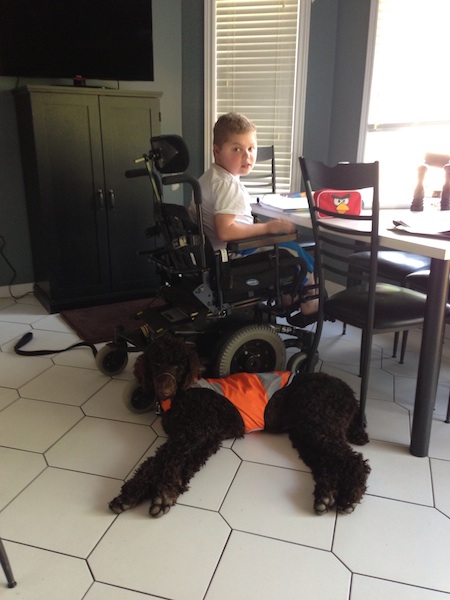 Our Poodles are ideal for those looking for a Working Poodle, Special Needs Poodle or, a highly socialized, Poodle for a Loving Pet.
We do not require you to Show your Poodle, but we would be absolutely delighted to share our dog sporting world with you and assist
any of our puppy People that wish to give any Dog Sports a try.
We even offer cash Incentives





Please allow time for a response, as my Poodles are my hobby, and not my living, I'm not a Puppy Mill/Farm.
I work outside the home as a Professional Firefighter, to support my many dog hobbies and interests
my time I spent with my Poodle Fur Kids, comes second, only to my job.
On most weekends I'm away at my Fur Kid's, numerous sporting events across North America so
Email is preferred, as allows me to address the 100's of inquires I get a day, between my Poodle activities.
Do expect to receive an email response within a few business days of sending me your Application






Bijou Poodles is now Paperless, we will email you health record, when you confirm you have arrived safe and sound at home with puppy
Ownership (Registration Papers) and Pedigree will be sent to you AFTER we receive
Proof of Spay/Neuter BEFORE 12 months of age. We remain as owners should this not be done.
By purchasing from Bijou Poodles you agree you are purchasing a pet.
Puppy's do go home with Microchip Identification Implanted, Dewormed and Health Record indicating Vaccine Protocol
Puppy Package Food Sample, Toy and Blanket with mom's scent on it
to ease their transition from our home, to yours and a fitted collar and leash.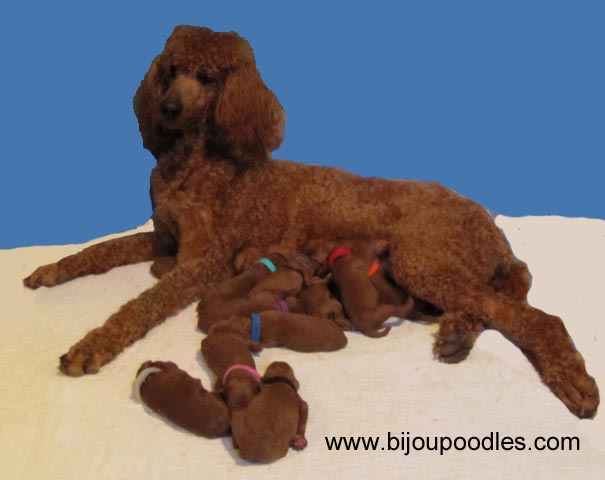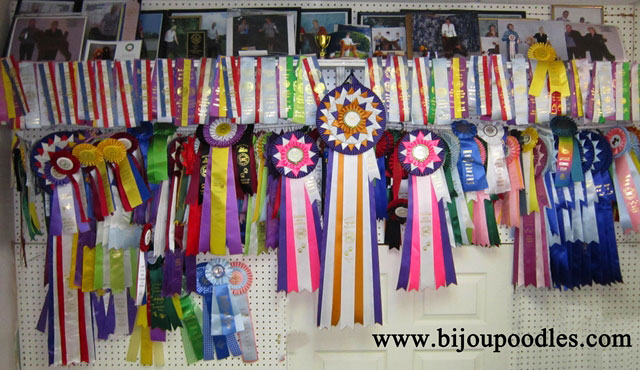 We understand this purchase, represents a significant investment.
However, the costs associated with caring for Pregnant mom
and raising a litter of high quality Poodles for working dogs and loving Companions
from fully health tested, temperament tested and ability tested parents
who are darkest of colour found in the world, is signficant.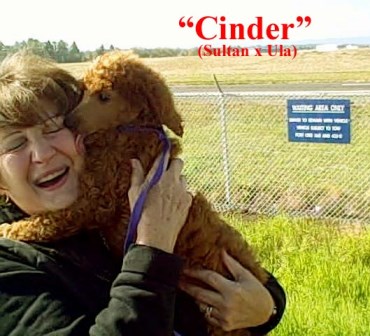 The value of all this testing is passed on to the adopting family with assurances of Beauty, Intelligence, Ability
and a much lower risk of health issues and or behaviour and temperament issues in their offspring.






It is important for the public to know that the costs of dealing with health issues in a young dog
can be significant and the purchase price of a puppy represents a minor cost in the overall cost of dog ownership.
We are also available at any time and for any reason, to aid you in problem solving any problems or issues you may encounter.
As responsible breeders, we will also take back any of our pups, at any age and for any reason if their new home does not work out.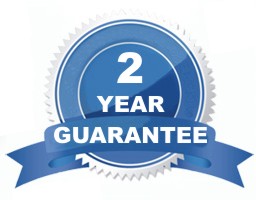 Further, we provide a two year health guarantee that gives you the choice of replacement puppy
of same value and color for any genetic or hereditary illness as attested to by our licensed Veterinarian,
in the first two years of the life of the dog.

*Click here to learn how to screen potential breeders
*Click here to find out what a BYB is ?
*Click to watch a Bijou Poodle puppy grow and be born
*Click to watch how we raise our puppies

(*Click to read: Do Mom's miss their pups ?)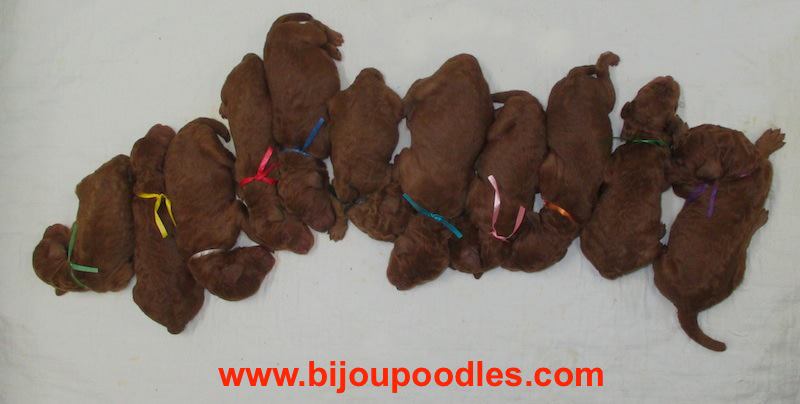 Litter in 2006 Litter in 2013
~ Illustrating how our colour, health and type has improved each generation through our diligence and dedication ~
For more information about colour breeding *Click on Colour
as of 2019 Bijou Standard Poodles has some of the Darkest Browns and Reds
you can find in the World !!