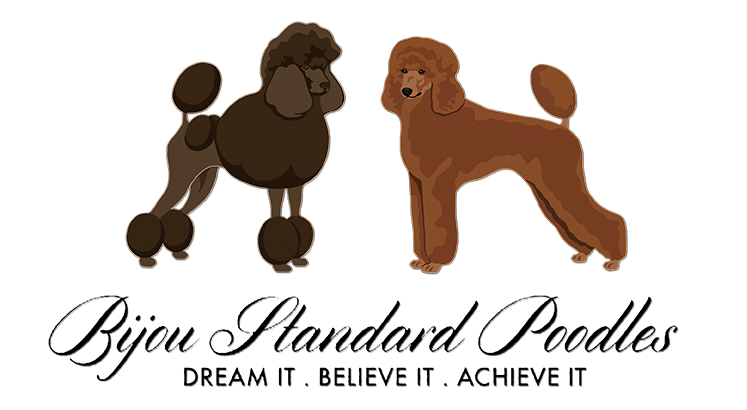 Meet Our Poodles

Questions Answered... Whats New at Bijou...Bijou Difference ... Puppies

Contact us: bijoupoodles@yahoo.com



SHIPPING YOUR PUPPY

~ We are able to fly your puppy any location "Live Cargo" flies into ~



Our pups have been prepared for travelling
since they were 5 weeks of age, by travelling in a crate to my family
and friend's homes or to the Vet 2 hours away.
Our pups think that travelling means going somewhere to be played with and cuddled.
Our pups are very happy to reach their destination to play
and think the plane is just one large bumpy car ride.

Our puppies will be Vet checked and shipped with a Health Certificate
stating that our Vet has seen the puppy the same day or week, of of being shipped and found in excellent health,
good weight, patella and hips in good placement, good heart and lungs
no fever, ears and eyes clear and that puppy is free of parasites.
Puppies will be bathed and sent clean and happy.
SHOULD YOU NOT BE HAPPY with your puppy PLEASE RETURN THEM TO US !!
Buyer pays all costs involved in returning puppy to us, but it will be financially cheaper
and emotionally less stressful for you and puppy, than keeping a puppy you are not happy with.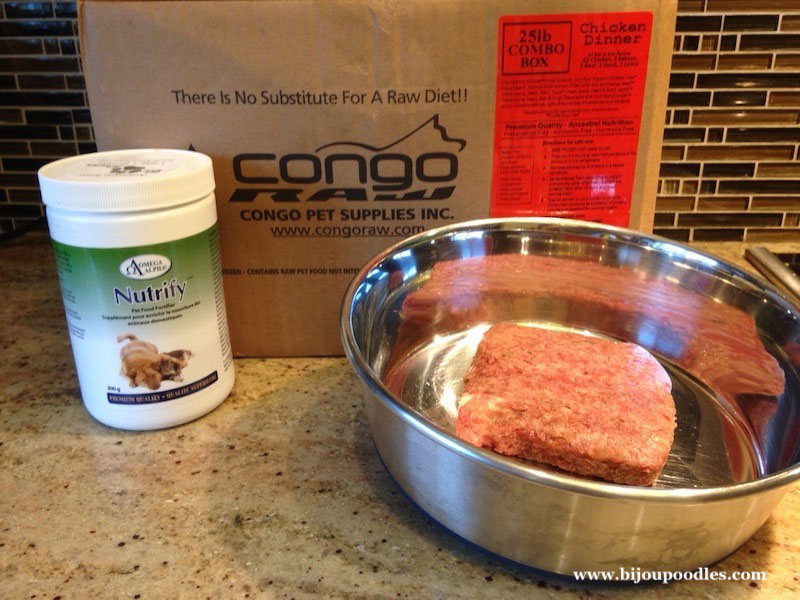 NO TREATS FOR THE FIRST 14 DAYS !!!!!
On occasion I have had people call me saying their puppy has diarrhea.
When I get the photo it is ALWAYS just "loose stool" telling me they have either changed
food from RAW to kibble, or given treats. So to avoid this, NO TREATS for 2 weeks and feed RAW Beef
DO NOT panic if puppy will not eat, they will not die, for not eating
Their stomach is adjusting to the flight and new surroundings and new water and or food.


On very rare occasions we have shown up at the airport and been told it is too cold or hot
and there is embargoes on shipping to a booked location.
In that case I panic and try to find another airline to take puppy to as close to you as I can.
I will need to contact you, to make sure that location is doable for you or not or
let you know that puppy is not coming.

We ask everyone to check their emails prior to leaving for the airport, to ensure there are no problems.
IF we are unable to ship as planned, then we can fully refund the purchase, or book to a different location that day.
We ship out of Buffalo, NY airport (BUF) to most major airports within the USA
and from Toronto, Ontario (YYZ) to most major Canadian airports via Air Canada Cargo

DO NOT CALL AROUND to get information on shipping, because no matter what you hear
or information that you receive "I" can only go by what my booking agent tells me 14 days in advance
I also provide the date that I'm able to ship. I'm sorry but I can not accommodate 12 different people
who all would prefer different pick up dates, because I'm subject to either a 10 day or 24 hour health
certificate meaning I will have to make a special trip to the vet for Veterinary inspection
I have to have the day before and day of, off of work to make the flights in time, so my dates
I provide to you are carefully thought out and planned 6-8 weeks in advance.

Your Registration Papers are kept until I receive proof of spay/neuter by 12 months of age
Which you are legally obligated to comply to, as per your verbal purchase agreement.
This means puppy is in my name until I receive proof of alter.
OR if my Vet is available, your puppy will come Altered and with registraiton papers.

Owner's manual and other information usually contained our package is now online.
Collar and leash will be taped to the top of the puppy's cage.
All shipping documentation and health certificate, will be held by Cargo People
in their documents usually taped to the top of the cage


......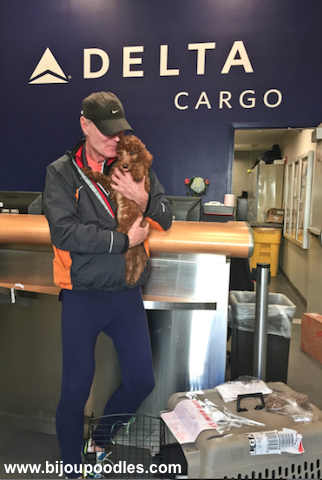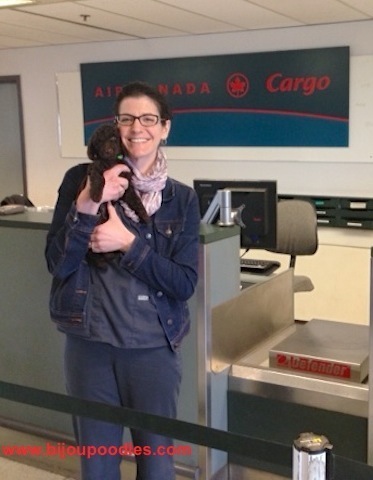 Our puppy arriving at the airport across USA and into Canada, fearless and happy to meet their new families

Just a bit about picking a puppy up.
Sometimes, traveling can be stressful for a puppy because of the constant
high energy of their new family in all the excitement of traveling and just stress of being
paraded around to relatives and many strangers all at once. So keep pick up day as low keyed as you can.

So something to consider is that rest areas, are coodie infested locations for puppy to get exposed to many diseases.
Puppy needs a routine, to eat and sleep and toilet training started or rather continued with, as soon as possible, so just be really vigilant
about where you stop for puppy to toilet, and how soon after you can stop again
At rest stops try to keep puppy on paved areas, where there is no risk of contamination from wildlife feces
or take a pee pad and go into the restrooms at any stops you make.

Also consider what bugs the puppy may pick up in the hotel and where is puppy going to eliminate in the hotel.
ie bringing puppy pads to lay in the washroom floor. Just stuff to think about in advance to plan for.



How your puppy arrives




You Tube Video
Dark Red female arrives after overnighting at dog hotel
Bruce & Toni-Marie D. - Bend, OR





Laurie Rollin's picking up her 6th Bijou Poodle puppy
and complaining about the trip through Boston...LOL










Puppy will weigh approx. 6-8 lbs
Puppy will be shipped in a cage that you keep either a 26" or 28" plastic cage
that is yours to keep, as you paid for this in your shipping cost.
We will ship by air to any major airport in Canada, USA that "American Airlines Cargo" or "Air Canada" flies into,
because we believe everyone deserves a beautiful loving Poodle no matter where they live.

We have been shipping world wide since 1999
and have the experience to make your purchase as worry free as we can.
We have shipped to Japan, Hong Kong, South Korea, Europe and all over the USA with only positive results.
Shipping Internationally is very time consuming process, and could cost up to $1,500.00.
NEW 2017 we no longer ship internationally because of rabies requirements.

You should register with your airline to be notified of your tracking and to be notified of flight changes.
they will notify you by email or smart phone, immediately if your puppy is going to be late
Cost of shipping is $450.00 (as of 2019 but is subject to change) within North America and will be added to the cost of your puppy.
Shipping price and includes airline approved crate, veterinarian medical examination,
Health Certificate, health record, air fare, any transportation charges
Any U.S. state and/or border taxes and custom duties will be the responsibility
of purchaser when they pick up their puppy at their destination.





Our puppies are cared for very well by the airlines "live animal" personnel
and arrive safely, in good health and ready for their new life.
Shipping in the winter months as well as the very hot months
is taken into consideration, for the welfare of the puppy,
so some restrictions may apply, depending on the month.

11. At 6 weeks of age "WE" will arrange ALL shipping and send you the booking
information (waybill number) and a web page for tracking.
Shipping is $450.00 (in North America subject to change) and includes an International Health Certificate
Up to date Vaccination and deworming and a Cage that you keep
After we book the shipping, we will send you the information to verify.




12. At 7-8 weeks of age puppy goes to see our Vet to receive a Health Certificate (clean bill of health).
If at that time anything wrong is discovered, we will let you know and you will get a full immediate refund.
IF the Vet discovers an umbilical hernia, dewclaw regrowth we will let you know.
This can be corrected by your vet for usually $50.00 when you do your spay or neuter.
On occasion there may be a tiny hernia that my Vet feels will correct itself
with maturity and in that case we will leave it and make you aware as well.


13. At 8 weeks of age puppy will also receive a full groom again and be Microchipped.




14. The day of shipping you will go to the airport with ID and waybill number and pick up your puppy.
Customs or Cargo may have a fee of $25.00 - $50.00 which they may prefer you to pay for with debit or visa or cash, be prepared.
The Cargo people will either hand you your puppy, or hand you paper work to clear with customs and then you return to pick up puppy.
Customs and Cargo may not be in the same location. They may be miles apart. You may also have to pay for parking and also
park a distance from where you will pick up your puppy. You would be wise to bring a "cart" with you to put the puppy's cage onto
to transport the puppy and the cage to your car and or to a safe area to let the puppy out to potty.




It takes 30-60 minutes for airlines to unload the puppy so do not worry about being exactly on time to pick puppy up.
Matter of fact I always show up 30 minutes after the puppy is supposed to arrive and I still may wait a few hours.
You should always sign up for flight notification, and check the flight status before heading to the airport
to pick up puppy so you are not waiting hours at the airport.

When you go to the airport you may wish to bring garbage bag,
clean newspapers or blanket, lysol or baby wipes, bottled water, dish.
This is in the event that puppy messed in the cage (rare, but depends how long of a flight)
you can do a quick tidy and offer puppy some water.
Do not feed the puppy before you drive home, as puppy may be sick in the cage.
Instead offer them a Busy Bone
or Pedigree Denta Stix for them to knaw on, during their journey home.
If puppy is arriving after 11:00 and you have a long drive home.
then you may wish to offer a bit of tin food you can pick up at the pet store
such as Royal Canin Puppy or Royal Canin puppy Appetite Stimulation Canned Dog Food
as will be easy for them to digest without upsetting their stomach




15. You keep the cage (26" or 28" plastic cage) is the cage size you need for Puppy's first day,
and the size that puppy will be shipped to you in and as was included in your shipping fee.
You will find a collar and leash, taped to the top of the cage. Blanket inside the cage.
Your puppy will be sent to you in "spotless" condition. However their cage can be next to other "critters" so
make sure to look them over and feel them for any ticks or fleas that may have hopped on board.
We do not have ticks or fleas so if you wish to treat your puppy we have put together this web page:
Vaccines and Parisite Control.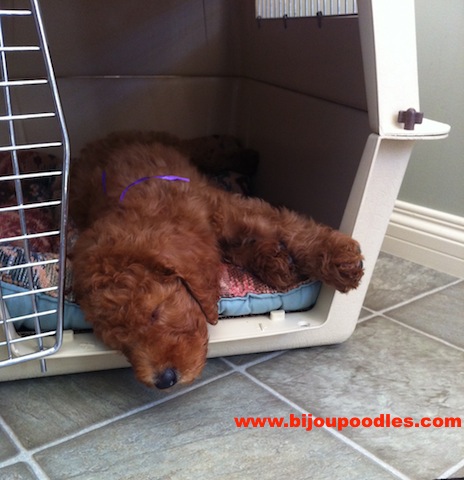 16. If you are picking your puppy up at our home, you will need a cage size 26" or 28" to transport puppy home.
Puppy comes with every document and things you need to cross the border and to keep puppy comfortable.
Puppy arrives with a starter collar and leash
WE do not put collars on our pups to ship, as it is dangerous and airlines do not allow.
NEW 2018We may no longer send a puppy package
Instead we will email you all pertinent information if you contact us when you receive your puppy.
When puppy is first put outside, you may see puppy scratching at the collar (he does NOT have fleas) but is irritated by the new sensation around his neck.
If you wish to test if scratching is just due to the collar ...just take off the collar and you will see scratching stop.
Puppy is NOT leash trained so if you try to walk puppy on a leash, you will have a bucking bronco.
The leash and collar are JUST provided to give you some control over puppy while you allow them to pee on a grassy area
after picking them up from the airport....you would not believe how fast a puppy can run when you least expect it !!
Make sure to toilet puppy as soon as you can. Even if cage is dirty they will still have to go as they will hold it
as long as they possibly can. These are clean puppies and they will be very upset if they have messed in their cage.


17. Puppy can be hungry when you get home.
Or not wishing to eat at all.
RAW as is easy to digest and also what they are used to.
They will gulp that down super fast, do not panic
Feeding RAW

DO NOT FEED puppy if your flight is under 6 hours before getting home.
They do need water every 5 hours and place to potty which should be in the cabin washroom
bring pee pads, or in the airport washroom... NOT in the public potty park for dogs
where goodness knows what coodies are around. You can use the grassy areas out front
of the airport, avoid any strange animal's "poops".
Denta sticks, or such will help with puppy hunger and keep them entertained during the flight






18.
Airlines will NOT ship pups without a Human June - October because of heat Embargos.
During the summer heat embargo we have had MANY people choose to fly into our airport and pick up their puppy in person
and return home with puppy as a "carry on". This cost can range $50.00-$150.00 additional to your flight cost.
We have also had people hire students, or in cabin flight nanny's to meet me and fly home with puppy
For more information on flying with puppy as carry on
CLICK HERE FOR PUPPY CARRY ON INFORMATION




SHIPPING TO FOREIGN COUNTRIES
In order to ship to most countries pups will need to have a 30 day old Rabies Vaccine.
This means:
4 months of age puppy getting a rabies shot
5 months of age a titre being done to make sure Rabies shot worked
5.5 months of age to 6 months of age puppy being shipped.
IF Titre comes back that Rabies was not effective then the process starts again



NEW FOR SHIPPING TO THE UK
What you need to do if you are entering the UK from the EU and listed non-EU countries (Canada)
As of January 2012 there will be no quarantine on dogs arriving from Canada into the UK
providing the following conditions are met:
Preparing your dog, cat or ferret
Step 1 - Have your pet microchipped - Before any of the other procedures for pet travel are carried out,
your pet must be fitted with a microchip so it can be properly identified.

Step 2 - Have your pet Rabies vaccinated - After the microchip has been fitted your pet must be vaccinated against rabies.
There is no exemption to this requirement, even if your pet has a current rabies vaccination.
Rabies boosters must be kept up to date. The length of the waiting period before entry to the UK is 21 days after the vaccination date.
If the vaccination is in two parts the 21 day wait will be from the date of the second vaccination.

Step 3 - Get pet travel documentation - For animals being prepared in an EU country, you should get an EU pet passport.
If you are preparing your animal in a non-EU listed country you will need to obtain an official third country veterinary certificate
although note that Croatia, Gibraltar, Norway, San Marino and Switzerland are also issuing passports.

Step 4 - Tapeworm treatment - We expect the European Commission to shortly come forward with proposals to allow UK
to still require pets to be treated against tapeworms. There will be no mandatory requirement for tick treatment.

Step 5 - Arrange for your animal to travel with an approved transport company on an authorised route -
Your pet must enter the UK from a listed country travelling with an approved transport company on an authorised route.


Bringing Pets into the UK
Bringing Pets into the UK
Bringing Pets into the UK

THE NETHERLANDS
February 21, 2012
In order to bring a 8 week old puppy from Canada to The Netherlands, the following rules apply:
The puppy needs to travel accompanied (by owner).
The puppy needs to be microchipped.
The microchip must be of a type following ISO 11784 and 11785 standards;
If another type of microchip is used, the dog should be accompanied by a chip reader that can read-out of the microchip.

Breeder will need to fill out the form digd012001a (click to view).

The owner needs to state that the puppy (before travel) only lived at the place where it was born
and didn't have contact with animals that were possibly infected with rabies.

Traveling unaccompanied as live cargo is not permitted without rabies vaccination
and is therefore not possible for a puppy of 8 weeks old.

With best regards,
Josefien Wallet-Vink
Contact@licg.nl