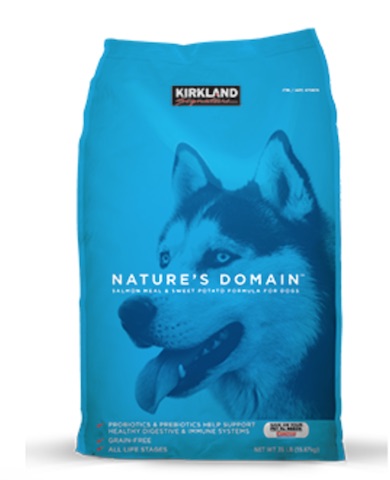 Nature's Domain Grain-Free Salmon Meal & Sweet Potato Dog Food
~ GRAIN FREE ~
In 2012 we decided to try our dogs and puppies on this food as it is poultry and grain free
and more dogs of all breeds, have been having sensitivity to poultry and or diets with grain.
Our local Costco is now carrying this food and we were impressed with it after reading the ingredients.
This food is made with salmon meal and ocean fish meal for quality protein.
This food is ONLY available through Costco and is made by Diamond Pet Foods
IF you switch your puppy onto another food you can expect a month of loose stools.
*Click to read Ingredients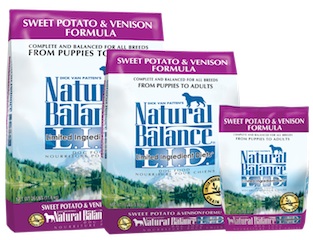 ALTERNATIVE TO WHAT WE FED YOUR PUPPY
Dick Van Pattens
Natural Balance Venison and sweet potato
However for those that can afford it we highly recommend
Dick Van Patten's Natural Balance
that has had great reviews and no bad reactions.
IF you switch to this food your puppy will have loose stools for a month.
POODLE UPSET STOMACH OR NOT EATING AND LOOSING WEIGHT
Corn and Wheat are major causes of many problems as are people giving their pups TREATS i.e. CANDY for dogs
( I also know you went off of the Nature's Domain that we have used, you are not keeping a routine and you are not free feeding... )
IF YOU SWITCH FOODS IT WILL TAKE 4-6 MONTHS OF CONTINUALLY FEEDING THAT NEW FOOD TO EVALUATE IT
?? CONTINUAL ONGOING "GI" PRBOBLEMS ??
This kit might save you a lot of money and energy by testing your dog for food sensitivity
I do advocate anyone with GI upset learn about and switch to RAW diet, either premade patties
you can buy (talk to the manufacturer for their recommendations) Or prepare your own using a guide.
YOUR PUPPY MAY VOMIT UP their first RAW feeding, because it is so good they gulp it down
(
makes sense right ?
but you will need to stick with it.
HOWEVER, some people, with various breeds and ages found this kit gave them instant answers
Nutriscan - Dog Food Sensitivity Kit
Does your dog have itchy skin or an irritable bowel ?
NutriScan tests for food
sensitivities
and intolerance through a simple saliva test
THE BEST FOOD TO FEED YOUR POODLE
IS ORGANIC FRESH FOOD YOU BOUGHT AND PREPARED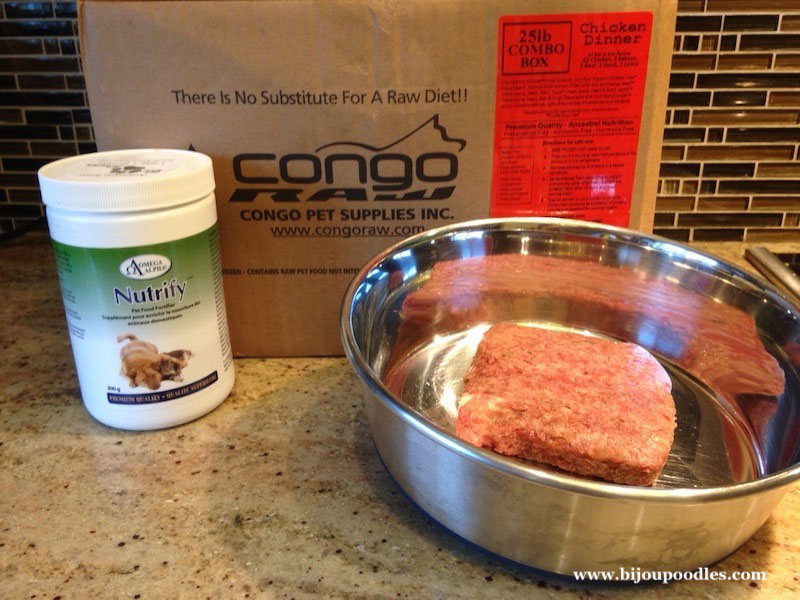 ~ 2015 ~
Congo Raw Patties
When we get our pups back from the dog show handler, the reds are really under weight so we start them on 2 patty's each morning and leaving Costco Salmon and Sweet potato kibble available 24/7 they soon start gaining weight (also from building muscle from running again) and no loose stools. I believe feeding RAW helps build up their stomach flora, enabling their bodies to better digest food as well as the RAW is just easier to digest in general. Once they are on the patties and gaining weight well, I then move to RAW ground chicken and organ meat
($1.99 lbs nd organ meat 0.50/lbs)
mixed by me, each morning, still having kibble available 24/7. this method has allowed me to get my Poodles back in good health, without any GI upset and well you have seen our deep dark colour, on healthy Poodles
One way to avoid any concern about tainted or bad food is to feed RAW by either
preparing your dog's food by hand, or using a commercial RAW product that comes in patties for easy serving.
From one of our puppy people, Ashlea S. who feeds raw and is now using this product and loves it.
http://www.congoraw.com
This is how the food comes in the box 25lbs in a box (bulk order).
You can see the patty in the bowl.
This is a chicken patty and contains the appropriate ratios of meat, bone, organ, and fruits and vegetables.
I also have other patties which are richer in organ and tripe (to help digestion).
This is an example of a reasonably priced all in one 'puck' of food which is a huge time savings.
COST
$66.30 for the 25 lb of chicken dinner
I feed 2 pucks / day = 1lb /day
Therefore 1 box for 1 dog would last 25 days
so you would be paying roughly $70 per month for a 60ish pound dog
Chicken is the cheapest protein available from this store.
This box also contains 2 patties each of beef, salmon, duck and lamb.
Each patty is 8 oz. (so I don't worry about anemia or healthy fish oils)
The REALLY interesting thing is that for my guys weight 66.4 and 64.6 Lbs they should have 1.25 lbs to maintain weight
(rule is 1.5-2% of body weight to maintain wt for active dogs).
But these patties are so dense Beau is becoming a porker on 1 Lb/day !
I think my other supplier, added water to make the patties heavier.
When they use to defrost they would be in a puddle of dilute looking blood.
Instead these patties are densely packed with meat and hardly any liquid comes out when they defrost, so I am feeding less to maintain their weight.
You can buy some really shady dog meat because no one regulates it.
Ashlea S. (
Beau
and
Aero's
owner)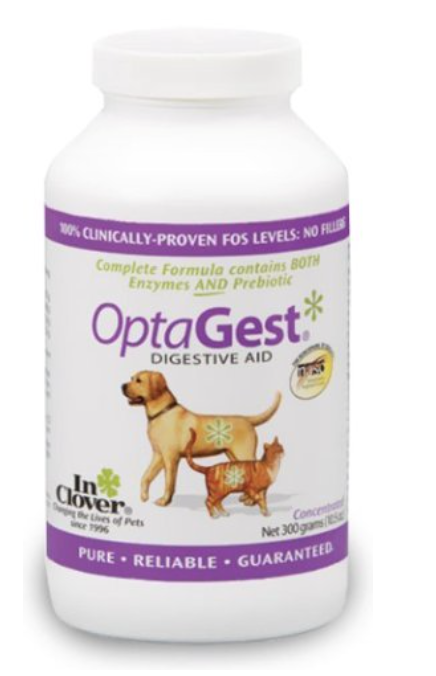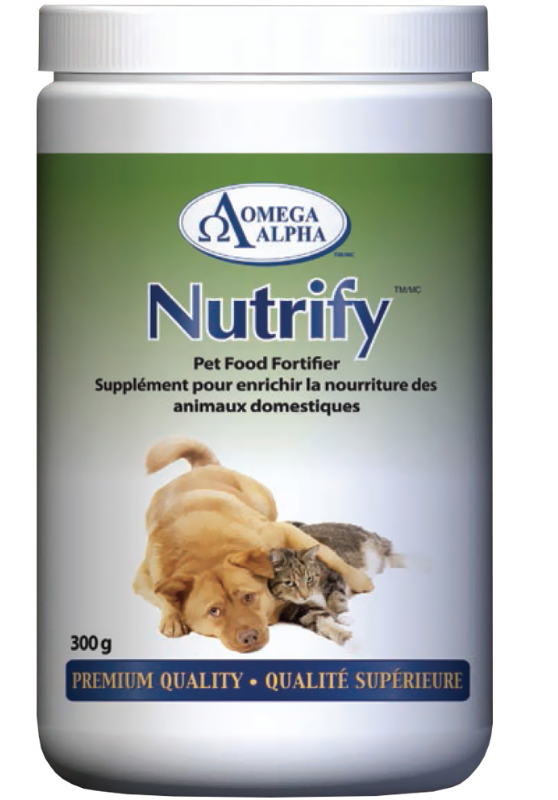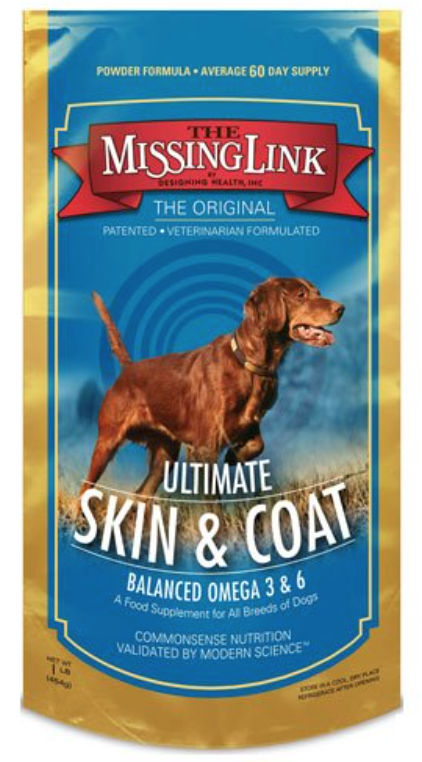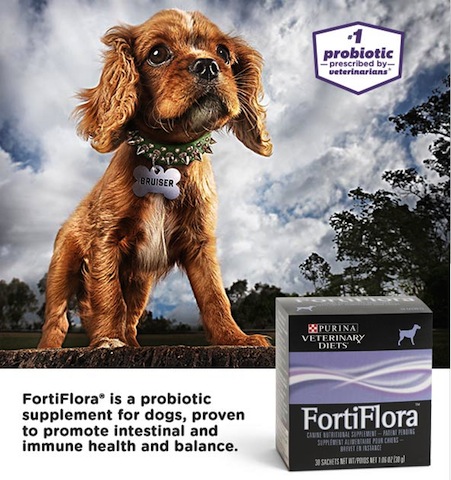 If your puppy is having Digestive issues, use a pre- and pro-biotic to aid them in digestion and or a good supplement.
I have featured some of the better known supplements with enzymes for you to research yourself.
So many foods are processed in such a way, that the dog's digestive system, is not working properly
and nutrients from food, is just not being absorbed properly.
OUR PUPS ARE FED: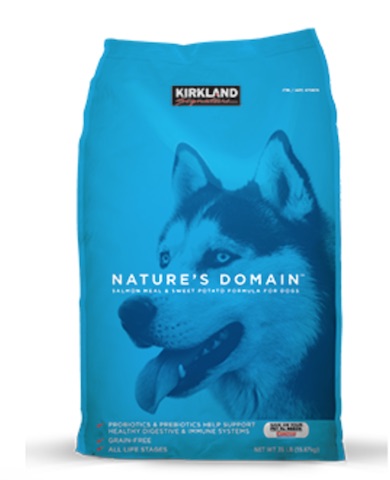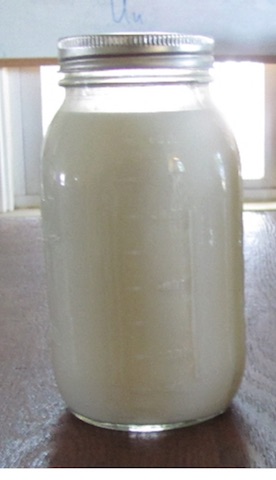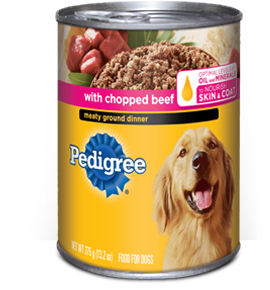 Our weaned pups are on the RAW Goat Milk, Pedigree beef tin dog food
and moistened Kibble each morning, until they go home.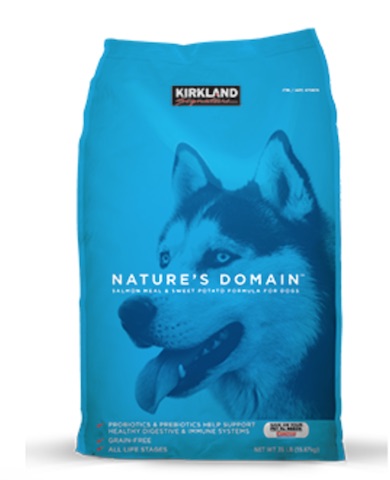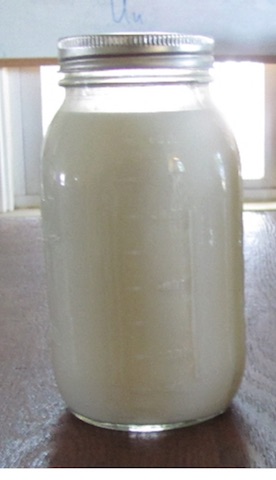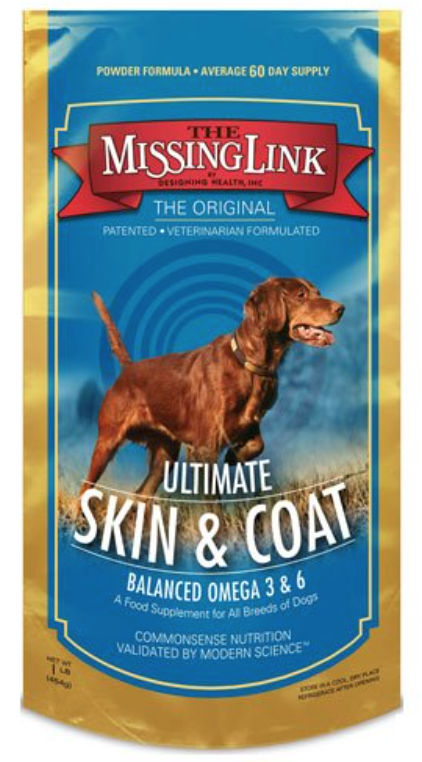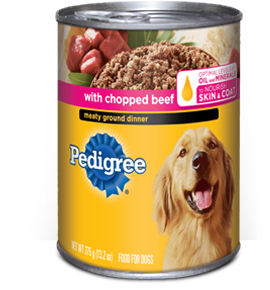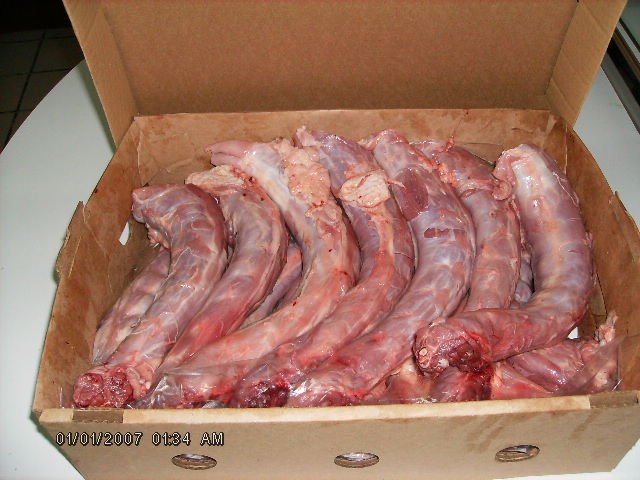 Pups we keep, get a morning meal with Goats Milk (RAW when possible), Missing Link
Pedigree Tin dog food all mixed into softened kibble.
My pups also have dry kibble and water available 24/7
1x a week our dogs get a frozen Turkey neck to knaw on and build up GI enzymes naturally.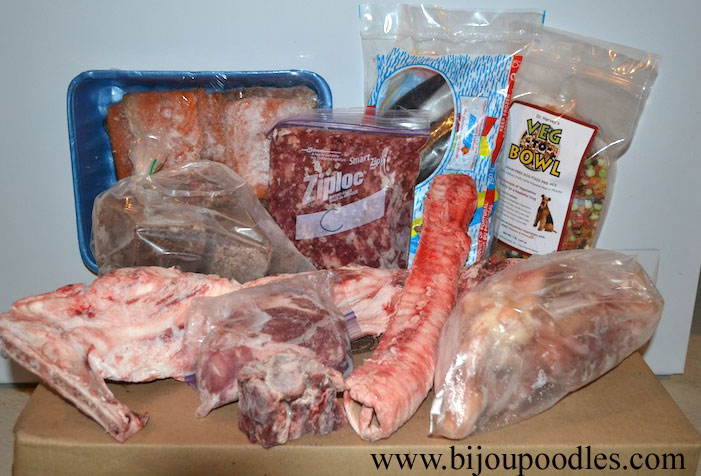 ~ 2013 ~
From Ashley P. "This is a picture of the variety of raw I feed my guys:"
Salmon (with bone) fillets, Whole Mackrel, Beef wind pipe, Beef cheek cubes, Lamb brisket, Ground meat etc
I feed 2% per lb of body weight of meat with about 5% veggies a few times per week
I am less precise with veggies since they are low calorie
Daily my guys eat 1.25-1.5 lbs of meat a day
Unprepared raw is definitely cheaper than the all in one 'pucks' you can buy
For more information on the 'natural way' to raise dogs. Lori my supplier has a facebook page too:
http://www.heronviewrawandnatural.com
Shes out my way just in Whitby.
UPDATE: September 2015
In case some of your east end puppy owners are asking about raw food or holistic products check out these websites:
I switched dog food to Congo Raw http://www.congoraw.com/ - they supply all over Ontario
My dogs love it and the 25lb mixed meat box goes for $ 2.25/LB (very reasonable for raw).
They come in convenient 8 0z patties and have the right proportion of meat, bone, veggie
( At my previous supplier for $2 + / lb depending on the meat, I had to add in all the other ingredients- so it was so much more work which I don't have time for these days).
I still buy green tripe and couple times a week add in a vitamin called Nutrify http://biopaw.com/nutrifypetfoodfortifier300g-p-542.html?cPath=33.
My new supplier is called BioPaw and she seems well educated on holistic animal care - her home office is located in Pickering http://biopaw.com/
A lot of owners believe their dogs may have food allergies.
And in some breeds such as Irish Setters, there is a real disease called "Celiac disease" in which their dogs
cannot tolerate gluten, a protein present in wheat, barley and rye. Eating those grains causes an
abnormal immune response that attacks the small intestine. Irish Setters are the only breed known have to true celiac disease
but many dogs are sensitive to glutenous grains. This allergy can lead to skin problems, including hair loss, bumps or lesions,
itching and flaking, dry skin. The lesions usually show up on the dog's feet, head, neck, ears and stomach.
Other signs include secondary skin infections and chronic ear infections.
If you suspect a food sensitivity, check the labels on your dog's food for wheat or grain products.
You may have to change what you are feeding your dog. Dogs with food sensitivity can usually tolerate corn,
rice, gluten-free wheat, dairy foods and poultry. Several manufacturers make wheat and gluten-free dog foods and treats.
Of course some owners prefer to make their own RAW or BARF diets to avoid any problems
Commercial Raw Diets:
All these listed below are meat, veggie, fruit "balanced" diets and can be use by alone.
However, most breeders use these only to supplement dog's diets and the commercially prepared foods can be expensive.
Breeders primarily feed chicken wings, necks and backs, turkey necks, pork necks, and some also feed ground beef,
organ meats, mackerel, and veggies. Breeders purchase prepared foods to give their dogs variety with meat
that is harder to find in the store including lamb, venison and rabbit.
| | | |
| --- | --- | --- |
| Company | Website | Telephone |
| Steve's Real Food | | 888-526-1900 |
| Nature's Variety - Prairie | | |
| Fromm's 4 Star Raw | | 800-325-6331 |
| Oma's Pride | | |
| The Honest Kitchen | | |
| FarMore Dog Food | | 866-507-8255 |
| Raw Connections - Canada | | 613-623-3830 |
| Country Pet | | 800-454-7387 |
| Bravo Raw Diet | | |
| Innova EVO | | |
| The Ultimate Diet | | 877-574-7387 |
| Barf Diet | | |
ALLERGIES ?
We have had owners who felt their pups might have food sensitivities and this food has ended any loose stools.
(stop all treats... worse thing you can do for your dog is feed treats like a pez dispenser)
It is important if you choose to give treats, that you don't sabotage your puppy's nutritional intake with treats or cause GI Upset
If your puppy has very bad loose stools you might also wish to consider adding
Purina probiotic FortiFlora
OR
a tablespoon of 100% "pure" pumpkin (not pie filling with added sugar and spices) at every meal to aid in digestion.
Read more about
~ Diarrhea click here ~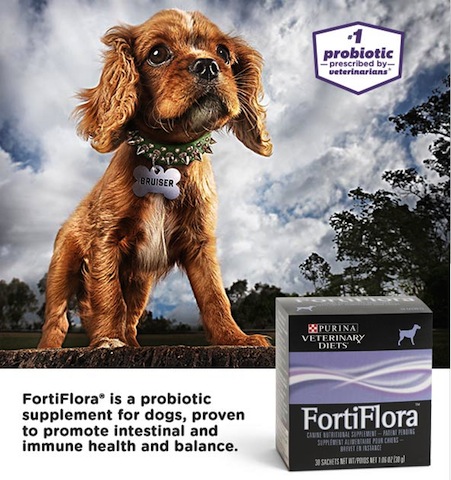 Testimonial
Hi Laura,
Thanks for all your advice. I wanted to wait till I was sure everything was resolved before writing to you.
After tons of worming, antibiotics for a UTI, metronozole, etc and another diarrhea episode
we switched to Natural Balance venison and sweet potato ( including matching treats)
and a Purina probiotic the vet suggested at dinner and a tablespoon of pumpkin at every meal for fiber.
Malarkey has been perfect for a week. He was immediately better as soon as we started on all this
so I am confident we are on the right track. The dog food has no grain in it, so I have no definite way of knowing
if it was the chicken, the grain, or both, but I don't care as long as we can relax about the diarrhea.
Kathy H. and Malarkey

TLC Dog Food
(they deliver)
Simular ingredients as the Kirkland

Purina Pro-Plan - "Sport"
Will be ideal for someone needing to put more weight on their Poodle

Techni-cal adult medium sized breed
I fed this food in the 1990's before switching to kirkland
It is a decent product, was priced affordible.
HIGHER PRICED OPTION:
Wellness Dog Food Core (Dry)
Ingredients: deboned turkey, deboned chicken, turkey meal, chicken meal,
Many Breeders are telling their puppy people to suppliment with this product:

NuVet Plus Vitamin Supplement for dogs
I have not used it but, many breeders i know have it on their contract that their
puppy buyers continue with it.
Wellness Dog Food Core (Dry)
Ingredients: deboned turkey, deboned chicken, turkey meal, chicken meal,
Taste of the Wild Dog Food Wetlands Formula w/Roasted Fowl
RECALLED MAY 2012
Ingredients: duck, duck meal, chicken meal, egg product, sweet potatoes, ect.
Orijen Puppy Large Breed (Dry)
Ingredients: Fresh deboned chicken, chicken meal, turkey meal, russet potato,
fresh deboned salmon (a natural source of DHA and EPA)
Wysong Dog Food Archetype
Ingredients: Beef and Chicken, Beef and Chicken Liver, Ground Bone, Carrots, etc...
The Honest Kitchen Grain Free Food
Ingredients: Free-range chicken (dehydrated before weighed in), organic quinoa,
sweet potatoes, spinach, parsley, organic kelp (help to keep pups dark red), ect
Diamond Naturals Chicken & Rice Adult Dog Formula
Ingredients: Chicken, chicken meal, cracked pearled barley, whole grain brown rice, egg product,
Dick Van Patten's Natural Balance - Dog Dry Alpha Grain-Free
Said to be great for dogs with food allergies:
ALPHA: a grain-free blend of multiple, high quality proteins, fruits and vegetables.
We have balanced your dog's nutritional needs with a formula that goes back to the grain-free benefits of the wild.
Solid Gold's Holistic Grain Free Food
Ingredients: Fresh deboned turkey, turkey meal, potato, ocean white fish meal,
Royal Canin Precise CARE for MEDIUM breed
Ingredients: Chicken meal, rice, corn gluten meal, chicken fat, brown rice, dried beet pulp (sugar removed),
IamsŪ ProActive Health Puppy(TM) (medium or large breed)
-Click to go to web page to read ingredients and feeding amounts reccomended
Ingredients: Chicken, Corn Meal, Chicken By-Product Meal, Ground Whole Grain Sorghum, Dried Beet Pulp, Chicken Fat
IamsŪ ProActive Health(TM) MiniChunks


After 1-1.5 years it is good to feed Iam's adult food instead of Puppy Iams, click to read more about it
Ingredients: Chicken, Corn Meal, Ground Whole Grain Sorghum, Chicken By-Product Meal, Dried Beet Pulp,
We found this at Costco @ 48lbs bag for $39.00
Petsmart carries @40lbs bag for $39.00 (on sale) to $49.00
You can also find coupons on the Iam's Web Page
Testimonials:
Ingredients: Fresh deboned wild boar, fresh deboned lamb, lamb meal, russet potato, fresh deboned pork,
In Spring of 2008, Jaeger, our German Shepherd became quite ill. He was only 14 months at the time and had us very worried.
To make a long story short, he lost close to 15 lbs. and the Vet insisted we try her canned food, just to get him to start eating again.
He was refusing everything else and It did do the trick, but, I had to start researching from scratch.
Nature's Variety frozen Lamb box of chubs
that has 6 - 2lb chubs. The box is over $50.00 Economically we had to go with the chubs
He loved it and gained the weight back with no more upset stomach or diarreah.
Recently we discovered
ORIJEN Regional Red kibble
and give him that for breakfast and his lamb chub portion for dinner
which helps differ cost and He was digesting it well, no more diarrea or vomiting.
I hope you may share this with others if it will help them
Heather F.-G.

Anchovy & Sardine and Salmon Meals Dry Dog Food
We currently feed our lab "Holistic Select" previously called "Eagle Pack".
We feed the Sardine, Anchovy and Salmon Meal formula. Both of my labs had terrible ears
and we narrowed it down to chicken fat and bi-products that made them flare up.
On this food we were very successful. I know you have lots of experience with different foods but I didn't see this on your site.
Kayte G. - London
Taste of the Wild Pacific Stream Canine Formula
Ingredients: Salmon, ocean fish meal, sweet potatoes, potatoes, canola oil, salmon meal, smoked salmon, potato fiber,ect.
"We have a puppy that had chronic ear infection and discovered it was a food allergy to wheat and or chicken.
She went on a salmon based dog food with fruit extracts etc., called Taste of the Wild.
After a month on this food, her ear infections cleared up and she is currently infection free (going on two months now).
*WARNING * Salmon based food has been known to cause struvite crystals in dogs


Bloat
Our Poodles that we own and or raised, have never had Bloat and or Torsion.
Narrow Deep chested dogs are more physically prone to incidence of bloat and perhaps because
our poodles are wider more shallow chested might be part of the reason we have not experienced it.
A Great Dane breeder that doesn't have any bloat issues (hard to imagine) suggested that Rouine in feeding and
excersise times has aided her in not experiencing bloat. She suggested those that don't keep routines on holidays or weekends are risking it.
When I mentioned her theory to my Vet he did confirm that he sees cases of bloat (all variety of dogs)
on weekends and holidays for the most part and thinks she might be onto something.
We also "free feed" our adults (meaning we leave food down all day long and water)
and I do maintain a routine every day. My vet also suggested that anyone worried about bloat issues could feed
softened kibble to avoid any problems.
Someone that lost a Borzoi due to bloat recently sent me these links to share with anyone worried about bloat:
Bloat Kit
Acupuncture to relieve Bloat

~ Click to Read About Bloat ~



Prozyme Supplement
According to the manufacturer, Prozyme increases absorption of the nutrients in the food.
Prozyme works in the body once the food is ingested (after mixing the Prozyme with the food;
it is not necessary to let the mixture stand before feeding).
By increasing the nutrient intake from the diet, Prozyme is reported to help with immune and digestive disorders,
poor coat and excessive shedding, skin problems, joint disorders, weight problems,
allergies, lethargy, bloating, flatulence, and coprophagia (stool eating).


FOOD INTOLERANCES A lot of dogs that have food intolerances (often called allergies)
In order of the most common offenders in dogs are beef, dairy products, chicken, wheat, chicken eggs, corn, and soy.
So keep this in mind when searching for your alternative food sources.


We have had more and more people ask us about food allergies.
We first wish to make sure the puppy or dog does not have Coccidiosis
or Giardiasis you can treat automatically as a preventative
with many over the counter drugs or through your Veterinarian although a puppy with it may test negative it is just a hit or miss with this.
Because dogs or pups that hunt will be exposes to these or if a puppy or dog is stressed they will get an outbreak of the coccidiosis.


You can also find a ton of free information on the internet such as this booklet:


Free dog Food Report




FOOD ALLERGIES AND FOOD INTOLERANCES
From Foster and Smith
Food allergies account for about 10% of all the allergies seen in dogs and cats. It is the third most common cause after flea bite allergies and atopy (inhalant allergies). With the advent of lamb and rice diets many people feel that they are preventing or treating food allergies. The fact is that nothing could be farther from the truth.
The entire process of a pet being sensitized to a particular agent in food and the complicated antibody response that occurs in the intestinal tract in pets with food allergies are not very well understood. Despite our lack of understanding of the actual disease process, there are many things that we do know including the symptoms, how to diagnose food allergies, and also how to treat them.
Food allergies affect both dogs and cats. Unlike atopy, there is no strong link between specific breeds and food allergies. Food allergies affect both males and females and neutered and intact animals equally. They can show up as early as five months and as late as 12 years of age, though the vast majority of cases occur between 2 and 6 years. Many animals with food allergies also have concurrent inhalant or contact allergies.
Food allergy or intolerance?
There is a distinction that needs to be made between food allergies and food intolerances. Food allergies are true allergies and show the characteristic symptoms of itching and skin problems associated with canine and feline allergies. Food intolerances can result in diarrhea or vomiting and do not create a typical allergic response. Food intolerances in pets would be similar to people that get diarrhea or an upset stomach from eating spicy or fried foods. Fortunately, both food intolerances and allergies can be eliminated with a diet free from offending agents.
Common food culprits
Several studies have shown that some ingredients are more likely to cause food allergies than others. In order of the most common offenders in dogs are beef, dairy products, chicken, wheat, chicken eggs, corn, and soy. As you may have noticed, the most common offenders are the most common ingredients in dog foods. This correlation is not a coincidence. While some proteins might be slightly more antigenic than others, many proteins are similar in form and the incidence of allergic reactions are probably associated with the amount of exposure. For example, pet foods have historically been made up of beef, chicken, corn, and wheat. In an effort to combat food allergies, several companies produced a diet made of lamb and rice. There was nothing special about lamb and rice diets except those two ingredients were normally not present in pet foods. Animals had not eaten lamb or rice before, and therefore , had not developed an allergy to it yet. If the main ingredients in pet food become lamb and rice, then it would stand to reason that the most common problem foods could become lamb and rice. The determinant of whether a food is likely to cause a food allergy or not is based on the structure and size of the glycoprotein in the food. In addition, many lamb and rice-based foods contain many other ingredients, and if the animal has a food allergy to any of them, this lamb and rice food will do nothing to treat the food allergy. In addition, while many people criticized and blamed preservatives and flavorings as a source of food allergies, studies have shown that they are not the causes, and while we may not have justifiable health concerns about preservatives, food allergies is not one of them.
Symptoms
The symptoms of food allergies are similar to those of most allergies seen in dogs and cats. The primary symptom is itchy skin. Symptoms may also include chronic or recurrent ear infections, hair loss, excessive scratching, hot spots, and skin infections that respond to antibiotics but reoccur after antibiotics are discontinued. There is evidence that dogs with food allergies may sometimes have an increased incidence of bowel movements. One study showed that non-allergic dogs have around 1.5 bowel movements per day where some dogs with food allergies may have 3 or more per day.
It is difficult to distinguish an animal suffering from food allergies from an animal suffering from atopy or other allergies based on physical signs. However, there are a few signs that always make me suspect food allergies. One of these, is a dog with recurrent ear problems, particularly yeast infections. Another, is a very young dog with moderate or severe skin problems. A third tip off, is if a dog suffers from allergies year-round or if the symptoms begin in the winter. And the final clue, is a dog that has very itchy skin but does not respond to antihistamines or steroid treatment.
Diagnosis
The diagnosis for food allergies is very straightforward. But due to the fact that many other problems can cause similar symptoms and that many times animals are suffering from more problems than just food allergies, it is very important that all other problems are properly identified and treated prior to undergoing diagnosis for food allergies. Atopy, flea bite allergies, intestinal parasite hypersensitivities, sarcoptic mange, and yeast or bacterial infections can all cause similar symptoms as food allergies. Once all other causes have been ruled out or treated, then it is time to perform a food trial.
Elimination diets and provocative testing: A food trial consists of feeding an animal a novel food source of protein and carbohydrate for 12 weeks. A novel food source would be a protein and carbohydrate that the animal had never eaten before. An example would be rabbit and rice, or venison and potato, or duck and rutabagas. These are homemade diets but there are several commercial diets available on the market. Special Foods produced by Hill's and Purina, and a food named EXclude are used by many dermatologists. Regardless of the diet used, it must be the only thing the animal eats for 12 weeks. This means no treats; absolutely nothing but the special food and water. Young growing pets have special dietary needs and a homemade diet that only contains one protein and one carbohydrate with no multivitamin or fatty acid may not be suitable even for only twelve weeks. For puppies undergoing a food trial, a balanced commercial diet like the ones listed above is recommended.
A food trial consists of feeding a dog a novel food source of protein and carbohydrate for 12 weeks.
Veterinarians used to recommend that a pet only needed to be placed on a special diet for 3 weeks, but new studies show that in dogs, only 26% of those with food allergies responded by day 21. However, the vast majority of pets responded by 12 weeks. Therefore, it is very important to keep the pet on the diet for the entire 12 weeks. If the dog shows a marked reduction or elimination of the symptoms, then the animal is placed back on the original food. This is called 'provocative testing' and is essential to confirm the diagnosis. If the symptoms return after going back on the original diet, the diagnosis of a food allergy is confirmed. If there has been no change in symptoms but a food allergy is still strongly suspected, then another food trial using a different novel food source could be tried.
We must reiterate that placing a dog on a commercial lamb and rice formula dog food is not an acceptable way to diagnose or treat food allergies. Lamb and rice are no longer considered novel food sources and most commercial lamb and rice diets also contain wheat, egg, corn, or other ingredients that can be the cause of the food allergy. Despite the implication by dog food companies to the contrary, these foods do not prevent food allergies nor are they considered adequate for diagnosis. While these diets may provide adequate nutrition, they are not a substitute for a true, novel protein source diet.
The only way to accurately diagnose food allergies is with a food trial.
Blood Testing: Many owners and veterinarians attempt to look to other tests to diagnose food allergies. Blood tests such as the RAST test or the ELISA test can be performed to screen for food allergies. In addition, intradermal skin testing could also be performed. Despite the fact that these tests are routinely performed and used as a diagnostic aid, there is no evidence that blood tests are accurate for the diagnosis of food allergies. Veterinary dermatologists insist that there is no merit in these tests whatsoever in the diagnosis of food allergies. The only way to accurately diagnose food allergies is with a food trial as detailed above. While the intradermal skin testing is excellent for diagnosing atopy (inhalant allergies) it is ineffective for food allergies. While the ELISA and to a lesser extent the RAST test can be used to help in the diagnosis of atopy, they have no benefit in diagnosing food allergies. In our review of all the current books and articles on veterinary dermatology and allergies, we could not find a single dermatologist that endorsed anything other than the food trial as an effective diagnostic aid. If you want to diagnose and treat food allergies you must do a food trial.
Treatment
Once we determine a positive diagnosis, then the treatment is very straightforward. The owner of the animal has two choices. They can choose to feed the animal a special commercially prepared diet or a homemade diet.
If the owner chooses to feed the homemade diet, then they can periodically challenge the pet with new ingredients and determine which ingredients are causing the food allergy. For example, if the animal's symptoms subsided on a diet of rabbit and potatoes, then the owner could add beef to the diet for two weeks. If the animal showed no symptoms, then they could then add chicken for two weeks. If the animal began to show symptoms, then it could be assumed that chicken was one of the things the pet was allergic to. The chicken could be withdrawn and after the symptoms cleared up, a different ingredient could be added and so on until all of the offending ingredients were identified. A diet could then be formulated that was free of the offending food sources.
If homemade diets are used, it is essential that they be balanced, with correct amount of ingredients, vitamins, and minerals.
Chicken products from China causing intermittent vomiting and Diarrhea and killing dogs.
Glycerin in dehydrated jerky type treats, dehydrated Chicken Breasts, dog treats, greenies.
According to the FDA, they have found that dogs who consume varying amounts of Glycerin can exhibit the following symptoms:
decreased appetite, decreased activity, vomiting, diarrhea, increased water consumption urination.
With blood tests, the dog may have an increased BUN, Blood glucose which is evidence of glycerin's negative affects on the kidneys.
In hundreds of dogs kidney failure and death has been reported.
Fighting for Fido CBC Report
and the
FDA's link about chicken jerky treats and Glycerin.
RETURN TO BIJOU HOME PAGE