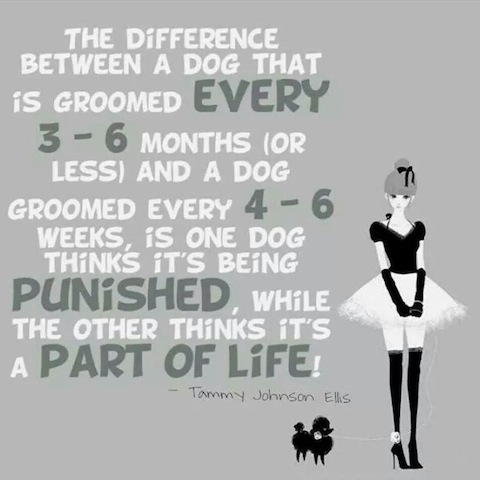 TIPS ON GROOMING YOUR POODLE

Russell (J&H) owned by Cheryl M. - BC, Canada


You can, bath and or clip your puppy
as soon as you get them home, but I would prefer
you give them at least 24 hours, to adjust to their new home first.
Your puppy will be bathed the night before being shipped or the morning that you picked them up
so we do suggest waiting a night before bathing them again.
We use dish soap (fully rinse out) or Griminator shampoo and
Human shampoo and conditioner, just a dot in the palm for the entire body
and make sure to rinse it all out fully
Your puppy will have had 2-3 baths and been blown dry 2-3 times
and had underpads shaven, by the time you get them.


SUPPLIES:


Minimally you will need a 36" grooming table, 48" grooming arm, grooming loop, Dremel for nails


If puppy is really dirty and muddy I will give a wash with dish soap and then use Human shampoo on them
As for amount to use, we use the size of a coin in our palm, or just enough to get them lathered.
The main thing is to make sure it is rinsed out 100% as shampoo left in is what causes problems.
You can wash "around' and wash the ear hair outside the ear.
NEVER EVER get water inside the ear, so what you do is hold the ear down cannel closed and be careful.

The important thing to remember is when you are done drying is to clean and dry the inside of the ears.
NEVER EVER put powder in the ears as it just builds up and causes infection.
Ears should also be kept clean of debris, wax, extra hair so wax/moisture can drain out.
Your puppies toe nails will have been clipped and or dremeled every week and will need to be
done ever other week, if you wish for them to remain shorter.



....

6 month old Red puppy before being groomed (coat had never been cut before) .... Red Puppy after being groomed



.......


6 month old puppy with no products or spray for UKC show ..... Same puppy after being "show" groomed with PRODUCTS for CKC show
The difference maybe subtle, until seen side by side.
In UKC we are not allowed any product, colour, or switches, like handlers use in CKC or AKC
However, the photos above do illustrate how a skilled groomer and loads of PRODUCT
will make the world of difference on the same Poodle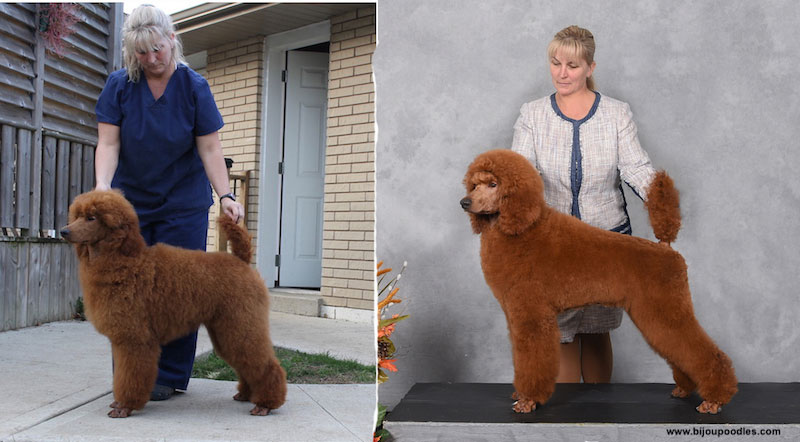 5 month old puppy never been clipped........after being professionally bathed, blown totally dry and clipped






Show Coat OR Pet Coat
you have to come from the skin out or you will have mats
FULL tutorial or Individual Skill building on grooming a poodle
available online at
Leading Edge Dog Show Academy







*Click here to read more about Laurie Rollins grooming process






This is Copper in a "Teddy Bear" clip




This is Mister in a "Teddy Bear" clip






Gretel and Gertrude sporting their new Spring feather look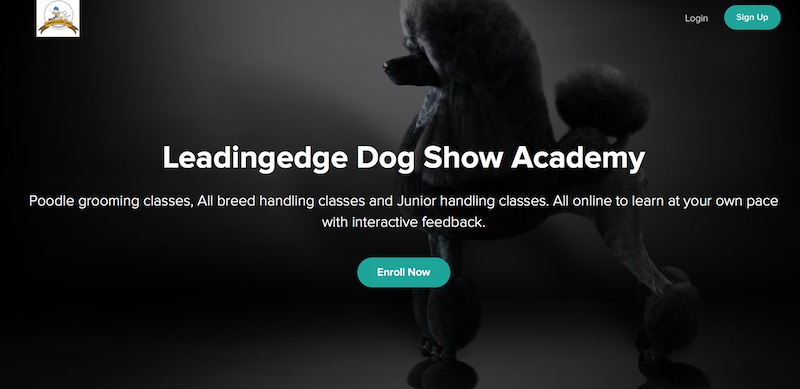 Leading Edge Dog Show Academy
GROOM YOUR OWN POODLE !!
Tips and tricks to make the grooming process easier for both you and your poodle.
An online tutorial on how to show groom a Poodle, along with DVD's
Poodle grooming classes, taught by one of the most sought after, winning Poodle Handlers
All breed handling classes and Junior handling classes.
Allison also gives you feedback should you have any questions.
All online to learn at your own pace with interactive feedback.
Bijou Poodle receive discount by clicking !!




List of Canadian Professional Pet Stylists
WHERE TO PURCHASE GROOMING SUPPLIES
I will constantly be updating this web page to feature the latest information
Ren's Pets
PetEdge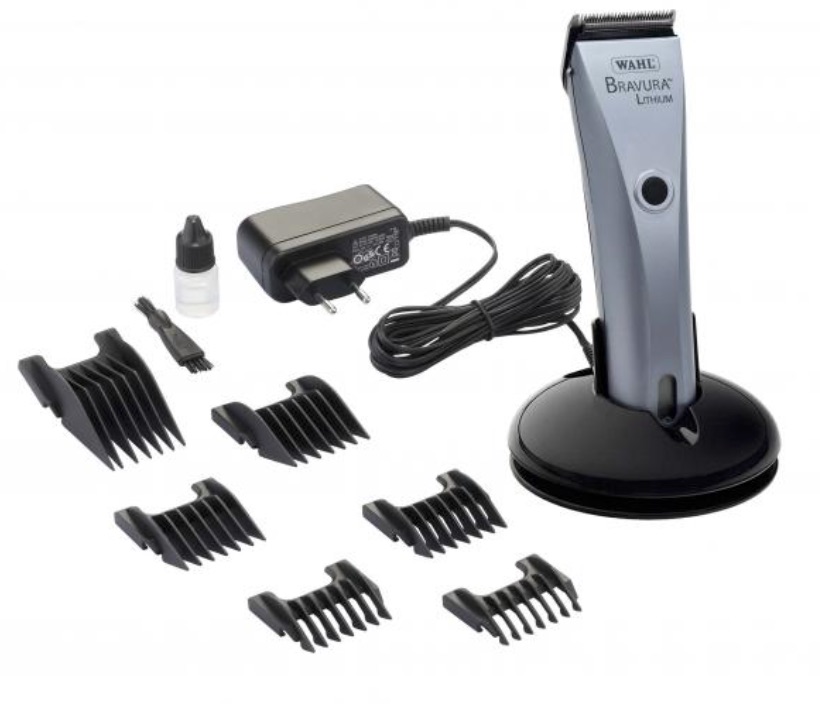 When starting out you will need a good clipper and I do LOVE this cordless light weight
Wahl Pro Ion Lithium Ion Rechargeable Pet Cordless Clipper Set
because this can be plugged in to use if the battery dies and the lithium battery has no memory
so if I have not fully discharged it, it will still fully charge and I won't loose battery memory
You will need to order Wahl, Arco SE Replacement 5 in 1 Blade
(Fine) - #9, 10, 15, 30 & 40
When you use the plastic guides, set the blade on #40 (closest shave)
I clip my poodles face, feet and base of tail with the #40 setting.
you might feel more comfortable on the #10 setting.
They even have a MINI one that is way easier to do feet with !!!!





PLEASE, use a proper grooming table !
NEVER EVER EVER groom your puppy on the floor !!!
You will not have control over puppy, and you will teach them how to misbehave.

You will need a minimum 36" size table and a 48" grooming arm and a noose.
USE THE NOOSE !!! It is not cruel and will save your puppy from jumping off of the table
and keep their head up and away from you clipping their feet or nails.
When puppy struggles, grab the sides of their face and give a firm shake "NO SETTLE"
and continue clipping. IF they scream or struggle and you stop = they win and behaviour
will escalate... but if they struggle and you keep grooming, they soon learn to settle and endure.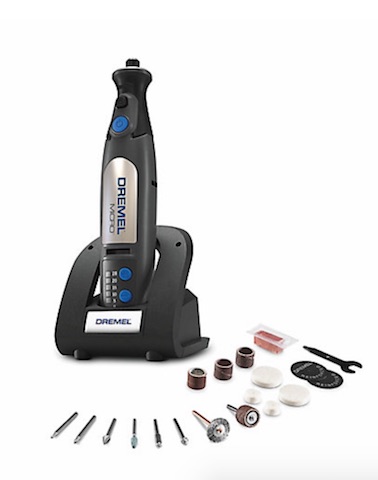 Get your puppy used to being on the table with their head in the loop
and having their nails dremelled every week. Sunday is our nail day.
Nail dremel you can buy at Home Depot.
I prefer to use the coursest dremel sanding band I can find.
Dremel Micro 8V Max Rotary Tool Kit has a lithium battery
and has a light on it which is really handy !
and I would HIGHLY recommend also getting the Dremel EZ DrumMandrel Model # EZ407SA-01
as makes changing the sanding bands super easy !
I got mine at Home Depot and it has been 2 years in use.
Using a Dremel does take practice, to get comfortable using it, so don't get discouraged.
I would highly recommend that you wear a mask and safety glasses.



How to Trim Your New Puppy's Nails


WE now use a dremmel to do the dogs nails as we can get them shorter
without hitting the quick and making them bleed.



*Click to view how to Clip Your Poodle's Nails








*Help for Poodle's Ears with Yeast Infection
*Video of Cleaning your Dog's Ear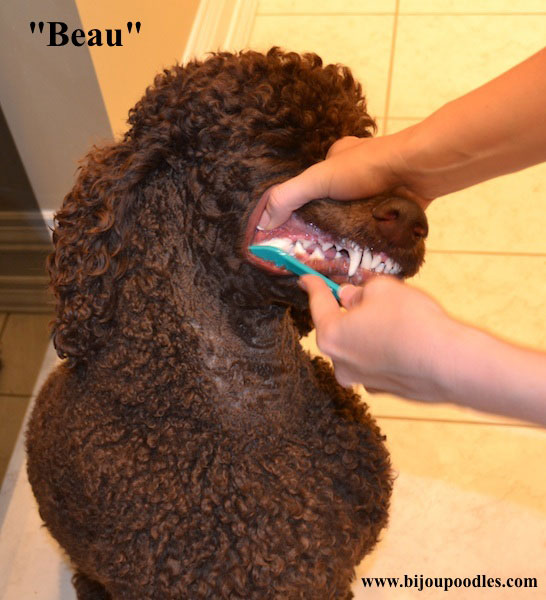 ...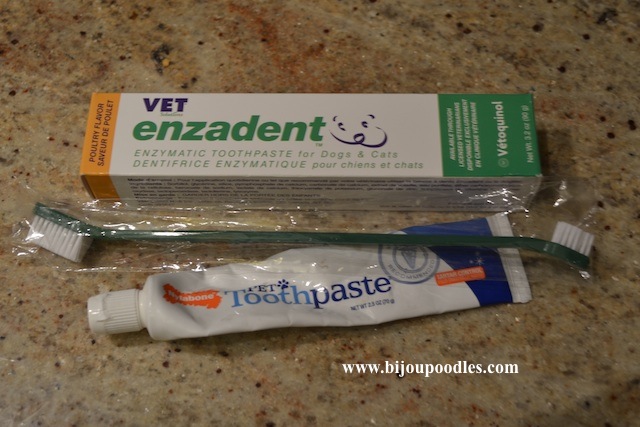 Beau getting his teeth brushed
Some people will brush their Poodle's teeth and tongue daily
Supplies available at Petsmart or your Vet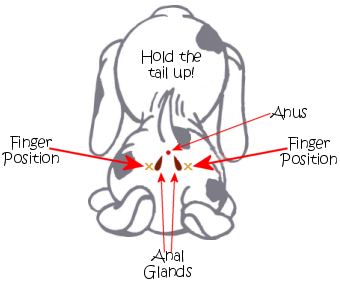 About your Dog's Anal Gland
Expressing Your Puppy's Anal Gland


Beau got sprayed by a skunk (while my husband was holding the leash)
at 10 pm on a Sunday. Nothing open to buy deskunking shampoo.
I tried this recipe and modified it slightly and it worked 1st try.
He does not even smell when he gets wet. I had a cat get sprayed awhile ago and used a commercial product
and every time she got wet she smelled till she dried again even after lots of different shampoos it took months to go away.
Here is the recipe tried tested and it works better then the expensive shampoos out there:
I doubled the recipe and added a few shakes of Borax to the mix. I didn't see a deskunking recipe on your website
so perhaps you may want to post it or keep just in case. Below is the original recipe
(not doubled, but to do a standard poodle with a bit of coat 2-2.5 x the recipe for a dog who is entirely skunked will be needed).
Beau has more reddish highlights from the peroxide now, but at least he smells nice !
This comes from this web page: http://www.theprairiehomestead.com/2011/01/natural-de-skunking.html You will need:
1 quart of 3% hydrogen peroxide (this is the kind you find in the first aid section of your average grocery store or dollar store. It is very cheap.)
1/4 cup Baking Soda
1-2 drops of liquid dish soap
2-3 drops lemon essential oil (optional-but adds extra deodorizing power)
This is the only ingredient I didn't have on hand, but he smelled like Dawn after since I used the dish soap.
Rubber Gloves (optional, but highly recommended)
Bucket
Put on your gloves and gather everything you will need.
Once you mix the ingredients, the solution must be used immediately, so there won't be any time to go searching for the dog, etc!

I did this outside and tied the dog up to a post so my hands would be free.
I also had a hose handy. I suppose you could do this in your bathtub if you had to, but I wouldn't unless I was very desperate!
They have public dog washes at some car washes and this might be an option for some people.
Mix together the peroxide, baking soda, and dish soap.
Stir well and then quickly apply to the DRY dog being careful, not to splash any in his eyes.
Thoroughly work the solution in his coat. It should cover and permeate as much of the hair as possible.
Allow the dog to "soak" for around 5 minutes.
A chemical reaction is occurring which actually neutralizes the odor.
This is why you must use it before the peroxide and soda are finished with their reaction.
It can not be made ahead of time and stored.
After the waiting period, thoroughly rinse the dog with water.
You may have to repeat the process, but I only had to do it once and we were skunk free !
Ashlea S. - Toronto, ON



WHAT TO BUY TO GROOM YOUR POODLE: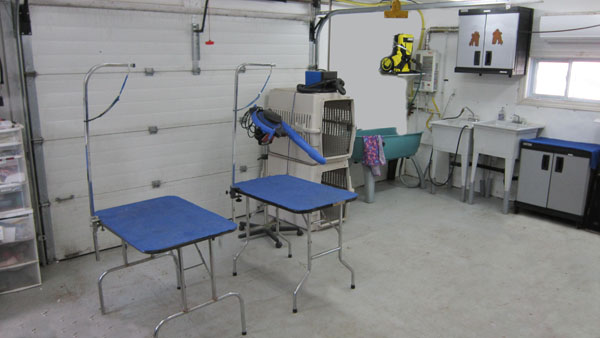 MY FIRST GROOMING AREA
~ Grooming Area ~
100% ALWAYS ALWAYS groom your poodle and clip their nails on a 48" grooming table
using a 48" grooming arm and a noose for control and safety.
My husband has bad allergies and the poodles fine hair clippings would go through the house.
So now I have half of his wood working shop to set up a grooming area.
I bought a Booster Bath, 2 laundry tubs (I added PVC pipe to the legs to make higher)
*Click to see more details



AFTER

~ New 2015 ~
We updated our Grooming Shop to include a $4,000.00 US Stainless Steel Shor-Line Versa shower tub
I found used on Kijiji for $1500.00
It was just missing rubber stripping around the door entry ($60.00)
steps ($900.00) and raised grid flooring ($90.00) and the back tie bar ($50.00)
I opted to not use the sprayer attachment, preferring my own washing machine hose and garden hose nozzle
I will be putting dry-deck rubber grid on the tub floor to finish it off.

I bought new Thorinox double stainless steel sinks (restaurant store) to replace my plastic laundry tubs
I will be adding on higher legs so less bending over, into the sink, for me to clean dishes.
On the grooming shop floor I also added rubber grey "G-Flooring" from Walmart (free shipping to store)
putting the ribbed side "down" for ease of cleaning. So much nicer to stand on to groom and much better looking.
I'm still searching/saving for stainless steel drying cages to replace my plastic cages
I am still using the Ultimate Dog Wash system which also makes bathing so fast especially big show coats
I just fill one side of the sink with soapy water and the other side with rinse water, so does not recirculate
instead I get clean fresh water for every dog.





On one laundry tub, I added a Heavy Duty garden hose nozzle & washing machine hose (long)
to withstand hot water (need brass adaptors). I have a Gas on demand water heater, so never run out of hot water
and takes up no floor space, garage cabinets on wheels for grooming supplies
2 grooming tables with 48" tall arm and nooses, Double K stand dryer, forced air dryer, cages to dry in



...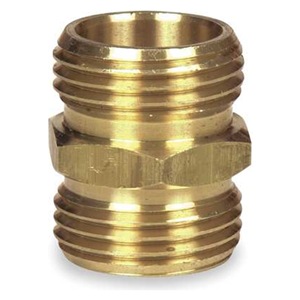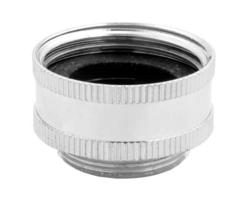 Heavy Duty garden hose nozzle & washing machine hose (long) and also a double female connector
Beneficial as you can set your temperature
at your taps and shut off with the adjuster between soaping up
so you don't have to keep readjusting your temperature.
Get the 6' long hose, long enough to reach your tub.
You will have to buy a Laundry Faucet Adapter for your tap spout to fit the washer machine hose onto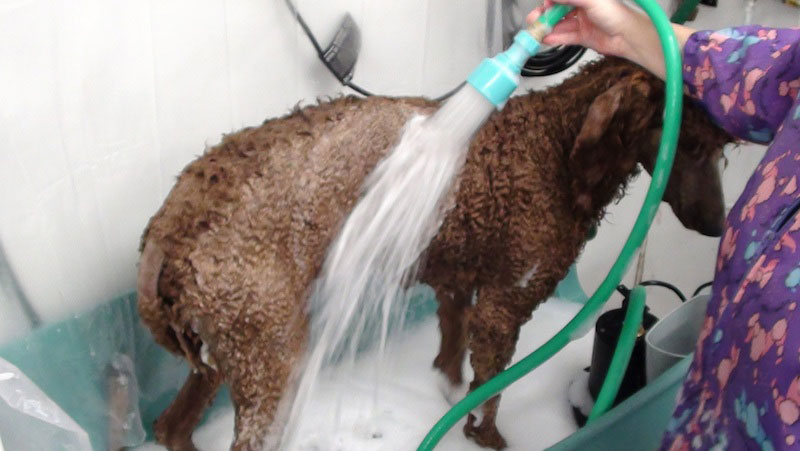 Ultimate Dog washing system
I have to admit with working full time I don't always have time to groom my poodles and for sure I don't
do any show grooming. I leave that to the professionals. As a result my groomer was complaining about
how slow bathing was and how much she would appreciate a better system.
This inspired me to research and build the Ultimate Dog washing system
for myself and because my groomer LOVED IT and it worked so well
I thought I would offer this affordable system to the public.
Of course any Bijou Poodle owner can get a discount on the purchase of this system !!





Double K Groomers Edge GRIMEinator Shampoo
These are the grooming products that the professional Poodle Groomers use !
Make sure to properly dilute this, if you have concentrated jug.
Of course professional groomers also use "dish soap". PLEASE make sure you rinse any and all soap
out of the coat. My Ula also has allergies to the Griminator Shampoo so we use human shampoo (Pantene) on her
Available at PetEdge, Amazon, Cherrybrooke.



PRODUCTS FOR ALLERGIES

Vet Solutions Aloe & Oatmeal Shampoo by Vet Solutions
Soothing soap free shampoo with moisturizers for Allergies, normal, sensitive, or dry skin.
This shampoo works effectively without removing your pet's natural skin oils.
This product is for dogs & cats. Make shampooing a soothing experience for your pet by purchasing this product.




Vet Solutions Aloe & Oatmeal Skin & Coat Conditioner by Vet Solutions
$79.00/gal
Ideal for pets with allergies




Groomer's Aprons
Great to wear while using dremel or washing dogs.




Booster Bath is a great alternative to bending over
a tub or squishing a larger dog into a laundry tub.
You will still have water everywhere with this system
as the dogs do hang their heads over the sides.
I do like mine and use it.
You can buy these at Costco "Booster Bath" $159.00
Booster Bath is also at Walmart : $179.95
Or at their web site: Booster Bath for $179.00
You can also buy accessories for this such as a ramp and leg extensions to make higher.
I believe ramps are cheaper at Petsmart.
I now blow my guys dry in the tub with the Laube force air dryer and finish on the grooming table




I wanted to keep my booster bath as I can move it around.
But I didn't like water going everywhere so I took a plastic corrugated sheet
split it so that I could wrap it following the tub's contours and fastened it to the booster bath.
Now all the water stays in the tub ! Not pretty but it works perfectly.




I have metro and The Kool Dry Dryer by Chris Christensen Systems (total garbage)
nothing compares to the velocity or force of the Laube forced air dryer. I love the new longer hose too.
After you towel dry you will use this to blow the majority of the water out of the coat.
*NOTE replacement hose is $155.00 so take care of your hose



...

Dog Hair Blowers
I only use a stand dryer to put up against my dog cage that my dog is in
to dry them when it is too cold for them to run outside and air dry
*NOTE if you do this method set a timer so you don't forget about your dog !!!
You don't need an expensive hair blower, but it sure will be easier to blow them dry with a free hand to brush with
It makes a HUGE difference when you blow them dry (always towards the head) than if you let them air dry.
I don't usually have the patience to blow and brush dry, so my guys air dry unless I'm showing them.



..
..
..

If you buy a regular plug in clipper... buy the simplest that you can
the more tricks it does the heavier and hotter it will get FAST.
You will also need to buy many blades to go with it.
I suggest you buy #7F to do the body with
#10 Blade for doing Face
#40 paws and under any clips/guards
What ever clipper you use, it is best to match up the same name brand of blades
#05 or #07 Blade for short suede like body
The higher the number of the blade
the shorter the hair will be. #40 Blade is often referred
to as the surgical blade as it is the one Vets will prepare with.
Pet Edge
Ren's Pet Depot
Clipper Blade Information Answered
Clipper Blade questions Answered
Clipper Blade size Answered



.....

Kwikstop Styptic Powder, 0.5 oz
Available at Walmart : $6.17




#1 All systems combs
I don't believe in paying a fortune for combs however I have found that a nice wide tooth comb
like the dematting one has been great for a matted poodle. I also really liked the Perfect Poodle comb.



...

Master Groom Undercoat Rakes Millers Forge Undercoat Rake
OK ... NEVER EVER use this on a show coat !!
However I will use this if I have a stubborn knot, being carful not to touch the skin
as it can do damage and hurt your dog if you scrape them.



...

Universal Slicker Brushes - Hard Slicker Brush
You will need to comb from the
body outwards, from the root of the hair not just the top.
I have tried MANY slicker brushes and these red handle hard slickers on adult poodles has worked the best for me
I am always careful of the pin needles around the poodles skin. Do be careful and try on your own arm to see how sharp they are.




Fashion Grooming Tables-Blue/Pink/Purple Regular table
Low Legs (Medium dogs) - 36 x 24 and 30" high for short people like me at 5'3"
High Legs (Medium dogs) - 36 x 24 and 32" high if taller to save your back
Any style or type of grooming table will do however I liked the height option on the Fashion one.
You can change the color of the top of the tables by using the non-slip cabinet drawer liner laying on top
Please note that most tables do not come with grooming arms (although may be in the photo)
the tables that do come with arms, the arms will be too short usually at 36" and you will eventually need 48"
You can't go too big, but you are out of luck if you get one too short





48" Grooming arm either regular or a collapsible as seen at ProGroom
48" Grooming Arm & Clamp and Noose/Loop: $47.58 each



...

Precision Heavy-Duty Grooming Tables
36" Grooming Table, arm and noose from CherryBrook
Precision Table from Ren's pet Depot
Midwest Pets 36'' Grooming Table with Arm from Walmart
Grooming tables often come with 36" arms which are too short for standard Poodles you will need a 48" arm
The best way to groom your dog for the ring is to use the table and save your back.
Make sure you bring a few towels.
I found bath mats are ideal to line crates with.
Make sure to put your name and contact information on the bottom of the table incase you leave it behind





WHERE TO SHOP:
Please keep in mind that if you buy from the USA you will have to pay exchange, shipping, duty and taxes.
Petsmart:
http://www.petsmart.com/ps/main.jsp
Ren's Pets Depot:
SuperPet:
Wal-mart:
http://www.walmartcanada.com/Canada-Storefinder.html
TSC Stores:
http://www.tscstores.com/index.html
Pooch Canada Pet Supplies:
http://www.pooch.ca/catalog.htm
Four Paws Only:
http://www.fourpawsonly.ca/canadian_pet_supplies.html
JB Wholesale Pet Supplies
I am not a professional groomer.
I did do the grooming on these 2 dogs pictured below.
If I can do it so can you !
I have listed everything I use below.

...
Black Standard Poodle Before and After grooming.

...
Before & After Groom
Brown Standard Poodle @4 months 1st hair cut
You can clip your poodle as early as 8 weeks of age.
Or keep them shaggy looking for as long as you wish.




This is how my poodles look when not being shown



Grand Champion, "Bijou's Ooh La La", CA, CAX, CAT, URO1, URO2, RN
UKC's #4
!!! TOP STANDARD POODLE 2011 !!!


HAIR STYLES YOU CAN DO
Poodle in a modified Puppy show clip
Modified as it has no top knot


Puppy Show Clip worn by Poodles "under" 1 year of age.


Continental Show Clip seen at the dog shows on dogs over a year of age.


Sporting Clip for UKC



English Saddle Clip

...
Hunting or modified Continential Clip for those poodles that have a Hunting title
The difference with this is there is a scissored no top knot
not long head hair held with elastics.


Dutch Clip


...
Poodles in a "Sporting Clip".
Legs are left longer than the body and neck.
We show our poodles in UKC in this clip

......
Creative Dog grooming a "robot dog" & "bufallo dog"


Any clip you want. You can even dye your poodle's coat
(with specialty dyes or food colour)


Super Groom 2007 click to see funky poodles



Example of Wiggies or Switches that the pros put into their Show Poodles Top Knots
to make the coat look thicker and more even, for grooming.
Kind of like temporary hair extensions humans wear.




OK so you are thinking about showing AKC or CKC,
Great you are every Poodle Breeders dream owner.
The Poodle in the above photo is how your poodle needs to look.
How is this achieved ?
Skilled grooming for certain, Daily coat conditioning and of course Wiggies or Switches (fake hair).




According to this poodle's groomer, the poodle in the photo above had 4 wiggies woven in her top knot.
You don't weave them in, you place them in the bands on the head as you are banding up their topknots.
Since bands are only allowed to be placed back to the occiput for show poodles, generally you won't find any wiggies beyond that point.
The dog's natural hair must be about the same length as the wiggies for it to look ok. They are there to provide body and thickness.
On this particualr dog the groomer tried to show her once as an adult without wiggies, and she said "you could basically see right thru
her topknot when it was all sprayed up. She doesn' t have the natural thickness to pull it off without the switches".

And before anyone says this is not possible...YES I have seen pro-handlers/groomers do this at a CKC dog show.
The before and after is way too amazing to describe. You would have to see the difference extra fullness and height makes in person.
If done properly the judges will not feel them, because they are banded in with the elastics holding the real hair in place.
Yes it is forbidden and you would get disqualified if found, but because "everyone" does it, judges have been conditioned to
overlook it and not say anything in AKC or CKC show rings.




Handlers/pro groomers may also dye their dog's coats to brighten the coat, correct colour and or hide mismarks.
Noses and lips and eye rims can be dyed and or tatoo'd black if the pigmentation is incomplete
Missing, misaligned or broken teeth receive dental care, whitening, braces and or bonding to correct.
Hair is enhanced with numerous products left in, to thicken and coursen the coat.
Eye drops can be used to dilate the pupils on a light coloured dog.
Gaits are analysed with hawk like precision and videos to figure out the correct speed for that individual dog to obtain that perfect gait.
There are MANY more "tricks of the trade" that are used to show dogs and especially poodles.
You can have the best poodle in the world but how that 2 feet of show coat is presented, will soon seperate a novice from a pro.
Coupled with the fact that Poodle Pro Handlers have been doing grooming and showing often since the time they could walk
really has the novice at a disadvanage, especially with the Poodle breed and even more so with a rare colour like red or brown.
Of course NOTHING is ever impossible. You can certainly do it yourself but I feel it is important to not disallusion anyone to the
amount of daily work involved and what you will be up against so you can prepare yourself.

In UKC shows we are not allowed hair spray, chalking, or any of the usual grooming products used to spruce up Poodles and or any breed.
If anyone is caught using any "products" they will be disqualified.
Owners FINALLY have a venue to show their poodles in a natural state
and with other owner handlers, because UKC does not allow any professional handlers.
However, this being said, more and more poodles are showing up in UKC that have "Continental" Clips
with owners who had hired pros to champion them in AKC or CKC and now want the opportunity to show their own poodles to a title
These same owners are used to using products and other enhancements, so we may see some "switches" and sprays
being used soon in UKC soon. It will be up to the "BETTER" judges to set a president that this will not be tolerated.
If one judge lets is slide then the others will as well. However if one judge disqualifies this then others will take notice as will exhibitors.


VIDEO ON HOW TO GROOM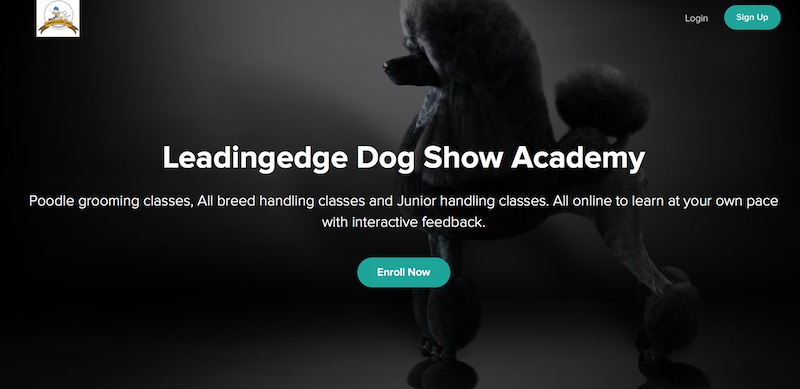 Leading Edge Dog Show Academy
GROOM YOUR OWN POODLE !!
Tips and tricks to make the grooming process easier for both you and your poodle.
An online tutorial on how to show groom a Poodle, along with DVD's
Poodle grooming classes, taught by one of the most sought after, winning Poodle Handlers
All breed handling classes and Junior handling classes.
Allison also gives you feedback should you have any questions.
All online to learn at your own pace with interactive feedback.
Bijou Poodle receive discount by clicking !!