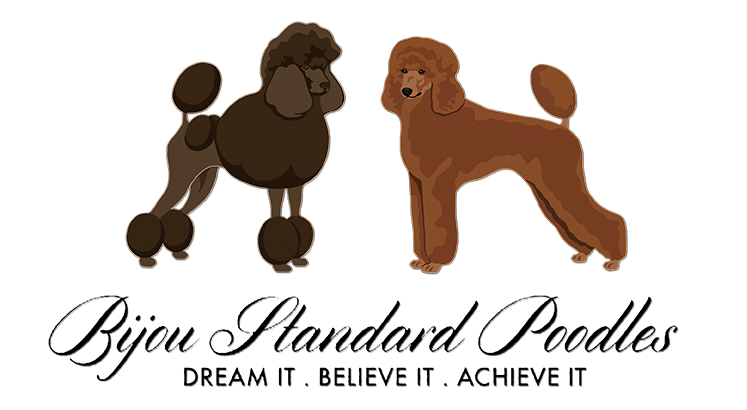 !! AVAILABLE PUPPIES !!

Meet Our Poodles... Our References... Web Page Links

Questions Answered... Whats New at Bijou...Bijou Difference

Contact us: brownpoodles@yahoo.com





PUPPY ON RAW WHEN THEY GET HOME

BENEFITS
No tartar, Thick shiny coat, No allergies, firm small poops, good breath
Bloat and Megaesophagus Prevention, darker colour coats, no doggy smell.

When you bring home a new puppy that was not raised on your raw choice
it may take up to a week, for the puppy's GI system to convert to your RAW food.
By RAW I mean Freeze Dried where you add hot water and mix
OR
Frozen prepared commercial RAW patty's
I have some companies listed on my Food Page
You can expect a week of mucous and gross poops while puppy adjusts
Please for the love of all things holy, do not panic

Here are a few tips for getting your puppy started
on raw with a minimum of fuss and minimal stains on your rugs !

*Please note: one adverse effect of Vaccines, is diarrhea.
Treatment for Vaccinosis symptom of diarrhea: Silica, Thuja
you can also automatically treat each time you administer a vaccine

1. Start off cold turkey
It is not wise to mix your puppy's raw food with kibble.
Because kibble requires a different pH in the gut to digest
it will make your puppy more susceptible to the bacteria in the raw meats.
He is capable of handling this bacteria just fine, but once you add in artificial foods
the meat will sit in his digestive tract twice as long, meaning
there is a much greater chance of harmful bacteria building up.

2. Start with one protein source (one flavour)
it is best to start with just one protein source, like chicken or turkey.
Give that one protein for a good week and, if there are no signs of digestive upset
start your puppy on a second source of protein and so on.
They say a variety of a meat diet provides them with a wider range of nutrients
Young puppies do not need supplements, and added oils in puppies, can interfere with absorption.

3. Feed three times a day
Your puppy should eat three small meals a day until he is about six months of age.
Then he can eat twice a day and eventually once a day if you wish.
*NOTE:Adult dogs 1 year and older can be fed once or twice a day
depending on what works for that particular dog.
If your adult dog is getting bile pukes on 1 meal, you may need to feed twice a day.
Also varying the time of day that your dog is fed can help avoid bile pukes. (smells like poop)
Stomach acid builds up in anticipation of getting food at a certain time is the reason

4. My dog gobbles like he is starving
Dogs will gulp RAW up usually within 5 minutes or less, DONE.
DON'T WORRY they are not starving, this is normal, for dogs eating good food.
Puppies should have their RAW daily quota (rations) broken up into 2-3 meals a day
When over a year of age they can eat RAW 1x a day
Myself if a puppy is lean, I FEED MORE each meal.
Reds will usually NEVER be fat, so feel free to feed them more each meal
Browns on the other hand can get Obese Fast, so be careful to prevent this.
which means listening to your friends or Vet, as they will notice before you do.

5. Feed 2-3% of his anticipated "adult" body weight
For Bijou Reds you should plan for 50lbs (so 1.5 lbs of food)
for Bijou Browns you should plan for 60-70 lbs (so 2.1 lbs)
OR
to make it easy, just feed about 10% of his current weight.
Watch to see if he gets too fat or too thin and adjust accordingly.

5. Other important stuff
Make sure your puppy has plenty of fresh, non-chlorinated water.
He should also have plenty of fresh air and exercise and SUNLIGHT
Exercise for young puppies should not be forced walks as his growing joints
will suffer less stress if you take him outside for short play or training sessions instead.
Keep the walks short, about five minutes per month of age until he is about six months of age.

9. Find a mentor or raw feeding chat group
You will find there are plenty of experienced dog owners who love to help.
One day, you can return the favor and help another puppy owner
realize how simple it is to raise puppies on raw!





EXTRA YUMMIES - SUPERVISED
Chicken feet
Chicken necks
Beef neck bones (a great chew that will not break teeth)
Small split pork hocks
Rabbit ears
THE FOLLOWING are links to specific bones with photos to help you out:
"https://bigcountryraw.ca/product/meaty-beef-bone-2-lb-bag/"
"https://bigcountryraw.ca/product/chicken-neck-1-lb/"
"https://bigcountryraw.ca/product/flat-rib-bone-small-1-lb/"
"https://bigcountryraw.ca/product/chicken-feet-1-lb/"
"https://bigcountryraw.ca/product/pork-riblet-meaty-pork-bone-mini-1-lb/"
"https://petpawsitivesluxurypetresort-ca.myshopify.com/products/pork-tails-2-lbs?variant=35887159120"
"http://www.carnivorecarryout.com/Blug_Ridge_Beef_Meaty_Bones_p/brb-mbones.htm"





*Click to read "My dog has Kidney Disease Can I feed RAW"?
*Click to read "My dog has Pancreatitis can I feed RAW"?
*Click to read "My dog has Allergies should I feed RAW"?







AVERAGE WEIGHT OF BROWN POODLES
8 weeks = 6-8 lbs
9 weeks = 8 lbs
10 weeks = 9-10 lbs
11 weeks = 10- 11 lbs
12 weeks = 12 -14 lbs
4 months = 22 lbs
5 months - 30-35 lbs
6 months = 35 - 40 lbs

ADULT WEIGHT DEPENDS ON INDIVIDUAL DOG
45-65 LBS



CLICK ON ANY OF THESE LINKS BELOW, TO VIEW USA RAW OPTIONS:
(if links do not work then "google" the product)




FROZEN OPTIONS:
PLEASE ALSO SEARCH/GOOGLE YOUR CHOSEN FOOD
(ie FDA food inspections ect) to ensure they are still quality foods.
Answers dog food
BARF World
OC Raw Dog Food
Primal Pet foods
RAW Bistro
Raw Paws
Steve's Real Food
Tucker's Raw
Vital Essentials Raw

FREEZE DRIED OPTIONS:
NRG Freeze dried
Steve's Real Food
Primal Pets
K9 Natural

Canadian Options I like and have used on my adults are:
* Click to view Congo RAW
*Click to view Big Country Raw
RAW Dog Feed
When in doubt, or if you have any questions
call the manufacturer (not the kids working in the store or the butcher at the shop)

Also ask about giving puppy treats of:
Chicken feet, Chicken neck, Rabbit Ears, Raw bones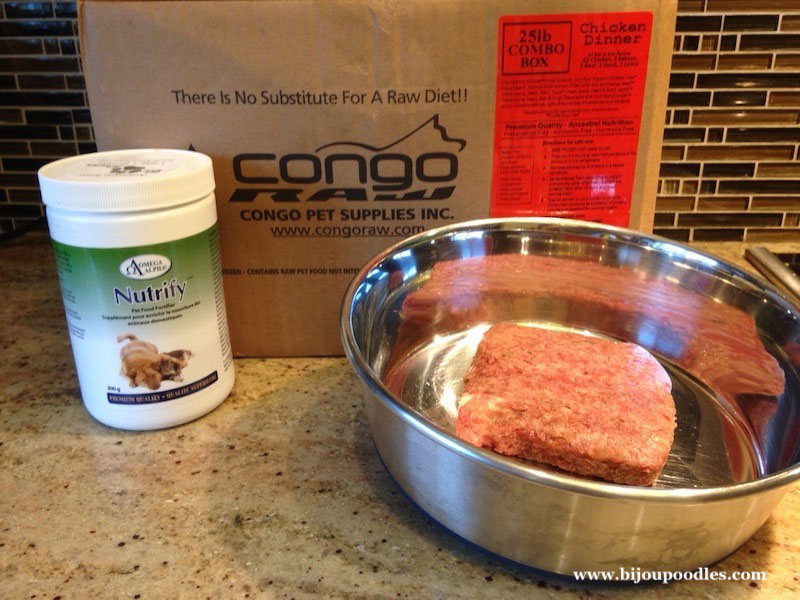 (Congo Raw commercial RAW food you can buy)

From one of our puppy people, Ashlea S. who feeds raw
and is now using this product and loves it.
http://www.congoraw.com
This is how the food comes in the box 25lbs in a box (bulk order).
You can see the patty in the bowl.
This is a chicken patty and contains the appropriate ratios
of meat, bone, organ, and fruits and vegetables.
I also have other patties which are richer in organ and tripe (to help digestion).
This is an example of a reasonably priced all in one 'puck'
of food which is a huge time savings.

COST
$66.30 for the 25 lb of chicken dinner
I feed 2 pucks / day = 1lb /day
Therefore 1 box for 1 dog would last 25 days
so you would be paying roughly $70 per month for a 60ish pound dog

Chicken is the cheapest protein available from this store.
This box also contains 2 patties each of beef, salmon, duck and lamb.
Each patty is 8 oz. (so I don't worry about anemia or healthy fish oils)

The REALLY interesting thing is that for my guys weight 66.4 and 64.6 Lbs they should have 1.25 lbs to maintain weight
(rule is 1.5-2% of body weight to maintain wt for active dogs).
But these patties are so dense Beau is becoming a porker on 1 Lb/day !
I think my other supplier, added water to make the patties heavier.
When they use to defrost they would be in a puddle of dilute looking blood.
Instead these patties are densely packed with meat and hardly any liquid comes out when they defrost, so I am feeding less to maintain their weight.
You can buy some really shady dog meat because no one regulates it.
Ashlea S. (Beau and Aero's owner)



* Click to read what "Dog Food Advisor" has to say
~ Click to go to Facebook page "Carnivore Carry out" ~ RAW delivery and resource
~ Click to view Getting Started on RAW ~
~ CLICK TO VIEW Facebook Page on RAW ~
MAKING YOUR OWN RAW DIET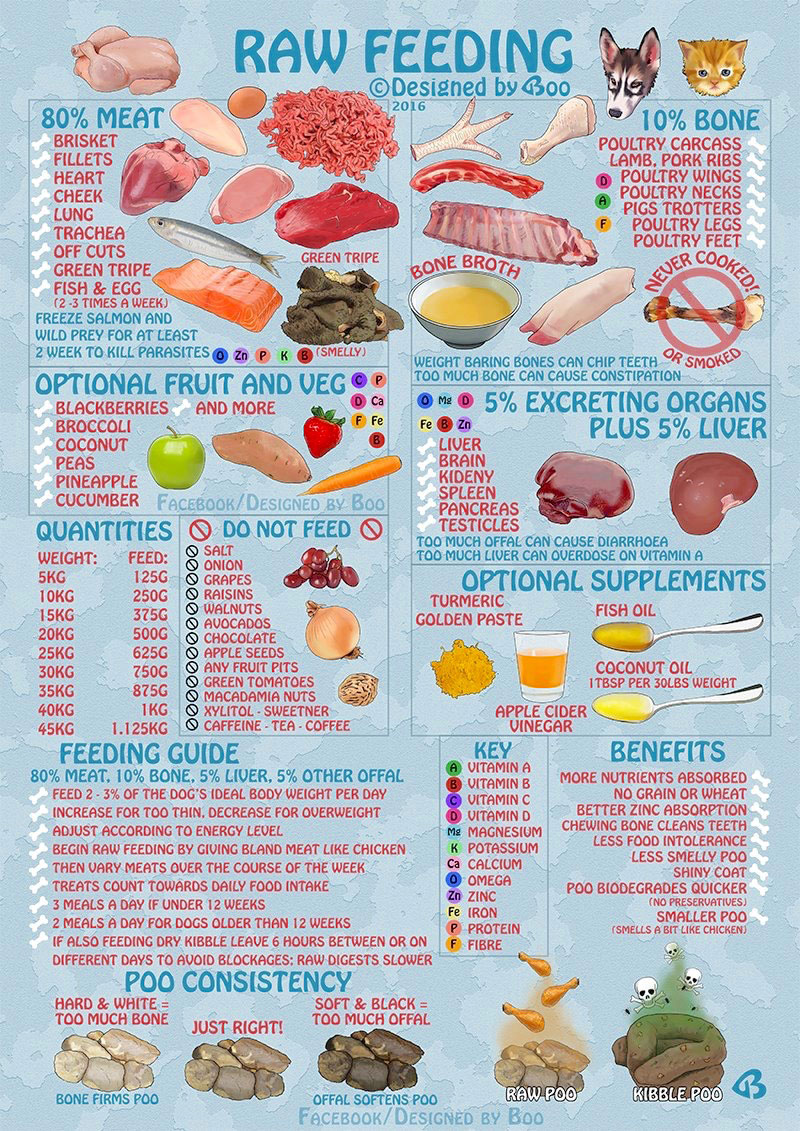 For the last few years, we have heard of so many kibble food recalls it was getting scary.
Our puppy people also looked to us to recommend and resolve many food issues.
We fed and recommended the best kibble we believed we could find, but this was not always
accessible to everyone, and people still continued to believe their Vet's and poison their pups
with vaccines and pesticides in form of heart worm, Flea, tick products,
to top off feeding processed Veterinary Kibble food.
People remember one adverse effect of Vaccines is diarrhea.

Next we looked at what we "could" control to best keep our pups safe and healthy.
The solution was to feed RAW. People could still continue to poison their pups
with vaccines and pesticides, but at least feeding RAW and having them continue
to feed RAW was going to give our pups, the best chance
at being healthier and surviving today's toxins. Of course we continue
to advocate limited vaccination protocols.

The difference we have found so far is BIGGER healthier pups.
Thicker darker coats, and no loose stools EVER.
Transition to pet homes was easier as no diet changes, as RAW is RAW
The beneficial results are undeniable, though feeding RAW for us is more expensive
and a ton more dishes to do and cleaning to do each meal
for our pet people, feeding RAW is only marginally more costly,
because there will be less health issues, which means less "Cost" in the long run.



*Click to read the Leerburg site on BARF and RAW Diets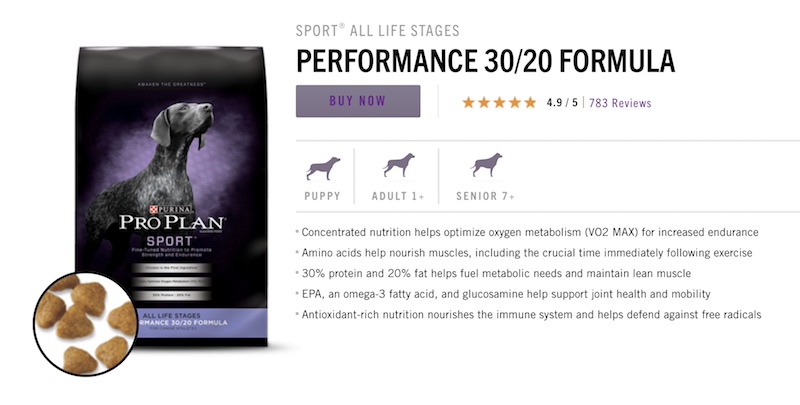 Our dogs that were on the road with handlers
are on Proplan Sport. Our breeding Poodles who are at home, are on RAW diet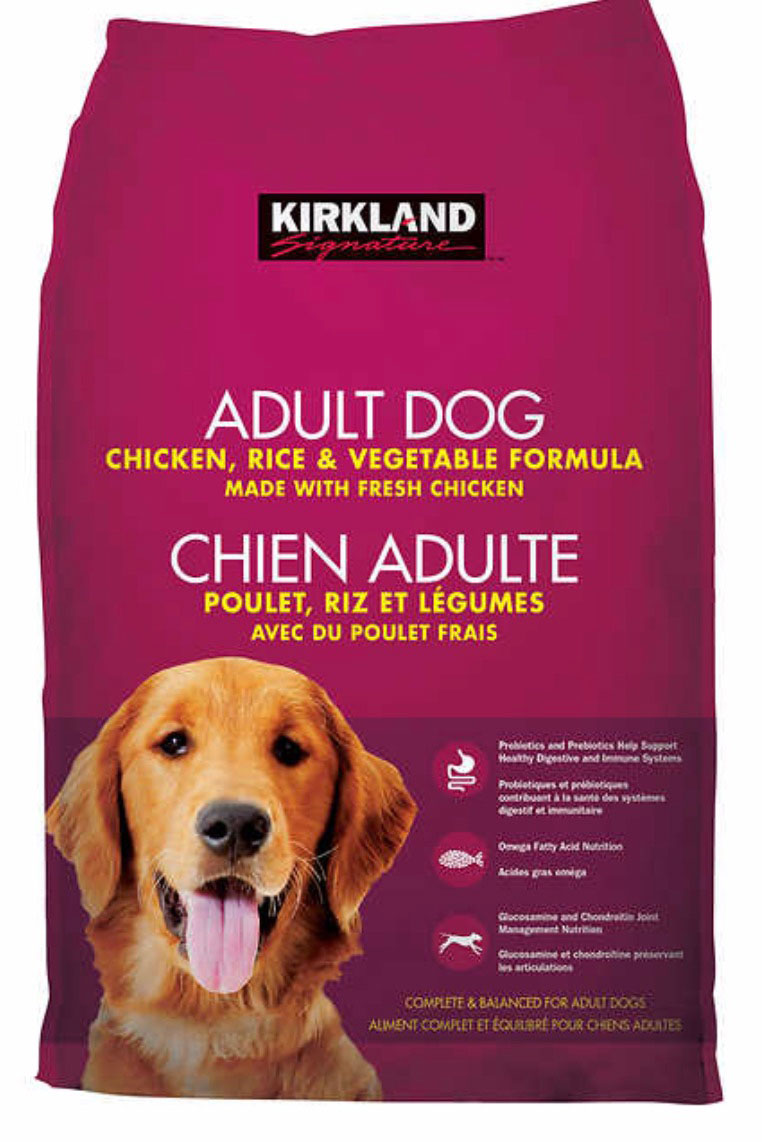 Costco - Kirkland Signature Chicken, Rice & Vegetables Adult Dog Food
with this food is decent for the price, Also Costco will deliver this food !
If If your Poodle develops GI issues, ear infections, itchy skin
then get off of any food with feathers (all poultry or egg)
Kirland also has Kangaroo... just find one without peas or lentils as this blocks
the absorption of TAurine, needed for proper heart developement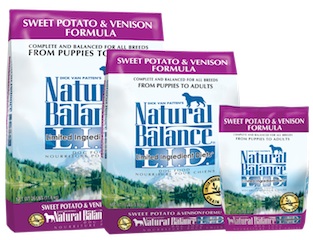 ALTERNATIVE TO WHAT WE FED YOUR PUPPY
Dick Van Pattens Natural Balance Venison and sweet potato
Dick Van Patten's Natural Balance that has had great reviews
IF you switch to this food your puppy will have loose stools for a month.


Return to BIJOU home Page