Pediatric Spay/Neuter
Yes, I'm aware of all the latest "studies"
which are clinical in nature, changing, depending
on if shelters are low in numbers or not. IF shelters are Low in numbers
the studies discourage early spay/neuter.
When shelters are full,
all of a sudden you will see the studies show benefits of early spay/neuter :)
What is undeniable, is our pups that have been Altered at 6-7 weeks of age
have matured to 11-15 years of age,
without any health issues from early spay/neuter, and we prove this on our web page,
with photos of our senior Poodles as well as the many dog sport achievements
and titles that our alter pups have accomplished, and not, from some slanted study
or studies whose findings constantly change when it is suitable or fashionable.
7 weeks or 24 weeks (6 months) ... is it really that beneficial to wait an additional 16 weeks ?
Anyone with common sense knows the answer is "NO"
no difference in waiting a few weeks to alter.
If someone is really concerned about their dog retaining their "hormones"
and all the mental and physical issues that come with that
then they must wait until the dog is much older
and we know, this is just not happening.
So why the protest of early spay/neuter ?
Vets saying to wait until the magic age of 6 months of age, well the ONLY reason
Vets prefer to wait until a puppy is older is because it is easier for them, to do the surgery,
as the reproductive organs will be easier to see, and get to
and I can't blame them for wishing an easier surgery.
We do ask that our puppy people spay/neuter either 3 weeks prior to Rabies Vaccine
or 3 weeks AFTER receiving their Rabies Vaccine, and never with any vaccines.
Legally all our pups remain in our name as owners, until spay/neuter is completed.
Spay/Neuter is required to be done before 12 months of age
with papers sent out to new owners, when we receive proof of alteration
and a digital full view photo of your puppy, that we may use on our facebook page.
Photos and comments help us to assess how our breeding program is doing.
Plus we love to see our babies all grown up !
According to The American Veterinary Medical Association
they have been doing spay/neuters in 6-8 week old pups, since the 1980's.
That is 34 years that human societies and Vets have been doing
pediatric spay/neuters, they have had no ill effects.
So why aren't all breeder's doing this procedure ?
$$ COST $$
For us to do a litter can cost up to $3,000.00 done by our surgical expert.
This is a very expensive surgery for breeders to provide to their puppy people.
AND time consuming, as will ential an entire day at the Vet office.
We put our pup's health and welfare first, so this is why we have done spay/neuter
before our pups left our home, (when and if possible by our experienced Vet)
Please make sure to go to the bottom of this page to view video of pups just out of surgery
video of pups a week out of surgery and photos of them all grown up
BEFORE you form an opinion, based on something you read online.
16x Reserve Best in Show
11x Best in Show
2x Best in Show Speciality, Alter Champion
altered
Finnegan
I do chuckle when the "uneducated" claim
"oh they don't grow properly if altered young"
REALLY ??? because take a look at
ALL
our altered pups featured on our web page, this page below and our Facebook page, to see how our pups do grow properly, fully and beautifully. THEN, people should go and look at CKC and or AKC Champion intact dogs when they are all shaved down (IF you can even find updated photos) and really stand back and compare, because people will be very surprised that our "Altered" pups have better structure, movement, boning and even muscle mass and longevity of life.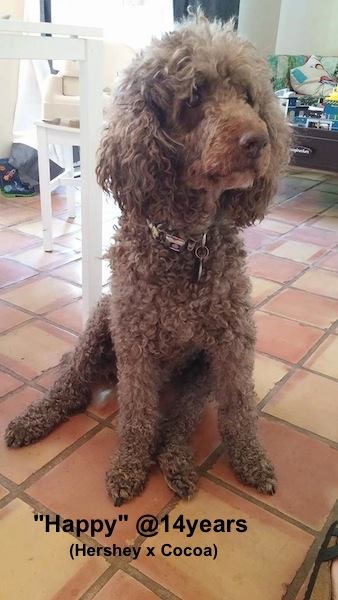 However proof is in the pudding
and I do provide LOTS of information/data to back up what I say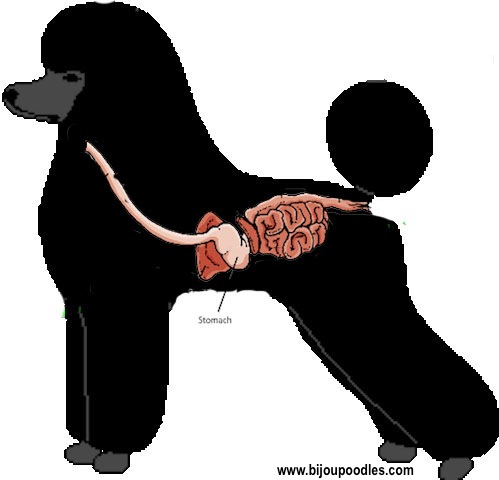 The other excuse I hear breeders use is "well I want my pups to get their stomach tacked and this can be done the same time as spay/neuter when they are older", again "REALLY" ?? Well the sad thing is that the public has no idea that certain lines have issues with bloat and or torsion and they should avoid buying from a breeder, intentionally breeding this health problem that could be avoided. Canine Gastropexy is a MAJORY surgery ! This major health issue could be avoided through only breeding bloat clear, healthy lines. Bijou Standard Poodles have been bloat and torsion free since 1989 through selectively breeding to void this health issue, as well as educating our puppy people to "free feed" or feed raw.
NO routine tacking, needed for our Bijou Standard Poodles raised how we do.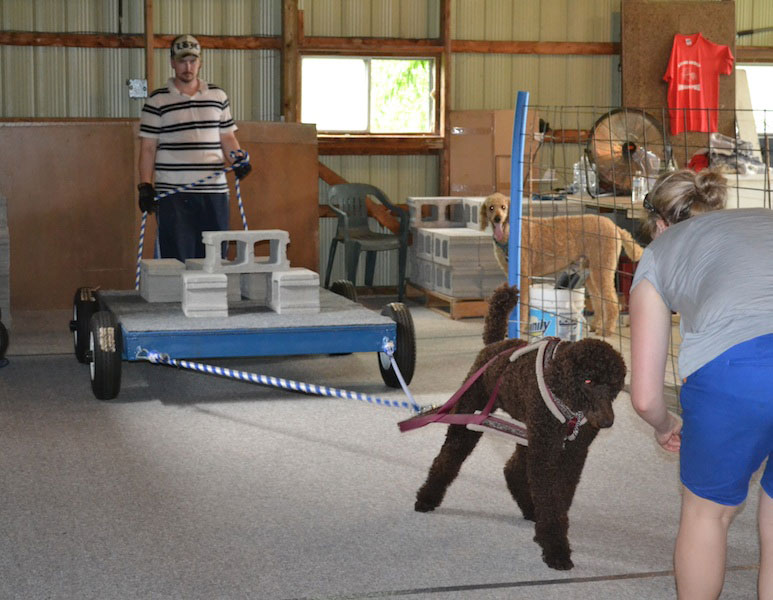 (our altered
Beau
competing in Weight Pulling)
Bijou Standard Poodles, has been doing this procedure,
with following up on our pups since 2003.
This is over 17 years with hands on proof positive, that we have not had any ill effects.
I find it most amusing that the people that are most opposed are just those with "opinions" based on what they have "read" online (so of course it must be true), or some Vet has told them (because that is what they heard in school) and ignore facts presented before them, choosing to remain ignorant about the procedure. Bijou Poodles has done real research, following those before us that have been practicing this procedure and most of all we have actual hands on experience. As a result we have made this choice
for our pups in the past, based on our knowledge extensive experience and of course lastly and most importantly
tangible FACTS as evidenced on our web page.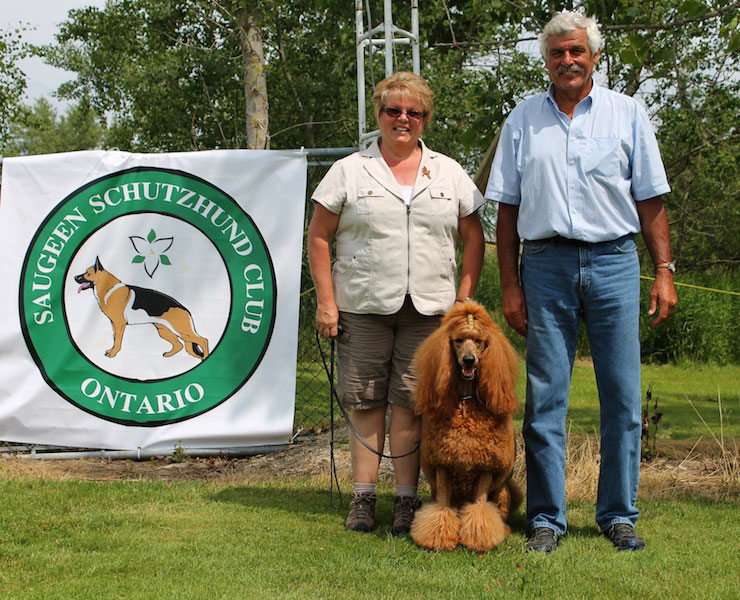 (Our Altered Finnegan competing in Schutzhund protection sport)
All of the pet Poodles you see featured throughout our web page were spayed or neutered at 6-7 weeks of age and as you can see, they have grown into some stunning looking, healthy adult Poodles who also do many
Performance and Working Events
, making Standard Poodle History along the way ! Our Facebook page also features many of our pups as adults
Our Poodles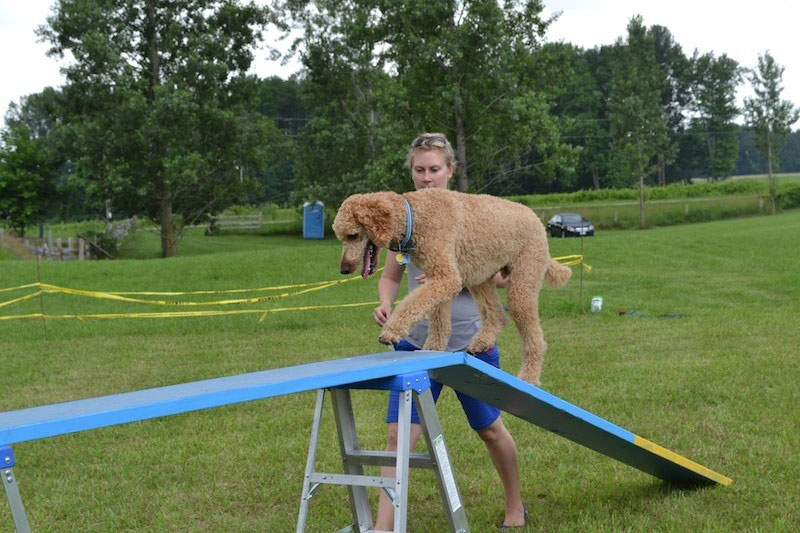 Our altered
Aero
competing in Agility
So why does Bijou Poodles pay and do this expensive procedure for our puppy people ?
I want to know 100% that the pups I place, are going to the loving pet homes
that they were intended to be in. I would not be able to sleep at night knowing
just one of our pups were not being enjoyed as the loving, cherished pet
that they were said to be for, and being kept in foul conditions
with just their minimal needs being met, in order for them to pump out
"puppies for profit" without regards to their well being.
I also know that my Vet's surgical skills are greater than most Vets
and they will do an excellent job.
We have seen too many botched spay/neuters done on adults dogs,
by Vet's lacking these skills. None of the pups we have spayed/neutered
have had any leaking issues that so often happens when a
Vet lacking surgical skills, performs a spay/neuter.
I'm concerned about the health and welfare of my pups,
so I also want to know this procedure is done correctly.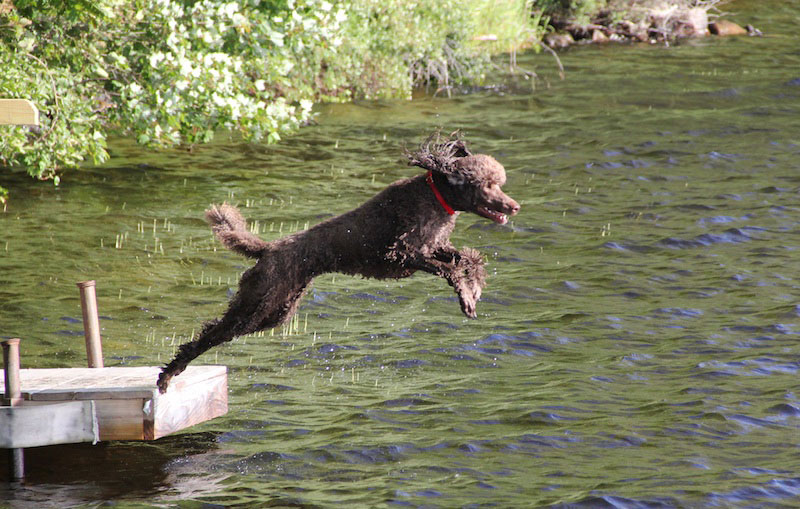 (Chance a brown standard Poodle adult)
We have kept in touch with puppy people since 1989
and thoroughly screen people to find only the best homes
but even with all our diligence, no contracts and or purchase agreements
can fully protect our pups from the abuse of a back yard breeder,
or being bred indiscriminately by those bent on deceiving.
I have heard of pretty much every Breeder in Ontario
(even the ones most opposed of this procedure on forums,
claiming in public their contracts protect their pups)
that has had this happen to them, because their contracts are just not
easily enforceable and once bred, can't change the fact
that the damage has already been done. I want all my pups that I have placed
to be in loving pet homes where they are cherished.
This means I have passed up offers of $5,000.00 or more from people
wishing pups for breeding. That is how strongly
I prefer my pups to be in pet homes. Because I know very few breeders
who treat their Poodles like we do
~ like family members ~
On VERY rare occasions, we have had pups with undescended testicles
at time of surgery. This means that either the testicles would take up to
6-8 months to drop down all on their own
or puppy may totally retain 1 or 2 testicles, which would need removing
eventually, for health reasons. Our pups left unaltered in the past
have always had testicles descend "eventually".
However if they are not present during their appointments
we just pay extra to have our Vet neuter them
So puppy does not suffer later in life, and owners have peace of mind,
that they have a problem free, puppy.
As you can see there is minimal scaring, by our VERY skilled Vet,
and puppy is up and around, just like their siblings.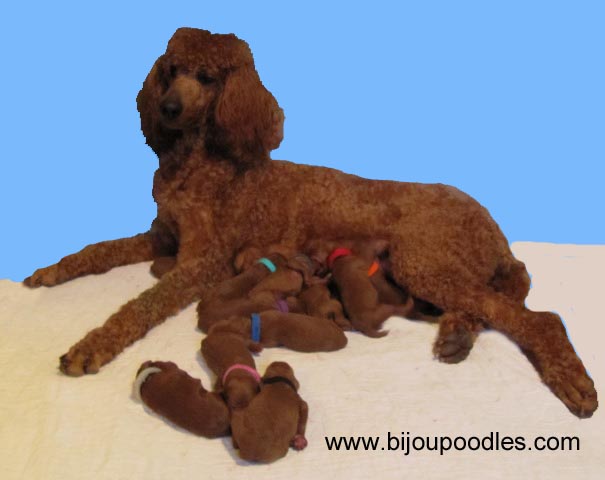 We do not go into this blindly or based on some slanted study
we have read. We have studied and evaluated other breeder's
doing this procedure for years before we started.
As well as evaluating various Veterinarian's surgical aptitude,
and spending years of tracking results before we were convinced
that this would be a good option for our Puppies.
You have to consider that we plan each of our breedings over 10 years
in advance and we will not do anything to jeopardize our Poodle's health,
their puppy's health or our reputation of 'Producing' superior healthy pups.
As a result of our knowledge and experience, we have found Vets
that specialize in this procedure and perform it routinely for responsible breeders.
Usually spay/neuter clinics are a great place to start asking and researching.
We have seen 3 lbs kittens and 3 lbs puppies run around 1 hour
after their spay and or neuter. Of course to prove this we have also documented
our own pups showing no apparent discomfort 1 day, 2 days, 7 days
and then up to 10 years later. For those still skeptical we have even documented
these same pups over 10 years later all in excellent health.
View our documented video on our puppy follow ups below,
to see what we mean.
Lets face it. No owner or dog would want to go through this experience.
The guilt involved when you look at your Poodle and consider
taking them into the Vet The cost of up to $1,000.00 involved
in getting surgery done later in life. Just call various Vets and price up
spay/neuter of a 45lbs dog with pre-op blood work and vet visit $
The time off of work to take your Poodle into the Vet and pick the Poodle
back up the next day. The risk involved in taking your Poodle to the Vet
and hoping they have the experience needed to have a successful surgery
and recovery (which we have discovered is slim, to none)
OF COURES PROOF IS IN THE PUDDING
SO CHECK OUT OUR ALTERED ADULTS BELOW
...
Fin at 1 year of age ..................
Finnegan
at 3 years of age
Both of these boys are UKC Alter Champions with Multi Best in Show "Finnegan" being the first Red in History
Both these Red Males were pediactric neuters at 7 weeks of age
...
Muti Best in show
"Reigna"
.............. Maeby
Both of these Brown Females had Pediatric spays at 7 weeks of age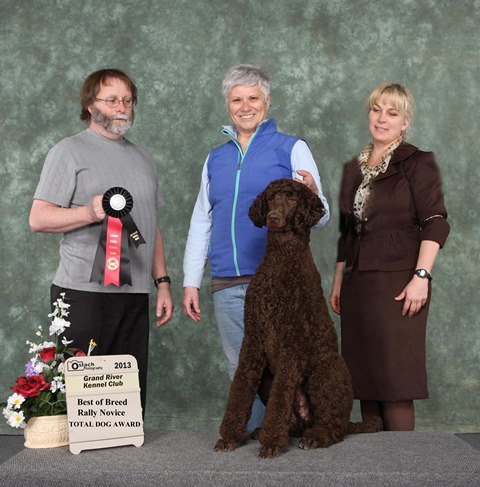 (Bodhi pictured at 14 months of age, who was neutered at 6 weeks of age)
Rally Judges: Paul Oslach, Paul Oslach, Heidi Kadoke
Conformation Judge: Joseph Gubry
Bodhi qualified and completed his Rally Novice Title with 1st Place Class placements
and also Won an Alter Best of Breed for 2 competition wins and 50 Points towards his championship
and because Bodhi did both Rally and conformation the same day he also won a
coveted
TOTAL DOG AWARD !!!
Way to go Carol and Bodhi
(Beau - brown male neutered at 6 weeks of age)
Best in Show, Champion
"K Lar's Brilliant Beaujolais"
URO1, URO2, CGN
~ 5x TOTAL DOG AWARD ~
Height: 26.5"
Weight: 65 lbs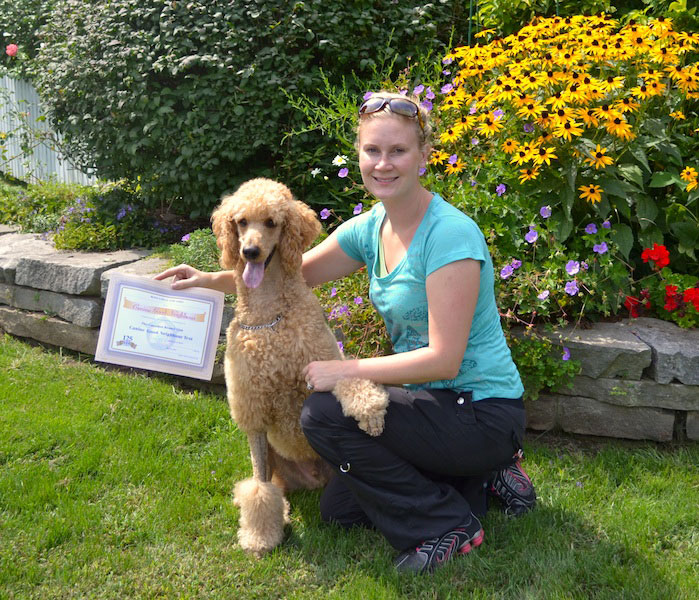 Champion
"Bijou's Aero"
URO1, URO2, CGN
~ 2x Total Dog Award ~
Height: 28"
Weight 63 lbs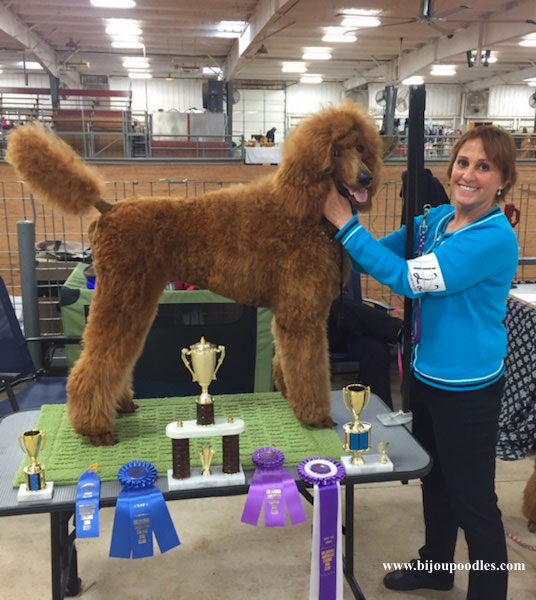 4x Reserve Best in Show, UKC Champion
"Bijou's Cheddar"
CGN
Altered Poodles compete in UKC working events and even at Dog Shows (in conformation) for Titles and for Owners to have a great time
with their cherished pets, who might even win a BEST IN SHOW like the Bijou Altered Poodles so often do !
Bijou Standard Poodles in an effort to encourage responsible ownership and for our pups to enjoy spending one on one time
with their Owners, are rewarding Owner's achievements, through our
Incentive
program
People worry that this early procedure might stunt growth.
In fact, research shows that the dogs will actually get slightly Taller and
we used to say leaner, but we found out this was in part to owners actually restricting their diets.
When the pups are toilet trained we really encourage people to leave food down 24/7 for their Poodles.
~
Every Poodle displayed through our web page not owned by us, has had pediatric spay/neuter ~
People also worry about puppy having Urinary incontinence after the procedure.
Puppies that have not been spayed/neutered will pee every 20 minutes if left loose in the house
This is not a UTI, and is normal until they are up to 12 weeks of age.
Pups will hold it, if confined in a properly sized cage for 4-6 hours.
Pups that have been spayed/neutered are no different.
After surgery our pups will have 2-3 days that they pee a LOT.
Basically "frequency" but after this short period they
are in control and should have minimal mistakes.
In a rare case we have had pups experience a Urinary Tract Infection
This is usually related to owners restricting water to aid in toilet training.
Puppy needs water at all times except at night while in their crate/cage.
(
Finnegan
,
Reigna
, Finn)
*Click to read about what you can do with your Bijou Poodle
UKC Video about showing in Alter Class
UKC's Announcement about new Alter Classes
Early Spay/Neuter is commonly referred to as
Pediatric Spay/Neuter
What ever your Decision is, we offer this procedure through our Veterinarian,
with us assuming all risks and costs involved. As you know this procedure
could cost you between $200.00-$1,000.00 at a later date, so having us do it would be a huge
cost savings to you. Why we would offer Pediatric Spay/Neuter at an additional expense for us?
Because we feel after our research that our pups would be healthier and recovery quicker, less chance
of long term injury from a less experienced surgeon, use of minimal anesthetic, have less scarring, less loss of self,
quicker recovery, less stress and financial strain on owners and overall with less trauma for the puppy.