BIJOU STANDARD POODLES
*Click on pictures to view their web pages.
OUR RETIRED POODLES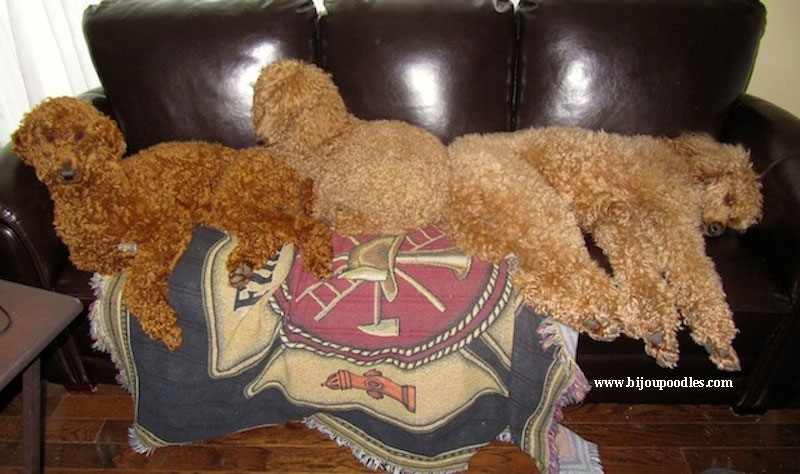 (Faith, mother Paris, and Ruby)

When our poodles have accomplished their titles and goals for our program
we retire them from our breeding program to remain with us (pictured above) or out to loving homes that are waiting.
As you can see below we have produced and kept generations of healthy happy poodles.
We have been fortunate enough to have friends and family eager to provide loving homes to our retired friends,
where our Poodles can be the King or Queen of their new home. Because we are not a kennel
we have to keep our numbers down in order to provide loving individual care and training to each of our Poodles.
However we are proud to acknowledge the contribution these amazing Poodles have made
to our lives and to those that own their off spring.



Why Title your Dog

by Sandy Mowery

Not just a brag, not just a stepping stone to a higher title, not just an adjunct to competitive scores;
a title is a tribute to the dog that bears it, a way to honor the dog, an ultimate memorial.
A title will remain in the record and in the memory, for about as long as anything in the world can remain.
And though the dog herself doesn't know or care that her achievements have been noted,
a title says many things in the world of humans, where such things count.
A title says your dog was intelligent, adaptable, and good-natured. It says that your dog loved you
enough to do the things that please you, however crazy they may have sometimes seemed.

In addition, a title says that you love your dog.
That you loved to spend time with her because she was a good dog and that you believed in her enough
to give her yet another chance when she (or you!) failed and in the end your faith was justified.
A title proves that your dog inspired you to that special relationship enjoyed by so few.
That in a world of disposable creatures, this dog with a title was greatly loved, and loved greatly in return.

And when that dear short life is over, the title remains as a memorial of the finest kind
the best you can give to a deserving friend. Volumes of praise in one small set of initials after a name.
An Obedience (Weight Pull, Lure Coursing, Rally, Barn Hunt, Nosework, Agility) title
is nothing less than the true love and respect given and received and recorded permanently.





OUR RETIRED KIDS




UKC Champion
UKC Grand Champion
"Valor"
S.P.O.T., URO1, URO2, URO3
AKC RN, AKC RA, CGC
~ 2x TOTAL DOG AWARD ~
Producer of 5 CKC Champions and CKC's First Red Grand Champion
Red Male



CKC Champion
CKC Grand Champion
"Cherub"
Second brown Female Grand Champion in CKC history !!
brown Female
Cherub gave me Mira



UKC Grand Champion
"Dare"
S.P.O.T., URO1, URO2, RN, RATI, UWP
PT1, PT2, PT3, PT4, PT5, PTA, PTS, PTM, PTE, NV, NC
UKC's #9
!!! TOP STANDARD POODLE 2011 !!!
Red Female
Dare gave us our beautiful Reva and Price




Grand Champion
"Ula"
SPOT, CA, CAX, CAS, CAT, URO1, URO2, RATI
AKC RN, PT1, PT2, PT3, PT4, PT5, PTE
UKC's #4 Standard Poodle 2011
Red Female
Ula gave us our beautiful Pyro, and Blush



Grand Champion
"Joy"
S.P.O.T., CA, CAX, CAS, CAT
URO1, URO2, URO3, RATI, AKC RN, RA, CGC
Brown Female
Joy gave us these wonderful pups for our future:
Cherub, Lily and Oscar




Grand Champion
"K-LAR'S CHOCOLATE TRUFFLE OF BIJOU"
URO1, URO2, URO3, UWP, UWPCH
RATI, AKC RN, AKC RA, AKC RE, AKC CD, CGC
~ 3x TOTAL DOG AWARD WINNER ~
"Truffle" - Brown Female
Truffle gave us our beautiful Spice and Kahlua



BISV, UKC Grand Champion
"BIJOU'S RED RAZZBERRY OF MAJESTIC"
S.P.O.T., CA, CAX, CAS, CAT, CAA, UWP, UWPCH, WPT1
AKC RN, RA, CGC, URO1, URO2, URO3
"Razz" - Red Male
Razz started my Red Program
Razz's lines will continue through to his progeny:

Flare Star JP L'Etoile du Berger (showing in Japan)
Bijou's Majestic Flame of Osher (showing in Israel)
Grand Champion, Bijou's Daring Red Revolution UKC's #1 Poodle 2013
Grand Champion, Bijou's A Priceless Red Dare, CGC
Grand Champion, Bijou's Ooh La La, CA, CAX, CAT, URO1, URO2, RATI, AKC RN, PT1, PT2, PT3, PT4, PT5, PTE
BPIS, Grand Champion, Bijou's Cherry Blossom (showing in USA, Canada)
UKC CH/IABCA INT CH. Bijou's Boogie Woogie Bindi PP (showing in USA)
Multi BPIS, RBPIS Bijou's Glorious Red of Rose UKC's #3 Poodle 2014, #6 in 2012 RATI, PTN, PTA, PTS, PTM, PTE, PT1, PT2, PT3, PT4, PT5





Champion
"K-LAR'S CHOCOLATE SOPHISTICATION"
URO1, URO2, URO3, RN, RA
"Sophie" - Brown Female
Sophie gave us our beautiful Charm and Daisy



Grand Champion
"BIJOU'S DARING RED REVOLUTION"
UKC's #1 Standard Poodle 2013
"Reva" - Red Female
Reva produced our beautiful Poppy to carry on our Rose line



BISV, Champion
"BIJOU'S RED ROSE OF MAJESTIC"
URO1, URO2, URO3, HIT UCD, UAGI, AKC RN, AKC RA, AKC BN, CGC
~ 2x TOTAL DOG AWARD WINNER ~
"Rose" - Red Female
DOB: Aug 30 2007
Rose was done contributing to our breeding program and her lines are continued on through our amazing
"Dare" and "Glory"



Grand Champion
"BIJOU'S MAJESTIC RED RUBY OF LS"
CA, CAX, CAS, CAT, RN, RA, CD, URO1, URO2, URO3, UCD, 2x HIT, UWP, CGC
~ TOTAL DOG AWARD WINNER ~
"Ruby" - Red Female
DOB: December 4, 2006
Alive and well and competing in many events, as well as being my Best Friend
Ruby progeny "Sienna" and "Karat" and Bindi who are also showing and trialling




"Mocha"
Mocha was retired before we had opportunity to show or trial her
We decided it was not good timing to keep a Dream puppy.
Mocha is in her new home being enjoyed as a well loved pet





Multi Best in Show, Grand Champion,
"BIJOU'S RED HOT PEPER OF MAJESTIC"
URO1, URO2, URO3, UCD HIT, UWP, AKC CD, AKC RN, AKC RA, CGC,
URO1, URO2, URO3, UCD HIT, UWP
AKC CD, AKC RN, AKC RA, CGC
PT1, PT3, PT4, PT5, NV, NC,
~ TOTAL DOG AWARD WINNER ~
Red Female



Best Puppy in Show, Grand Champion
"Bijou's Cherry Blossom"
DOB: January 21, 2011 - Retired in 2014
Blossom didn't enjoy doing our dog sports and my goal is to only breed Poodles
that have proven looks, health and ability to provide myself and the public with a Total Poodle
So we decided to retire Blossom and not use her in our breeding program.
Blossom is alive and well and enjoying being a cherished pet



Champion
Bijou's Hot Ember of Majestic
CA, CAT
DOB: April 11, 2010 - Retired 2013
Ember didn't enjoy doing all of our dog sports and my goal is to only breed Poodles
that have proven looks, health and ability to provide myself and the public with a Total Poodle
So we decided to retire Ember and not use her in our breeding program.
Ember is alive and well, living with her new owners, enjoying retirement.



Champion
"Bijou's Red Sultan of Majestic"
CA, UWP, WPT1, URO1, AKC RN
"Sultan" - Red Male
DOB: April 11, 2010
Alive and well and living with our retired "Java"
After completing all Sultans health tests, Championship and Performance titles in number of events ($$)
we had to make a choice of either keeping Sultan or his sister, for our breeding program
because we have to keep our numbers down as we don't have a kennel.
It was a tough choice to make, as we love them all, however we found Sultan
an amazing loving home that also as our retired "Java" so it helped make our choice easier.
We are hoping Mark and Chris will still let us continue to show and trial Sultan as he does love his dog sports.
We will be continuing Sultan's line through his niece we plan on keeping in the future.



Grand Champion
"Palmares Paris to Mithril"
SPOT
"Paris" - Red Female
DOB: April 2007
We adopted Paris when she was older and in need of a home. Paris instantly became my husband's best friend
Paris does not enjoy doing dog sports or being a mother so we retired her. She spends her days glued to my husband
Paris is alive and well and busy warming beds and giving out hugs, being the caregiver that she enjoys
Paris's lines will continue on through our "Faith"




Champion
"Bijou's Flair for Majestic Red"
UROI
"Flair" - Red Female
DOB: Aug 30 2007
Alive and well living with one of her puppies.
Flair's lines are continued on through our amazing
"Bijou's Ooh La La"



Champion
"K-Lar's Dream of Java"
URO1, URO2
Java - Brown female
DOB: July 4 2006
Alive and Well and enjoying doing pet therapy with her new owners
Her lines and amazing attributes will continue to contribute into our next generations through
Joy, Truffle, Bruno



Champion
"K-Lar's Hershey Wins Again"
Hershey - Brown Male
DOB: April 11 2001 - 2014
Hershey produced our most amazing dark brown standard poodle pups with Sweet natures and dark brown colour.
His lines and amazing attributes will continue to contribute into our next generations through
Joy, Truffle, Bruno and our Sophie



"Grover's Muddy Water" -Brown Male
(Zack x Daisy)
Hershey's dad
Muddy passed away of natural causes at 15 years of age




Champion
"Bijou's Corolicious of K-Lar"
Cora - Black Female Carrying Brown and Red
DOB: Feb 26 2008 - retired 2010
Cora was retired from our program as she had more prey drive and energy
and a desire to kill smaller creatures, which is not want I wanted in my breeding program
Now living nearby as a well loved family Pet.



Champion
"K-Lar's Chocolate in Abstract"
URO1
Abby - Black female carrying brown
DOB: May 16 2006
Abby retired to a pet home at 3 years of age to enjoy being a very cherished pet
She carried and produced the Phantom pattern which we are not breeding for.
Abby passed away in 2012 after ingesting poison that renovation crews had left out.
Abby's lines will continue through her beautiful daughter Sophie


"K-Lar's Hear the Raven" - Raven - Black Female (Nikki x Bailey daughter)
Raven is half sister to Cocoa.
Raven passed away in 2011 after being hit by a car.




"K-Lar's Brown Bruno" - Bruno - Dark Brown Male (Hershey x Java son)
DOB: Nov 10 2008 - Alive and well and part of a small breeding program in the USA.



Champion, "K-Lar's Beau " - Beau - Brown Male (import)
Beau produced Phantom colour and ended up fading too much for our Breeding program.
Beau is currently being enjoyed as a beloved pet



"K-Lar's Hot Cocoa", CD, CGC, ROII Cocoa - Brown Female
(Nikki X Fergol daughter)
Jan 30 2000 - June 15, 2011
Cocoa was alive and well and actively competing in Obedience, Conformation, Rally
until shortly before passing away at 11 years of age.
Cocoa was the QUEEN of our home and official bed warmer
Cocoa completed her CD title with 2 high in Class wins and Rally Excellence, ALWAYS in the top 3 !!
We never kept any of Cocoa's lines for our breeding program



"K-Lar's Mocha Madness" - Brown Female
(Cocoa x Hershey daughter)
~ Showing in North Korea ~


...
"Fuzzies Midnight Star" -Black Female (Cocoa's grandmother)
Passed away at 10 years of age


...
"K'lars Naughty Nikki" - Black Female
(Cocoa's Mom)
~ Retrieving and Tracking Trained ~
passed at 12 years of age natural causes



"Latte" -Brown Female
We purchased Latte who ended up being higher energy than we wanted for our
breeding program so we rehomed her to a show home where her energy could be appreciated.
~ Rehomed to a Show Home ~



...
"Whatchagot Tommy Junior", CGC -cream Male
We purchased TJ at 10 months of age. He was an amazing dog so gentel and sweet
~ Certified St. John Ambulance Therapy Dog ~
TJ was passed away at 8 years of age from cancer
We never kept TJ's lines for our Breeding program



"Brownie"-Brown
(purchased male from Leona Williams, who was AMAZING
but who died of cancer at just 1 year of age and was never used in our program)


...
"Bailey" - Brown Male
Raven's dad (Flame x William)
special thanks to Leona Williams
~ Showing in North Korea ~

...

"Fergal" - Black male
Pictured with his brother "Feary" and their Family
(TJ x Star)

We are so very glad that we have found you again, having failed to find you using your original kennel name of K-Lar.
We are still living at the same address in Cobble Hill, Vancouver Island. But we have very sad news
in that Fergal died May 25 last year at almost fourteen, and Feary this year on January 7 at twelve and a half.
We miss them both very much. They were amazing dogs and gave us all so much pleasure,
and were admired for their looks and temperament wherever we were and right up to the end..
They adjusted to our fostering our daughter's husky/shepherd/lab cross for four years,
and also adjusted well to the various grandchildren who came to stay.
If you would like more information on their lives here we would be more than happy to share with you.
We are in the process of deciding if we can live without standard poodles
in our lives having shared our home with them for over 28 years. Needless to say,
if we do decide to welcome them into our family again we would like to purchase them through you.
It was so very exciting to find the picture of Fergal with Nikki as the originators of your beautiful line of brown poodles.
You are to be congratulated on your focus on health and temperament.
Edward and Deirdre O. - Cobble Hill, Vancouver Island