BIJOU STANDARD POODLES
Champion - Bijou's Hot Ember of Majestic, CA, CAX, CAS, CAT
"Ember" - Dark Red Female
~ Click to meet Ember ~
Height: 26"
Weight: 50 lbs
10 generation COI = 13.22%



HEALTH TESTING COMPLETED:
Ember has tested CLEAR of the following Health Problems and Diseases:

*CERF (eyes)
*Hip Displasia
*Thyroid Disease
*Elbow Displasia
*Patellar Luxation
*Dentition Database
*Legg-Calve-Perthes
*Degenerative Myelopathy
*Congenital Cardiac Disease
*vWD (Von Willebrand's Disease)
*Neonatal Encephalopathy with Seizures
*DNA COLOR TESTED and DOES NOT CARRY DILUTE
(DOES NOT CARRY DILUTE, said to cause fading in reds)



Ember's parents are from the "original" Majestic Kennel, directly from Joan Mistkowski.
Joan passed away in 2009 and all her Majestic Poodles were put in rescue and spayed or neutered.
Ember is truly a piece of history with her prized pedigree and lineage that ensures that she will remain a true dark red.
Ember has proven that she meets the breed standard with correct type, by achieving her Championship.
Ember's next goal is to prove that she has the brains by achieving her Rally Obedience Title.
Ember is currently proving she is top physical form and has the ability to work, by obaining her Coursing Title
Ember just loves being with her owners and doing what ever they wish her to do. She is super smart
and enjoys earning her rewards in life, by a job well done. She detests getting treats for nothing
and she will spit them out and not take any, until you ask her to do a trick and tell her how great she is.
If all you want to do is sit on the couch watching movies Ember will be content
as long as you give her loving and praise and affection for being with you relaxing.
When we have taken her to dog shows it is so funny to watch her check out the other poodle competition
and then decide "oh I have this" as she enters the ring and prances gracefully around waiting for the clapping.
Ember was watching the boys do weight pulling and we could just see her wheels turning as she wondered
if she could do better then them at this new "game" we found. She is just such a thinker, and a great companion to have.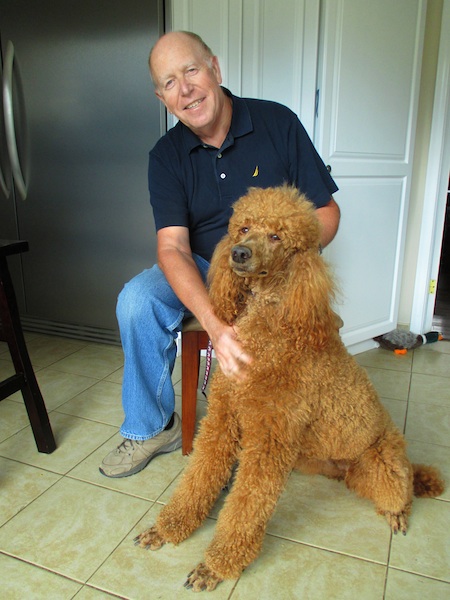 Ember and her new owner Ken
Ember has retired from our breeding program and is now
going to enjoy being the Queen of her new home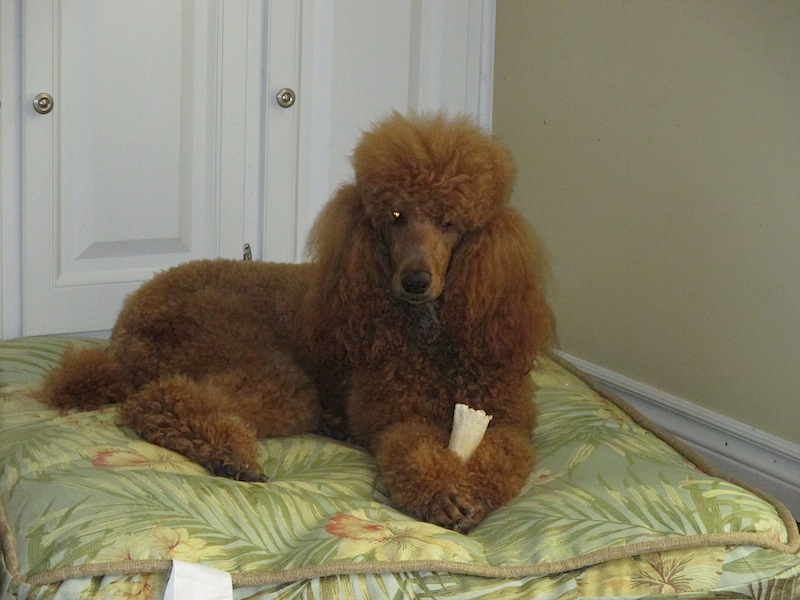 ~ October 2013 ~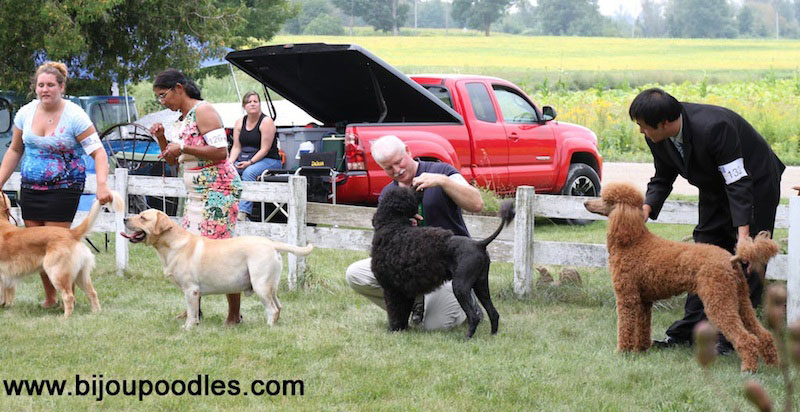 ~ September 1, 2013 ~
United Greyhound Club
Princeton, Ontario
Ember wins Best of Breed over 8 other Poodles
earning her 2nd win towards her Grand Championship needing only 3 more wins.
Special thanks to my friend Dice for showing Ember while I was busy showing Reva
Judge Pennie Jackson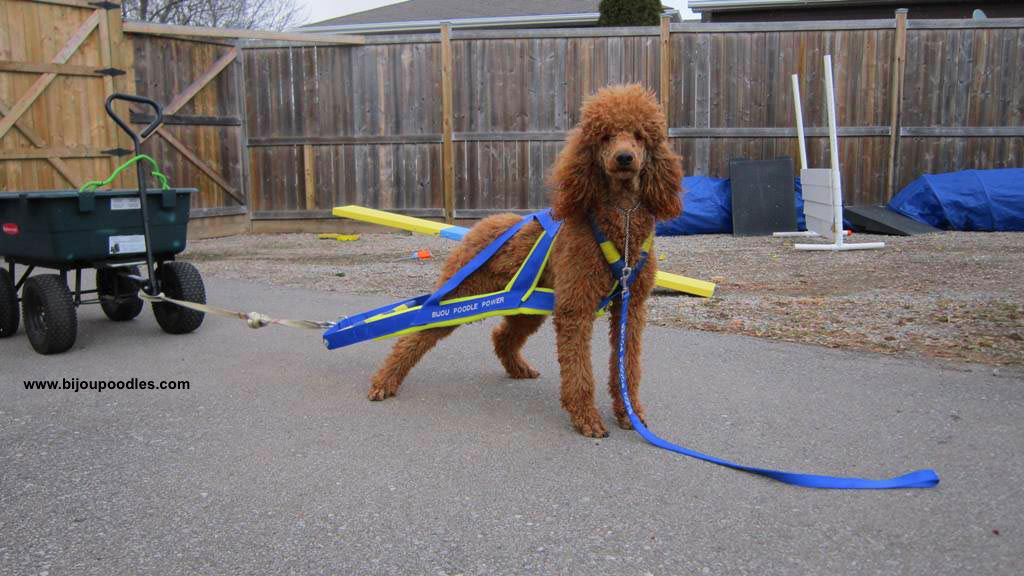 ~ April 2013 ~
Ember learning how to Weight Pull




~ September 2012 ~
Ember earning 5 more runs towards her CAX title



Beautiful Ember


Ember looking very "majestic"


~ August 2012 ~
Ember earns 3 more coursing qualifying runs towards her CAX title
Special thanks to judges: Lee Hayes and Lee Warden
Ember also earns Reserve Best of Breed
Special thanks to Judge: Linda Philp





July 2011 Ember qualifying run towards her CAX !!



June 2011
Ember earns her CA Title !!




Ula and Ember enjoying the snow




May 2011
Ember's first qualifying run towards her CA title !




Ember qualifying for her second run




May 2011 Upstate NY Kennel Club
Ember wins Best Female, Best of Winners and a Group 4th
and is a NEW CHAMPION !!
Ember Winning Best of Breed (beating Champions)
Ember Winning Group 4th !!
Ember Class Win





Ember's first Lure Coursing Practice doing a straight Run
She is for sure ready for the real races !!



Ember's first full "oval" course




March 2011
Ember wins 1st in her class
Special thanks to Judge: Sue Phillips




Ember and Sultan February 2011
Ember won 1st in her Class and Best Female !!
Special thanks to Judge Joseph Gubry






December 2010
Ember won Best of Winners
Jan 2011 - K108-983 has 150 points and 1 competition win
Under Judge: Pam Moore






Ember at 24 weeks (6 months) of age and 45 lbs






Ember's First Dog Show



Ember's Debut at a dog show November 2010
She did amazing with her tail and head held high, absolutely fearless
Show 2a Morey Baughn
Show 2b Pamela Moore
Show 3a Anna Baughn
Show 3b Linda Reece


Ember's first dog show and first time in an arena full of people and other dogs.









Ember at 28 weeks of age (7 Months)




Ember at 24 weeks (6 months) of age and 45 lbs





Ember at 20 weeks (5 months) of age and 35 lbs


Video of Ember @ 5 months of age

Ember @ 16 weeks (4 months) of age



Ember @ 16 weeks of age



*Video of Sultan and Ember June 30, 2010
*Video of Sultan and Ember June 30, 2010
*Video of Sultan and Ember June 30, 2010
*Video of Ember February 2011




Ember's Mom and siblings




Ember holding "13" pups inside