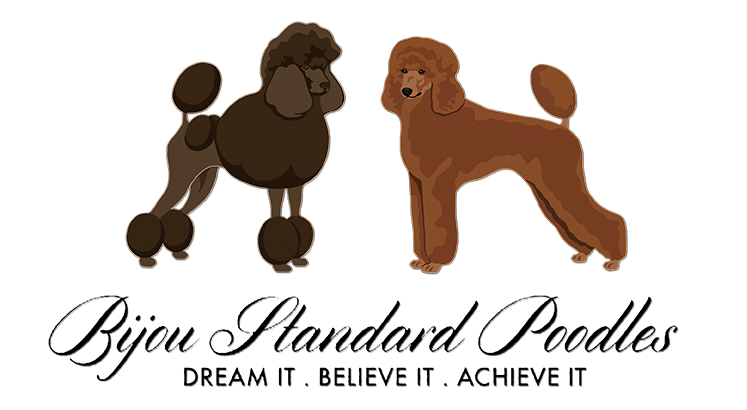 Meet Our Poodles... Our References... Web Page Links

Questions Answered... Whats New at Bijou...Bijou Difference

Contact us: bijoupoodles@yahoo.com






What "THEY SAID"
© 2015 Bijou Standard Poodles


I built this page to provide answers to some of the most common
statements I read and hear about my breeding program and my beliefs.
Just in case anyone wishes to hear the "real" story
though not as entertaining as the fiction that is online, by our handful, of Haters.

It is much easier to criticize you
then to rise to your level and play along side with you
~ Robin Sharma ~

I say, "spend less time hating, and more time DOING" !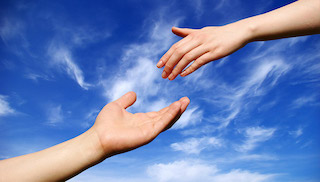 The difference between THEM and myself
is THEIR mission is of Malice, Hurt and Hate
and mine is to continually Learn, Share, Help and Educate.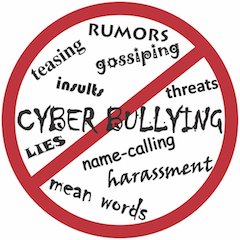 THEY SAID, I am against online bullying, and breeders back stabbing
and lying about each other just to make sales by making other breeders appear bad.
YES I AM AGAINST ONLINE BULLYING !
A breeder that bashes other breeders, only does so,
because they have no accomplishments to talk about, on their own dogs.






THEY SAID, I was not a wise or a good breeder because
I purchased Poodles of unknown lines (aka, not them, or their buddies)
like everyone else did, and that I had no idea, what I was doing.

Considering as of 2018 I'm on my 3rd and 4th generation of UKC Total Dog Award Winners
UKC's Top Ten Winners, UKC Grand Champions
Produced Poodles that made AKC, CKC and UKC HISTORY for their MANY Accomplishments
Including producing the first Red Grand Champion in CKC History
and producing the First Brown Female Grand Champion in CKC History
as of 2019 I hold CKC record for producing the most Red and Brown Grand Champions
I would say that my choices in breeding lines and Poodles, speak Volumes.

Now ask THEM what THEY or THEIR Poodle's progeny, have accomplished ?

"They", also didn't have a clue as to what my 10 - 20 year breeding plan was and or is,
or how I would work those lines I studied for years and researched.
But "THEY", sure had strong negative opinions
and assumptions, they gleefully shared on forums under a few fake names
making up juicy stories about their perceived, competition
on forums that "THEY" control the content of, because "THEY"
and or, their "buddies" (that bought, bred to, or sold to them)
are monitors and administrators of
quickly deleting any negative comments or truths
posted about THEM, and or THEIR breeding practices
and terminating memberships of ALL those that challenged THEM
(aka reputable breeders)
or posted the truth about them... PHEW NUFF SAID







THEY SAID... I hate show breeders because on my personal web page
I talked about some scary structural issues being rewarded in the Poodle show ring.
Only unlike THEM I never mentioned names, or Lineage or people, or made threats to anyone
because my goal is not to "hurt" anyone, just to help towards improving the breed
through awareness and discussion.

Considering I have been showing in CKC since 1989
as of 2018 I have a total of 21 CKC Champions
and 4 Grand Champion Poodles that I produced
and that I have finished in CKC. I think it makes sense, to believe, that I do not
hate Showing, or Breeders that Show in CKC.

I have CKC Championed too many dogs to count, but some of the breeds include:
Dalmatians, Dachshunds, Whippets, French Bulldogs
English Bulldogs, Rottweilers, Pugs, Boston Terriers
French Bulldogs, just to name a few breeds, that I finished at Specialties
and with Group Placements, and Specialty wins.
I have also CKC Championed 9 Dogs I have PRODUCED
and shown myself, finishing with Group Wins and Placements
As of 2018 I have also Championed 16 Standard Poodles I PRODUCED
that have finished with Group 1st Wins and many Group placements
and who were shown by professional handlers and myself.

Which means I do believe, when a breeder makes a choice to breed
they do need to prove their Poodles quality, by completing
all available OFA and DNA health tests and
in the Performance and Conformation ring,
proving they have Poodles worthy of reproducing.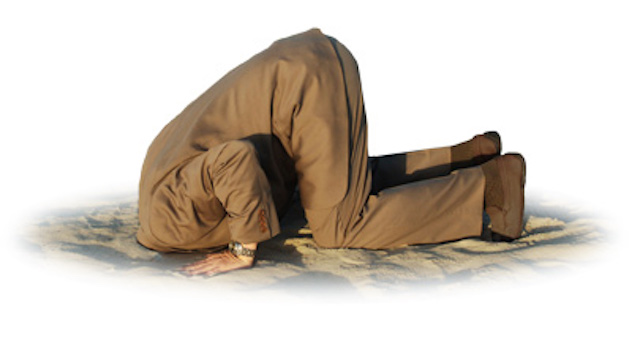 I am fearful to think that my breed, the breed that I love, will soon be crippled up
and have the same structural issues that the German Shepherd is facing today in 2017
because "winning" took precidence over Function and proper Structure.
To the point that no one will want a Standard Poodle, because of the reputation that
they can't walk, or they will have joint problems and can't be enjoyed as a pet
same as the German Sherpherd has a bad reputation today.
Or even have a division in the breed, like some breeds have, with statements like:
"oh that is a field/working/racing line" or that is just a "show line"
because this once beautiful breed, has been bred to such extremes, just to win,
we end up with a breed, that can't DO IT ALL, as they once did.

Have to consider, when 90% or more, of pups produced from Show Poodles go into Pet homes
I believe, that we breeders, need to be concerned that people are getting
healthy Poodles, that don't have structural issues.

I also fear that new breeders will see what is winning and start also breeding
for features that are exaggerated and not healthy, such as over angulation, weak sickle hocks.
Poodle pups that grow to adults, that when shaved down, you can see them, wobbling when walking
because their legs/hocks can barley support their weight.

At the show THEY told me to keep quiet and just
"go with the flow, like everyone else, leave it alone. We hate you
as you shouldn't talk about this, it is disrespectful to show breeders"
Well I can't keep quiet. I can't see my breed destroyed and I AM A BREEDER THAT SHOWS.

As a Breeder that Shows, I can tell you, I talk in general terms and have never mentioned
another breeder, or names of dogs. People that take offence to anything appearing
on my personal web page, are responsible for how they feel.
If you don't like what you read, stay off my web page !

If you find offence with anything written (on my personal web page)
because it hits close to home, fix the issues, don't defend them, or perpetuate them,
hoping no one notices, or talks about it, because I'm not alone in seeing what is happening.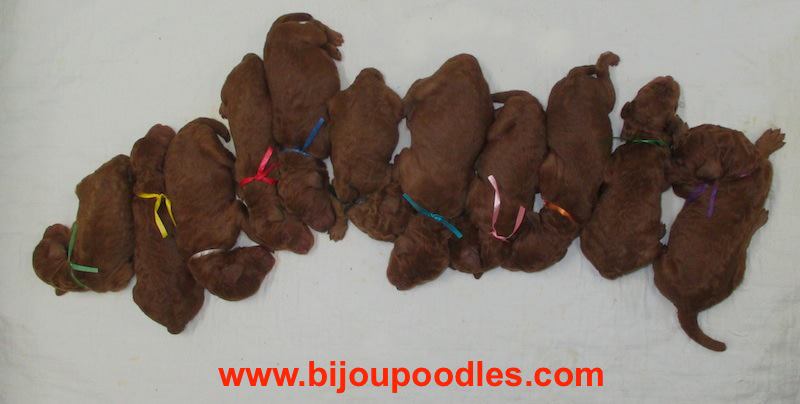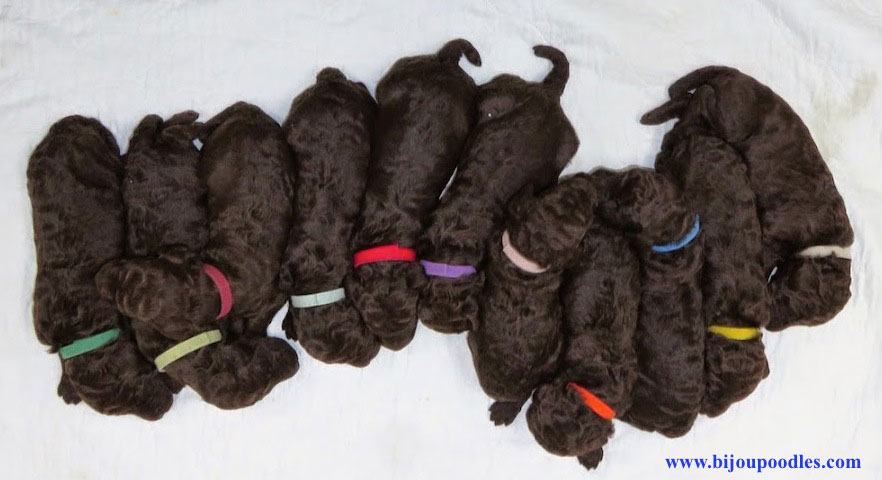 THEY SAID, I had no understanding of how to breed
"real" dark red or "real" dark brown Poodles
because "THEY" had all tried and failed and didn't know anyone who succeeded.
"THEY" said they knew it could not be done and could never happen.
"THEY" also tried to convince the public of this,
to sell their apricot and or cafe pups, as real reds and browns that
"Just Fade"
I posted photos of our pups and the same pups, as Adults, and amazed the world.
I still get weekly emails from Brazil, Japan, Australia, England, Switzerland you name a country
from show breeders, wanting one of our pups, to help their lines with retaining color.

The thing is, I share with everyone, how to get and keep colour like I do
it is not a kept secret, as I would love for more breeders to get quality colour
(along with the rest of the package)
Sadly not many wish to try, or are still holding onto the belief
That dominate dark red can "appear" out of pedigrees containing
Cream and apricot, or that two light coloured reds or apricots can produce
A dominate red. Not only is this genetically impossible but if we look at
Various long time, red breeding programs, it is evident, that this just has not worked.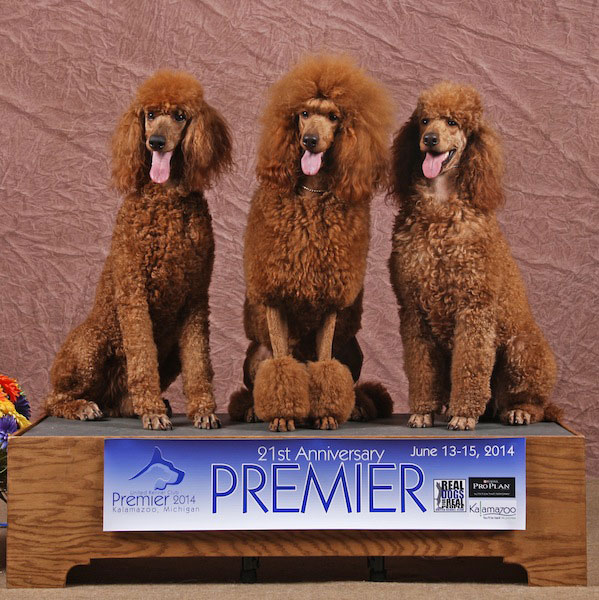 (Razz at 8 years of age and his daughter Glory and Glory's half sister Dare)

THEY SAID, I was wrong, that there is no such thing as dominate red
that won't fade to apricot or cream at a year of age.
I proved them wrong by sharing my red program
maturing to over 10 years of age and still dark red
I have been published for my knowledge on color breeding and I
have aided labs by supplying hair and DNA samples to develop DNA tests
we use today to help identifying colour genes including my latest discovery
in 2013 a DNA test that can identify the Parti colour "pattern" that DDC Veterinary
is supplying for breeders to use today.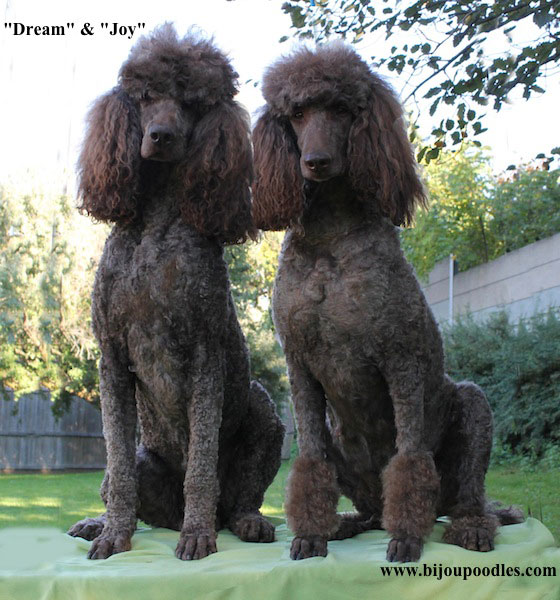 "THEY SAID", there is no such thing as a brown,
that would not fade to cafe or silver beige at a year of age
I proved them wrong with my 10 year + old dark Browns
There are separate colour genes that can appear similar in infancy
that will clear to it's true form upon maturity
In the brown spectrum there is what I believe to be a separate division of brown
which is a recessive to dominate brown, which I have coined "Lilac" in 2016.
In the future I hope to work with labs in differentiating this dilute of brown, with a specific DNA test.
Today in 2017 we breeders instead have to know our pedigrees to avoid the fading brown gene.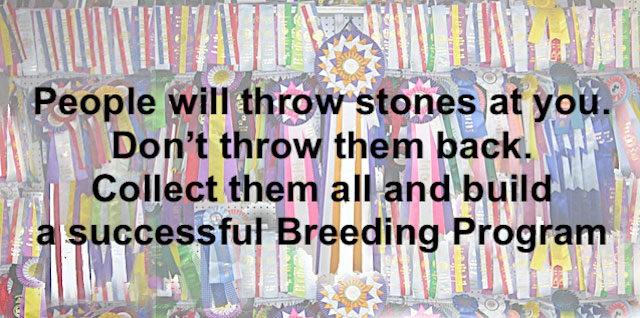 THEY SAID, I would never produce show quality poodles
out of the lines I was using, because "THEY" didn't feel my poodles were of quality
even though "THEY" had never produced, a CKC/UKC/AKC Champion Red or Brown, at the time.
"THEY" also had never worked with new colours or Patterns like I have over the years.
But "THEY" considered themselves experts on the breed and color and who should be breeding.

Then when I dared enter a CKC show, with my 3rd generation of my breeding
red Poodle female and hired a Professional Handler and won MULTIPLE Best of Breed and Group Placements
"THEY" slammed me, for doing more than "THEY" did, and how "THEY" tried to do it.
Pups we have produced, when breeders followed our breeding outline
also went on to produce AKC Champion and Grand Champions from lines we started with.
Yup those same "bad", "Unknown" lines "THEY" felt were of poor quality.
Most of my Poodles I have produced have finished in CKC with Group Placements including Group 1st wins.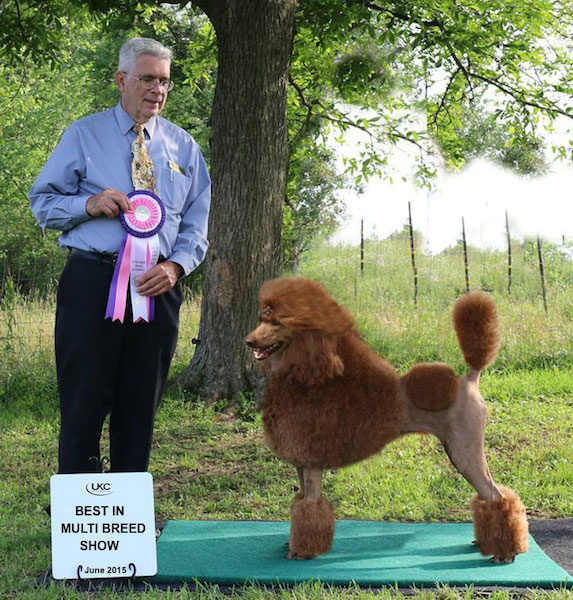 As of 2016 I have produced 39 UKC Champions, shown by myself.
THEY SAID, only a UKC Grand Championship was worth anything
and that I would never achieve that title, with my Poodles
because "THEY" never achieved a UKC Grand Championship Title on their Poodles.
As of 2016 I have produced 17 UKC Grand Champions, shown by ME. (so far)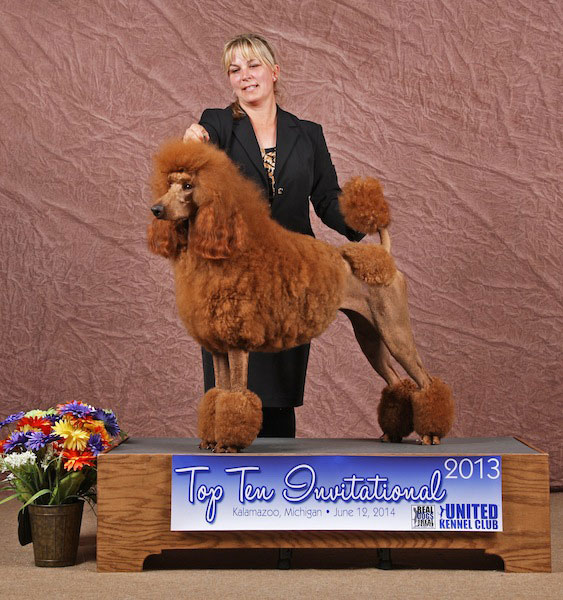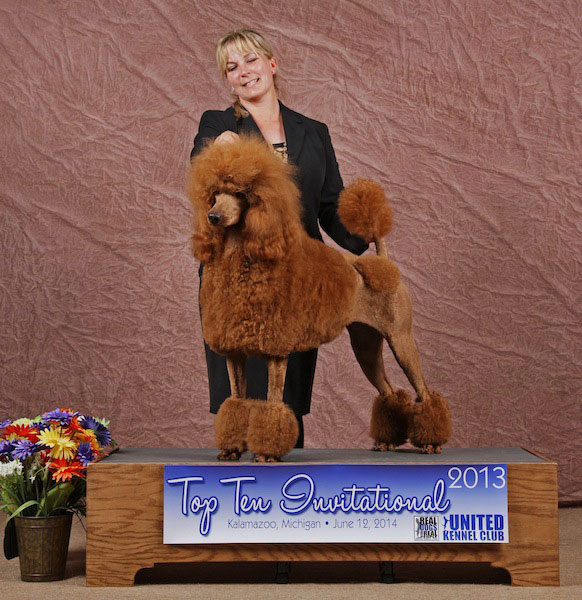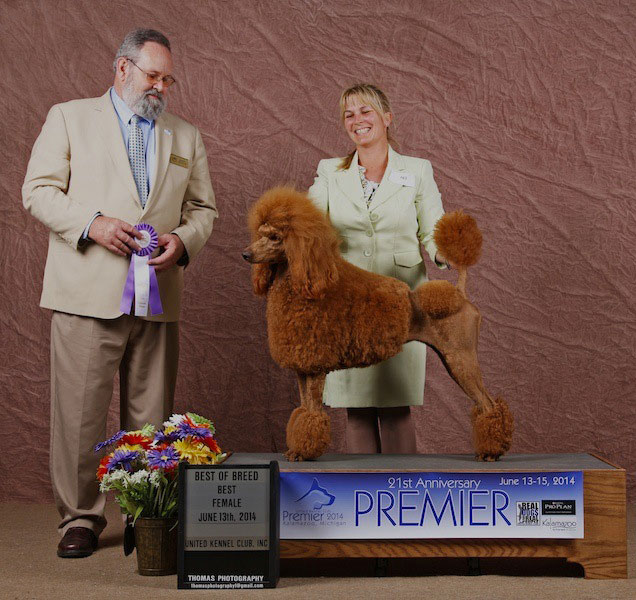 THEY SAID, that UKC Grand Champions didn't mean a lot,
even though THEIR Poodles have not accomplished this title.
Poodles I have PRODUCED,
have placed in UKC's Top Ten Standard Poodles
against competition from across the world since 2011
and placed #1 Standard Poodle in the world for 2013
(this is over competition from All of Canada, 50 USA States and 25 foreign Countries !)
AND even placed Best of Breed, over 21 Standard Poodles
at UKC's prestigious yearly, Premier Dog Show
which has a bigger all breed entry than Westminster Dog Show !






THEY SAID, that the only UKC win that meant anything,
was placing in Group or Best in Show.
My Poodles have won too many UKC Group 1sts and placement to list,
18x Best in Show
2x Best in Show Specialty
22x Reserve Best in Show
3x Best Puppy in Show
2x Reserve Best Puppy in Show
4x Best in Show Veteran
2x Best in Show Brace
as of 2015 (more wins to come)



~ As of 2018 I have Produced ~
16 CKC CHAMPION POODLES
and
4 CKC GRAND CHAMPION POODLES
with Limited Showing and with Breed, Group Wins/Placements !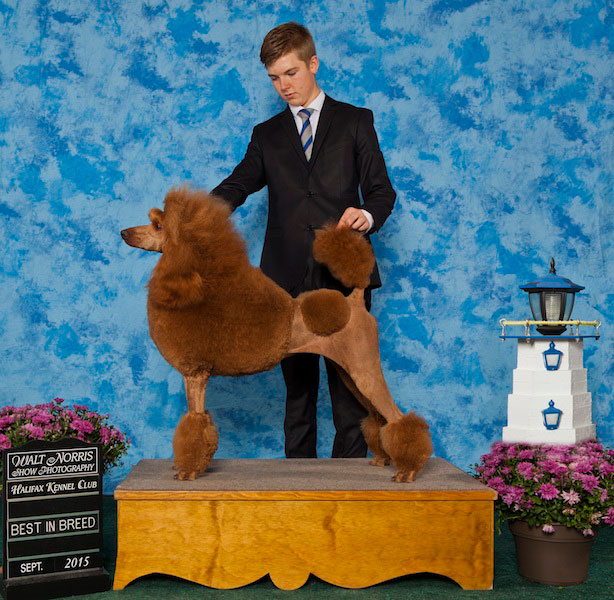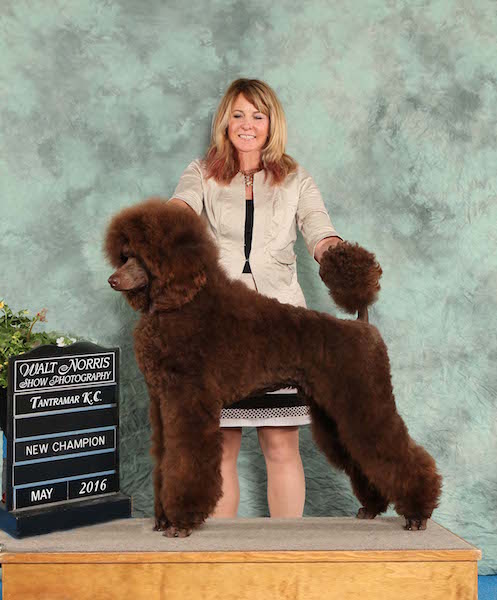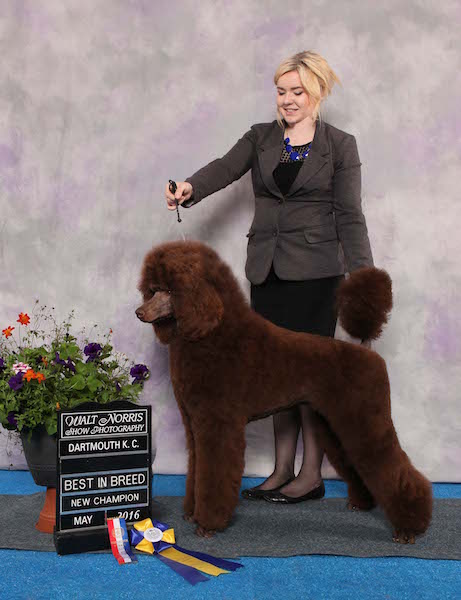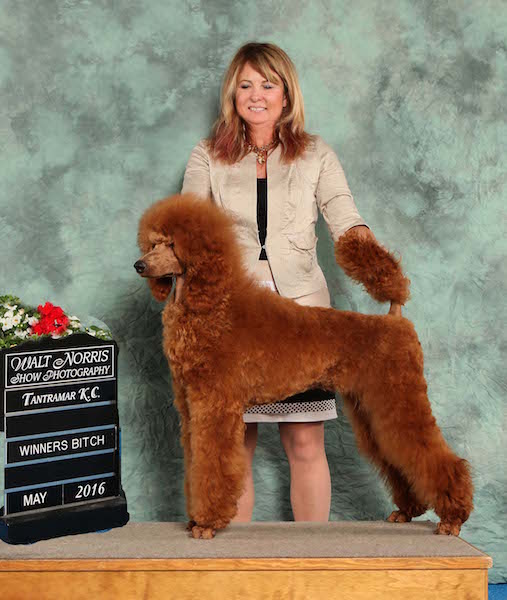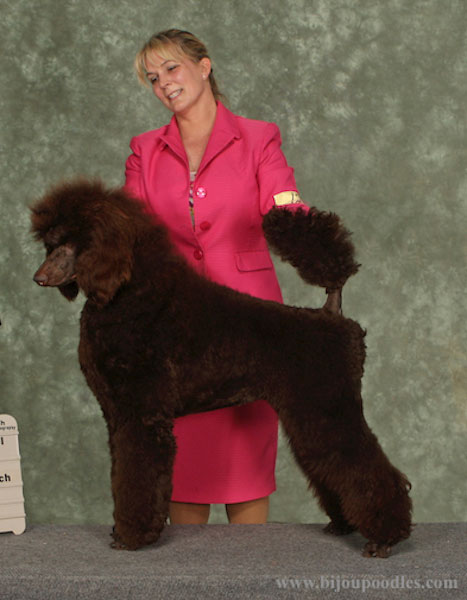 Glory (red female), Kahlua (brown female), Spice (brown female), Pyro (red female), Charm (brown female)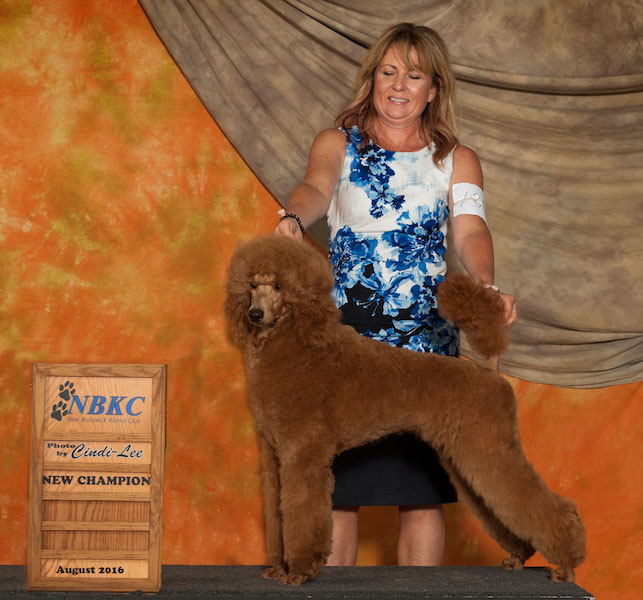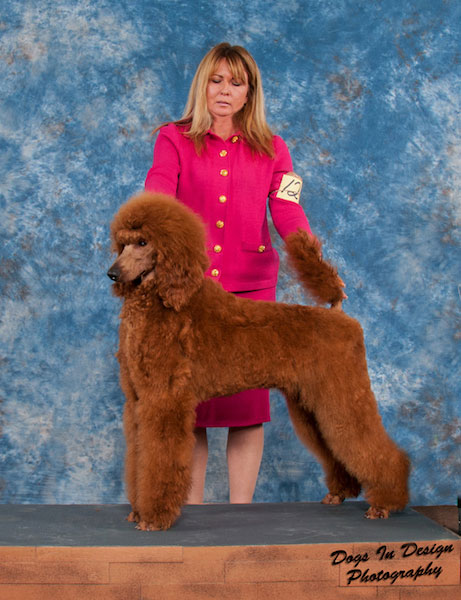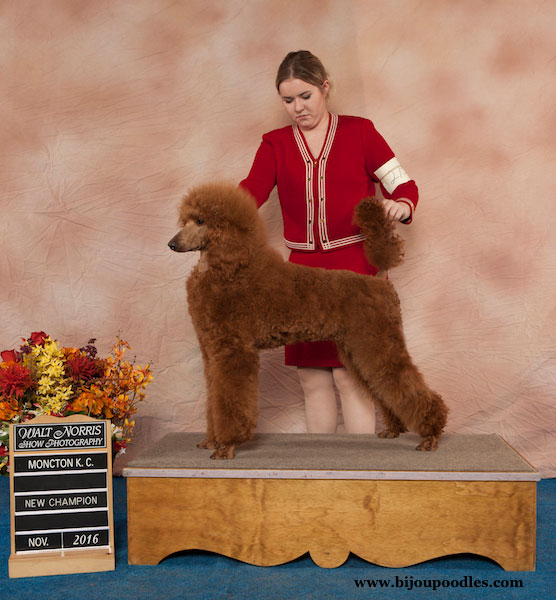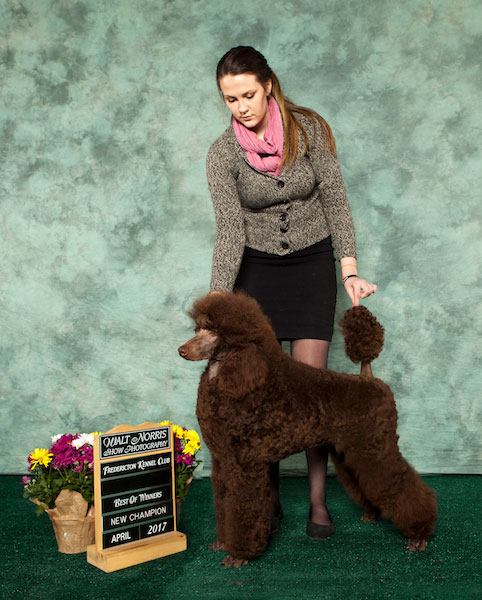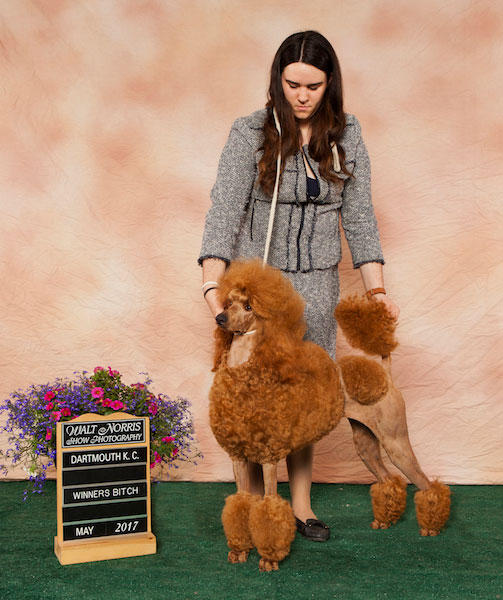 Poppy (red female), Bell (red female), Flame (red female), Cherub (brown female), Brightly (red female)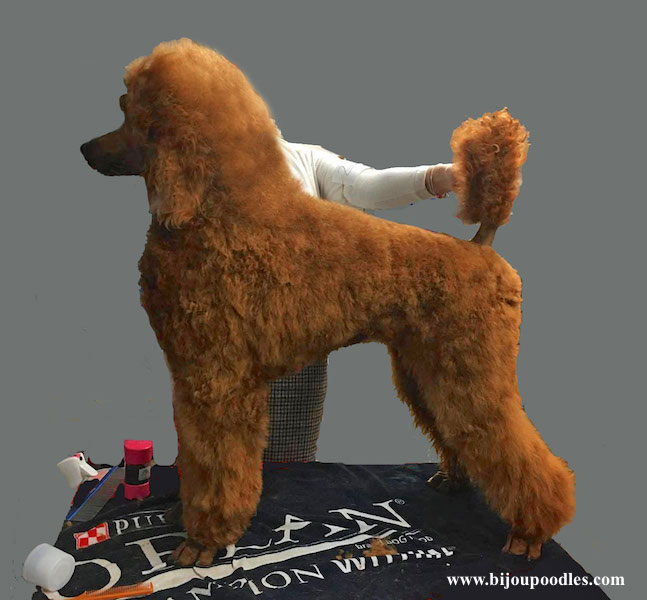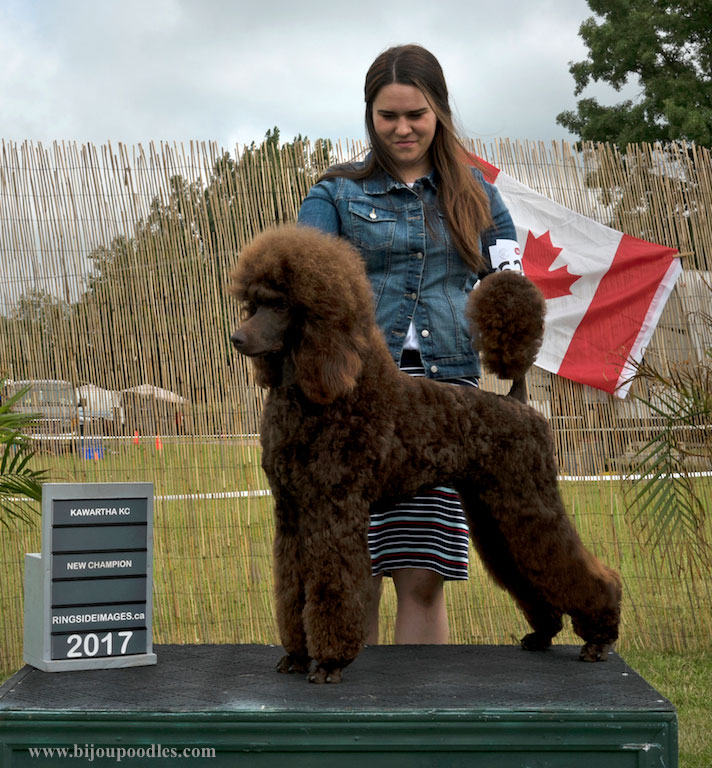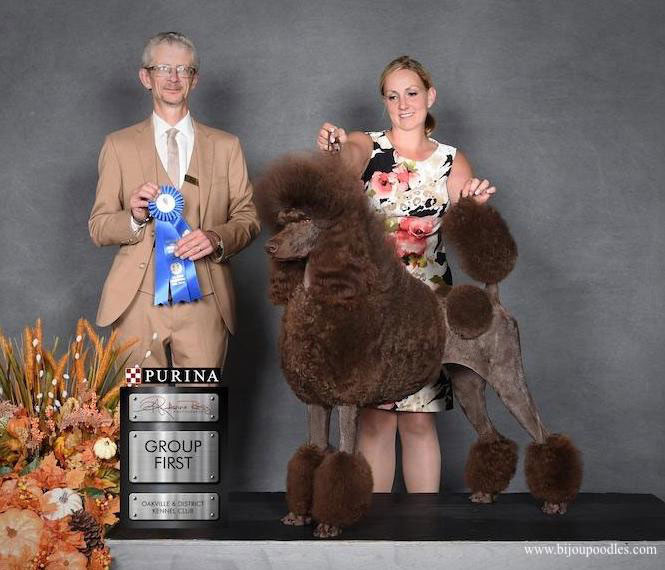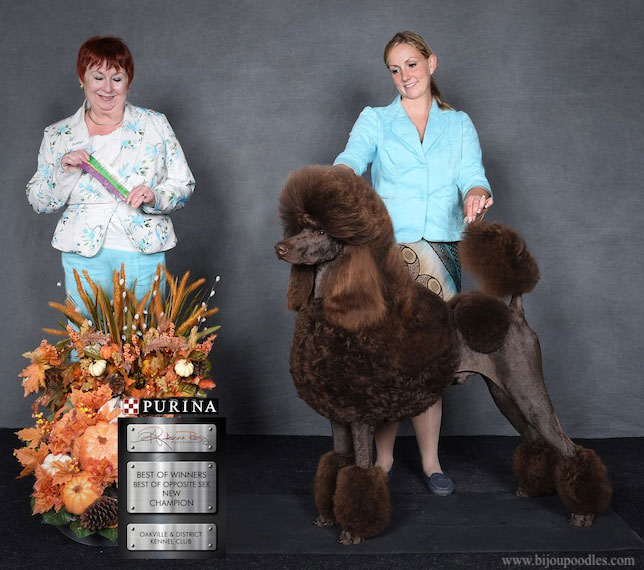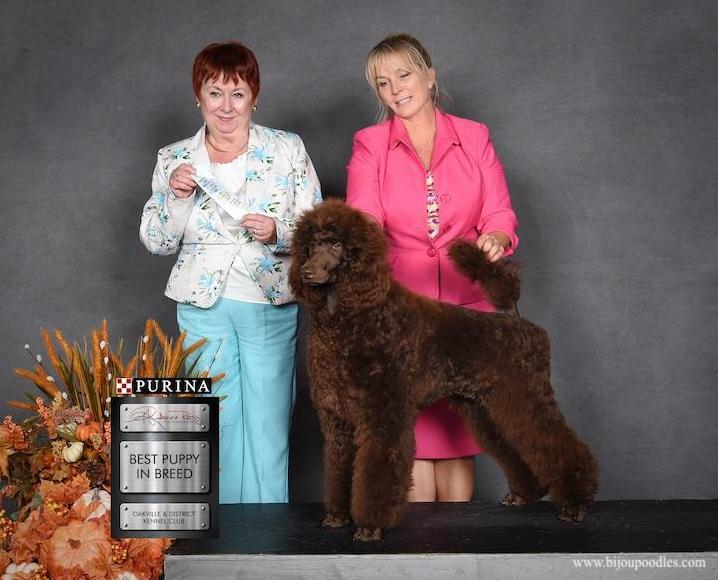 Blush (red female), Daisy (brown female), Lily (brown female), Oscar (brown male), Mira (brown female)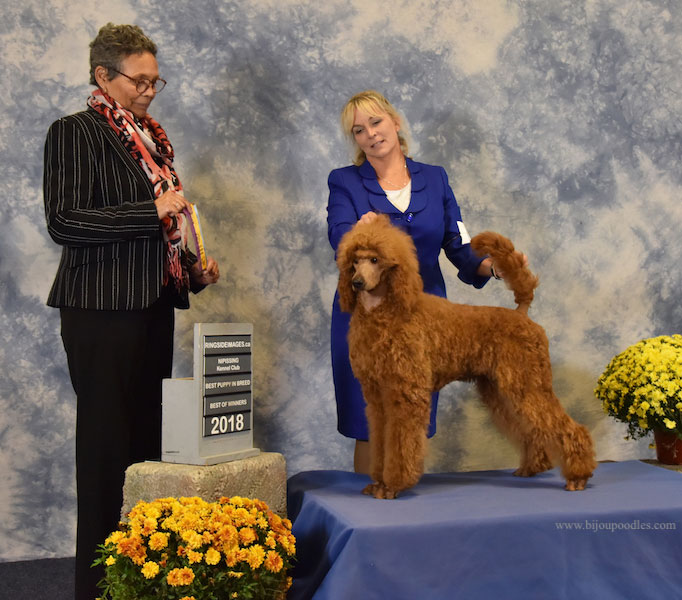 Fancy (red female)


In 2015 I attended my first CKC show in over 15 years of absence only because
a fellow Poodle breeder whose stud I used, and kept pups out of
was desperately trying to convince me to show my pups in CKC.
I swore off of CKC due to many instances of mistreatment and mishandling of their members
and funds, even threatening they would be filing for bankruptcy.
Many breeders like myself, had enough, and switched to UKC (United Kennel Club).

I was absolutely shocked by the "established" common coloured Standard Poodles being shown
with some serious Structural Problems in the ring winning.
I say shocked, because the biggest issue the breed had when I was showing CKC
was trying to get ear leather longer and eye colour darker.
So how did the breed structure decline so badly ? There was no reason.

Weak sickle hocks (I mean landing on their hocks like a German Shepherd !)
over angulated, wobbling legs, straight shoulders, flat feet, fronts bowing in
and even tails curled up tails like Samoyeds (aka gay or squirrel tails) a SERIOUS FAULT
one cream poodle was actually hop skipping around the ring, because it was so badly over angulated
and the owner is claiming, "wow such amazing movement, she wins a lot".
Totally oblivious to this day, that this is not proper Poodle Movement, because "it was winning".

At ring side I have to admit to expressing my concern for my breed, and one of the crowd said
"if you think you have better, show it. The judge has to select from what they are shown"
He was right, I can't point fingers and make claims and then not back it up.

Anyone that knows me, knows I'm always up to a challenge and now was sure the time
to bring our properly moving 3rd generation our Poodles, we bred, to the CKC shows
even if they were brown and reds which we were told would "never win", over Black or Whites
and very few Professional Handlers (essential for people like myself that don't show groom),
are willing show, Brown and or especially Reds.
I was hopeful that our structure, and movement, would be rewarded
over immense coifed coats, and some very 'pretty' faces, and of course, the common colours
and to my relief, they were, and by Poodle Breeder Judges !!

"THEY SAID" that only an AKC or CKC (Canadian Kennel Club) Championship was of value
and none of my Red or Brown Standard Poodles, were of quality to accomplish this.
In 12 months time of very limited showing, we CKC Championed "8"
of our home bred, (Yup, we bred them ourselves) Red and Brown Standard Poodles.
Something most red Standard Poodle breeders take years, IF EVER, to accomplish.
Proving without a doubt that "THEY" were WRONG AGAIN.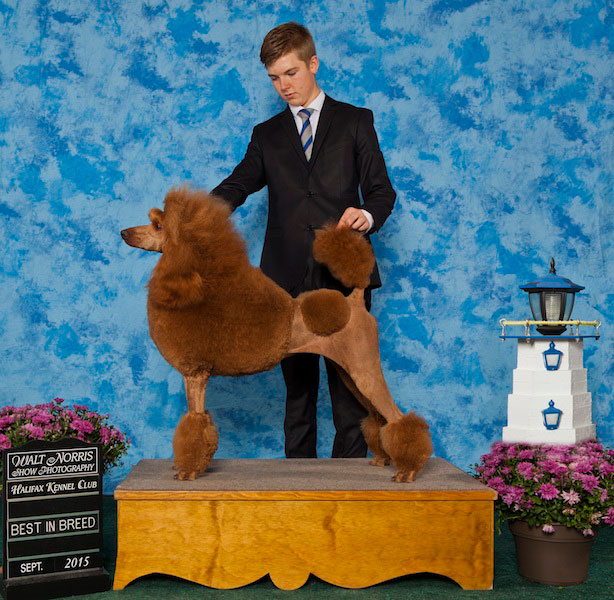 My dark red female "Glory" that I PRODUCED
achieved her CKC Championship in only 4 shows
being shown as a 3 year old adult (not a puppy).
Glory also finished with 2 major wins and a Group 2nd win.
Glory also accomplished 2 points towards her CKC Grand Championship
before retiring to be a mom at 3 years of age.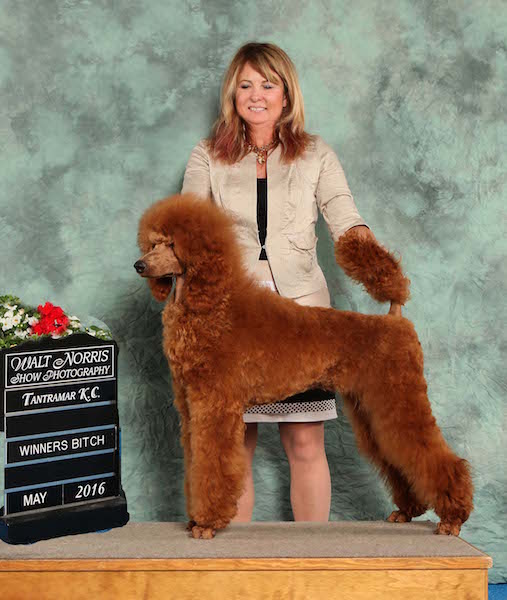 Pyro who is my 3rd generation my breeding, was shown at 6 months of age
and beat poodle adults, for her Best of Winners
as well as finishing her CKC Championship in only 3 shows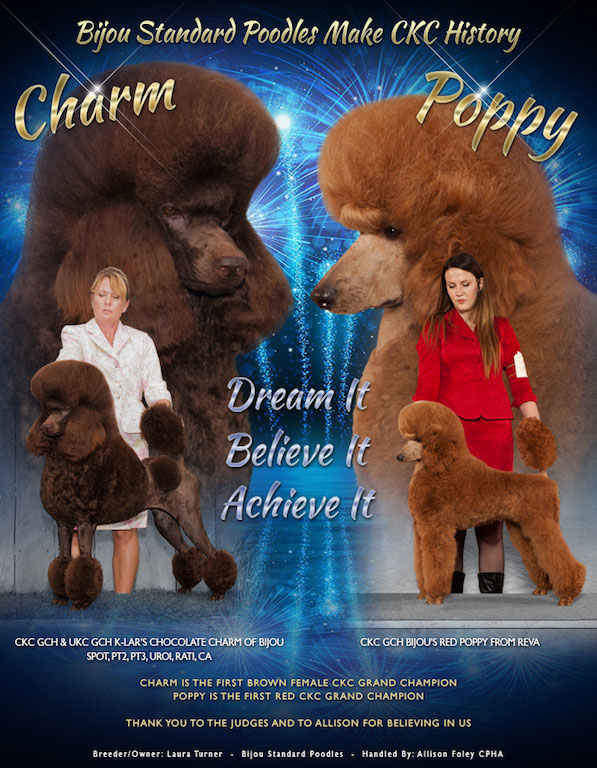 Of course I have to push myself and my goals and in 2016 we finished
out the year making Canadian Kennel Club HISTORY
with "Charm" being the FIRST brown female Grand Champion and
"Poppy" being CKC's FIRST Red Grand Champion in HISTORY !!!
in 127 years of CKC, Bijou Standard Poodles accomplished 2 firsts !
Yes Bijou Poodles is forever in the CKC History books
for our quality Brown and Red Standard Poodles
As of 2019:
Bijou Poodles holds the record, for producing the most
CKC Brown and Red Grand Champions in CKC history
(I wonder how "THEY" like me now ???)





I sure didn't do it alone ! My mentor/friend helped me maintain the crazy show coats
so my fur kids could enjoy a normal lifestyle of romping in the bushes and mud
and I was very fortunate to have the "Rock Star" of Dog Show Handling World
"Allison Foley", agree to handle these colours, that I was assured, "will never win".
And we had brave Judges willing to see past "color".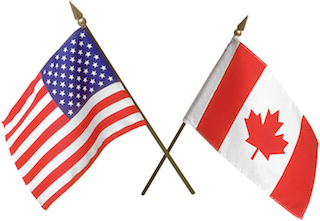 "THEY SAID", We were shady, because we do not openly disclose our home address publicly.
As a Psychiatric Nurse working on Forensic Unit and as an Addiction Counsellor
I worked with those who have committed some pretty horrible crimes and or who are mental unstable.
Our unit had a hostage taking, our unit received death threats, and bomb threats ongoing.
My car was vandalized and one of my dog's were poisoned.
I also had to get police protection from stalkers, who showed up at my home.
So when we moved, we decided to not publish our address as I don't wish to be found by those
that wish me, my home, my family, or my dogs harm.
Just like anyone else employed in Emergency Services or Correctional Services feels.
Our address is only given out to those whose identity and location is confirmed
so Police will have somewhere to start should we have anything happen to us again.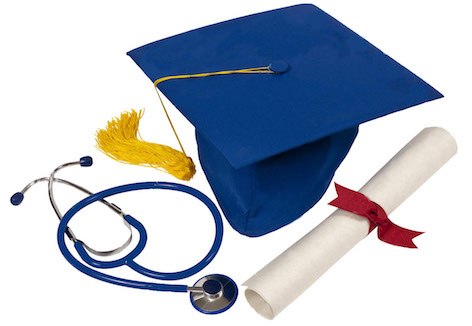 "THEY SAID", I only live and stay in one Country.
I know those that have never worked a day in their lives, might find this, really horrifying.
But I put myself through school, working 2 jobs and living on the street
I struggle with a learning handicap and had to work extra hard to study and pass exams.
As a result, of my hard work, I received a degree which allowed me to find a well paying job.
That well paying job allowed me to take night courses and hire people to help me improve myself
so that I could apply for and achieve an even better, higher paying, more rewarding career.
NOTHING was handed to me, I have accomplished everything in life the hard way.
All these years of hard work paid off, allowing me to live in the USA and own a home in Canada and Travel.
It is true that if you work hard, you can afford 'earned' luxuries, that just can not be achieved nor should it,
by sitting at home on Welfare (aka "self employed"), pumping out puppies for a living and profit
with no regard to Temperament, Health, Structure, or Consequences of their actions.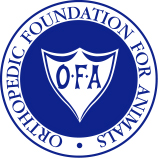 THEY SAID, my Poodles would not pass OFA because their parents were not tested.
Even though "THEY" didn't know, I knew about form and function
from my years of experience in showing, right along with experienced mentors.
They also said my Poodles were from unhealthy bad lines, however my poodles
were the only reds in the world, and the first, to be tested CLEAR of all of the following
Health Problems and Diseases through OFA and DNA testing:
Hip Dysplasia, prcd-PRA, Thyroid Disease, Elbow Dysplasia, Patellar Luxation, Full Dentition
Legg-Calve-Perthes, DM (Degenerative Myelopathy), Congenital Cardiac Disease
vWD (Von Willebrand's Disease), NEwS (Neonatal Encephalopathy with Seizures)
CMTP (Congenital Macrothrombocytopenia) for generations of our Poodles
something "THEIR" poodles have not passed.
Because of our health testing, other breeders started and we discovered
the brown lines and red lines that were carrying DM and NE so breeders could eradicate
this illness from their lines, something breeders were just not doing at the time.
My red girl "Reva" even OFA'ing Excellent (one of 3 reds to date)
My brown girl "Sophie" hips being OFA Excellent as well !






THEY SAID, I didn't know how to train my Poodles
after viewing videos I took the time, to record, to assist my puppy people
who were struggling on how to train for competition
after trying many other failed methods and Trainers.
My Poodles place High in Trial and always placed in the Top 4 (usually 1-4th place)
in AKC and UKC Rally and Obedience, and for Generations
Always smiling with their tails wagging, making the crowd laugh.
Titles "THEY" have never accomplished on "THEIR" Poodles
EACH, yes EACH of my Poodles in 24 years of Dog Sports
have a Working/Performance Title !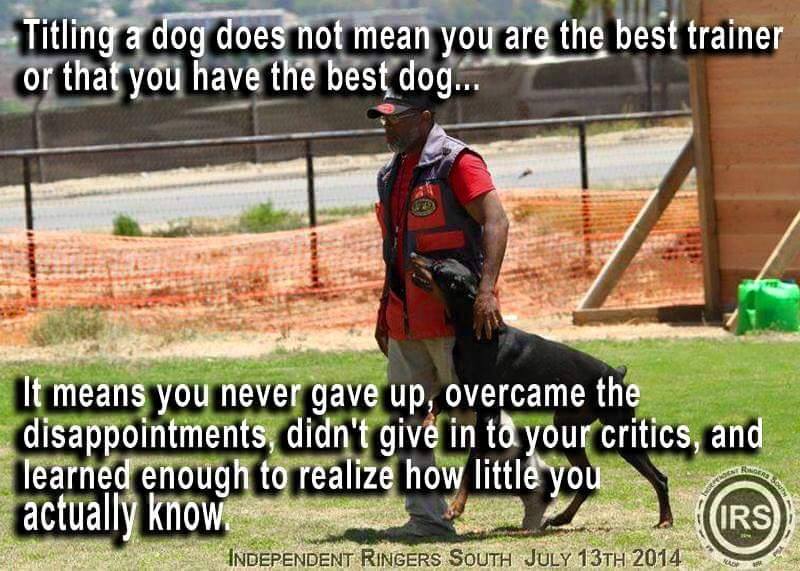 We have MANY training tools and skills in our "tool box" to offer our puppy people.
This is because I have taken great interest in self improvement
and so I have taken MANY training and dog behaviour courses, including studying
and mentoring under a Behavioural Specialist. All to learn more to help my fur kids
and I form an even deeper bond and understanding.
As a result I taught Obedience and Handling classes for a few years before I moved.
Something "THEY" would never consider doing as "THEY" say they already know it all.
I will never, "know it all", as there is just so much to keep learning and exploring.
Helping others also comes naturally for me
I will continue to produce Poodles who are out accomplishing many "firsts"
in many dog sports, and I will also continue to be here
helping our puppy people and our dog community.
I am also proud to share, that my Poodles and I, have also accomplished
over 200 individual Working/Performance Titles as of 2016.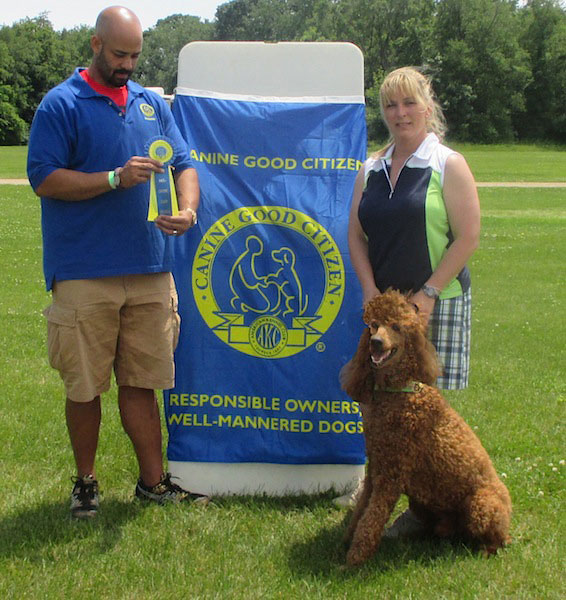 "THEY SAID", My Poodles will have bad temperaments because of the unknown lines I used.
My poodles are placed in Special Needs homes around the world
as well as proving their temperaments by earning AKC Canine Good Citizen Titles
CKC Canine Good Neighbour Titles and UKC's Socialized Pet Obedience Test Titles
Something all of "THEIR" poodles have not accomplished.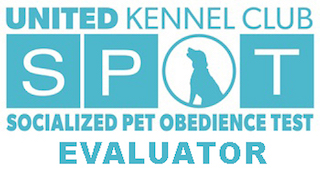 In 2016 I felt so strongly in support of the UKC
evaluating a dog's behaviour and making this
readily available for everyone to do and earn a Title
that I applied for and I was approved to became a UKC Certified SPOT Evaluator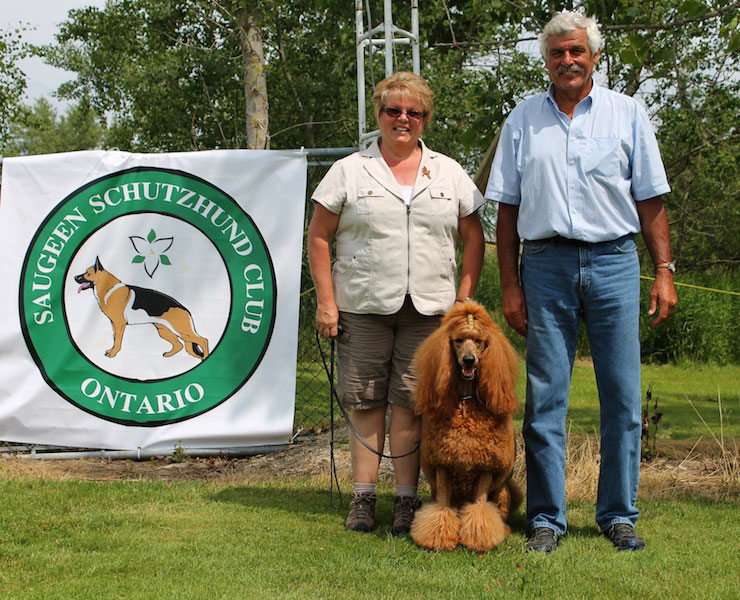 "THEY SAID", Poodles are a fru fru breed, that can't do working events
so THEY don't bother doing anything with their poodles they breed.
MY Poodles have earned IPO titles, IWPA Titles for weight pulling (placing in the top 4)
UKC Weight Pulling earning Most % of Body weight pulled at EVERY event !
Lure Coursing, Barn Hunt, Nosework, Agility, making UKC/AKC/CKC history by being the first
Standard Poodles to achieve many Dog Sport Titles
My Poodles and I have accomplished, over 200 individual Working Titles
One thing THEY are correct about is not all poodles are created equal.
I have purchased Poodles that despite all my efforts, just had no natural desire
To work or be happy training and I just refuse use those Poodles in my breeding program,
Why would I? No matter how great the financial or emotional loss,
it is just not worth compromising my breeding program, in any way.
My Poodles are Total Poodles, I want this level of Quality Standard Poodle.
Something "THEY", have never considered.
"A well balanced dog, is one with Titles at 'both' ends of it's name"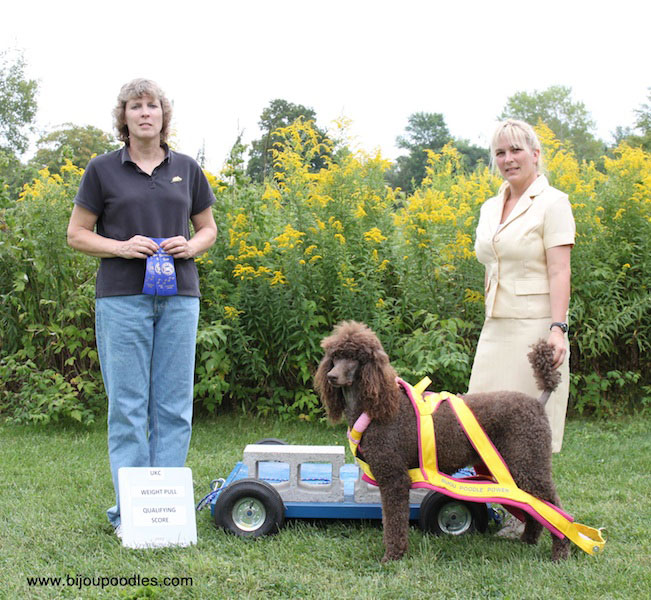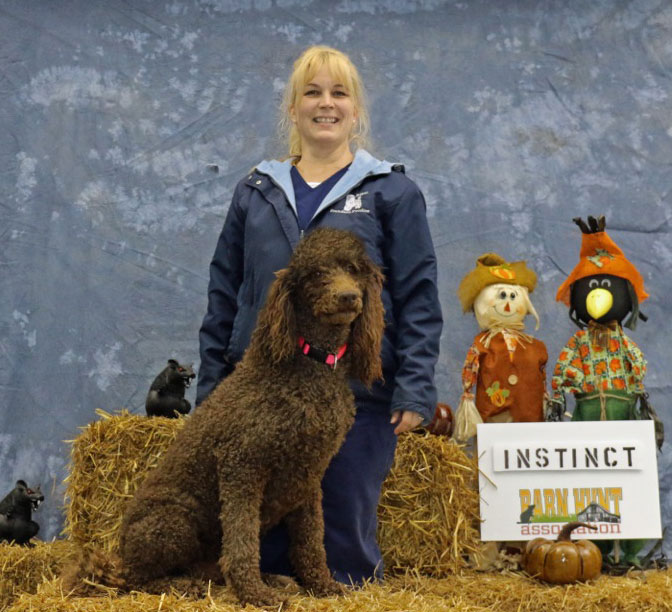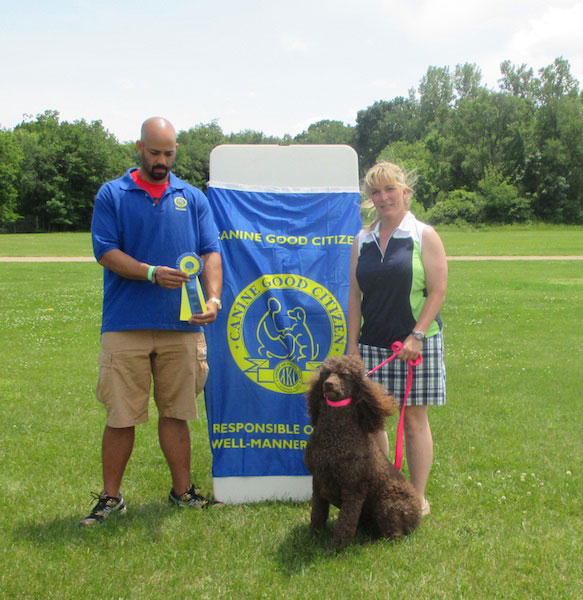 "THEY SAID", that I was a bad breeder, for not doing AKC or CKC conformation
Our Poodles and or their Progeny, have accomplished CKC and or AKC Championships
However, unlike "THEM", my poodles are capable of so much MORE than "JUST" Conformation
(or as some of "THEY" the 'experts", say incorrectly, "Confirmation")
and I prove it EVERY year, and on EACH of my poodles and for "generations"
by training and spending a lot of time with my poodles and, then being the breeder of the FIRST
Standard Poodles to earn titles in the many new events, such as, but not limited to:
Nose work, Barn Hunt, Weight Pulling, Lure Coursing, Dock Diving and of course
earning titles in AKC/UKC Rally, Obedience, Agility, Canine Good Citizen.
Many more ongoing Events listed on our web page.
Something "THEIR" Poodles have not accomplished
because they don't spend the time with their Poodles, that I do.






"THEY SAID" I didn't know much about Dogs or Breeding
but they had no clue in the 1990's I was a monthly contributor to the CKC monthly newsletter.
My articles on Showing, Breeding, Raising Puppies, screening puppy buyers
to name some articles that, were published by the Canadian Kennel Club's monthly magazine.
I was also a monthly contributor to "breedlines" section of the CKC Magazine
as President of our National Breed Club for 5 years.
Since 2011 my articles have been published often, in many newsletters including Poodle Variety
for my Poodle's accomplishments in many events, that we were the first to achieve titles in
and to share information about Dog Sports with other Poodle enthusiasts, to encourage participation.
Something "THEY" would never think of trying, achieving, or even helping others, to try to do.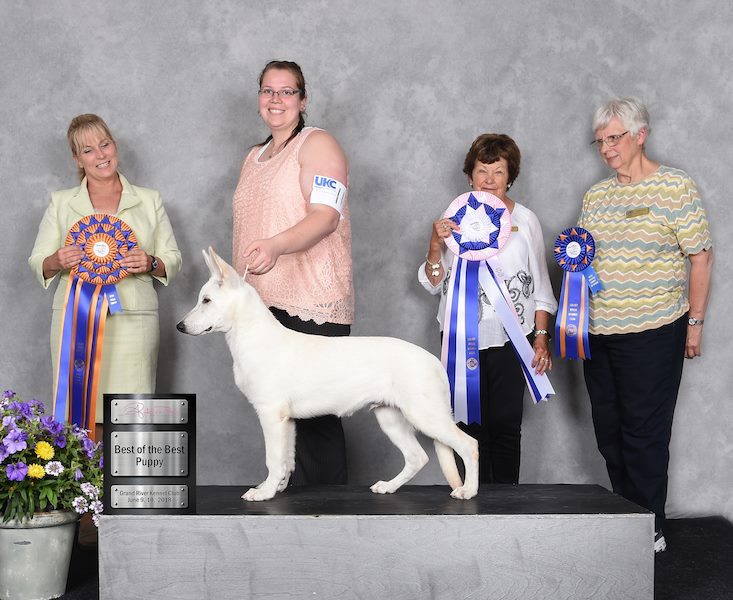 June 2018
Because of my long time involvement in Dog Sports and Showing
and my desire to always help others, trying to learn or wishing to improve their skills.
I was chosen to judge "Puppy Palooza" (a Puppy Match), and "Best of the Best" in Show
held by the Grand River Kennel Club. A huge honour, I will always cherish.





"THEY SAID", we are bad breeders because we didn't help one of our puppy buyers.
What they conveniently failed to mention in their fictional story, is that we offered extensive support
and replacement, but the owners refused.
"THEY" also have had many disgruntled Puppy owners
who I have directed back to their Breeders, like reputable breeders should do
instead of fanning the flames, like "THEY" did in my one case, in 30 years.
We have been involved in rescue and or, re-homing dogs since 2000.
We actually buy back any of our pups, for the price we re-home for,
at any age, for any reason, no questions asked, just to ensure none of our pups
end up in shelters or homes where they are not wanted.
We have never refused to help anyone, no matter where they have purchased
with any help they may have needed, and have not found from their breeder.
We also offer cash incentives to any of our puppy people accomplishing titles on their pups
as well as paying first entry fees in any shows they attend with us, and offer to mentor them
in any Dog Sporting Events they wish to have a try at.





So now you ask, who are "THEY" ?
Are THEY respected, well known established breeders for over 20+ years ?
Are THEY helping clubs hold events, for everyone to enjoy, with their Poodles ?
Are THEY paying for and taking courses to learn how to groom, breed, train ?
Are THEY out at Dog Sport Events working with their Poodles passionate about their hobby
have THEY "produced" Champions and also put Performance/Working Titles on their Poodles they have bred ?
Are THEY out training, or at dog sport events weekends, proving their dogs are of quality ?
Are THEY out at Dog shows helping their puppy people, learn how to do events ?
Are THEY out paying for classes about dog Training and puppy raising, to better assist their puppy people
and improve their knowledge base about their Poodles ?
Are THEY"listening" and learning to better themselves, more than they are criticizing ?
Are THEY Doing Anything "POSITIVE", to better promote their breed, or help Others ?





Sadly, NO
"THEY" are just a handful of miserable, unhappy, people that sit at home
usually on welfare/disability (or as they like to say "self employed")
who sit glued to the internet, and forums, trying to be heard for attention,
who also decided to breed, to fill a financial, and or, emotional void in "THEIR" lives
and spend "THEIR" time bashing reputable Breeders.


THEY have not accomplished anything OR very little, on Poodles "THEY" have PRODUCED
but "THEY" , sure are quick to point "THEIR fingers at reputable Breeders, who have gone the extra mile.
THEY do this to diminish and discredit better breeders, misleading the public
so no one looks too closely at "THEM", and "THEIR" minimum effort
of improving the breed, or "THEIR"breeding programs.





Why would someone do this you ask ?
So THEY" can sell "THEIR" pups no one wants to buy
and also so no one, holds the mirror up to "THEM", or "THEIR" practices.
"THEIR" only marketing tool, is to tell everyone how great "THEIR" pups are 24/7
and how horrible all other breeder's, and their Poodles are, making up many lies.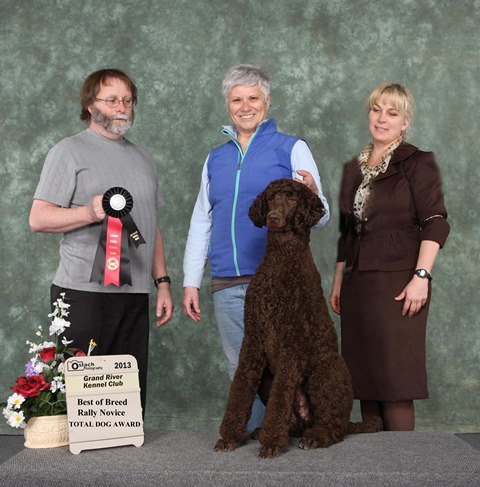 Breeders who are considered successful and reputable, are helping others, paying it forward.
Breeders who are successful, are out enjoying and working with their Poodles
and contributing to the breed, in a positive manner.
Reputable breeders just don't have the time, desire or need
engage in illegal activity such as bullying or defaming, others.
Reputable breeders have more important things to do
such as caring for, and spending quality time with "THEIR" Poodles.
Reputable breeders engage in learning opportunities and support others
interested in the breed, because this improves our breed and our Dog Sports.
Reputable Breeders are busy "doing", Bad breeders are busy "talking"
OR as 2016 Conor McGregor says:
"Winners focus on winning. Losers focus on Winners"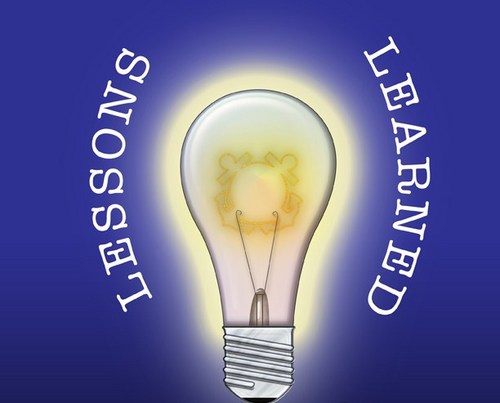 So what lesson have I learned from my years as a breeder and been at the brunt of the haters ?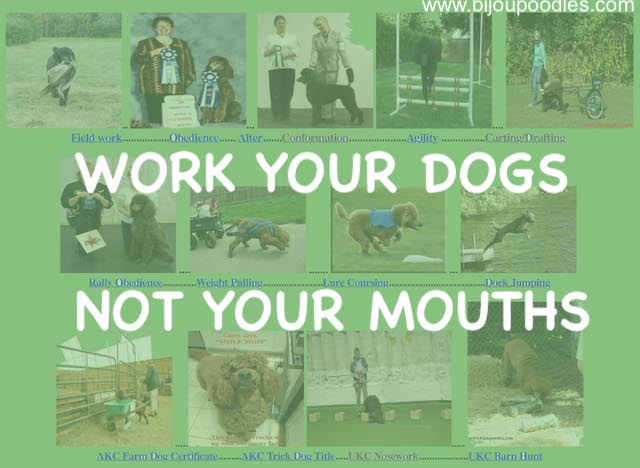 I Believe......
I believe there are no perfect breeders, just breeders that try to perfect their "hobby".
A breeder needs a full time job, to afford this expensive hobby "if" they are breeding as a "hobby"
If a breeder does something new and unfamiliar, they will be deemed bad... until everyone else starts doing it.
A breeder's accomplishments will always be diminished by other breeders, until other breeders are achieving it.
If a breeder is not being talked about, then they are not doing enough towards improving their breed or to raise the bar.
A breeder that bashes other breeders, only does so, because they have nothing good to say about their own dogs
Yet despite all of these truths, Great Breeders, continue to strive on towards their ideal vision and goals.
~ © 2011 Bijou Standard Poodles ~


Breeding is an expensive "HOBBY"....my goal is to produce my next Champion, Working Partner and Companion.
Breeding is my Hobby,it is a study in genetics, possibilities, potential, filled with many challenges, and few rewards...
Conformation/Show Titles we accomplish, are a physical assessment tool completed by Professionals
Performance Titles we accomplish, are a mental assessment tool completed by Professionals
Health Testing we complete, is a guide for Breeders to breed towards eliminating and avoiding health problems.
Breeders working towards producing a "TOTAL DOG" will use ALL these available tools, at their disposal.
~ No Excuses ~
© 2013 Bijou Standard Poodles


Great dogs can be used poorly
Decent dogs, can be used wisely
It takes a good Breeder to recognize the difference
and raise, train and breed any dog discerningly, towards betterment of the breed.
© 2016 Bijou Standard Poodles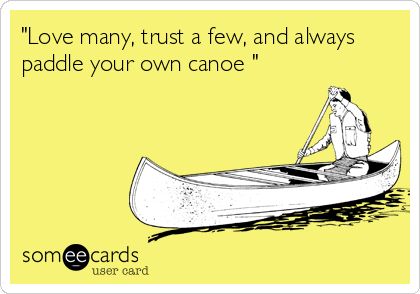 So you may as well follow your own plan, do what you believe is right.

I have been told all my life that I was not wanted (I was adopted) and that I would never amount to anything.
I hated going to school as I could never focus, or remember anything and was constantly bullied.
I used to hide out in the library, to avoid any confrontations and even after school
my free time was spent in the woods, or at the public library, instead of going home to be constantly berated.

So let me assure you, that If I listened to and let others control, or tell me what to do in life
I would still be living out of my broken down car on the street, working as a waitress
I would never have had the courage to apply to a factory job and get hired full time at 18 years of age.
I would never have the courage to quit that job and work 2 part time night jobs to enable me to go back
to school become a Registered Practical Psychiatric Nurse basically living off of popcorn and 3 hours sleep to graduate.
I would never have taken courses to become an Addictions Counsellor and Phlebotomist to further my career.
I would never have learned how to run, entered my first 5km run, placing in my age group
learned how to ride and race a bike, to be able to compete in and place first in my age group in Duathlons
learned how to weight train, going to a gym for the first time, learn how to eat properly and enter and placed in Figure Competitions.
I would never have applied to the all male dominated Fire Academy, after total ACL repair and been told by
the instructors, that they doubted I would last, or ever get hired, because of my age and or sex.
I moved out West and lived in a Hostel, eating brown beans and tuna out of tins, and commuting 1 hour to school each day
Constantly combating my phobia of doing strange new things and social anxiety and my difficulty with learning and studying.
(after a month I found a student to live with closer to the academy and share expenses with)
I would never have had the strength or courage, to complete the MANY physical and mental tests with 3,000 other candidates
and passed and been hired by one of the most busy, and respected Fire Departments, to be a Full time Firefighter.
I would never have written short stories, or had dog articles published in national magazines.
And lastly, I certainly would have not accomplished all the firsts I have done
in the world of Dog Sports, with the Standard Poodle breed or
finally accomplished my goal of producing dominate
Brown and Red Standard Poodles, that hold colour.
For sure listen to what "THEY" have to say,
but do consider who "THEY" are
and what THEY have and still are, accomplishing, if anything.





RETURN TO BIJOU HOME PAGE