BIJOU STANDARD POODLES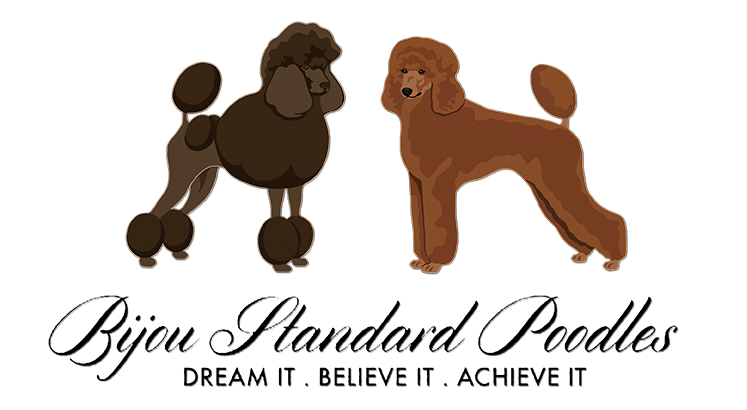 CKC Champion
"BIJOU'S DON'T MAKE ME BLUSH"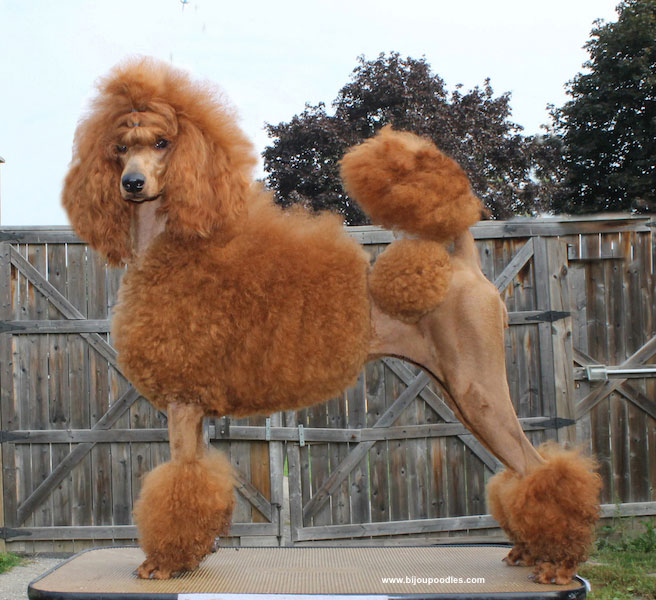 ... x ...

(Father : Valor x Mother : Ula)

"Blush" - Dark Red Female
K115277
10-generation COI = 11.04%
Height: 25.5"
Weight: 55 lbs (tad fat) Weight 18/10/30 = 48.3 lbs



Blush has her mother's sense of humour, always looking for a game of tag
sneaking up on her friends (especially Flame), and then taking off
like a bolt of lightening, for them to chase her.
Blush is built like her mother, more muscular and thicker girl.
Blush is a very happy girl, who brings love and light where ever she goes.
When I am with Blush she make me feel like the most important person in the world.
I really can't wait to see if she enjoys coursing as much as her mother, as she sure has her speed.
Blush has a REALLY dark red thicker coat (so rare in reds) and inky black pigmentation and eye colour.
She finished her Canadian Kennel Club Championship and will be working on her UKC Championship
as well as what ever dog sports she shows an interest in. For now she is relaxing, after her show career
just enjoying being back home and having fun.
Blush has produced:
"Bijou's more than Glitter and Gold"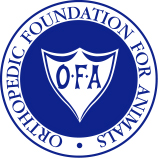 ~ Click to view all HEALTH TESTING COMPLETED ~
Blush will be CLEAR of the following Health Problems and Diseases:

*CERF (eyes)
*Hip Displasia
*prcd-PRA
*Thyroid Disease
*Elbow Displasia
*Patellar Luxation
*Dentition Database
*Legg-Calve-Perthes
*DM (Degenerative Myelopathy)
*Congenital Cardiac Disease
*vWD (Von Willebrand's Disease)
*NEwS (Neonatal Encephalopathy with Seizures)
*CMTP (Congenital Macrothrombocytopenia)
*DNA Colour Tested ~DD~
(does not carry Dilute said to cause fading in Reds)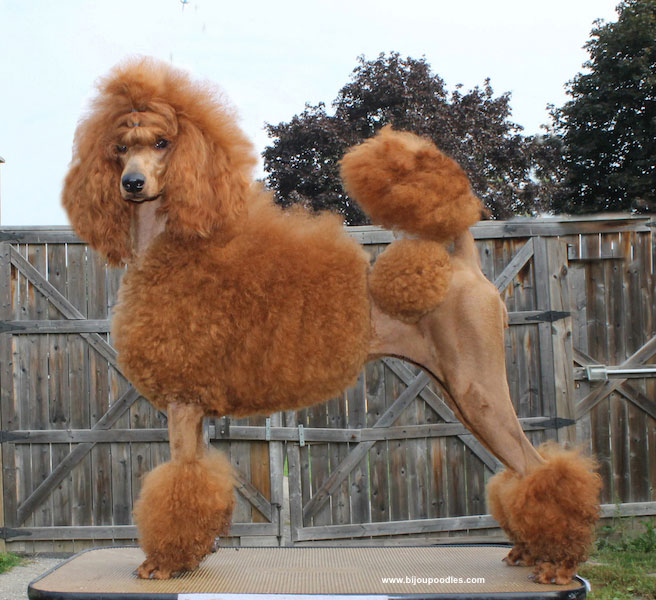 OK well not sprayed and scissored properly
But I had to get a photo of her in a Continental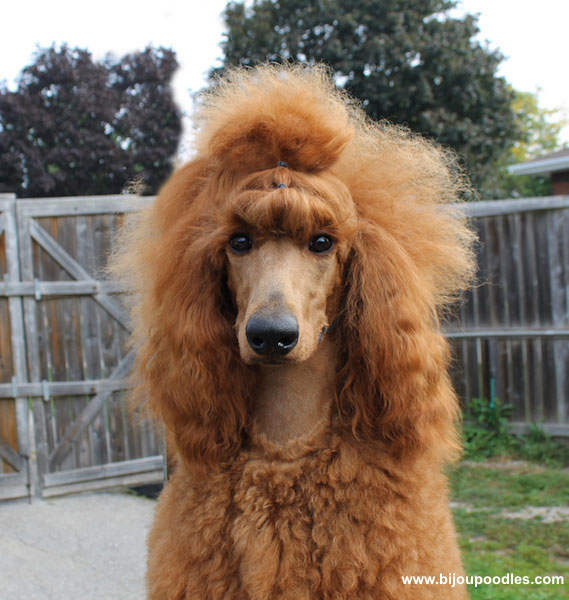 Blush has our typical inky black pigmentation
and such dark brown eyes they appear black
and of course a dark red coat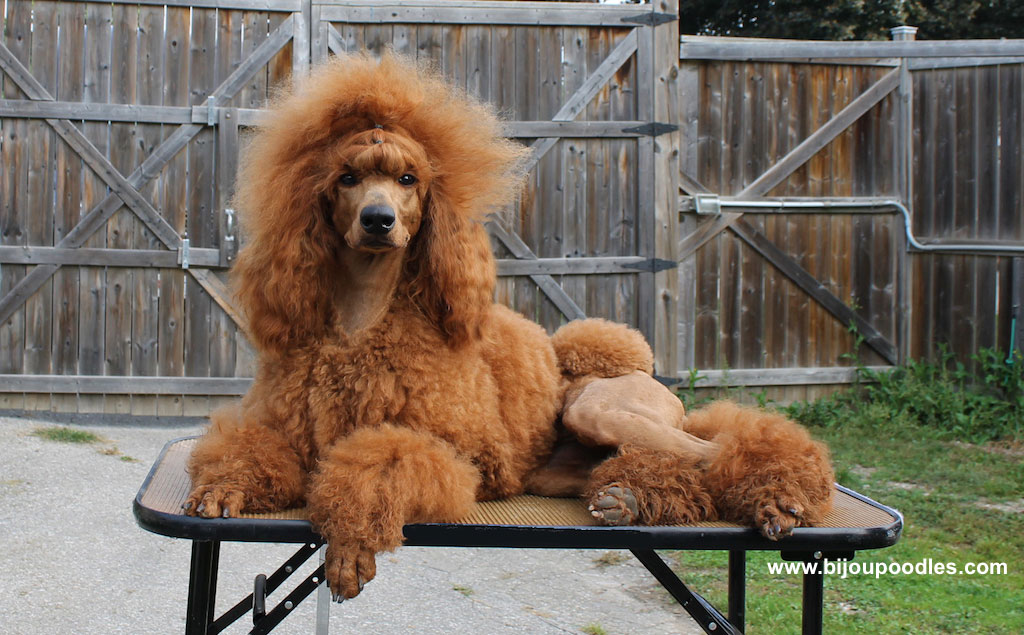 Blush being her cute self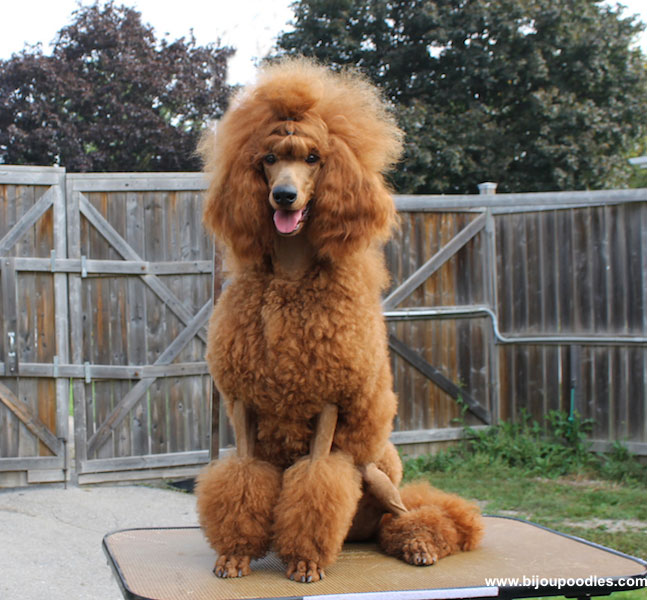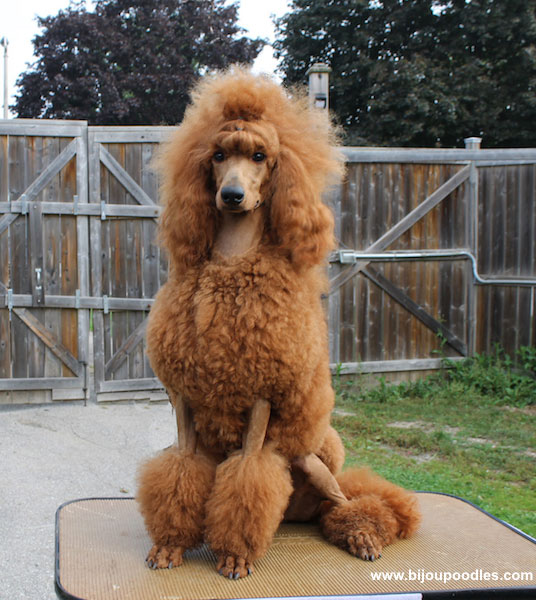 2019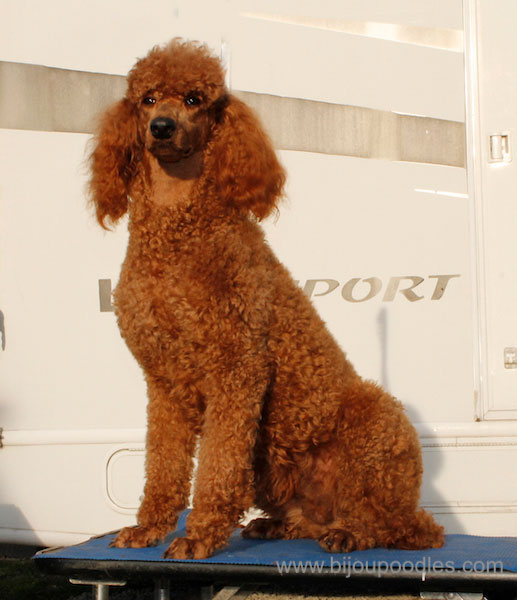 Blush in a sporting clip looking gorgeous
The sun was just setting so really caught the red hair glowing !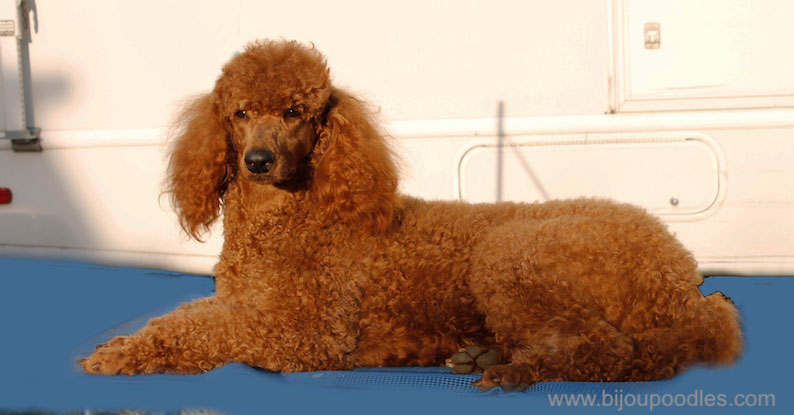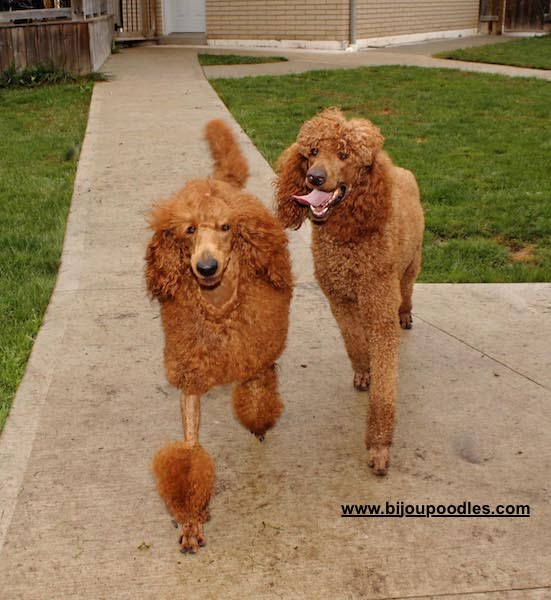 ~ 2017 ~
"Blush" and her buddy "Price" taking a stroll in the rain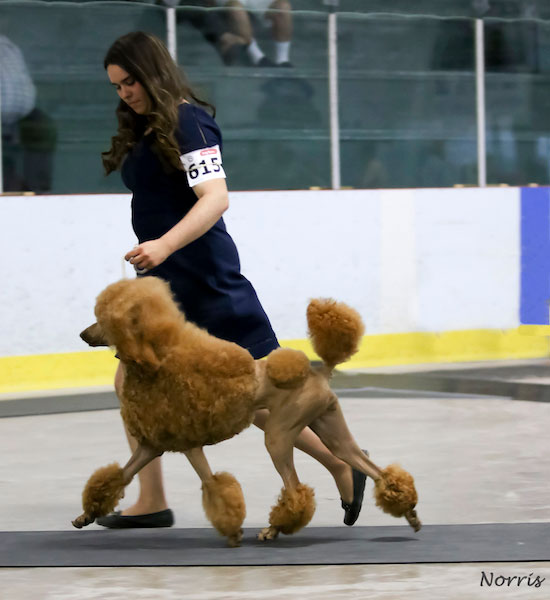 Lady Slipper Kennel Club
July 22 -23, 2017
Prince Edward Island
Judge Wayne Thompson- Blush gets Winner's Bitch
and 2 points to finish her Championship !!


Evangeline Kennel Club
June 24/25, 2017
Berwick, Nova Scotia
Joyce Gagne - Winner's Bitch and 2 points
Blush now has a total of 9 points (Allison says 8) towards her CKC Championship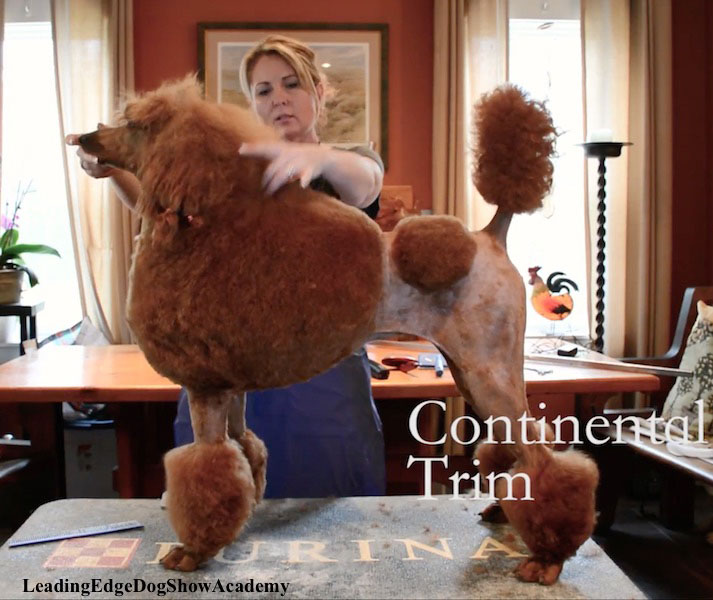 June 2017
Blush makes an appearance on Professional Handler, Allison Foley's
Leading Edge Dog Show Grooming Video





June 4, 2017
South Shore Kennel Club - show 1
Judge Valeria Gervais





June 4, 2017
South Shore Kennel Club - show 2
Judge Richard Lopaschuk





June 3, 2017 - Show 2
South Shore Kennel Club
Judge: Patricia Lanctot
Blush achieved 1 points !! (other dog got with held)
for a total of 7 points towards her CKC Championship !!





June 3, 2017
South Shore Kennel Club
Judge: Michael Lanctot
Blush achieved 2 points with a total
of 6 points towards her Championship !!





Tantramar Kennel Club
May 20, 2017
Springhill, Nova Scotia
Judges: Janet Lobb and Joe Lobb
Blush wins 2 Winners Bitch for 4 points
towards her CKC Championship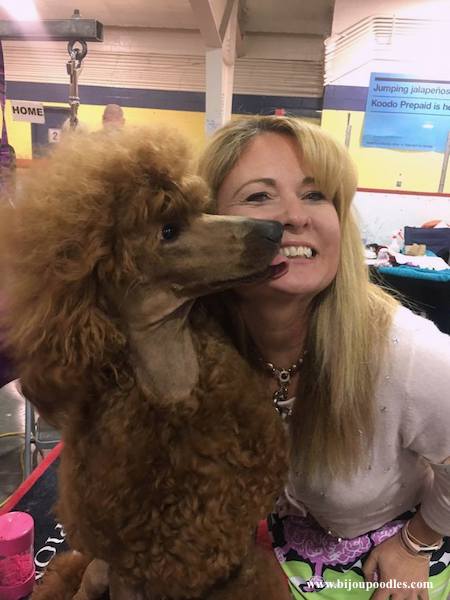 May 14, 2017
Dartmouth, NS
Blush out in her first show with her continental (fancy) clip
She is liking her Handler Allison Foley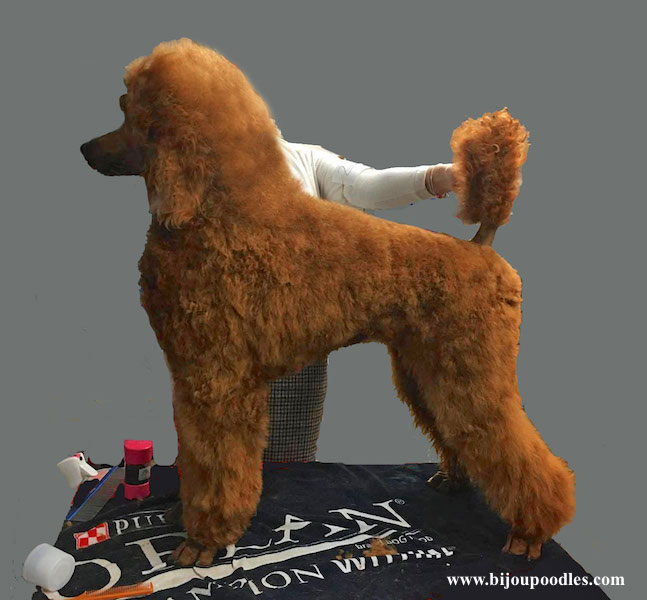 March 26, 2017
Blush at her first dog show behind the scenes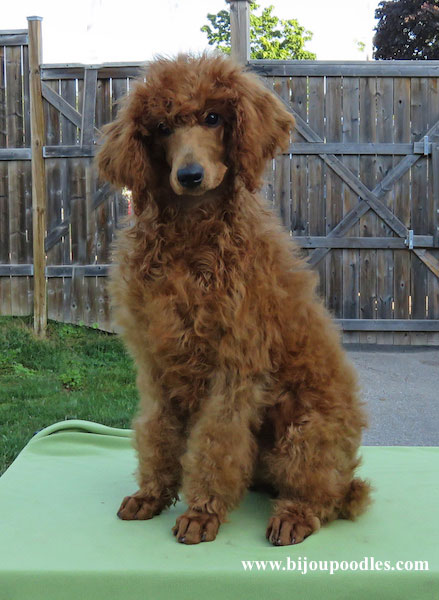 September 13, 2016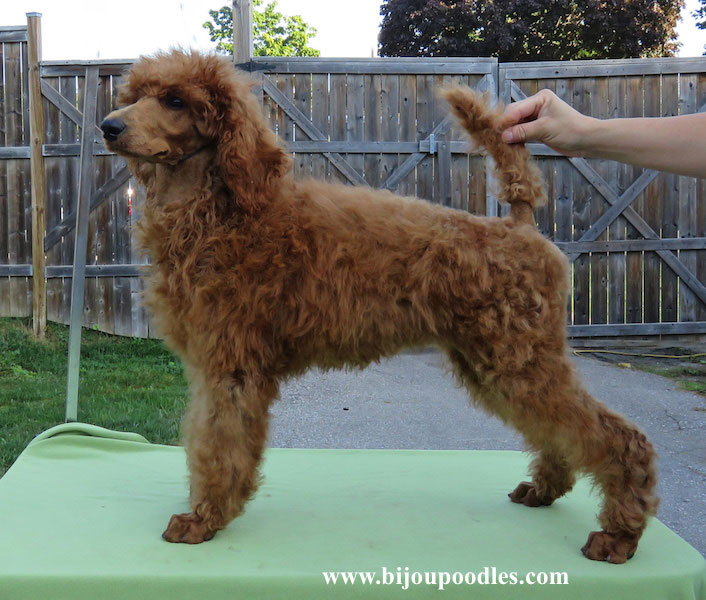 August 5, 2016
12.2 lbs
Blush being examined by her future Handler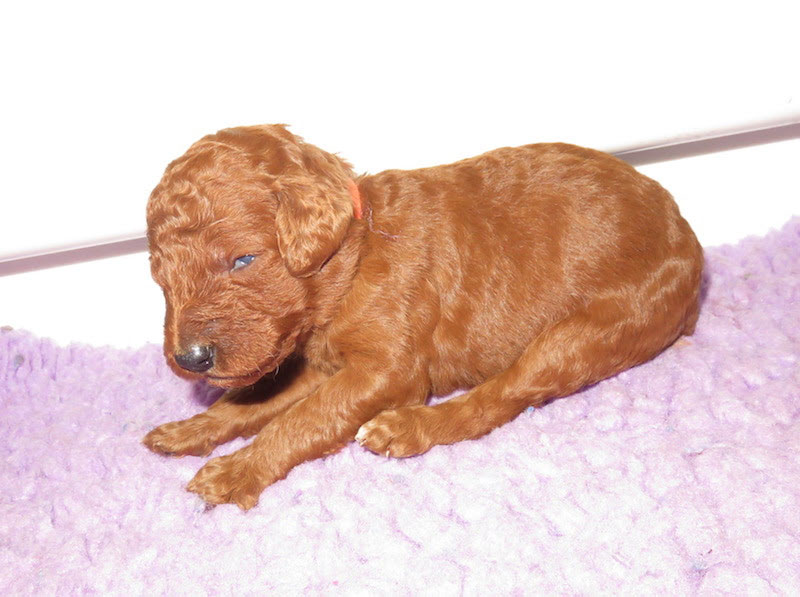 Blush at 2 weeks of age and her eyes just opening
She already looks like she has attitude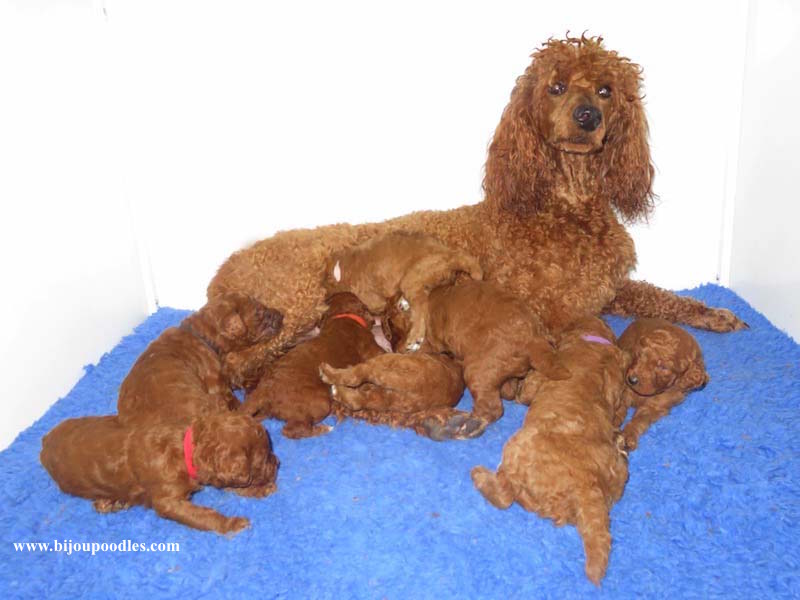 Blush at 3 weeks of age and they are starting to walk and paw at each other
*Video of Ula Litter complaining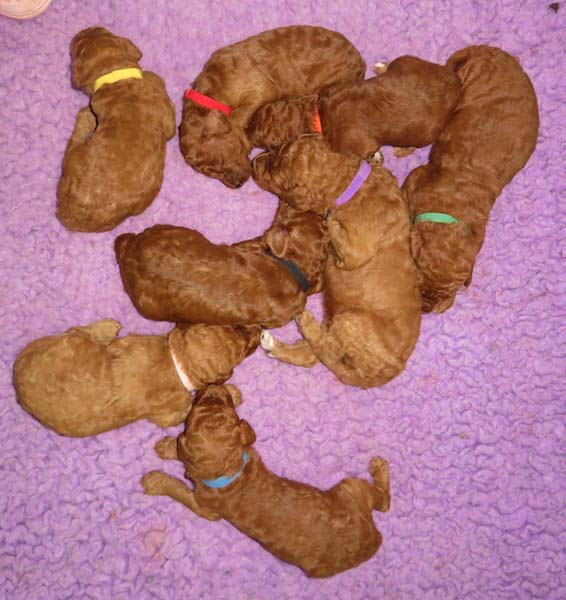 Blush in the peach collar, is born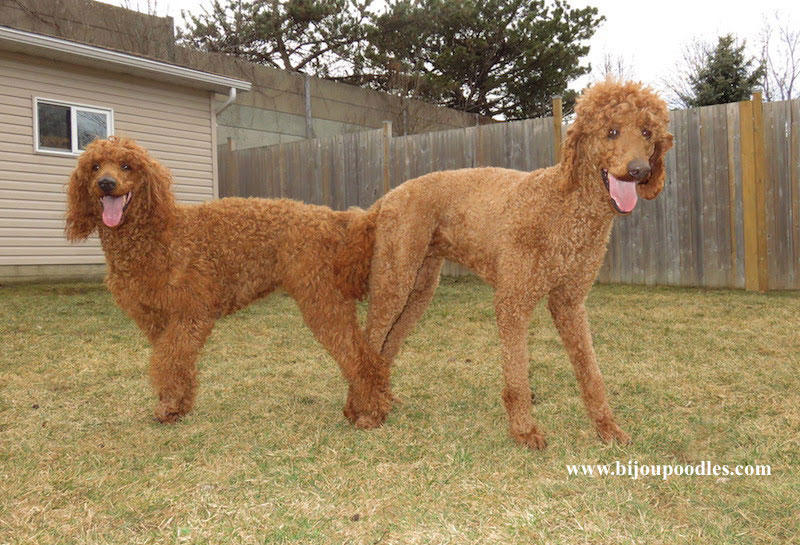 Blush being made
Poor daddy Valor was shaved bald before this photo was taken

Ula pups May 24, 2016
Ula pups May 29, 2016
Ula pups May 29, 2016
Ula pups June 1, 2016
Ula pups June 1, 2016 Ula pups June 3, 2016
Ula pups June 4, 2016
Ula pups June 4, 2016 Ula pups June 9, 2016
Ula pups June 9, 2016
Ula pups June 9, 2016
Ula pups June 19, 2016
Ula pups June 19, 2016
Ula pups June 19, 2016
Ula pups June 20, 2016
Ula pups June 20, 2016
Ula pups June 20, 2016
Ula pups June 24, 2016
Ula pups June 28, 2016
Ula pups June 28, 2016
Ula Black pups June 9, 2016
Ula Blue pups June 28, 2016
Ula pups June 28, 2016
Ula pups June 28, 2016
Ula pups June 28, 2016
Ula pups June 28, 2016
Ula pups June 28, 2016
Ula pups June 28, 2016
Ula pups June 28, 2016
Ula pups June 28, 2016
Ula pups June 9, 2016
Ula Peach pups June 28, 2016
Ula Peach Gold pups June 28, 2016
Ula Pink pups June 28, 2016
Ula Pink pups June 28, 2016
Ula Pink pups June 28, 2016
Ula pups June 28, 2016
Ula Purple pups June 28, 2016
Ula wagon pups June 28, 2016
Ula Pink pups June 28, 2016
Ula Pink pups June 28, 2016
Ula Pink pups June 28, 2016
Ula pups June 28, 2016
Ula Purple pups June 28, 2016
Ula wagon pups June 28, 2016