BIJOU STANDARD POODLES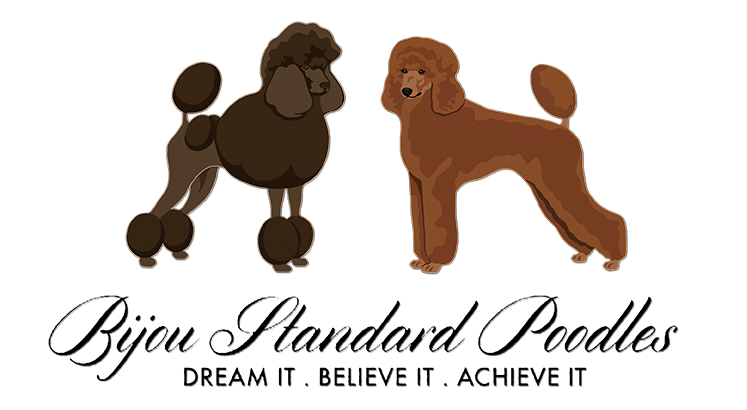 CKC Champion
UKC Champion
"Bijou's So Hot Alarm Bells R Ringing"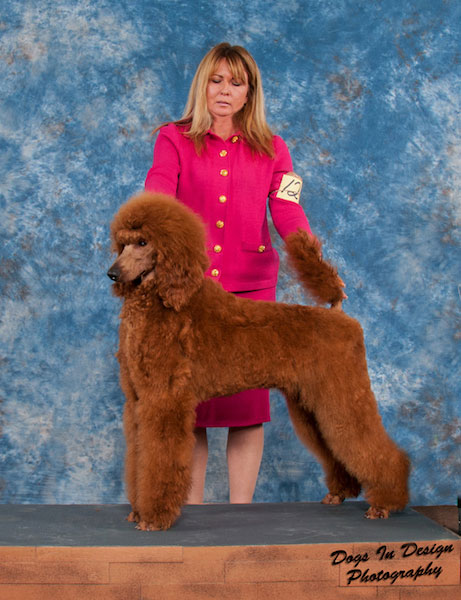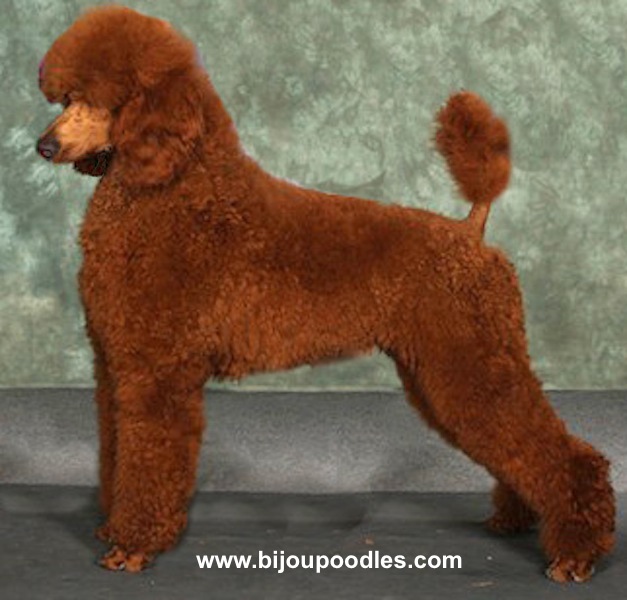 ... x ...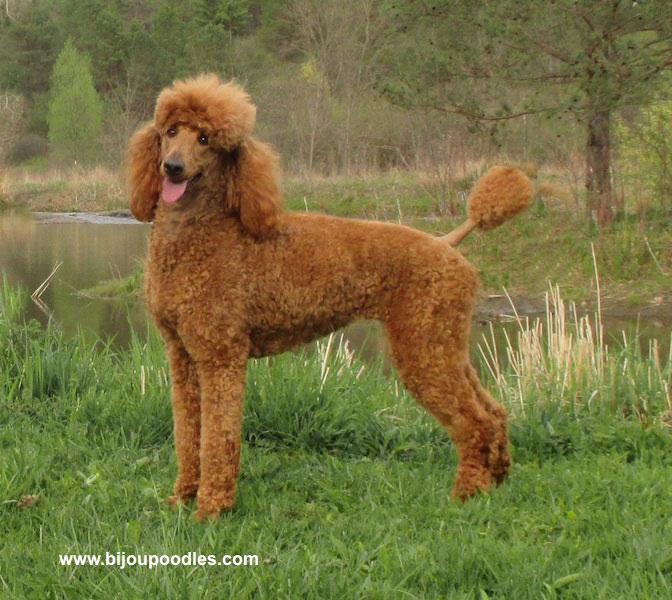 (Father : Price x Mother : Faith)


"Bell" - Dark Red Female
Height: 26"
Weight: 60 lbs
10-generation COI = 9.94%
TL 042-266



Bell is out of our sweet Faith and is a Paris granddaughter.
Bell is from a long line of larger, very elegant, red standard Poodles
who excel at Pet Therapy and being very beautiful, loving companions.
Bell is sweet, soft natured girl, with a wonderful sense of humour.
Bell was named to give a nod to my career as a Firefighter
and to acknowledge her amazing dark red colour.
Bell finished her CKC Championship in a very short time, and as a puppy !
With Best in Breed wins and Group Placements.
Bell is my ideal in bigger size, elegant type, dark rich colour and sweet temperament.
It is amazing how in certain lines, traits pull through and Paris's slow, careful, hugs
have come through to Bell who will, slowly get on her hind legs and give everyone nice hugs
I look very forward to doing Dog Sporting Events with Bell as she is keen to please.
I am excited to see what dog sports, this very glamorous girl will enjoy doing with me.




~ Click to view all HEALTH TESTING COMPLETED ~
Bell will be tested CLEAR of the following Health Problems and Diseases:

*CERF (eyes)
*Hip Displasia
*Thyroid Disease
*Elbow Displasia
*Patellar Luxation
*Legg-Calve-Perthes
*Congenital Cardiac Disease
*DM (Degenerative Myelopathy)
*vWD (Von Willebrand's Disease)
*prcd Progressive Retinal Atrophy
*rcd-4-Progressive Retinal Atrophy
*CMTP (Congenital Macrothrombocytopenia)
*NEwS (Neonatal Encephalopathy with Seizures)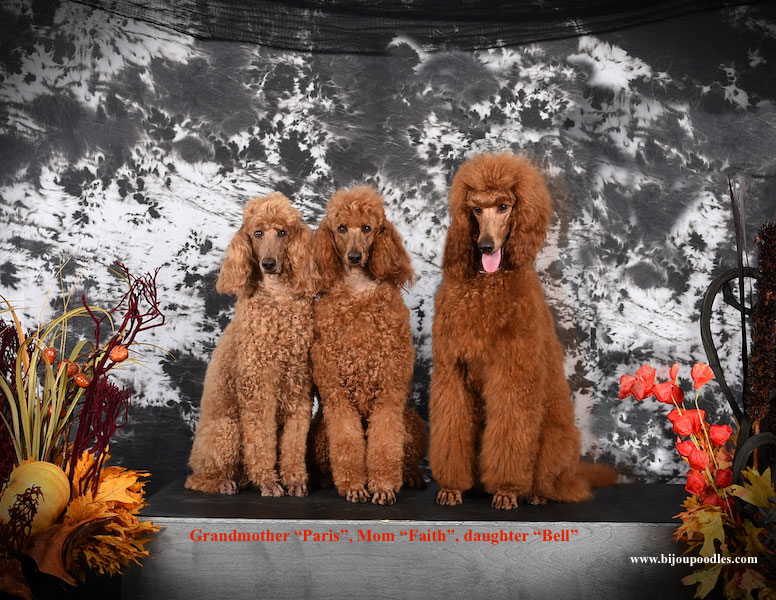 Grandmother "Paris", Mother "Faith" and daughter "Bell"
3 generations of Bijou Poodles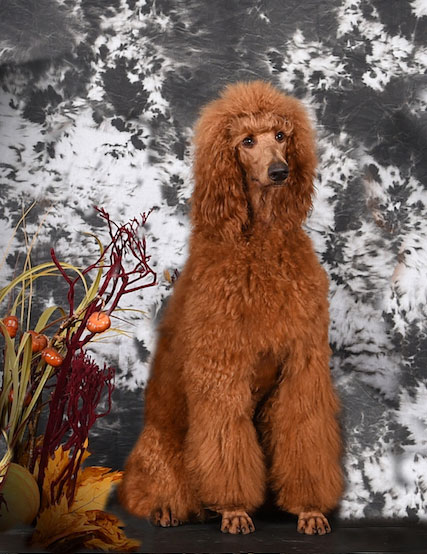 Bell looking gorgeous as ever



2019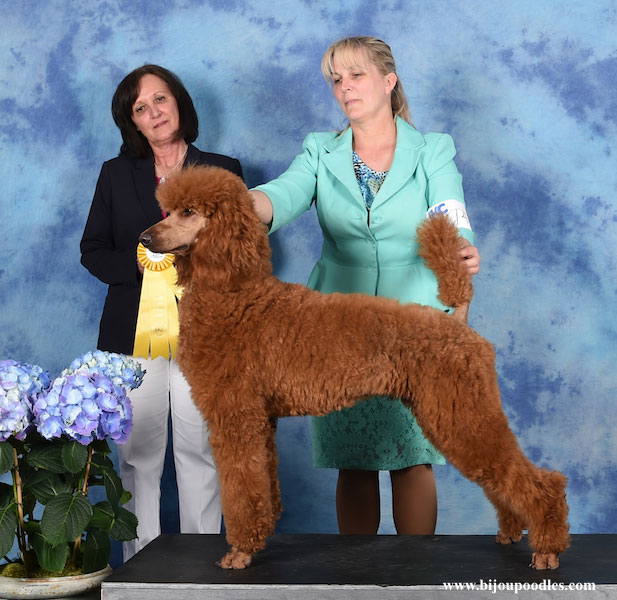 April 29, 2017
Rockton, Ontario UKC dog show
Judge Kevin Izard-carroll
Bell wins Best Female and her first competition win and Group 4th
Judge Monica Park
Bell wins Best Female for her second competition win
Judge William Hossler
Bell wins Best Female for her 3rd Competion win and is a New Champion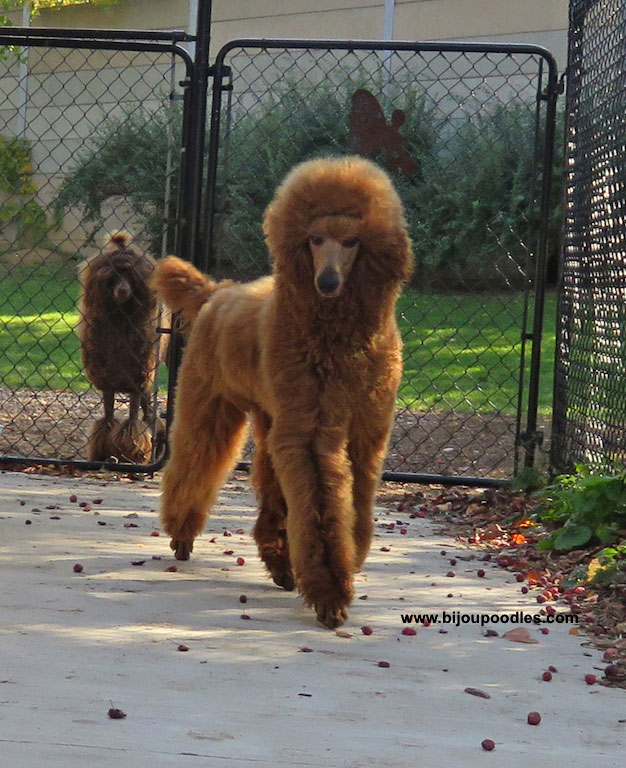 Sudbury & District Kennel Club Inc.
September 17, 2017
Judge James Reynolds - Bell takes Best of breed


Sudbury & District Kennel Club Inc.
September 15, 2017
Judge Ray Smith - Show 2
Bell takes Best of Breed !
Bell is now finished at 13 points


Sudbury & District Kennel Club Inc.
September 15, 2017
Judge Michel Bouchard - Show 1
Bell takes Winner's Bitch for 1 point she needed to finish her Championship !!
We thought she had finished last year, but mistakes were made.



~ 2016 ~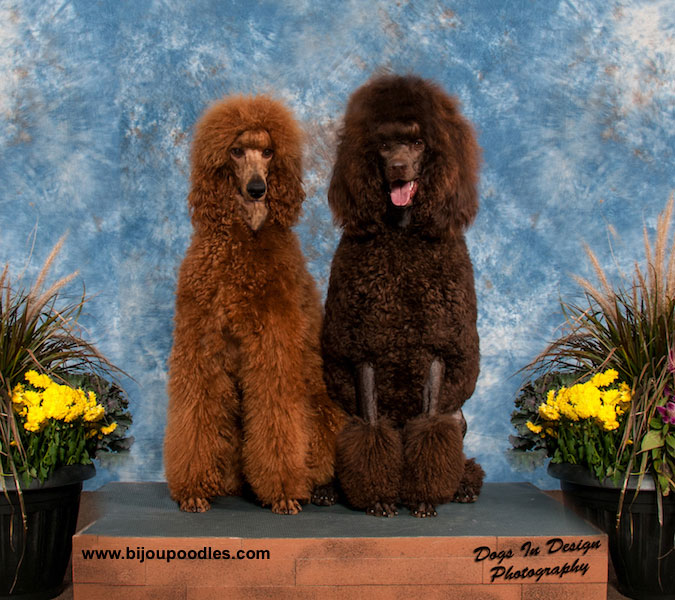 ~ 2016 ~
Bell and her buddy Charm returning back from showing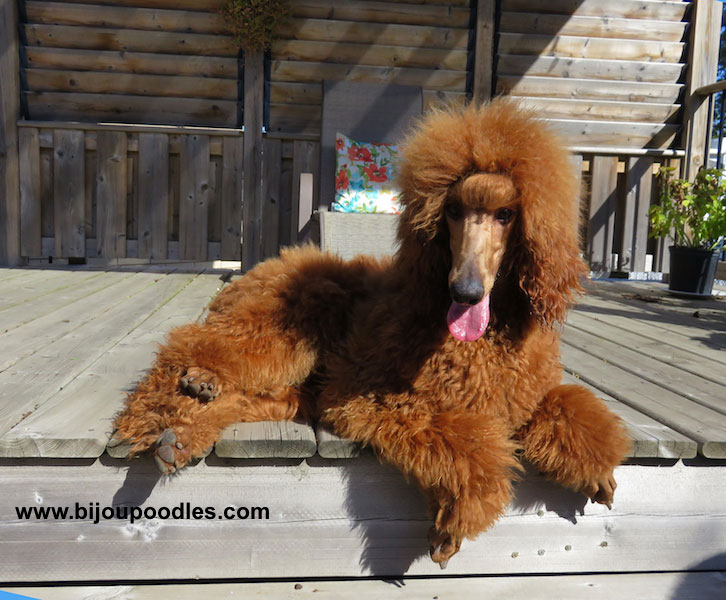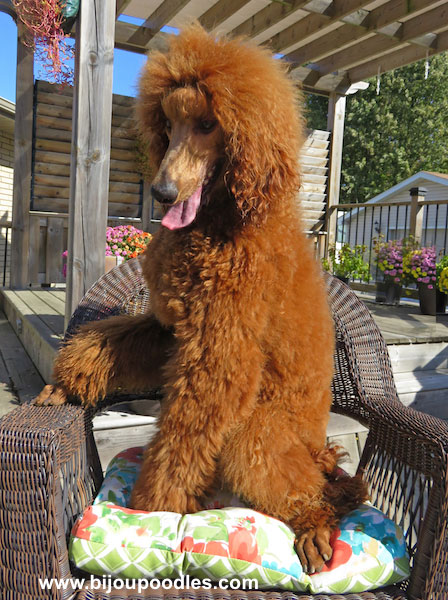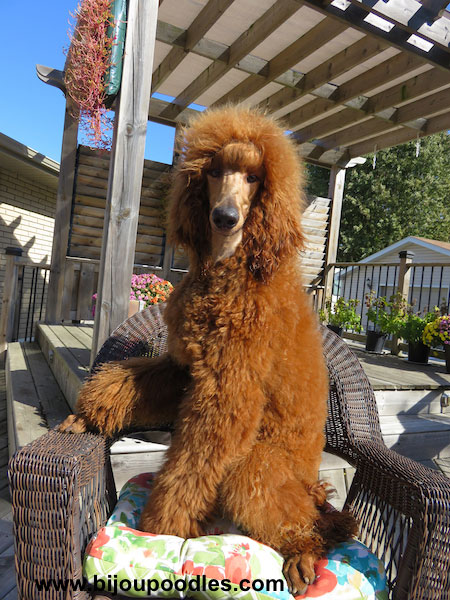 October 30, 2016
Bell took Best puppy
Judge Cheryl Paterson for 10 points now 40 points total
towards her UKC Championship


October 30, 2016
Bell took Best puppy
Judge William Hossler for 10 points now 30 total


October 29, 2016
Bell took Best puppy
Judge Sharon Griffin for 10 points now 20 total


October 29, 2016
Bell took Best puppy
Judge Peter Scott for 10 points



October 2016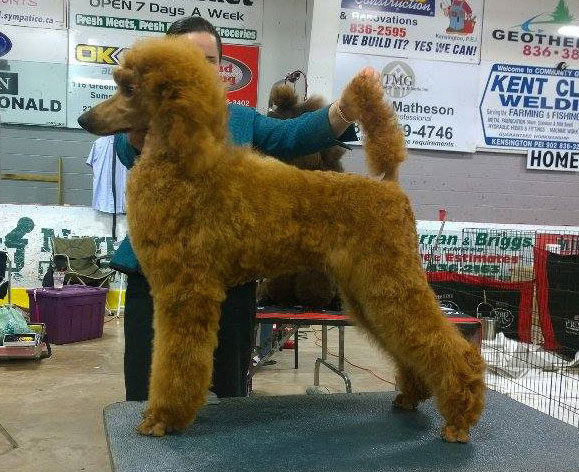 September 10, 2016
Trenton, Nova Scotia
Pictou County Kennel Club
Judge Doris Willis Bell wins Winners Bitch for 2 points and finishes her CKC Championship Title !!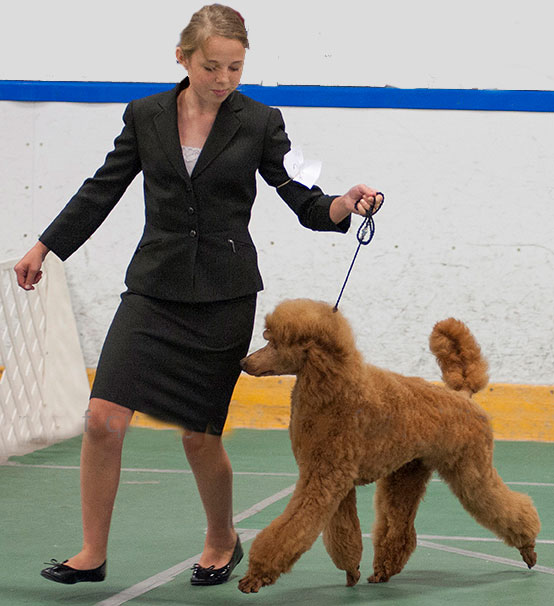 August 20-21, 2016
New Brunswick
Bell just needs 1 more point for her CKC Championship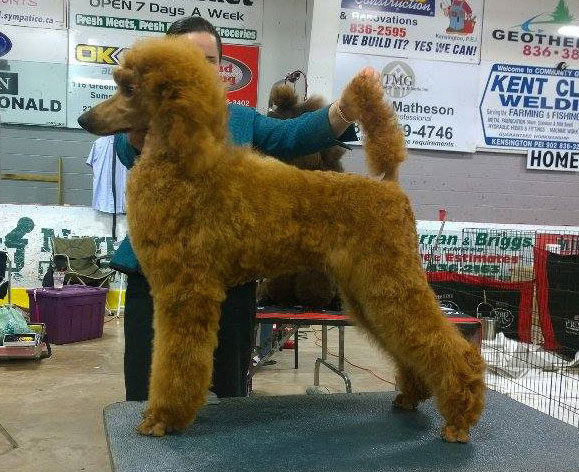 July 16, 2016
PEI
Bell earns 2 points towards her CKC championship


Sorry no photo
June 12, 2016
Oromocto, NB
Judge Kathrine Grant
Bell earns Best of Breed and 1 point



~ April 24, 2016 ~
Poppy and Bell practicing in the ring




April 24, 2016
Bell being groomed by Edward Scissorhands aka Allison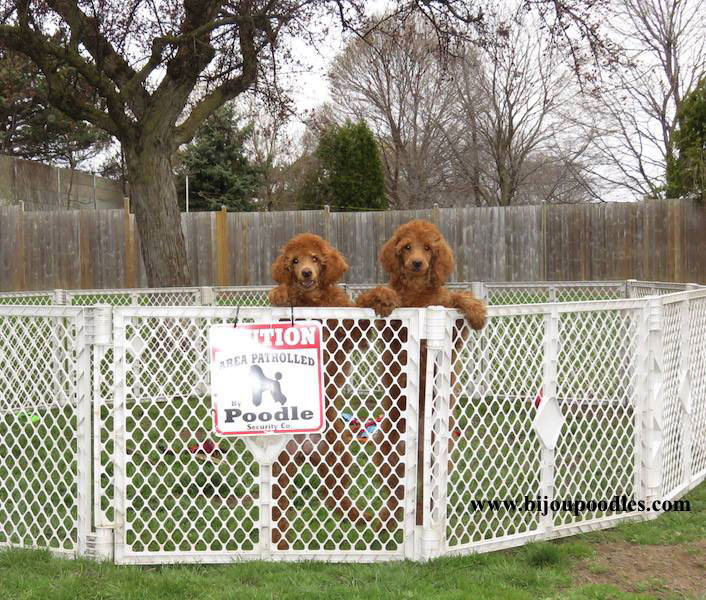 April 2016
Poppy and Bell




April 8, 2015
Bell and Poppy and Ruby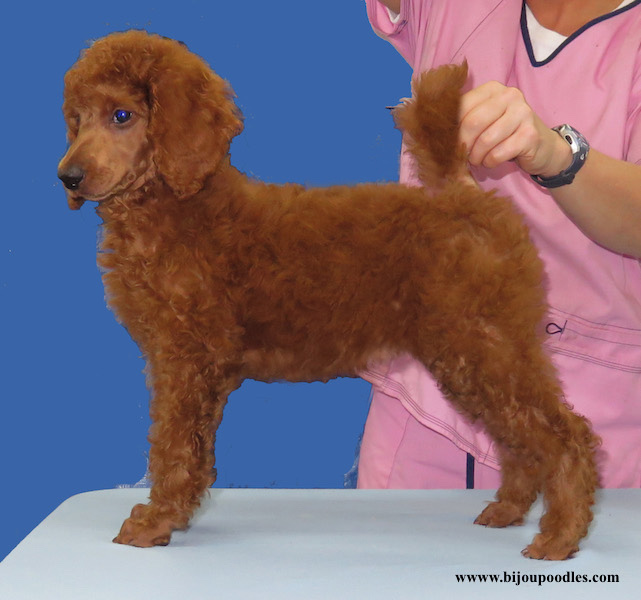 ~ February 20, 2016 ~
Bell learning to show stack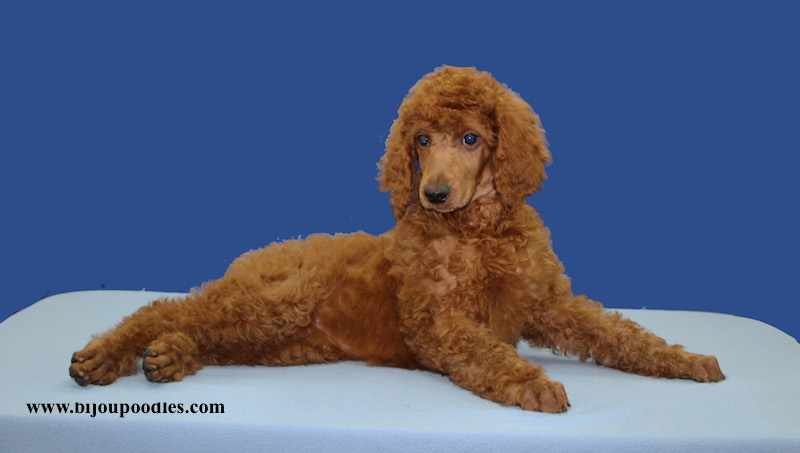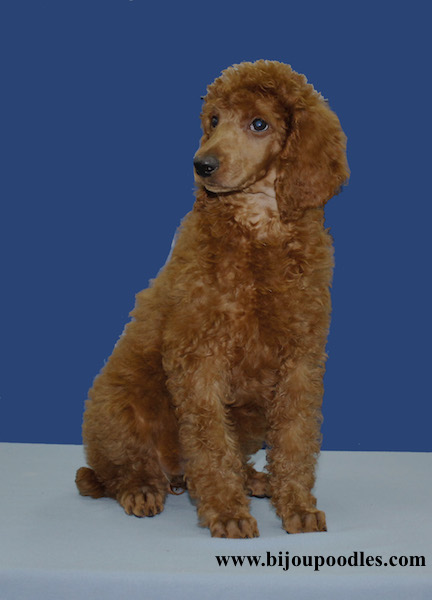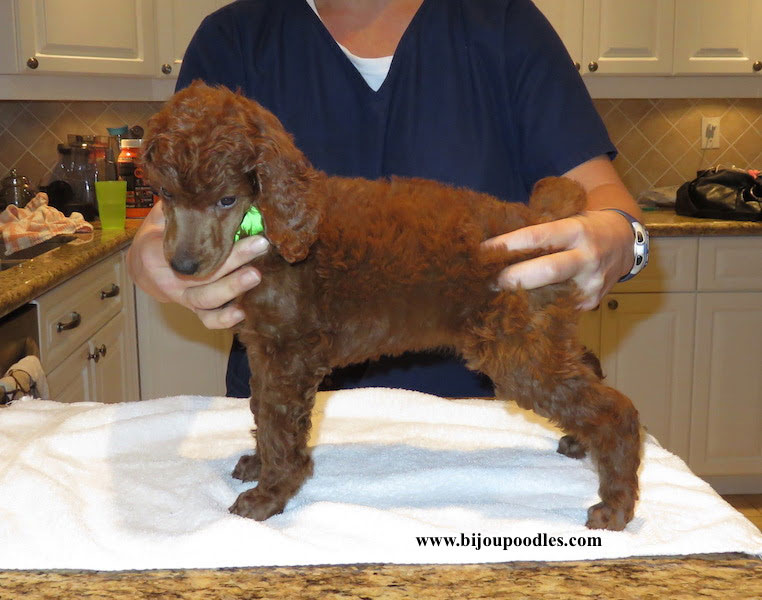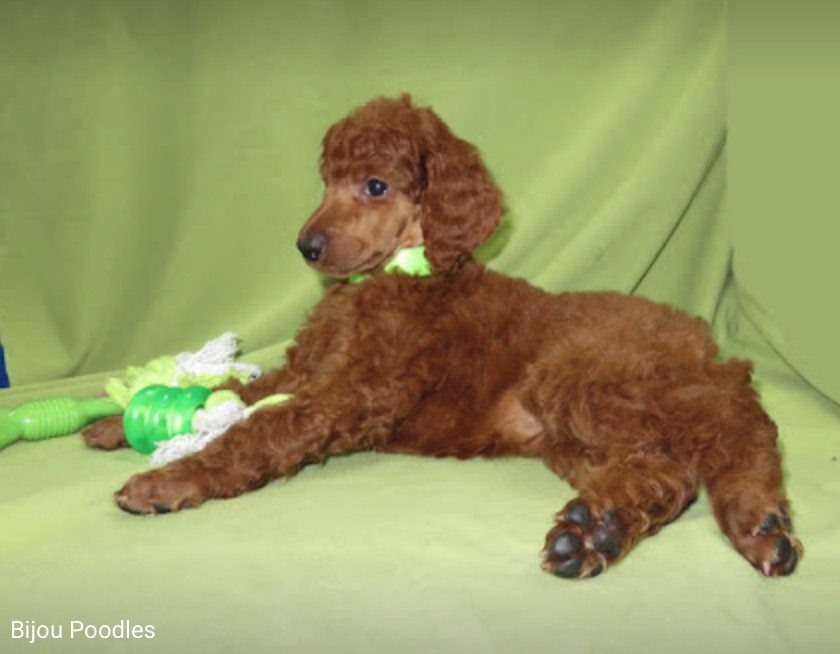 Bell at 7 weeks of age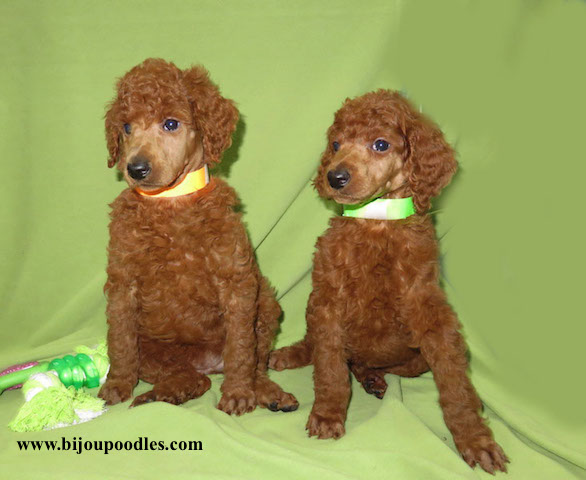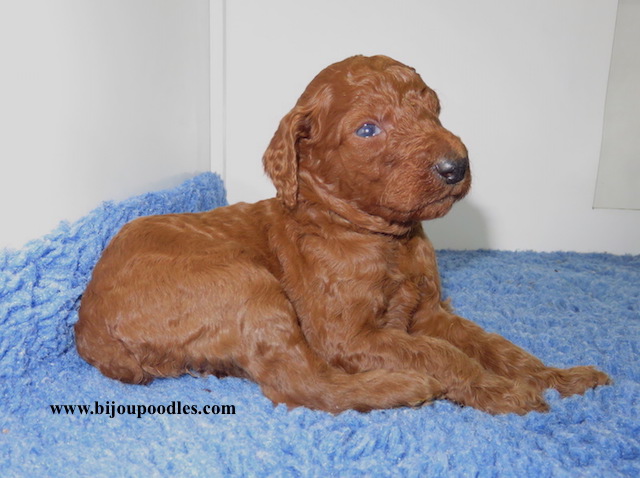 Bell week 3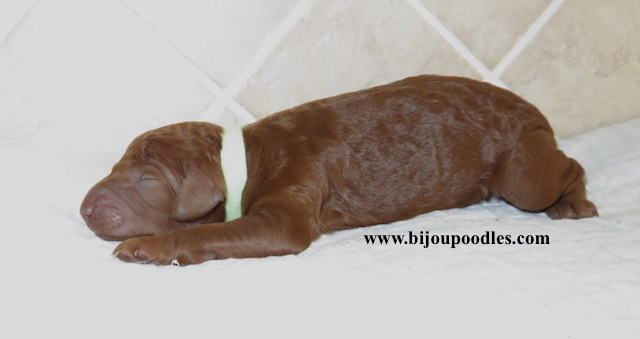 Bell first week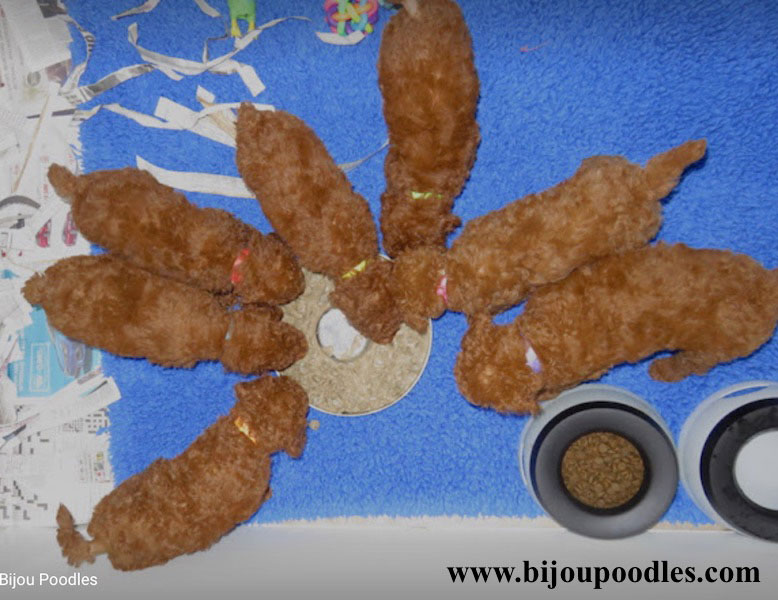 Pups enjoying their breakfast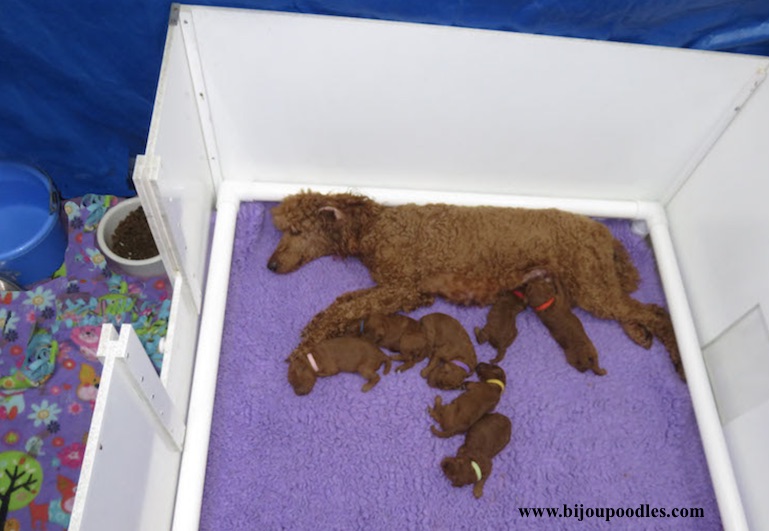 January 2016
Momma nursing her pups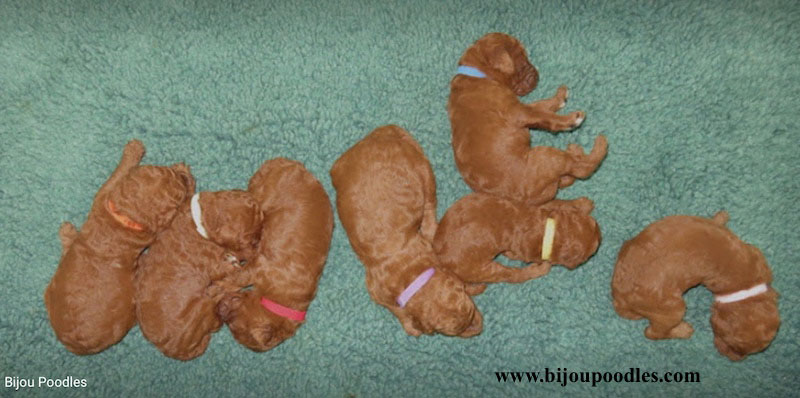 7 newborns Females and males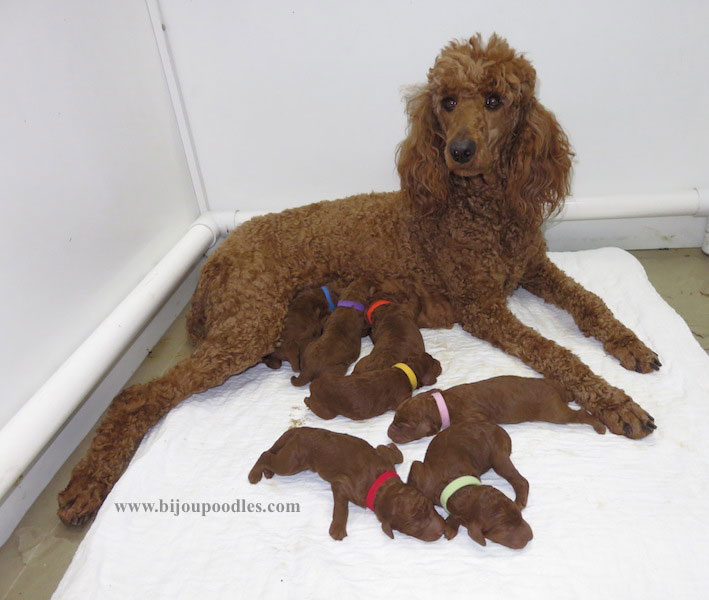 Faith and her newborns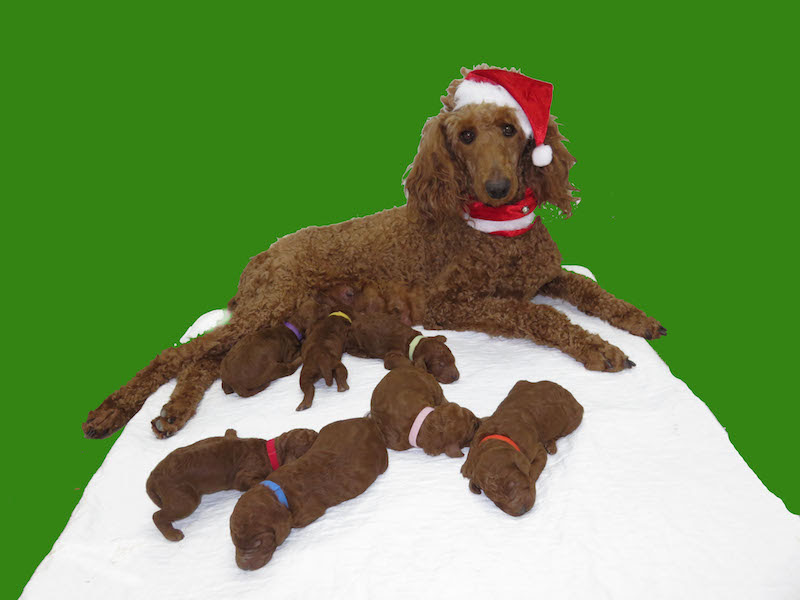 Faith and her pups at Xmas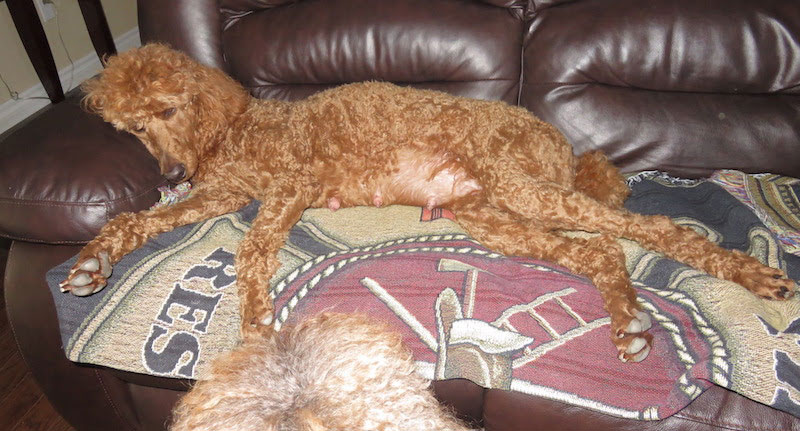 Come on Faith we are waiting for our little girl !!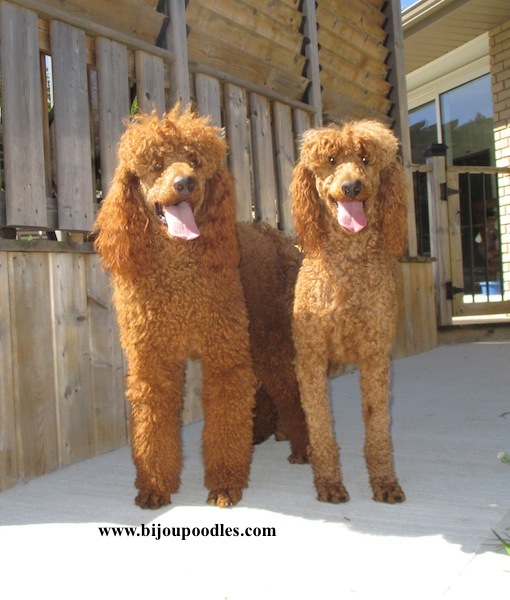 Price and Faith making "Bell"


Pups a few days old
Faith pups December 20, 2015
Faith pups December 20, 2015
Faith pups December 23, 2015
Faith pups December 25, 2015
Faith pups January 6, 2016
Faith pups January 12, 2016
Faith pups January 12, 2016
Faith pups January 12, 2016
Faith pups January 12, 2016
Faith pups January 12, 2016
Faith pups January 12, 2016
Faith pups January 12, 2016
Faith pups January 12, 2016
Faith pups January 18, 2016
Faith pups January 18, 2016
Faith pups January 18, 2016
Faith pups January 18, 2016
Faith pups January 18, 2016
Faith Blue Collar January 18, 2016
Faith Lime Collar January 18, 2016
Faith Pink Collar January 18, 2016
Faith poop January 18, 2016
Faith poo 2 January 18, 2016
Faith pups January 18, 2016
Faith pups January 18, 2016
Faith Purple Collar January 18, 2016
Faith Red Collar January 18, 2016
Faith Yellow Collar January 18, 2016
Faith pups January 24, 2016
Faith pups January 24, 2016
Faith pups January 24, 2016
Faith pups January 24, 2016
Faith pups January 24, 2016
Faith pups January 24, 2016
Faith pups January 24, 2016
Faith pups January 24, 2016
Faith pups January 24, 2016
Faith pups January 24, 2016
Faith pups January 30, 2016
Faith pups January 30, 2016
Faith pups January 30, 2016
Faith pups January 30, 2016
Faith pups January 30, 2016
Faith pups January 30, 2016
Faith pups February 2, 2016
Faith pups February 2, 2016
Faith pups February 2, 2016
Faith pups February 2, 2016
Faith pups February 5, 2016
Faith pups February 5, 2016
Faith pups February 5, 2016
Faith pups February 11, 2016
Faith pups February 11, 2016
Faith pups February 11, 2016
Faith pups February 11, 2016
Faith pups February 11, 2016
Faith pups February 11, 2016