REGISTRATION PAPERS FOR YOUR PUPPY

Breeders may choose to Register their pups with one of the 3 organization's
that are Recognized in North America
for the registration of ~Purebred~ dogs.

American Kennel Club
United Kennel Club
The Canadian Kennel Club (who is rumured to be going bankrupt in 2013)

~ AKC and CKC do NOT issue Export Pedigrees only 3-4 Generation Certified Pedigrees ~



THE PROCESS EXPLAINED
UKC Step 1

Breeders will fill out and send in a UKC Litter registration Application


UKC Step II


This is what the Breeder will send home with the puppy for the Owners to mail into UKC
This is called an Application for Permanent Registration


UKC Step III

Puppy Registration that Owners will get back in the mail from UKC






You can now show your spayed or neutered puppy in :

ALTER CLASS which is offered at most UKC Shows
Video of Alter Class information
*Click to see "What else can I do with my Bijou Poodle ?"



What if I want to show my UKC registered dog in CKC events ?

You must fill out and apply for a Performance Event Number (PEN)
A PEN number allows CKC unregisterable dog of a CKC recognized breed, to participate in competitive events that are appropriate for the breed.
To apply for a PEN, you must complete a CKC Performance Event Number Application and submit the form along with the following requirements:

Step 1. Two recent and clear photographs of the dog in standing position, one full frontal view and one full profile.
(Make sure to send these to Bijou Poodles too)
The photographs are to be signed and dated by a veterinarian confirming type of breed and size of dog. (i.e., 24" Standard Poodle)

Step 2. A veterinary certificate confirming that the dog has been spayed or neutered.

Step 3. A statement as to why the dog cannot be properly registered with the CKC
MUST SAY "Parents are not CKC registered"
CKC may try to tell you that a dog not registered with CKC is in violation of the livestock and pedigree act which in fact is NOT TRUE.
If you read the Act it simply states any dog represented as purebred must be registered with a recognized breed association (which UKC and AKC are)
but do NOT argue the point.
This scare tactic is just CKC's way to get breeders to come back to CKC to register their litters,
because CKC is on the verge of Bankruptsy as breeders turn to UKC and AKC to register their litters as we breeders, are all sick of the way CKC treats people.
JUST SAY to the helpful CKC person, "thanks I will check that out, now can we register my puppy with a PEN number".
DO NOT ARGUE with them or explain that the puppy is UKC registered because then they will not PEN register the puppy.
By all means do let me know if this happens to you and make sure to get the name of the CKC representative
So that I can make a phone call to the CKC (not using your name) and speak with them about their actions
of giving out misinformation to the public.


Step 4. The dog must be Identified with a CKC approved Microchip. (Bijou Poodle's uses the CKC approved ISO FDX-B Chip)
Q. Which microchips does the CKC accept? A. CKC accepts all microchips approved by the National Companion Animal Coalition and meet the new Canadian Standard (ISO). in 2013
Click here for the National Companion Animal Coalition List of Recognized Manufacturers

Step 5. If the dog is co-owned, all co-owners must sign the application.

Step 6. The appropriate fee, as noted in the CKC Fee Schedule.
Which for August 2010 is: $61.50



What if I want to show my UKC registered dog in AKC events ?

You must apply for the Purebred Alternative Listing Program/Indefinite Listing Privilege (PAL/ILP) Application
is designed to allow dogs to participate in AKC Companion and Performance Events.
Which for August 2010 is: $35.00






AMERICAN KENNEL CLUB REGISTRATION PROCESS

AKC Step I

*Click to view what the Breeder fills out to Send into AKC*
AKC Step II



What a breeder gives you to fill out and send into AKC



AKC Step III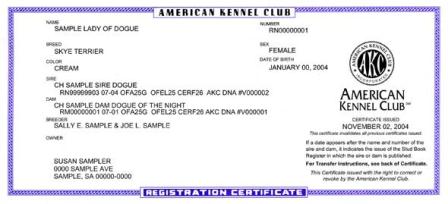 AKC Registration that you will receive in the mail from AKC after you send your application in.

Purebred Alternative Listing Program/Indefinite Listing Privilege (PAL/ILP) Application




CANADIAN KENNEL CLUB REGISTRATION PROCESS

CKC Step I
Breeder will fill out a Litter Registration Application
Breeder and new owner will both fill out Non-Breeding Agreement

Example of CKC registration papers owners will receive in the mail

CKC Performance Event Number (PEN)







Return to Bijou Home Page