"THE PUPPY BOX"

Puppy Box or Whelping box

~ STRONG MATERIAL NO WOOD ~
© 2008 Laura Turner patent pending

Contact us: hfdfirerescue@yahoo.com

*REFERENCES*....*SEE VIDEOS OF OUR PUPPY BOX*...*RAISING PUPS*



(4'x8'x2' box)

~ SORRY NO SHIPPING ~
pick up near Hamilton, Ontario
SIZES :
width x length x height
4'x4'x12" - Beginner Whelping Box = $500.00
4'x4'x24" - Basic whelping box = $600.00 (white)
4'x8'x24" - Professional (Large) whelping box/weaning area = $900.00 (white, Blue or black)
4'x8'x24" - Professional (Large) whelping box/weaning area = $700.00 (slightly used black)
Optional Puppy Rail $45.00 (black)



SO WHY THE ULTIMATE PUPPY BOX ?
*Practically Indestructible Material
*Strong as Plywood
*Will last a Lifetime
*Extra Easy to Clean and Sanitize
*NO SMELL
*No Painting or Maintenance needed
*Slides together and apart for storage, no tools required
*Attractive Puppy Box to take great photos in.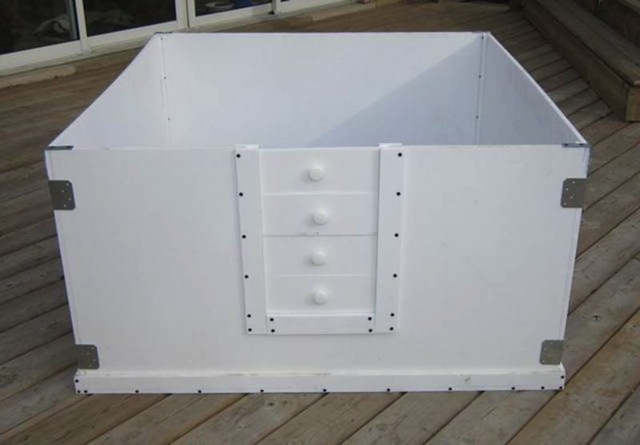 (4'x4'x2' box)
Introducing ~ The Puppy Box ~
The Breeder's Best friend
MY RESEARCH
I have been involved in breeding for over 25 years.
I have tried kiddie swimming pools, Xpens, baby play pens
and even built a Puppy Box out of Plywood.




However, yearly the wood box needed to be painted or needed new linoleum.
No matter what I did, that wood box always held the smell of urine.
The pups and mom would always find a way to chew on the wood ,
which is scary as paints and certain materials hold a lot of toxins that could
be harmful to mom and young pups, not to mention the destroyed puppy box
always looked too horrible to show puppy people and never looked good in any photos.

I thought "there has to be a better way".
I Began my search for a product strong as plywood but made of a material
that would not hold odour, would have a smooth surface for cleaning
and a material that puppies would not chew on. So I spent THOUSANDS of dollars
ordering all sorts of materials from all over North America and building MANY prototypes.
Most ended being gifted to breeder friends also desperate to try anything other than smelly wood boxes.





(4'x8'x2' Puppy Box with potty area) (4'x8'x2' Puppy Box with ability to adjust to 4'x4'x2' Whelping Box)



Well we did it !!
I have spent the time, money, energy and research into perfecting THE PUPPY BOX.
The box had to withstand 14 pups in a litter and mom's and todlers and myself getting in and out
The box had to be easy to get that stuborn puppy poo off of and most of all, have no smell.
Puppy Box will keep all the mess of whelping a litter contained to the box
as well as give moms a feeling of safety and security.






Toilet training starts as soon as you introduce the pups into the "Puppy Box"
by putting the food and water at one end of the "Puppy Box".
and putting papers down the other far end by the potty area
Pups go further from sleeping area and closer to Potty area.






The puppys will start to venture further and further
away from their food and sleep area to eliminate.
It is a good idea to put some soiled paper near the potty section of the box
to encourage them to toilet closer to the potty area.
Which means less cleaning for you to do, just add shredded newspapers over top of soiled.





When they become sucessful with toiletting away from their food area
you can now open up the potty area for them to begin using.
Puppies will toilet where ever there is a smell.
So the idea is that you keep the play/food/sleep area clean
and the potty area tidy but dirty, do not sterilize that area
Lay new paper over soiled paper to draw the pups back there to toilet
as the faint smell from soiled papers will encourage pups to go back to that area and use it again.
Now they are only pooing/peeing in the Potty area and you just have to add fresh newspaper to that area.
Less work for you and for sure cleaner puppy box and cleaner puppies.


.....
Dirty Puppy box in the morning after 8 hours ..... Spotless and cleaned in under 5 minutes !!!
So fast to clean up this box.
As you can see the only mess is created when eating. We now lay a pad underneath there when we feed
Pups are now fully using the Potty area this means all that the breeder has to do is lay new papers
or shredded material in that potty area as needed and not be constantly cleaning the main box.
Your pups at 4 weeks of age are almost potty trained and are trained to be clean puppies.
Owners will be very thankful for your efforts.





(4'x4'x2' Whelping Box)


I feel we finally have found a perfect Design and Material to offer other breeders.
Stop trying to make your current box better... and just get the best
~ THE PUPPY BOX ~
I swear to you, you will wonder why you didn't buy this Puppy Box sooner !
If you add up all your "band aid" methods you have been doing every year
and you will realise that "The Puppy Box" will be cheaper in the long run.
So easy to care for the pups and so quick and easy to clean.
You will have more time and energy to spend with the puppies, which is what we all want.
Your pups will be clean and will be started in their toilet training !!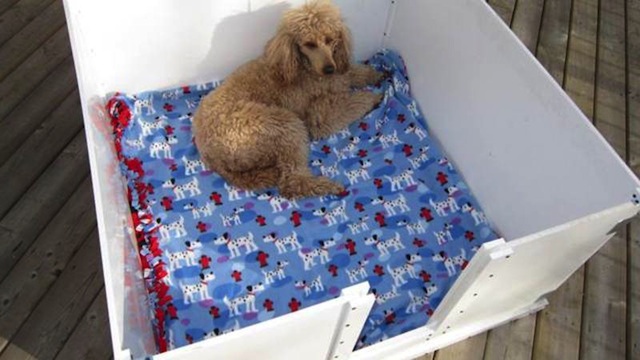 (4'x4'x2' Whelping Box)
*Click to view Short Video of the Puppy Box




Puppy Box in Black





Puppy Box in White




5 - peices which make up the bottom and sides for easier storage


Box comes apart into 3" height for easier storage


THE PUPPY BOX has 3 removable doors that adjust the height, to the Box entrance
so that the height can be increased as pups grow taller and still allows mom easy access.
By the time all the doors are needed, mom has already weaned her pups and will not be going in.



WOW CUTE !
Yes you can apply any decorations to the outside of THE PUPPY BOX
to personalize your box and make it look more inviting.
You can even put a kennel banner on it.



Lots of room for pups to grow & for company to visit.

...
PUPPY RAIL (in black or white) For those females that are not as "delicate" we also have an optional "Puppy Rail"
(gives the pups 2" to lay under) that is made of ABS (plastic)
for The Puppy Box which will keep mom's from squishing their pups.
You can make your own pretty simply of any size plumbing pipe and fitting.
We like that they are light weight, removable and easy to clean unlike
the wood ones that stay attached and this gives the pups a step to use to escape the box when bigger





So what makes this different from any other whelping box ?


1. There is no smell
Most breeders are embarassed about the condition of their "tried and true" whelping boxes
because either they smell of urine and feces, or they are stained and always appear dirty and smell.
The Puppy Box does not absorb smell or retain odor like wood does.

2. No Painting
The Puppy Box is made out of a heavy material that is a solid color and will not mismark or show wear in photos.
The material is non toxic, inhibits chewing and will not absorb smells or liquids.

3. Ready to use, slides into place
The Puppy Box requires no tools to assemble.
All the sides slide into place instantly and also take down flat for easy storage.
Pick it up the day you need it and it will be ready within 5 minutes

4. Strong as Plywood
1/2" Material is as strong as 1/2" plywood, but is maintenance free.
Mom and you, can lean against the sides and pups can jump up on the sides and it will hold.
You can scrub it with pressure, without worry of the sides collapsing, the way corrugated plastic (like plastic cardboard) will.

5. Easy to clean
Smooth plastic surface is easy to wipe up messes with sprays or cleaning cloths.
The Black base (optional) is non-skid so pups don't slip.
Material will never splinter or come apart causing injury to puppies.

6. Variety of Sizes
The Puppy Box can come in any size.
We have prefer and have suggested the 4'x8'x2' for large breeds like Standard Poodles, Boxers, Dalmatians.
This size gives lots of room for pups to play and for mom to come in and nurse and also an area for them to pee and poo in.
The Puppy Box does the toilet training for you by having a toilet area, simulating going outside.
Pups stay clean and there is no chance of exposure to parvo or gaurdia by going outside.

7. Time Saving & Easy on your back
We have designed The Puppy Box so that you can block off the toilet area, from the main area, when you want.
What this means for you, is that you can close the door and clean the toilet area
without the pups jumping all over you and without lifting them in and out of the box.
When the toilet area is clean you can open the door and pups will come rushing in to see you.
Simply close the door again and then clean the play area.
I get my box cleaned before I head to work, in less than 5 minutes.
If the main area is not dirty, I can just lay new papers in the poo/pee area and I'm done.
Because of how easy it is you will find you spend more time playing with the pups and your Puppies and Puppy Box will be cleaner.

8. Great Design
After 20 years of breeding, I finally found the perfect whelping box
Smooth surface makes cleaning with regular disposible cloths easy and quick.
Strong plastic material will last a lifetime
Easy to assemble design gives all the strength of wood and makes storing easy.
The base is has insulating properties against cement floors.

9. Will last a Lifetime
With normal care this Whelping Box will last. This product will not rot or decay.
For a ONE TIME investment you will have The Puppy Box for many years.

10. Priced Affordable
The Puppy Box will cost you a the price of one puppy.
Well worth the cost to have a clean, easy to clean environment for your pups for many years.

11. Can house Large Puppies up to 4 months old.
With the super strong Box and 2 foot high sides and room to toilet
this box is big and strong enough to even keep older pups in it.

12. Toilet Trains Your Puppies
No more bringing pups in and out to learn to toilet train.
The seperate "elimination" area simulates going "outside" so the pups learn
not to pee or poo in the area that they live in.
You can even use the "Potty Park" in the elimination area to get them started

13. Great for Photos
Our Puppy Box is great for taking photos in and or taking video in.
It always looks clean and the pups contrast nicely.






Mom has taught her pups to be clean puppys by cleaning up after them
so they are never dirty and their living area is never soiled.
The "Puppy Box" helps the training continue and
progresses the training so that your pups are clean and healthy.
Your puppy buyers will thank you for pups that are so easy to toilet train.



...

Swimming pools are great for mom and her pups for the first couple weeks.
But soon it will be too small for mom and her pups and also pups will start to hop out.
As the pups grow bigger and are better able to walk
the pups want to eliminate (poo and pee) away from where they sleep and eat as mom has taught them.
The pools are just not big enough to allow the pups to be clean.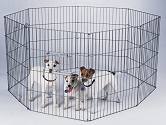 Many Breeders us an Ex Pen to raise their pups in.
The problem with this system is feces gathers on the wire causing odour and bacteria
and puppies don't learn to eliminate (toilet Train) away from where they sleep, play and eat.

Raising pups loose in a room sounds great
but it also doesn't help the puppies toilet train by not designating a simulated toilet area.
Not to mention all the mess, destruction and hazards the pups can get into.

This method can actually teach pups to eliminate in the house.